These Chicken Cordon Bleu Nuggets have chunks of chicken that are wrapped in ham and swiss and covered in a breadcrumb coating for a fun appetizer or family friendly dinner.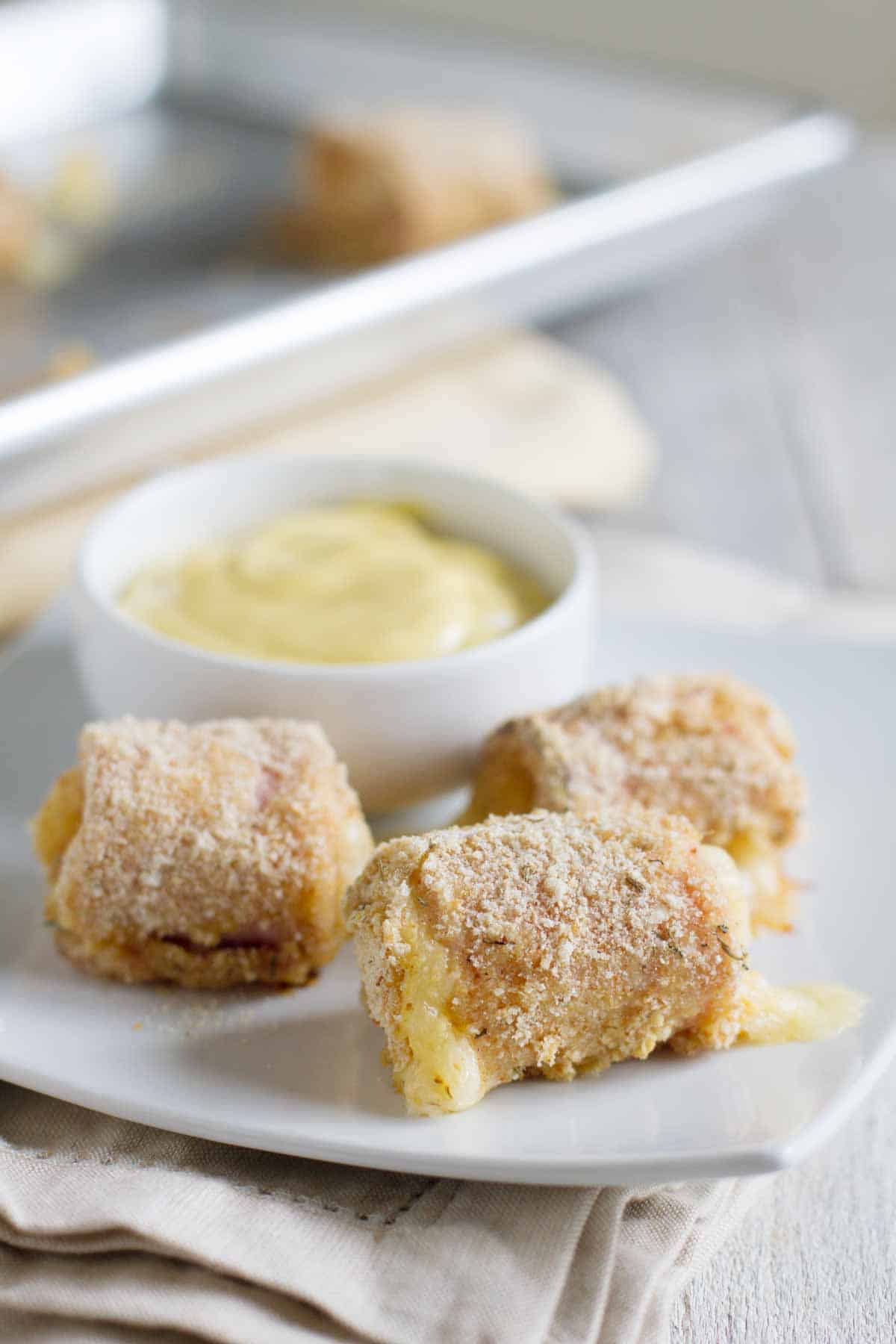 As a food blogger, it should come as no surprise that I like to cook. (I think we'd have a problem here if that wasn't the case.) I mean, I'm human and all, and there are some days that the last thing I want to do is go into the kitchen and make dinner. That usually happens on one of the days that is just so busy or the kids are crazy or the house is a mess and I just don't want to add anything else to my plate. But overall, cooking is my happy place. It's what I enjoy. And I get satisfaction over sitting down at the dinner table with my family with a home cooked meal on the table.
There are times when I want to just go in and cook. It doesn't matter what it is, but just the act of cooking is what I want. What I need. And there are other times when the planning and searching and the drooling over photos in cookbooks is what I am looking for.

Right now, I can't tell you how much time I have been spending searching through cookbooks and magazines, wanting to make everything I come across. In fact, instead of writing this post, I keep switching over to Amazon, trying to choose a cookbook to buy next. I have found myself sitting in front of my cookbook shelves multiple times over the last few weeks, just pulling out an old cookbook or magazine, marking pages with recipes I can't wait to make.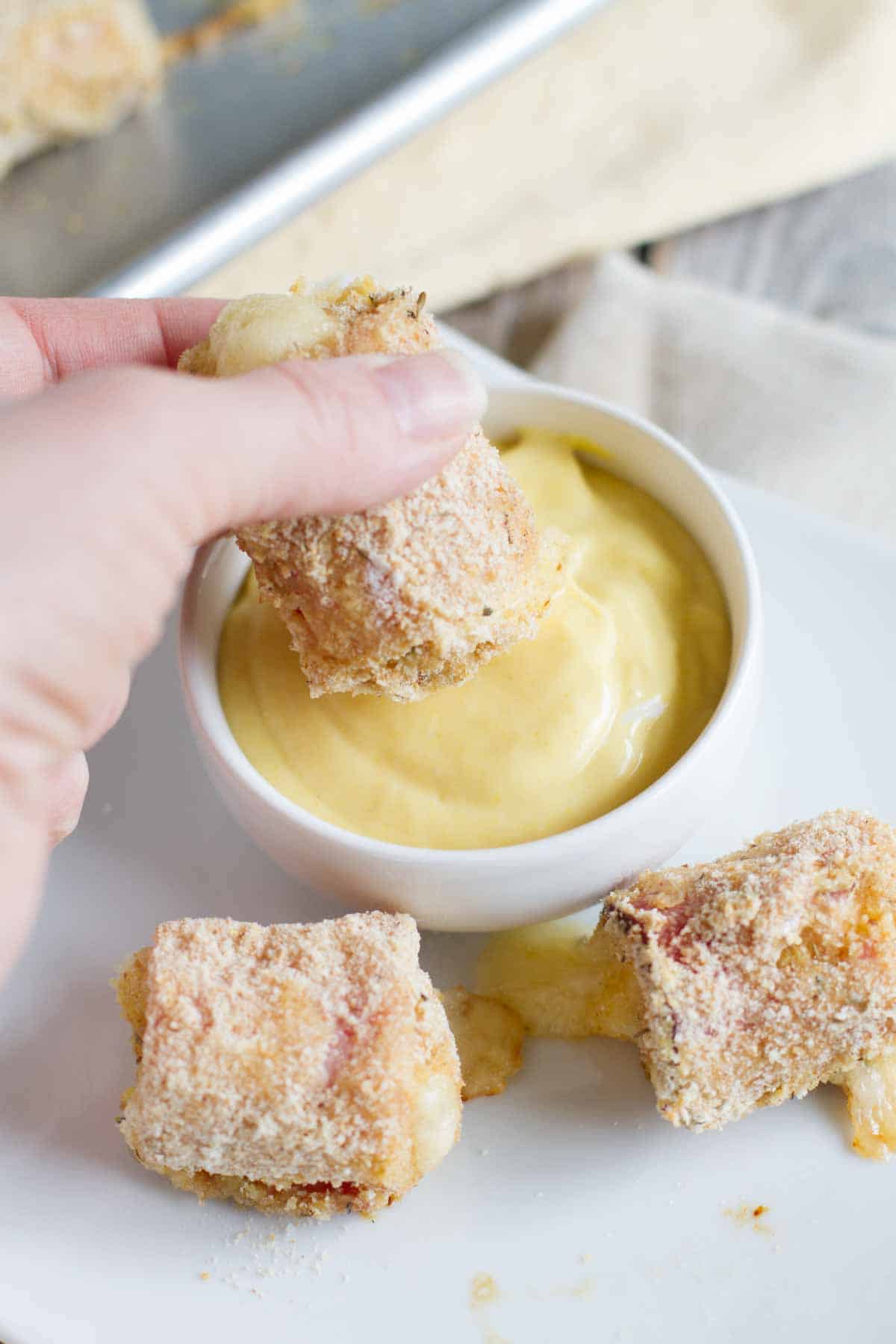 I rediscovered these little nuggets while searching through my back copies of Every Day with Rachael Ray recently. When I saw them, I couldn't believe I had never made them before. I knew they would be something my family would love – something I would love.
I was a little worried at first that the cheese would totally just melt out of these, leaving a big melted mess. I was pleasantly surprised, though. The cheese didn't stay in perfectly, but it stayed in well enough for me to call these a success. I served them up with some honey-mustard, because in my opinion, you can't have nuggets without dipping them into something. (I just mixed together mayonnaise, yellow mustard and some honey until it tasted the way I wanted.) Or you could serve them with Homemade Chick Fil A Sauce – yum!
I would suggest getting the ham sliced the same thickness you would for sandwiches. For some reason, I thought that thicker made more sense, but after realizing thicker slices wouldn't work (and having to head back to the grocery store for more ham), I discovered that sandwich slices do work the best.
The magazine touts these as an appetizer, and although I do think they would make a great appetizer, I think they were even better as dinner. We loved them!!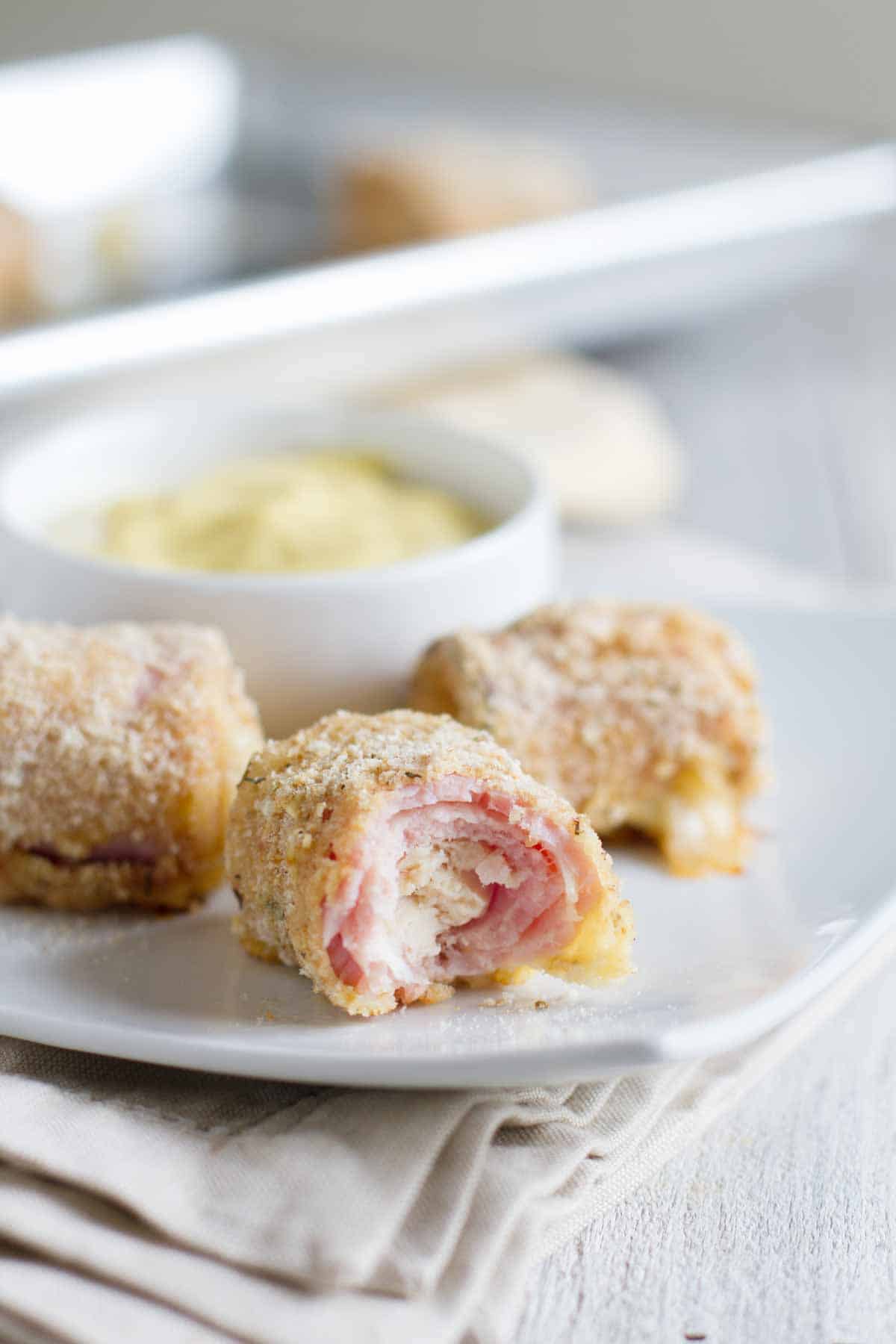 Serving Suggestions:
Broccoli Salad
Baked French Fries
Baked Beans with Bacon
More Chicken Nuggets
Crispy Chicken Nuggets
Homemade Chicken Nuggets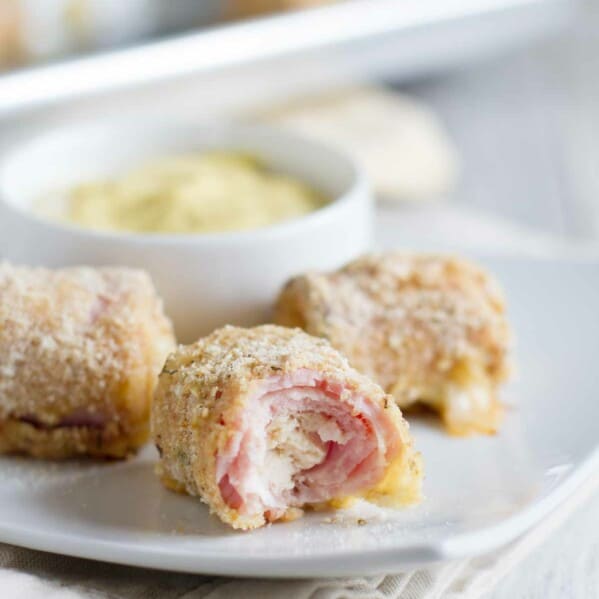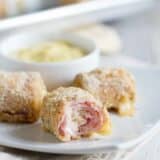 Chicken Cordon Bleu Nuggets
---
Author:
Prep Time: 30 minutes
Cook Time: 20 minutes
Total Time: 50 minutes
Yield: 36 nuggets 1x
Category: Main Dish
Method: Baked
Cuisine: American
Description
Chunks of chicken are wrapped in ham and swiss and covered in a breadcrumb coating for a fun appetizer or family friendly dinner.
---
Scale
Ingredients
2 eggs
1 cup breadcrumbs
1 teaspoon dried thyme
1/2 cup flour
salt and pepper
1/2 lb deli sliced ham
1/2 lb deli sliced Swiss cheese
12 oz boneless, skinless chicken breasts, cut into 36 chunks
---
Instructions
Preheat the oven to 350F. Spray 2 baking sheets with nonstick cooking spray.
Place the eggs in a shallow bowl and beat lightly with a splash of water. Place the breadcrumbs and thyme in another shallow bowl. Place the flour in a third shallow bowl and season liberally with salt and pepper.
Cut the ham and the cheese into strips about 1 to 1 1/2 inches wide. (Cut them lengthwise so they are long – you should be able to get 3 to 4 strips from each piece of ham, and 3 from each slice of cheese.)
On a work surface, place one piece of cheese on top of one of the strips of ham. Place a chunk of chicken on one end and roll up to enclose the chicken. Working with one at a time, lightly coat with the flour, then dunk in the egg then roll in the breadcrumbs. Place on the baking sheet, seam side down. Continue with the rest of the nuggets.
Bake until the chicken is cooked through and the nuggets are golden, about 20 minutes.
Keywords: chicken cordon bleu nuggets