These Monte Cristo Crepes are sweet and savory and perfect for breakfast, brunch or dinner! Tender crepes are filled with cheese, ham and turkey and topped with raspberry jam and powdered sugar.
I have often said that I want to taco-fy everything. Because, well, everything can basically be made into a taco. And it's a great way to change up taco night.
Well, the changing of the taco is now turning into the changing of the Monte Cristo. Because I'm basically obsessed.
I actually remember the first time I had a Monte Cristo, which is surprising because I have the worst memory in the whole world. I can't even remember 1 week ago, much less when I was 5 years old. And while I may not remember how old I was, I will never forget that sandwich. My brother was home after living away for awhile, and made this strangely addictive sandwich, and I've never been the same since.
If you aren't familiar with a Monte Cristo, it is a ham sandwich (which often includes turkey) that is fried and then served with powdered sugar and raspberry preserves. My brother made them the more popular way to make them at home, by dipping the sandwich in an egg batter and pan frying it, sort of like a French toast. After trying and falling in love with my brother's sandwich, I had the opportunity to try one at Bennigan's, where the sandwich is super popular. It's no wonder, because the sandwich is deep fried. But regardless of which way you have them, they are just all kinds of delicious.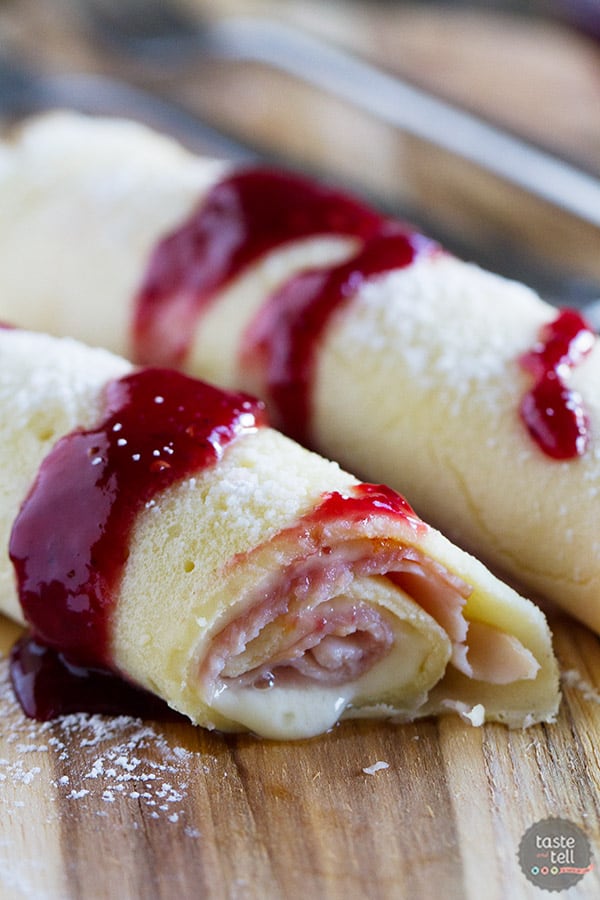 I think I love them so much because the sweet/savory combo is my very favorite. And these Monte Cristo Crepes definitely have the sweet and savory covered.
I start with a basic crepe recipe, then roll them up with a slice of cheese, ham and turkey. Then sprinkle on the powdered sugar and drizzle them with raspberry jam. Or serve the raspberry jam on the side for dipping. If you've never tried the combo before, you may be thinking that I'm crazy right now. but trust me on this. These crepes are killer. I'm thinking they'd make the perfect brunch recipe, but we ate them for dinner, as well. I would eat them for breakfast, lunch and dinner if I could get away with it!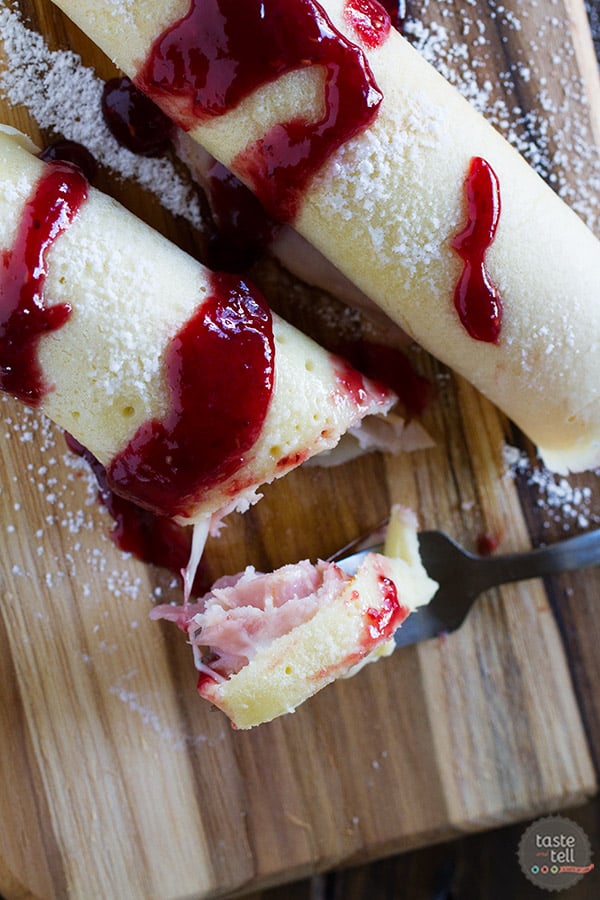 Like what you see here? Make sure you are following Taste and Tell for more recipes and ideas!
Facebook | Pinterest | Instagram | Twitter | Google+ | Weekly Newsletter | Feedly | Bloglovin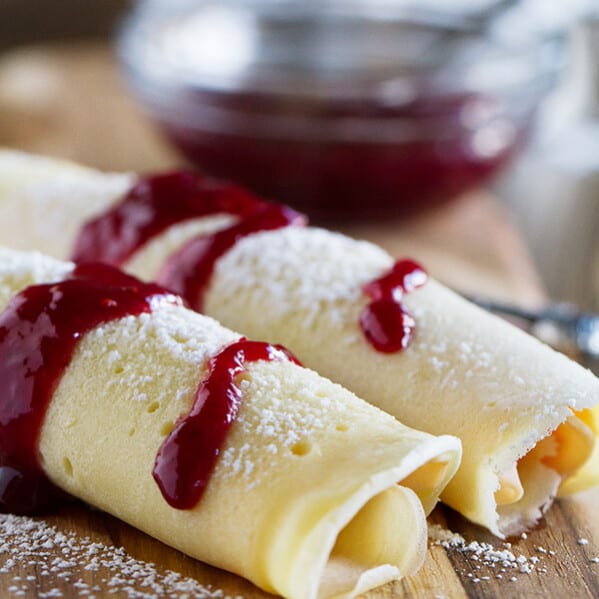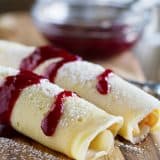 Monte Cristo Crepes
---
Author:
Prep Time: 40 mins
Cook Time: 40 mins
Total Time: 1 hour 20 mins
Yield: 6 servings, 2 crepes each 1x
Description
These Monte Cristo Crepes are sweet and savory and perfect for breakfast, brunch or dinner! Tender crepes are filled with cheese, ham and turkey and topped with raspberry jam and powdered sugar.
---
Scale
Ingredients
1 cup milk
1 cup water
4 eggs
2 cups all-purpose flour
1/2 teaspoon salt
1/4 cup butter, melted and slightly cooled
12 slices deli-sliced ham (about 8 oz)
12 slices deli-sliced turkey (about 8 oz)
12 slices Swiss or Muenster cheese (about 4 oz)
1/4 cup raspberry jam
powdered sugar
---
Instructions
In a blender, combine the milk, water, and eggs. Pulse to combine. Add in the flour and salt and pour the butter on top. Pulse again until all of the ingredients are combined and the batter is smooth. Cover the batter and refrigerate for about 30 minutes.
To make the crepes, very lightly butter a large skillet (I use an 8-inch nonstick skillet) and place over medium low heat. Once hot, add about ¼ cup of batter to the skillet and using your wrist, tilt the pan around to spread the batter, forming an even, thin crepe. Let the batter cook for a minute or two, then loosen the sides with a rubber spatula and flip the crepe over. Cook the second side for another minute or two, then remove to a plate. Repeat with the remaining batter, only buttering the pan if the batter starts to stick. (I usually only butter it once in the beginning – sometimes I need to again halfway through, but not usually.)
Place 1 slice of cheese, 1 slice of ham and 1 slice of turkey on each crepe. If desired, microwave for a few seconds to slightly melt the cheese. Roll the crepes with the filling on the inside.
Serve the filled crepes sprinkled with powdered sugar and drizzled with raspberry jam.
SHOP THIS POST!
Don't miss a thing! Follow me on Pinterest to see what I'm pinning!
Visit Taste and Tell's profile on Pinterest.


More Monte Cristo!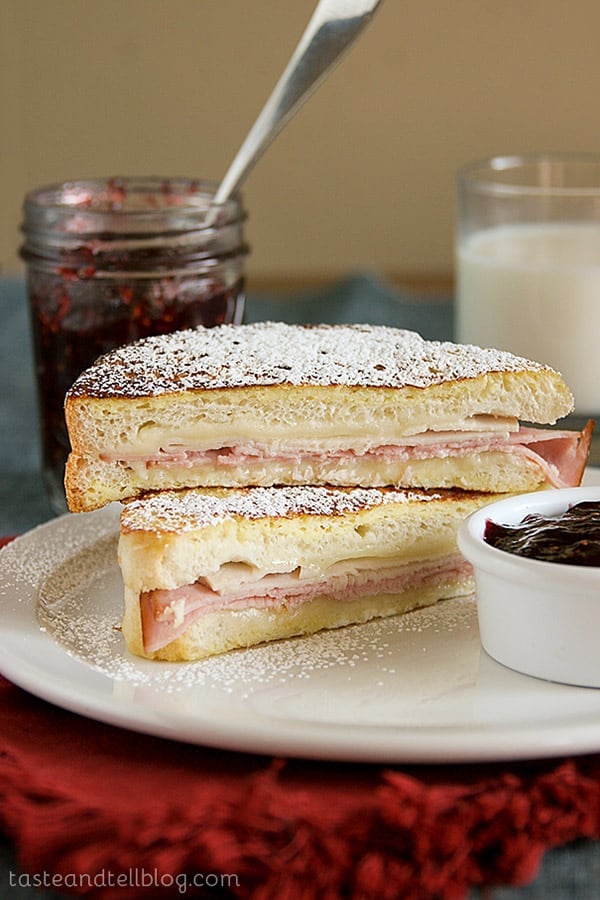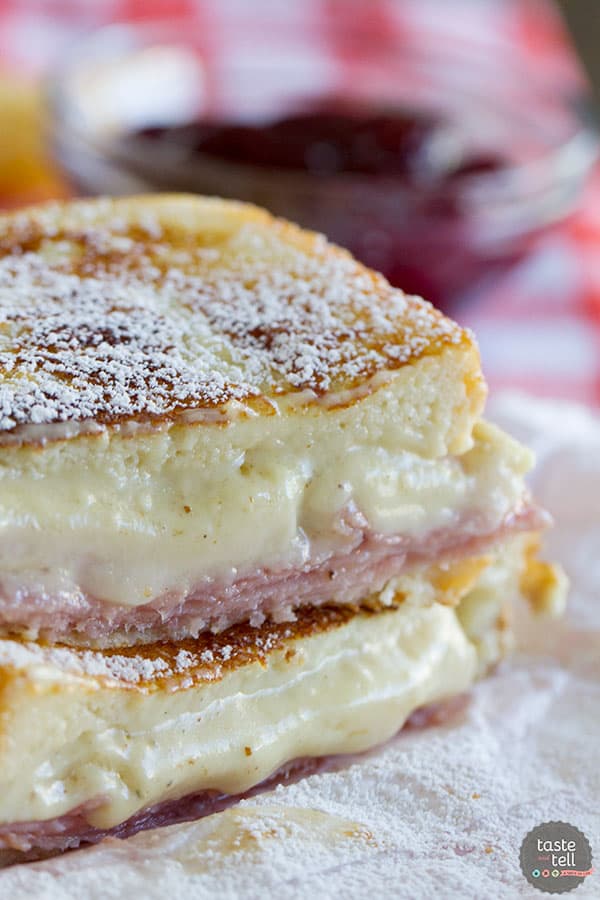 Monte Cristo-Style Croque Monsieur Recipe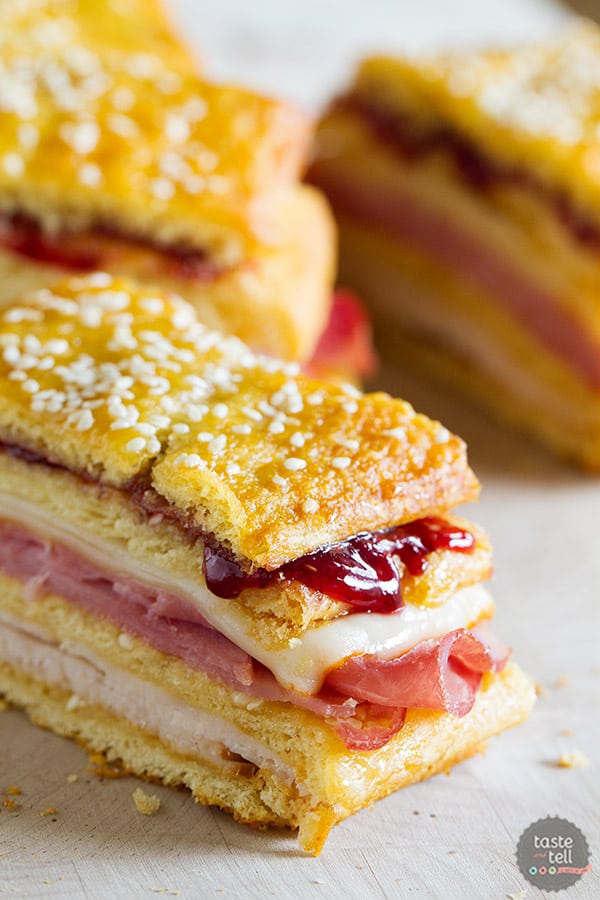 Around the Web:
Monte Cristo Crescent Roll Ups from Picky Palate
Monte Cristo Waffle Sandwich from Foodiecrush
Monte Cristo Party Sliders from South Your Mouth