A modern take on the banana split, this Pan-Fried Banana Split recipe coats a banana in sugar and peanuts, then is served up with ice cream and an easy homemade chocolate sauce.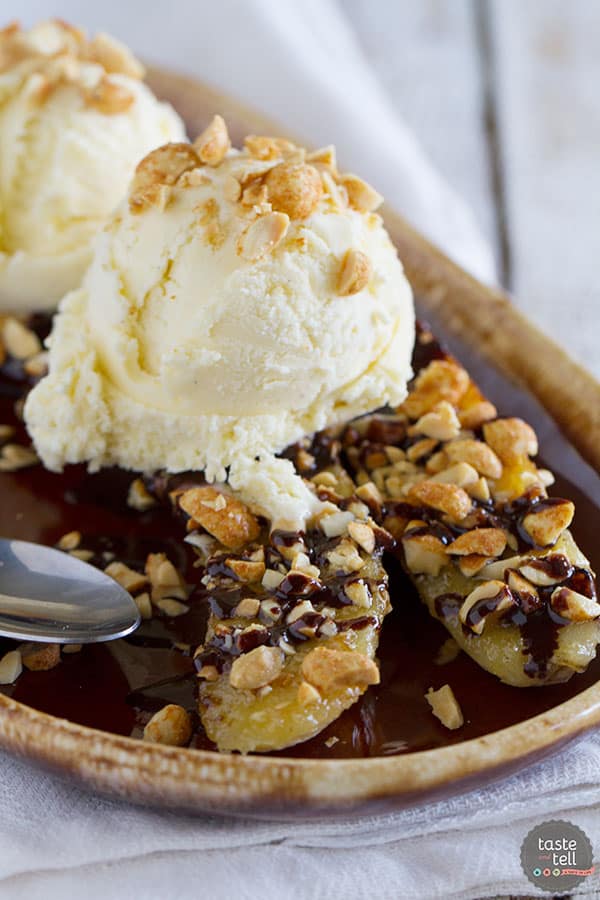 I have openly admitted before that I'm usually more motivated to cook in the colder weather, simply because for the most part, comfort foods are my thing. When it's hot outside, I have a hard time getting motivated to get up and get in the kitchen.
But sometimes, I get totally motivated. Sometimes, all it takes is a beautiful cookbook filled with summer recipes.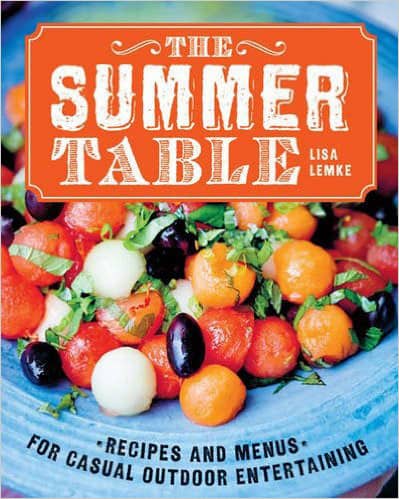 Enter The Summer Table by Lisa Lemke. I fell in love the minute I opened it up. Filled with recipes perfect for that summer pot luck or that backyard bbq, this is a great book to have on hand when the temperatures are on the rise. Filled with tons of great, fresh recipes, perfect for outdoor entertaining, this book is full of so much goodness!
Here are the details:
Number of Photos: Lots! There is a photo of every recipe – most of them are even full page photos.
Difficulty Level of Recipes: Easy. Because no one has time for difficult, fussy recipes in the summer, right??
Availability of Ingredients: Easy. The author of this book is actually from Sweden, so I was afraid that there would be ingredients that weren't as readily available here, but all of the ingredients are very accessible.
Overall Thoughts:
I already have many of these recipes bookmarked and I can't wait to make them. And if you are an entertainer, this book is especially for you since it has quite a few menus already made up for you!!
Other recipes I want to try:
Strawberry Semifreddo Cones with Biscotti Streusel
Grilled Guacamole Tortilla with Mozzarella
Mango Squares with Coconut Topping
Noodle Salad with Sesame and Lime
Asparagus Tart with Creamy Ricotta
Salty-Sweet Rosemary Popcorn
Fresh Potato Salad with Horseradish, Lemon and Capers
Grilled New York Strip Steak with Spice Rub
Buy The Summer Table on Amazon.
Now, what screams summer more than ice cream? Maybe a banana split?
This banana split recipe stood out to me from the beginning. Probably because it's a twist on the classic, but a simple twist on the classic. I like a banana split fine, but would probably be good with only having one every year or two. But this Pan Fried Banana Split Recipe? I could seriously eat this every single day.
This recipe really is quite simple and only takes a few minutes to throw together, which makes it an ideal entertaining food. The chocolate sauce literally takes minutes to mix together, but it can easily be made ahead of time. The all you have to do is cut your bananas in half and dip them in raw sugar that will give them a good crunch and some texture. Melt some butter in a pan and fry the sugar side of the bananas. It literally takes only a minute or two, then the bananas get coated in chopped peanuts. But it's still not over! Serve the warm bananas with some vanilla ice cream (I had some of this Homemade Vanilla Ice Cream on hand) and drizzle it with your chocolate sauce. Then throw a few extra peanuts on top. This banana split recipe is seriously dangerous to have on hand because of how easy it is to make!!
I can't wait to hit more recipes from this book, and to turn to this Pan Fried Banana Split Recipe next time I have a sweet craving!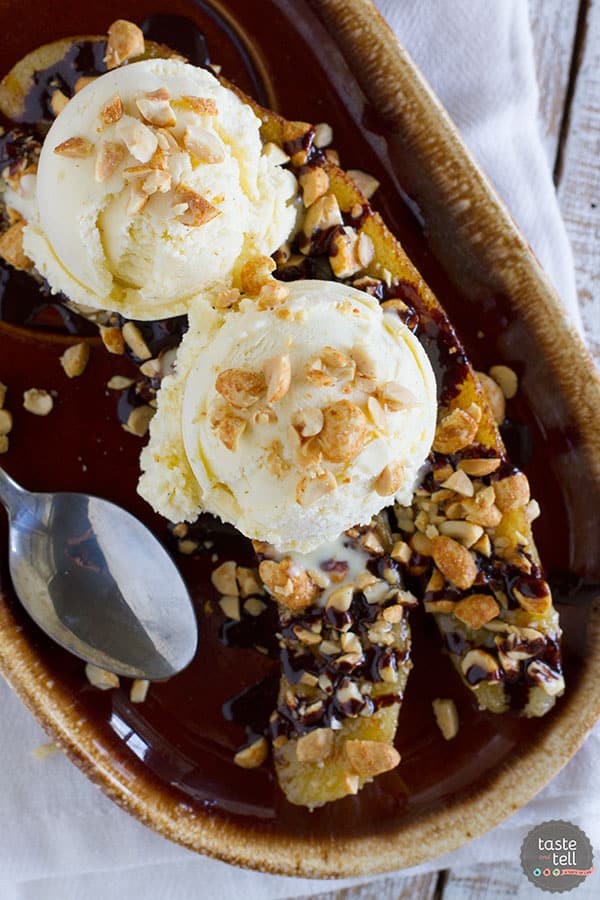 Like what you see here? Make sure you are following Taste and Tell for more recipes and ideas!
Facebook | Pinterest | Instagram | Twitter | Google+ | Weekly Newsletter | Feedly | Bloglovin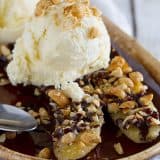 Pan-Fried Banana Split Recipe
---
Prep Time: 10 mins
Cook Time: 2 mins
Total Time: 12 mins
Yield: 4 servings 1x
Description
A modern take on the banana split, this Pan-Fried Banana Split recipe coats a banana in sugar and peanuts, then is served up with ice cream and an easy homemade chocolate sauce.
---
Scale
Ingredients
Chocolate Sauce:
3 1/2 ounces semi-sweet chocolate
1 cup heavy cream
1/2 cup cocoa powder
2 teaspoons sugar
pinch of salt
1 tablespoon butter
Sundaes:
4 bananas
1/2 cup raw sugar
4 tablespoons butter
3/4 cup chopped salted peanuts (plus more for garnish)
vanilla ice cream
---
Instructions
Coarsely chop the chocolate and place it in a bowl. Heat the cream in a small saucepan just to a boil, then let it sit for a minute or two. Pour it over the chocolate. Add the cocoa, sugar and salt and stir until the chocolate has melted and the mixture is smooth. Let the chocolate sauce cool slightly.
Split the bananas in half lengthwise. Place the sugar on a shallow plate, then dip the cut side of the bananas into the sugar so that the surface of the banana is completely covered in sugar.
Place the butter in a frying pan over medium-high heat. Place the bananas, sugar side down, into the hot pan. Fry them without turning, 1-2 minutes each, or until they start to turn golden brown.
Spread the chopped nuts on a shallow plate or cutting board. Carefully remove the bananas from the pan and place them on the nuts, fried side down, so that the nuts stick to the surface.
Serve the bananas with a scoop of ice cream. Drizzle the sundae with some of the chocolate sauce and an additional sprinkle of peanuts.


Don't miss a thing! Follow me on Pinterest to see what I'm pinning!