Nothing says celebrate more than these Homemade Funfetti Donuts! Cake donuts are perfectly crisp on the outside and soft on the inside and filled with sprinkles. Add more sprinkles to the top to make them even more festive!
Donuts are a favorite around here! If you want even more, also try this traditional Cake Donut Recipe, these Apple Cider Donuts, or Ricotta Donuts.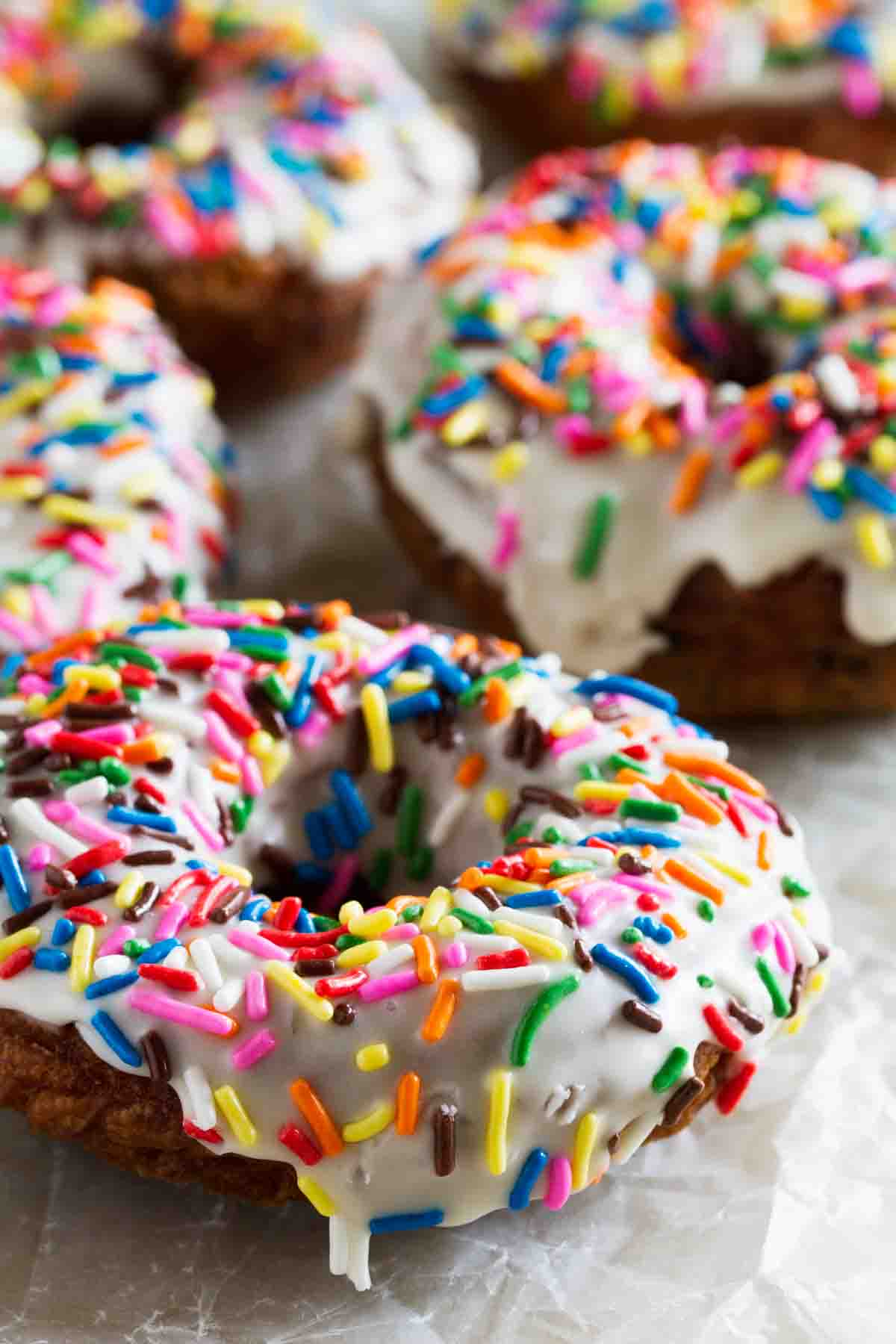 You guys. I think I'm officially old.
Ok, well, I know that I'm getting old – my lack of memory, achy back and the increasing gray hair are proof of that. But this little blog right here? On March 30th, she turned
9 YEARS OLD!!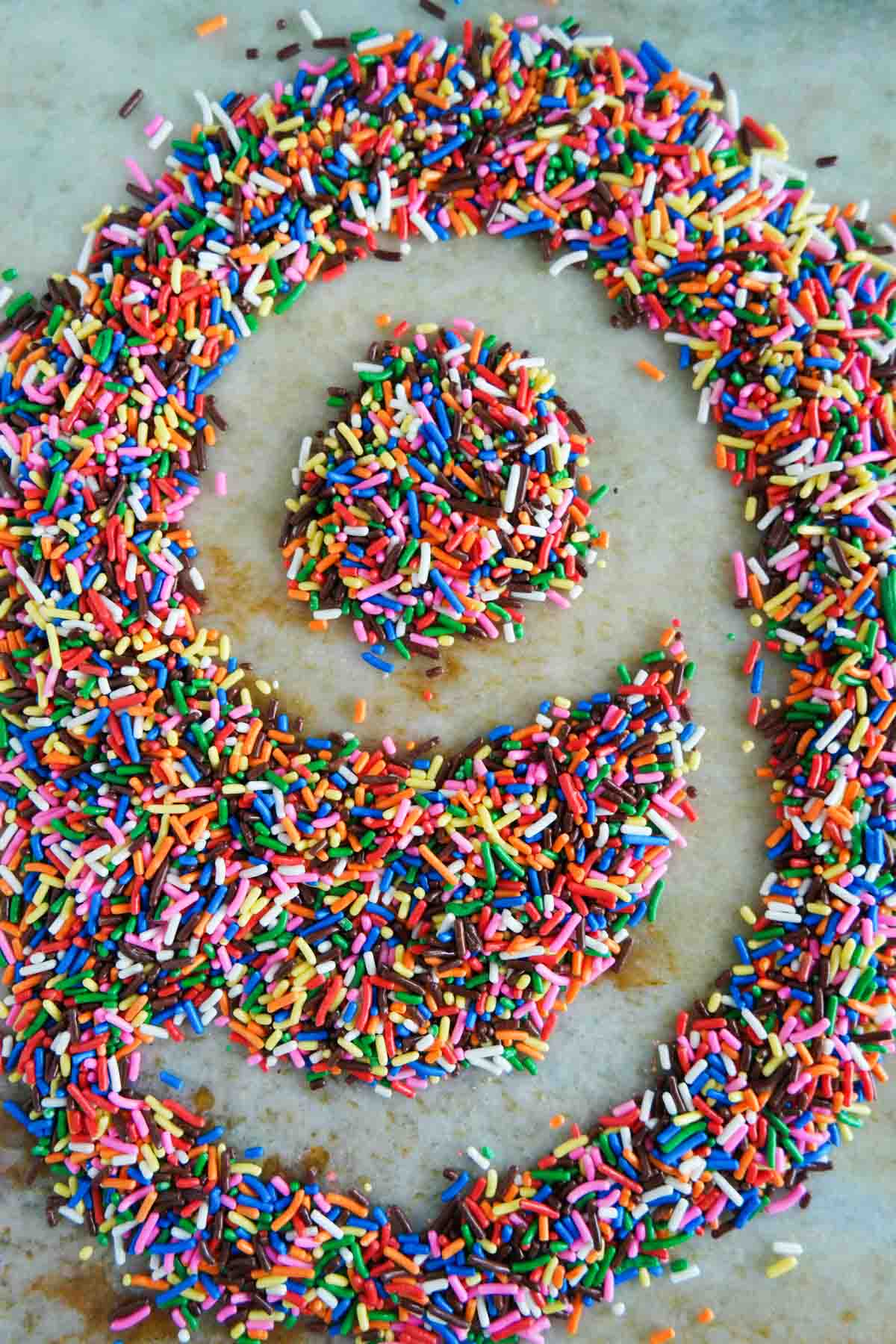 Seriously – in blog years, that is ancient. There are lots that came before me, but when I started, there were probably several hundred food blogs, while today, there are thousands and thousands of them. I think the number of food blogs that are still alive and blogging after this 9 years is even smaller. But somehow, Taste and Tell has stood the test of time. What started as a hobby blog and a way for me to learn photography has turned into a full blown career. Who would have ever guessed??
There is so much I could say. But really, I have said it all before. I didn't celebrate last year (time just got away from me and I guess birthdays aren't as big of a deal when you get older??) but I've got 7 other birthday posts that gush about how much I love this blog and how thankful I am for all of you. I won't go into most of that again, but I do want to say over and over again how grateful I am for each and every one of you that clicks through from Pinterest, Facebook, Instagram, or whatever on the web led you to me. I seriously go to bed every night with a heart full of gratitude that I get to do this for a living. I honestly love it. I love cooking, and baking, and photographing. I love sharing. But none of that would mean nearly as much if I didn't have all of you reading and making the recipes I post here.
Thank you.
Thank you for celebrating with me. Thank you for reading. You all make this crazy blogging thing pretty amazing!!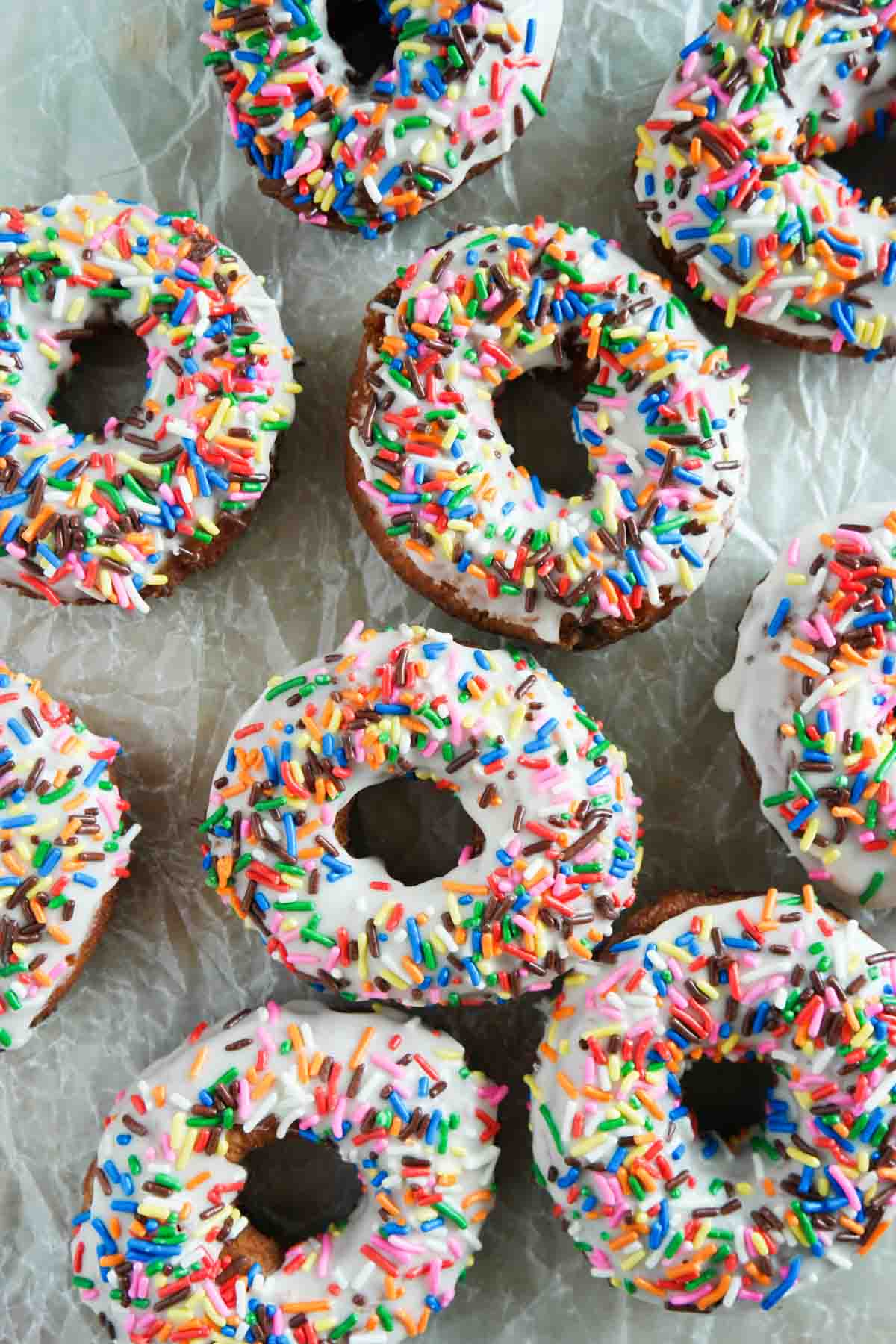 Yeast Donut vs Cake Donut
I will never discriminate against a baked donut (I've made plenty of them!) but a birthday celebration deserves the real deal. So it's time to get out the hot oil, because these Homemade Funfetti Donuts will not disappoint.
I have made plenty of yeast raised donuts. And while I love them, I wanted to conquer the cake donut. If you've never had a cake donut, you are missing out. They are crispy on the outside and soft on the inside. More dense than a yeast donut, and really, so much easier. You can have these done in about an hour, and that includes the time spent refrigerating the dough.
On the other hand, a yeast donut is much lighter and fluffier, and takes much more time because you have to let the dough rise. Both are delicious – just depends on what you are in the mood for!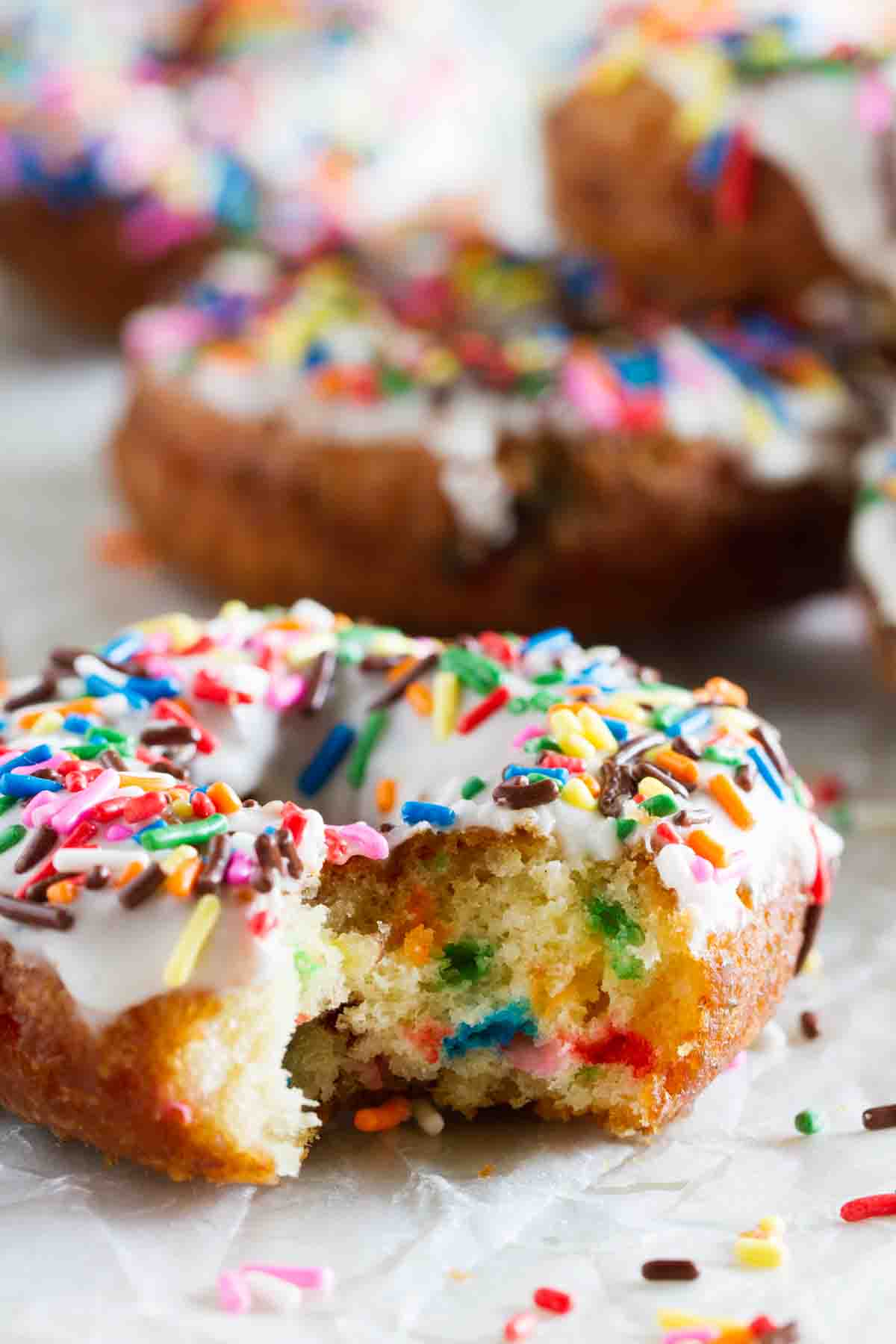 Tips and Tricks
This dough is sticky. You'll think I've messed up the recipe. But please do not add more flour. You will need to generously flour your counter before you turn the dough out. But trust me – if you add more flour to the dough, your donuts will end up heavier than they should be.
If you dip the donuts in the glaze when they are still warm, the glaze will be thinner. For a thicker glaze, more like an icing, wait until the donuts are cool.
Use any kind of sprinkles you want! These would be great for a holiday or for a birthday.
These Funfetti Donuts are best served on the day they are made.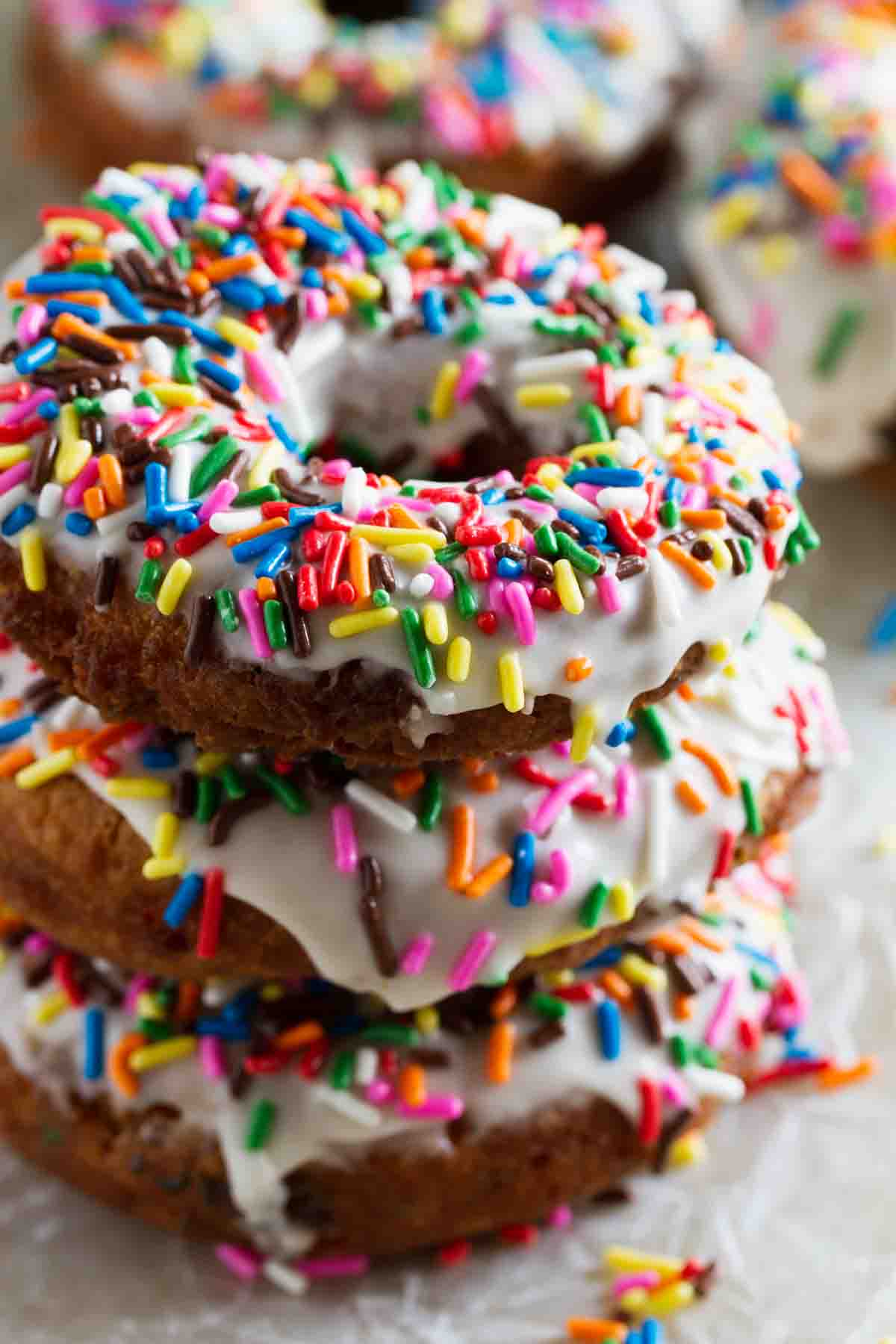 More Sprinkle Recipes
Funfetti Pancakes
Funfetti Frosting
Chocolate Chip Sprinkle Cookies
Cake Batter Blondies
Chocolate Crinkle Sprinkle Cookies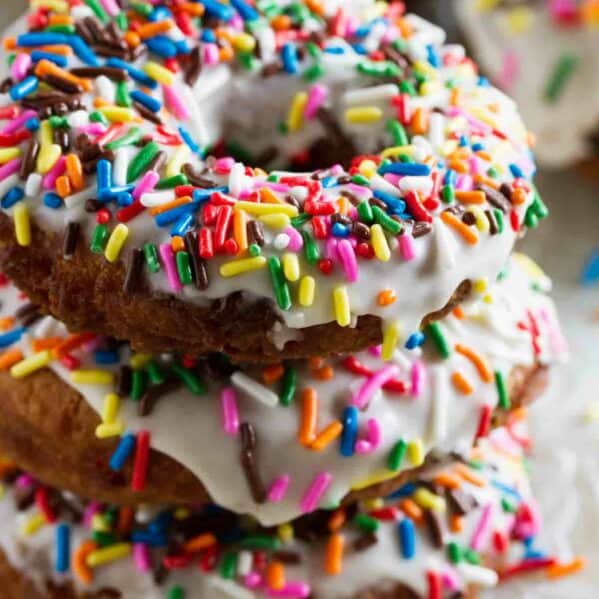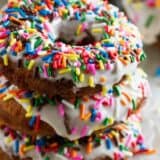 Homemade Funfetti Donuts
---
Author:
Prep Time: 50 minutes
Cook Time: 10 minutes
Total Time: 60 minutes
Yield: 12 servings 1x
Category: Breakfast
Method: Stove Top
Cuisine: American
Description
Nothing says celebrate more than this Homemade Funfetti Donut Recipe! Cake donuts are perfectly crisp on the outside and soft on the inside and filled with sprinkles. Add more sprinkles to the top to make the even more festive!
---
Scale
Ingredients
Donuts
2 1/2 cups all-purpose flour
1/2 cup granulated sugar
1 tablespoon baking powder
1/2 teaspoon salt
1/2 cup milk ((I used 2%))
1 egg (lightly beaten)
2 teaspoons pure vanilla extract
1/4 cup sprinkles
vegetable oil (for frying)
Glaze
2 cups powdered sugar (sifted)
3–4 tablespoons heavy whipping cream
2 tablespoons hot water
1/2 teaspoon pure vanilla extract
additional sprinkles
---
Instructions
In a large bowl, combine the flour, sugar, baking power and salt. Make a well in the center, then add the milk, egg and vanilla. Stir the batter, just until almost combined. Add in the sprinkles and stir just until combined. The dough will be sticky. Cover the bowl and refrigerate for 30 minutes. (You could probably skip the refrigerating if you really need to, but the dough is much easier to roll out if it is cold.)
Heat 2-3 inches of oil in a heavy pot or deep fryer to 375ºF.
While the oil is heating, generously dust a work surface with flour. Using a spatula, turn the dough out onto the flour. Sprinkle some more flour on top. Using a rolling pin or floured hands, roll the dough out to about 1/2" thick. Use a donut cutter or 2 different sized circle cutters to cut out the donuts. Re-roll the scraps as needed, but try not to mess with the dough too much, as the donuts will become tougher the more you mess with the dough.
When the oil is hot, add a few of the donuts to the oil. Be careful not to overcrowd the pan. Fry until they are golden brown, flipping as needed, 1-2 minutes per side. (If they get brown faster than that, turn the heat down, and if it is taking longer, turn the heat up.) Remove to a paper-towel lined plate to let the donuts drain and cool off.
To make the glaze, place the powdered sugar in a bowl and stir in 3 tablespoons of cream, the hot water and the vanilla. If needed, add more cream until the glaze is thin enough to dip the donuts in, but thick enough to stick to the top. (I like to make the glaze thicker for the donuts, but I thinned it out for the donut holes and completely covered them in glaze.) Dip the tops of the donuts in the glaze, then dip in sprinkles. Let the glaze harden before serving, about 15 minutes.
Recipe Notes:
You may get more or less than 12 donuts, depending on the size you make them.
Nutrition information provided as an estimate only. Various brands and products can change the counts. Any nutritional information should be used as a general guide.
We have determined the nutritional value of oil for frying based on a retention value of 10% of oil after cooking. The exact amount may vary depending on cook time and temperature, ingredient density, and the specific type of oil used.
Nutrition
Serving Size: 1 donut
Calories: 320
Sugar: 34 g
Sodium: 227 mg
Fat: 9 g
Saturated Fat: 2 g
Unsaturated Fat: 5 g
Trans Fat: 0 g
Carbohydrates: 57 g
Fiber: 1 g
Protein: 4 g
Cholesterol: 21 mg