A great use for ground beef, this Beef Satay Noodles Recipe is an easy weeknight dinner that can be spiced up or down depending on your preferences. I could eat this every day!!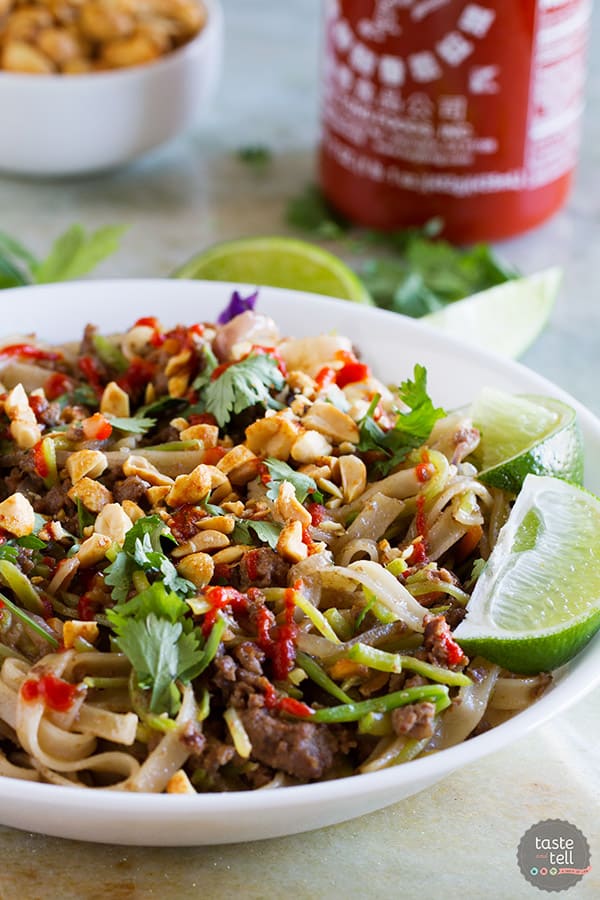 Is there one kind of food you could eat every day and not get bored of it?
Let me tell you. Sometimes, I think it's a curse to love food so much. To love every kind of food. Because most likely, you will be surrounded by people who do not love every kind of food that you do.
Let's take these Beef Satay Noodles, for instance. Seriously – this is the kind of food that I could eat every single day, and be as happy as a clam. But my family? Not so much. My husband is a fairly adventurous eater, and will at least eat what I make. But peanuts in a savory dish – it's one of those things that he just doesn't do. But me? I love them. And we won't even get started on my picky kids. I keep just hoping that one day, they will come to appreciate all of the different foods that their mom makes for them. #wishfulthinking
So what does one do when they want a big ol' bowl of noodles with a peanut sauce? That person plans on making the recipe for themselves for lunch one day. But then sometimes plans go awry, and it's dinner time and the only recipe you have left on the week's menu is the dish that you were going to make for yourself but hadn't done yet.
I decided that the family would just have to suffer through it.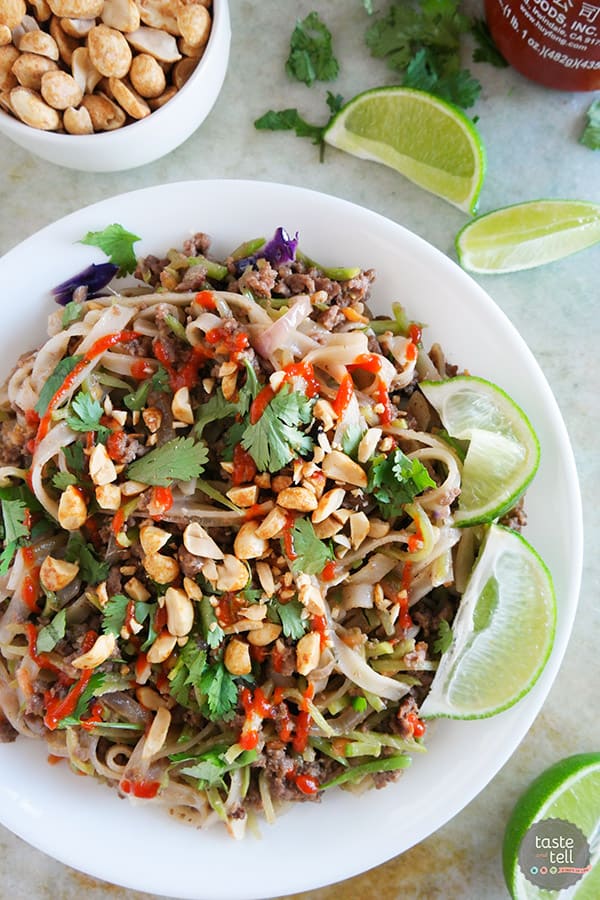 I do have to say that my husband did pick through it and ate just the noodles (and didn't even complain that much). The kids treated it like anything else that they get for dinner and ate the few bites to please me.
But me? You guys – I was in heaven.
These Beef Satay Noodles are totally my thing. Which is also why I didn't complain too much when no one else wanted to eat this, because I got to enjoy lots of leftovers. (And fyi – the leftovers rock.) This recipe is so super simple, and is seriously so delicious. The dish itself is good, but the real magic lies in the toppings. Lots of cilantro, some extra peanuts, and a good drizzle of Sriracha.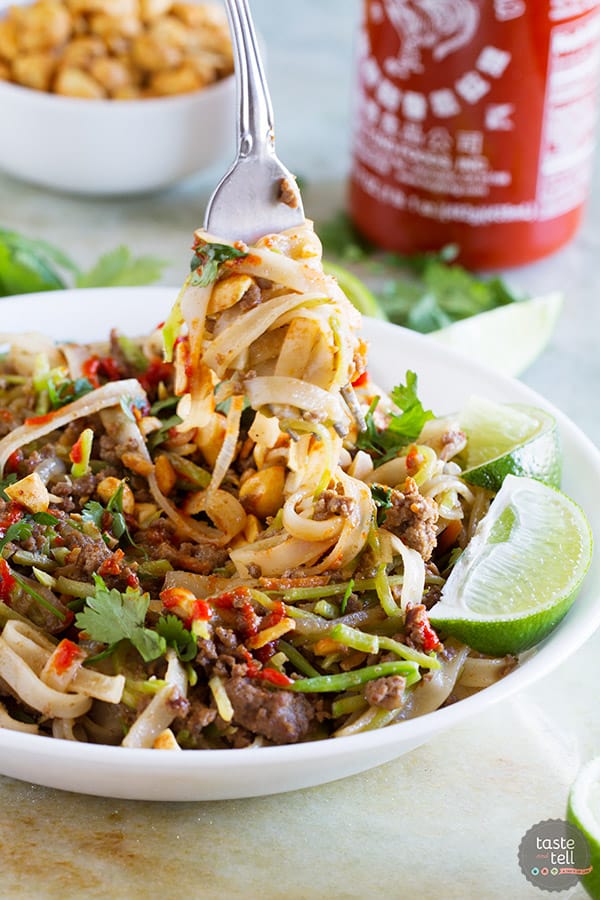 And then devour. You're welcome.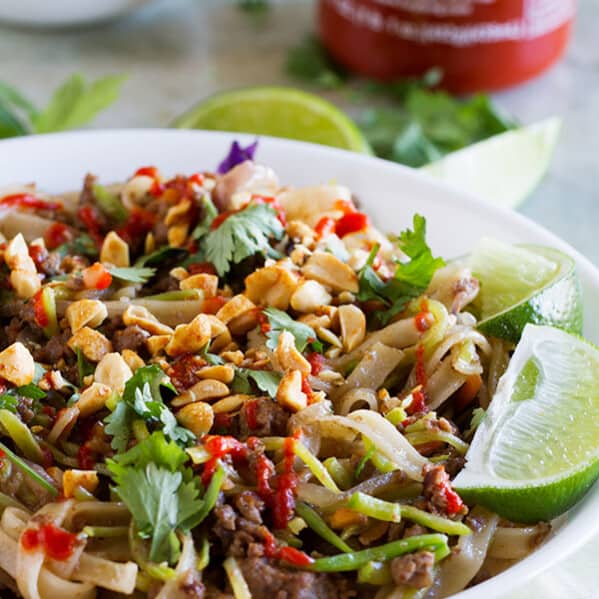 Beef Satay Noodles
---
Author:
Prep Time: 10 mins
Cook Time: 25 mins
Total Time: 35 mins
Yield: 4 servings 1x
Description
A great use for ground beef, this Beef Satay Noodles Recipe is an easy weeknight dinner that can be spiced up or down depending on your preferences. I could eat this every day!!
---
Scale
Ingredients
8 oz stir-fry rice noodles
1/3 cup crunchy peanut butter
2 tablespoons soy sauce
2 teaspoons grated peeled ginger
1 pound ground beef
1 tablespoon vegetable oil
3 shallots, thinly sliced
9 oz broccoli slaw
1 teaspoon Sriracha, plus more for serving
cilantro, peanuts and lime wedges, for serving
---
Instructions
Place the rice noodles in a large bowl and cover with very hot tap water. Cover the bowl and let the noodles soak for 20-25 minutes. Reserve 1/2 cup of the water, then drain the noodles.
Meanwhile, in a large bowl, mix together the peanut butter, soy sauce and ginger. Add the beef and season with about 1/2 teaspoon of salt and 1/4 teaspoon of pepper. Mix to combine.
Heat the 1 tablespoon of oil in a large skillet over medium-high. Add the shallots and cook until softened, 3-4 minutes. Stir in the broccoli slaw and continue to cook until it starts wilting, about 3 more minutes. Transfer the vegetables to a bowl or a plate.
Return the skillet to the heat and add the beef mixture. Cook, stirring occasionally, until browned and cooked through, 5-7 minutes.
Return the vegetables to the skillet with the beef. Add the noodles, the reserved water and 1 teaspoon of Sriracha. Cook, tossing gently to combine, until heated through, a few more minutes.
Top each serving with cilantro, peanuts, Sriracha and serve with lime wedges.