Baked Key Lime Pie Donuts – Baked donuts are made with a touch of key lime, then topped with a sweet key lime glaze and graham cracker crumbs for that key lime pie touch.
Key lime is a favorite flavor around here. You can see more with this Key Lime Pie or these Key Lime Cupcakes.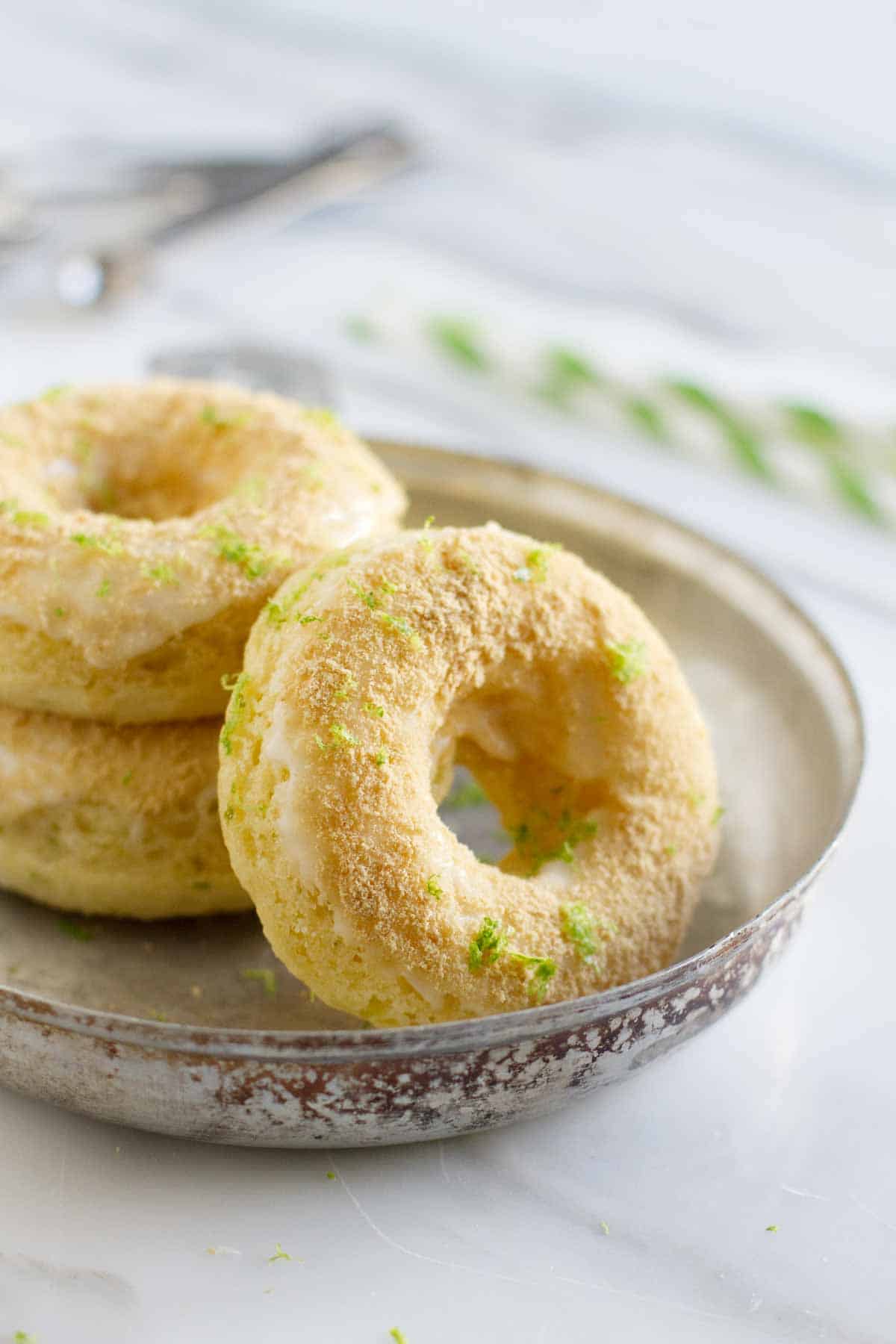 One of the best perks of blogging is getting to meet some of your fellow bloggers in real life, and becoming actual real life friends – beyond the computer. I have been very blessed, because two of my best friends today I met through blogging – Carrian from Sweet Basil and Kristie from Sweet Treats and More. Well, every so often, we like to get together and talk about life, food, and of course, blogging.
Last week, we decided to get together for the morning and all bring something key lime to photograph together. Among the kids playing, kids crying (mostly mine), and kids begging for something to eat (again, mine), we managed to have a great morning. I always love hanging out with those girls! And I'm so excited for all of us to be able to share our key lime treats with you all today.
When I was trying to decide what to make, my mind went immediately to donuts. (Really, it should be no surprise at this point, right?) I was really tempted to make some real, full-fat, fried and full of goodness doughnuts, but then the baby weight stared back at me and I knew I shouldn't pull out the deep fryer. And it totally ended up working out in my favor, though, because these turned out fantastic. I wasn't sure how much lime flavor I was going to get, but the glaze totally pulled it all together. These were super tart – which is my favorite part about citrus desserts. (If you prefer less tart, just substitute part of the key lime juice in the glaze with milk.) And the secret to keeping these super moist is Greek Yogurt. I used a small container of Chobani Plain Greek yogurt, and it was perfect.
When it comes to citrus, I'm usually all about fresh. I don't ever buy those bottles of lemon juice – it's never the same as fresh squeezed juice to me. But I have to admit that it's a different story when it comes to key limes. Have you ever had to juice key limes? Those things are tiny! And tiny limes equals having to juice a million limes, and well, in this case, I totally cheat and use bottled key lime juice. Plus, key limes are often hard for me to find. You can always substitute regular Persian limes, too, but I wanted to go with the real key lime for these donuts. And of course, to give them that "pie" twist, I had to add some crushed graham crackers. I adore key lime pie, and it just wouldn't be the same without that graham cracker crust!
Now I'm thinking we need another morning together – so we can all bring you more delicious food!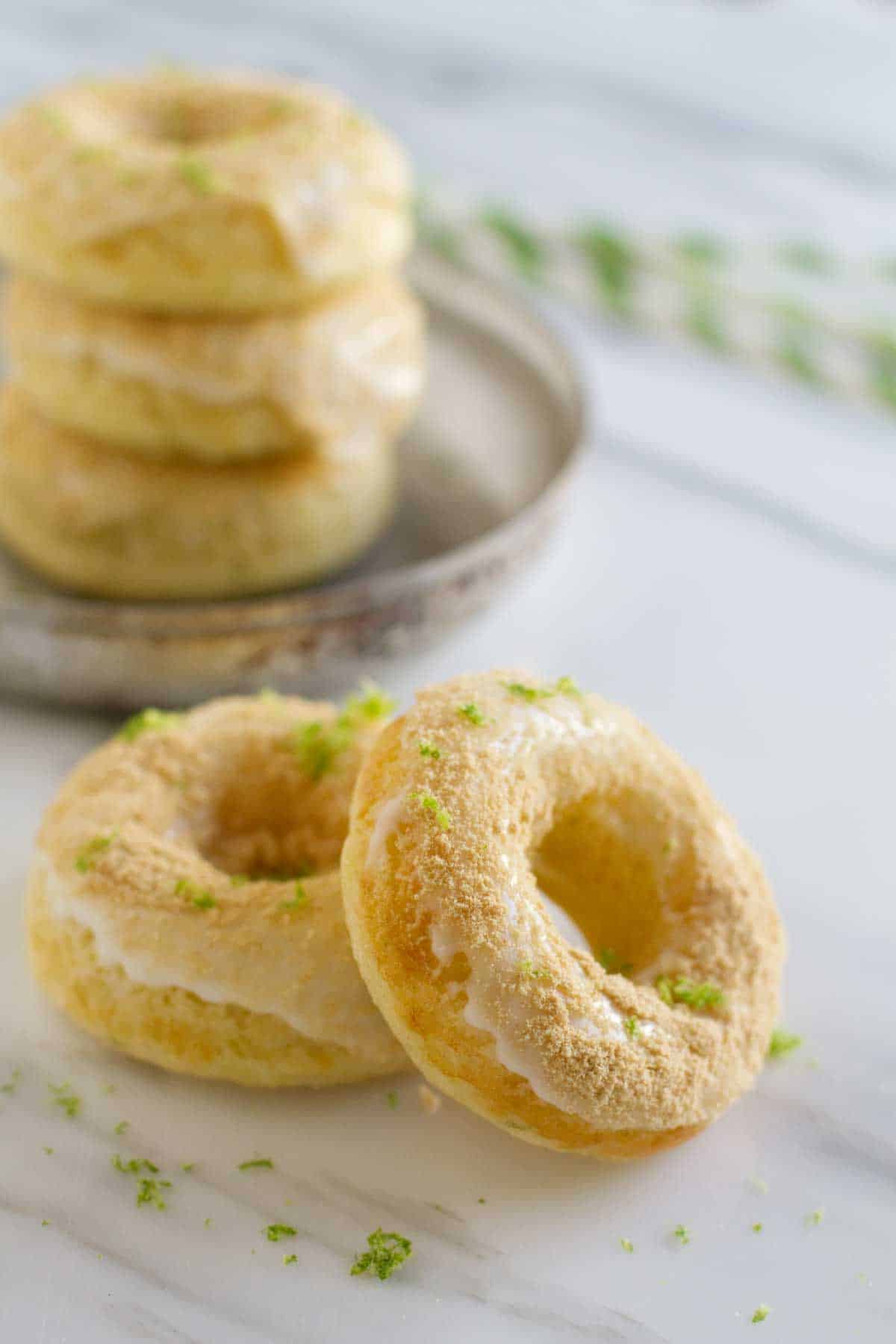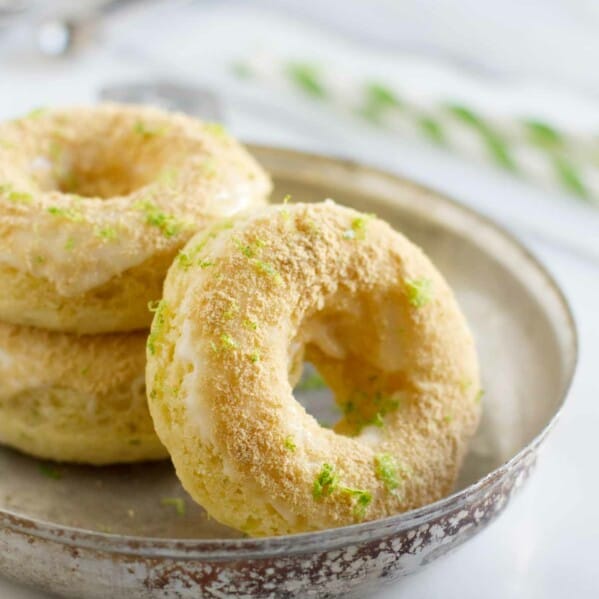 Baked Key Lime Pie Donuts
---
Author:
Prep Time: 10 minutes
Cook Time: 12 minutes
Total Time: 30 minutes
Yield: 14–16 donuts 1x
Category: Breakfast
Method: Baked
Cuisine: American
Description
Baked donuts are made with a touch of key lime, then topped with a sweet key lime glaze and graham cracker crumbs for that key lime pie touch.
---
Scale
Ingredients
Donuts
1 1/2 cups all-purpose flour
1/2 cup sugar
1 teaspoon baking powder
1/2 teaspoon baking soda
1/4 teaspoon salt
1 egg
6 ounces plain Greek yogurt
1/3 cup vegetable oil
1/4 cup milk
1 tablespoon key lime juice
1 tablespoon lime zest
Glaze
2 cups powdered sugar
1/4 cup key lime juice
crushed graham crackers
---
Instructions
Preheat the oven to 325°F. Grease a donut pan.
In a bowl, whisk together the flour, sugar, baking powder, baking soda and salt. In another bowl, lightly beat the egg, then mix in the yogurt, oil, milk, key lime juice and lime zest. Gently stir the dry ingredients into the wet ingredients, just until moistened.
Transfer the mixture to a large ziptop bag. Cut off the corner and use the bag to pipe the mixture into the donut pan, filling each donut about half full. Bake until the donut springs back when lightly touched, 10-12 minutes. Remove from the pan and allow to cool completely.
To make the glaze, mix together the powdered sugar and key lime juice. Dip the tops of the cooled donuts into the glaze, then dip into the graham cracker crumbs.