Is it a cookie or a brownie? Chocolate lovers will go crazy over these Chocolate Crinkle Sprinkle Cookies! Soft, chewy and full of chocolate flavor, these cookies are so fun and festive!
If you love Chocolate Crinkle Cookies, you'll love this festive sprinkle version!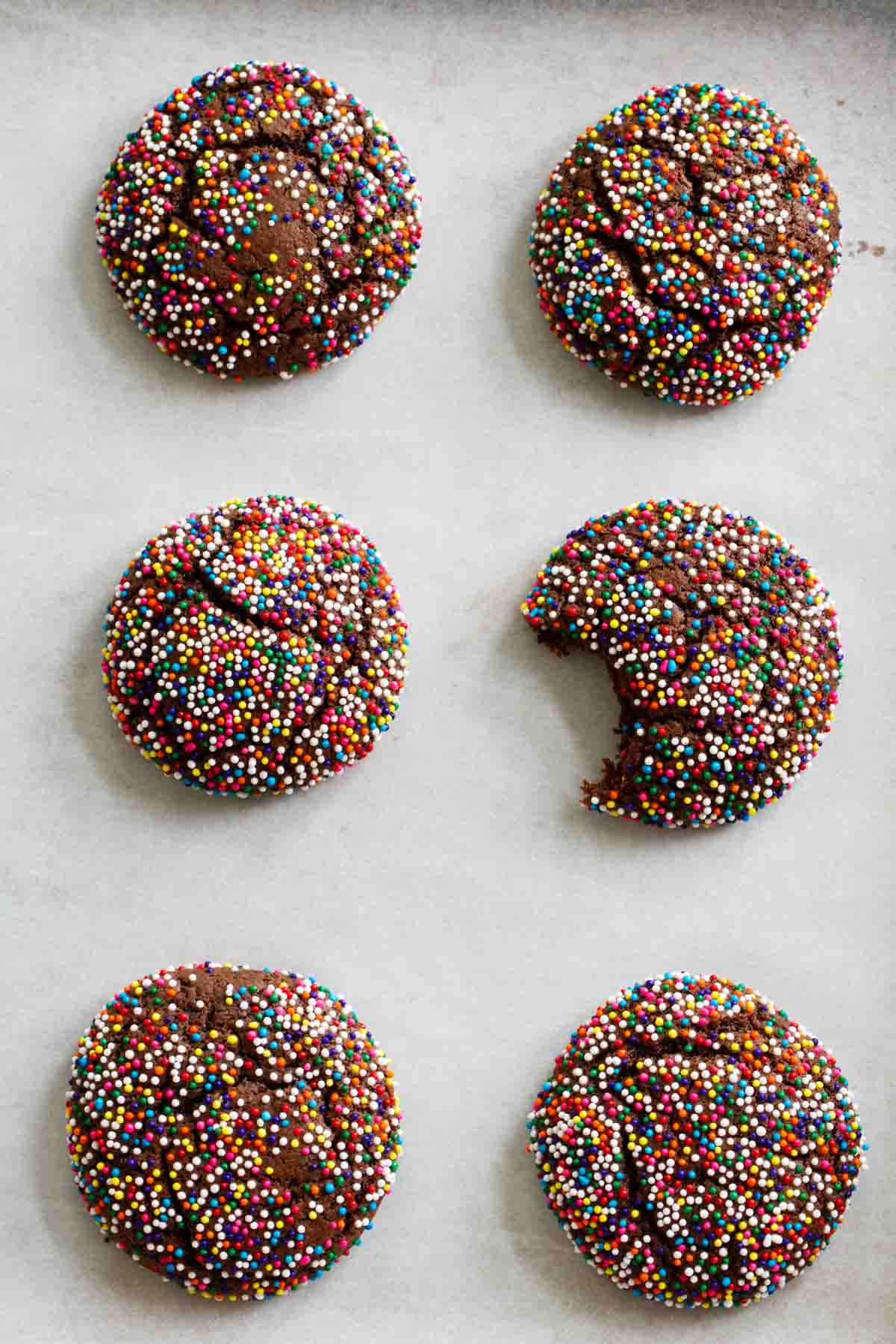 I have another cookbook to share with all of you that I am super excited about!! And I'm guessing that most of you already know about this cookbook – but if you haven't, I'm here to give you the details!!
I've been following Jessica's blog – How Sweet Eats – for years now. She has this way of making everything so beautiful and exciting and I always leave her blog wanting more. I already own her first cookbook, and was SO excited when I heard that she was writing a second cookbook – The Pretty Dish.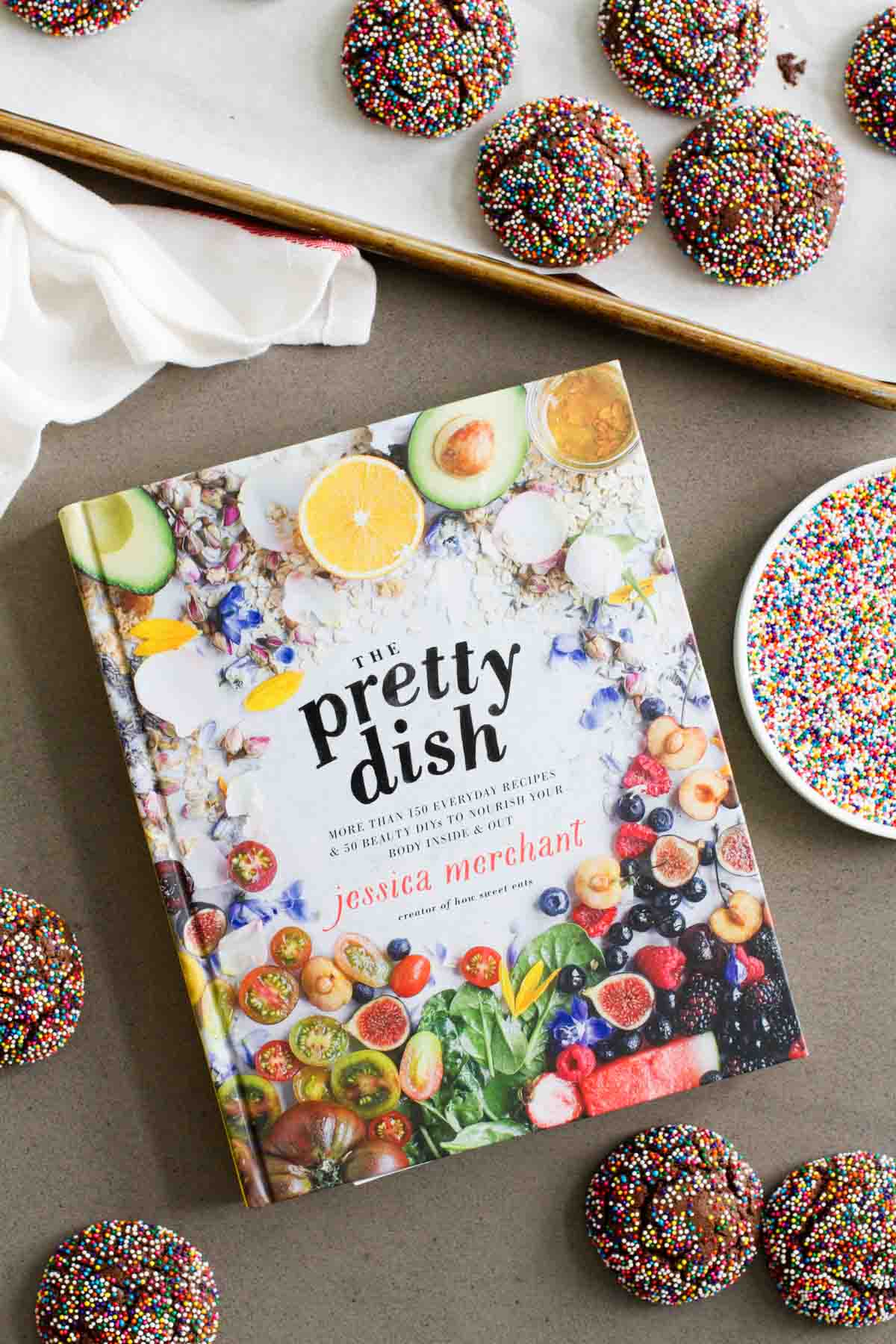 The Pretty Dish
This book is so much more than just a cookbook. The Pretty Dish is not only filled with 150 recipes, but there are also 50 beauty DIYs that mostly use food grade ingredients. Also, she includes some party menus and party playlists!! I am so in love with the "bar" ideas she gives – like a make your own pizza bar or build your own s'mores bar. This book is so packed full of goodness!
What I love:
Let's talk about the photos – oh, the photos. These photos are seriously gorgeous. The photos alone make you want to try every recipe.
I love that there is so much creativity in the recipes, but they don't have super crazy ingredients.
And I love that most of the recipes don't take a ton of effort or time as well. They are totally doable for a busy mom like me.
The beauty section is so much fun, too. I have never made my own beauty products like scrubs and bath soaks, so I'm totally excited to try these out.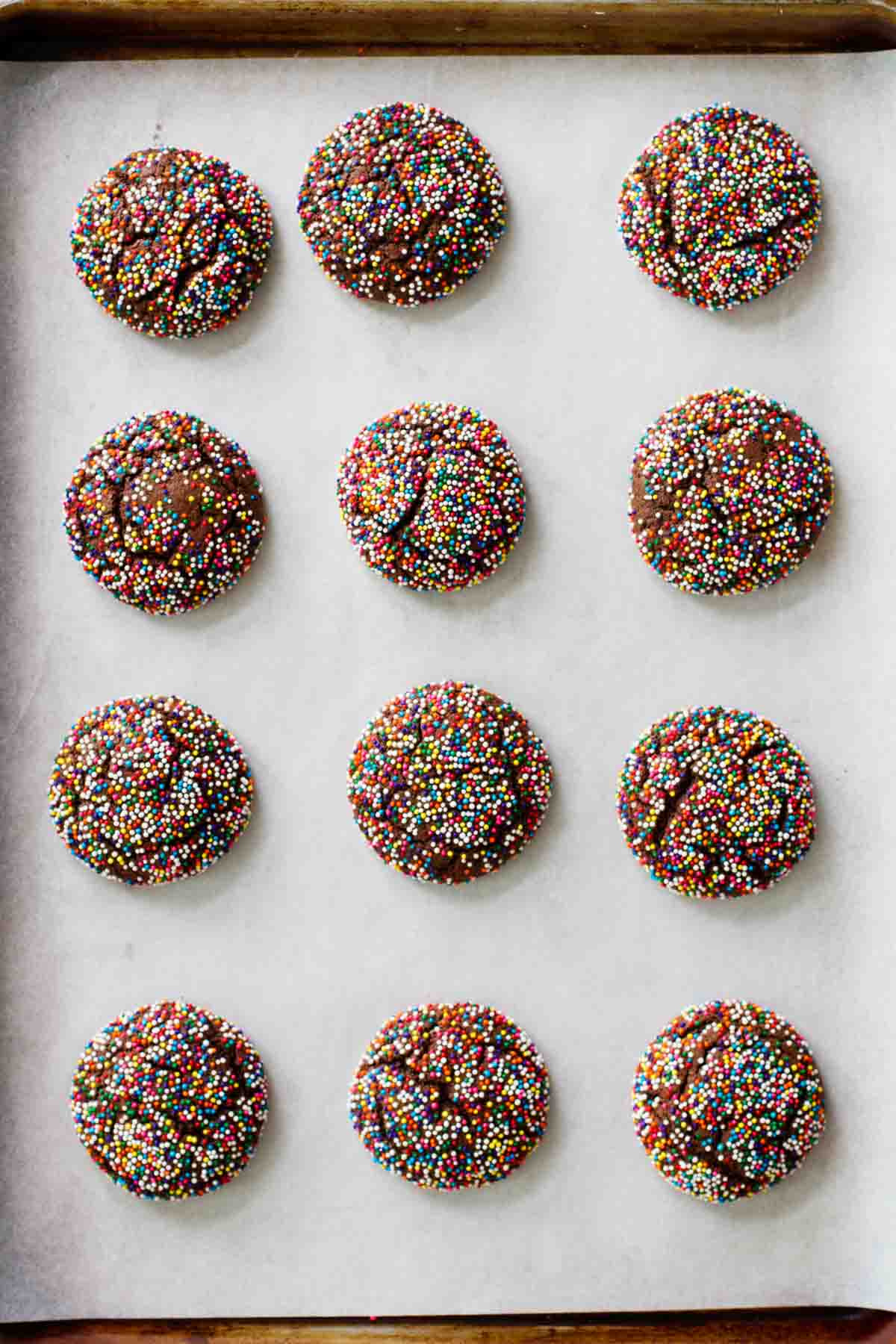 Chocolate Crinkle Sprinkle Cookies
The first time I thumbed through The Pretty Dish, these Chocolate Crinkle Sprinkle Cookies caught my eye. I mean, how could they not, right? Especially since Jessica's had the prettiest neon jimmies. (I'm going to have to hunt those down!!) I have a whole basket full of different sprinkles in my pantry, but I don't use them as much as I really should – so these cookies were the perfect excuse to break out a container of sprinkles.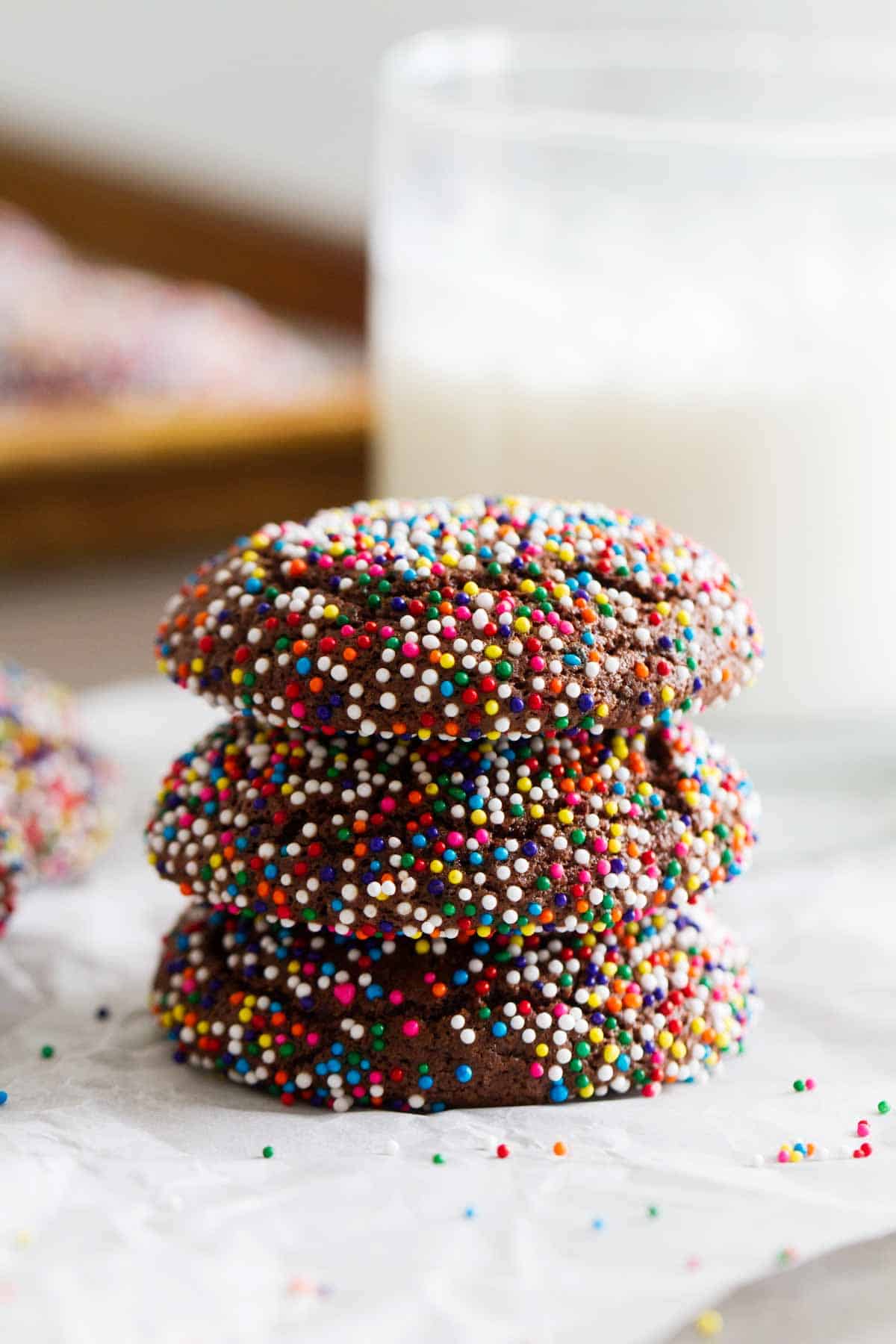 Why I Love Them
I am a soft cookie kind of girl, so these were really right up my alley. Super soft and chewy, and if you under-bake them by a minute or so, they are almost like brownies.
And one of my favorite things about these Chocolate Crinkle Sprinkle Cookies is that they save really well, and stay just as soft as the day that you make them. Just store them in an airtight container and you'll be good to go!!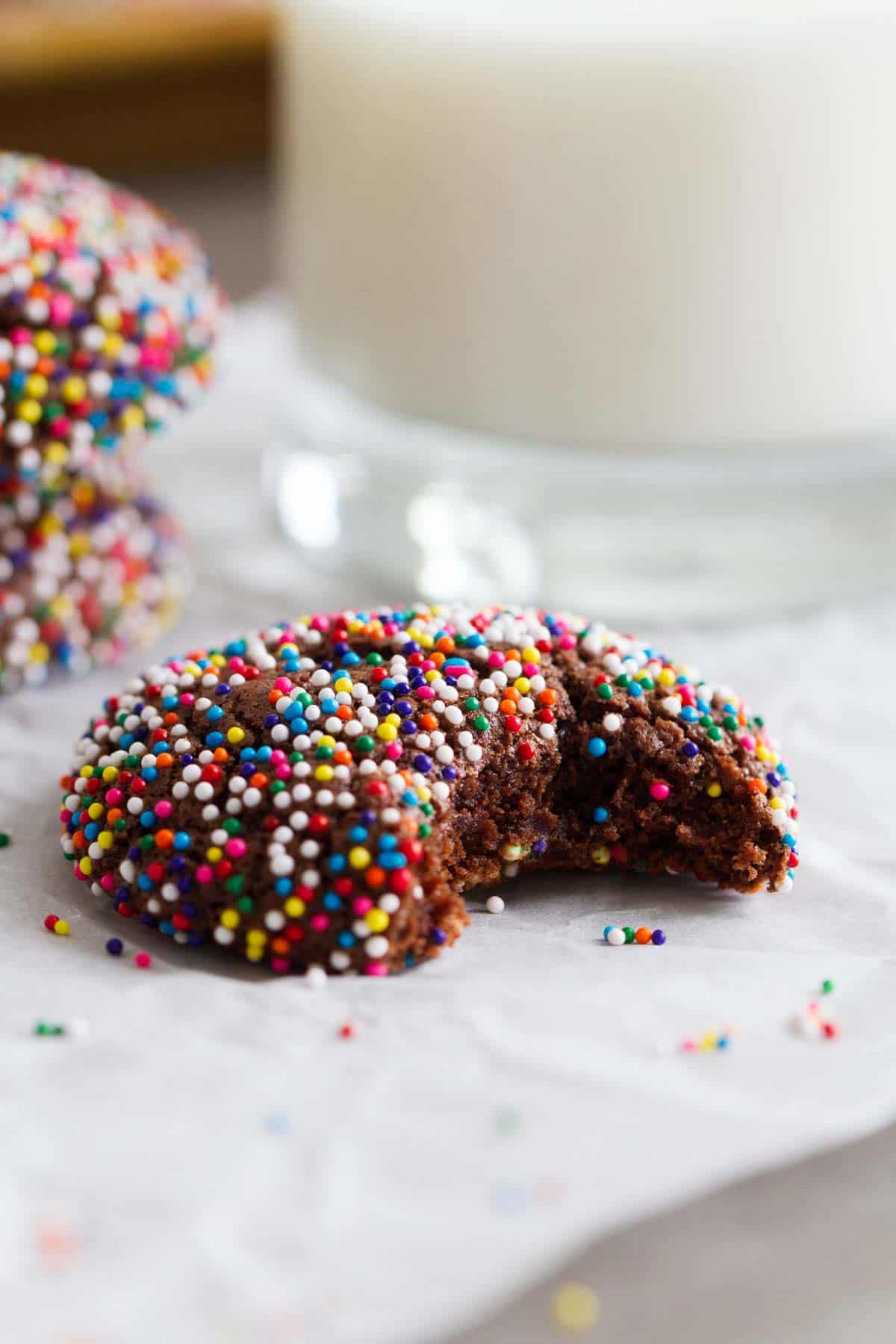 Tips and Tricks
I did a little unintended test on sprinkles, just because I originally thought that it would be fun to have a few different sprinkles on the cookies. But as it turns out, you need smaller sprinkles, otherwise the sprinkles will melt and make a mess of your cookies. I had some really cool ball sprinkles that are like the ones on these cookies but probably 10 times bigger. The sprinkles ended up melting and making the edges spread out like crazy, making a burned mess. So stick to either the little nonpareils like the ones I used or standard sized jimmies. As long as the sprinkles aren't too heavy, they should work.
Change up the sprinkles for different holidays or occasions. It's a great way to get creative with those sprinkles!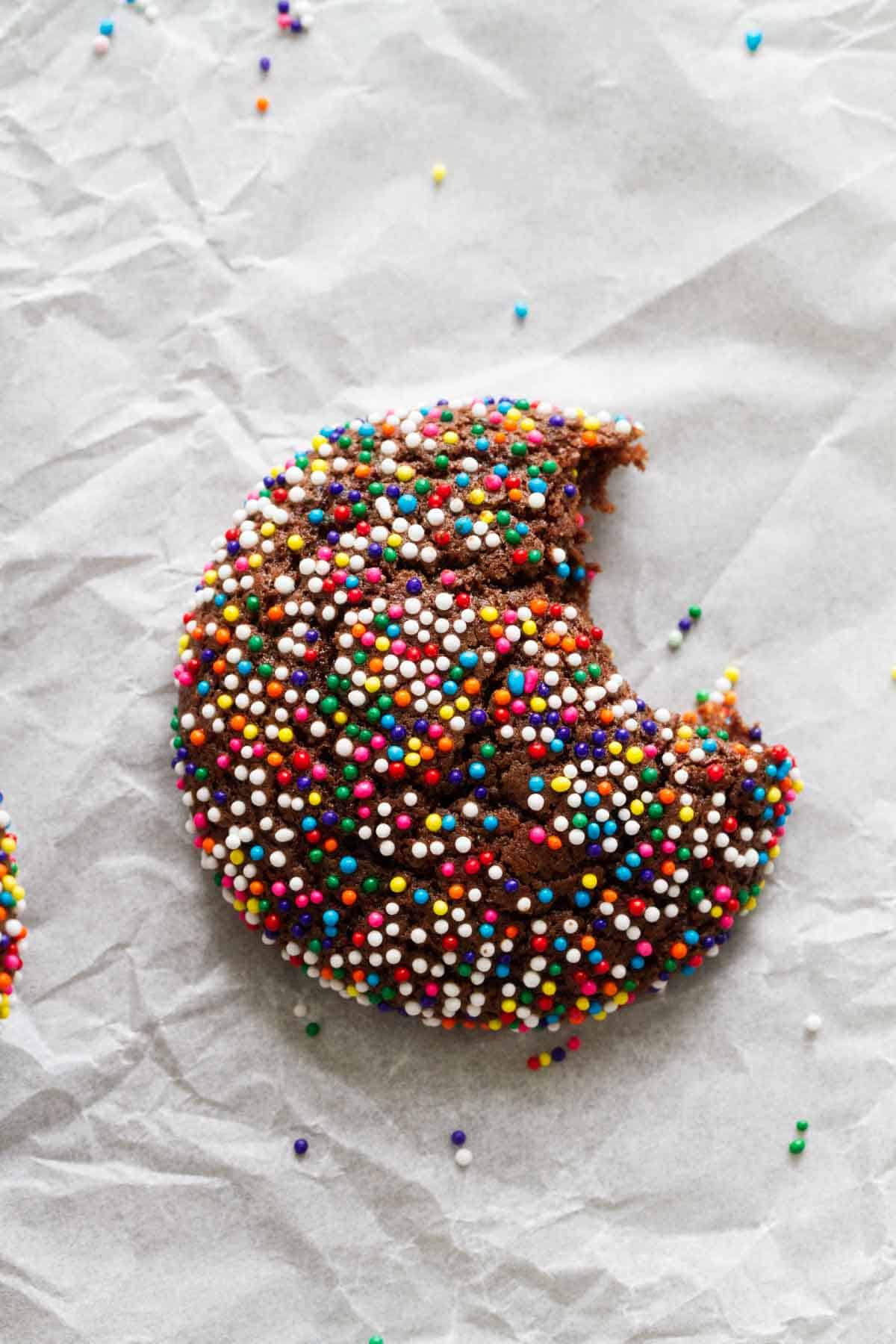 Looking for more sprinkle recipes?
Chocolate Sprinkle Cookies
Funfetti Frosting
Homemade Funfetti Donuts
Cake Batter Blondies
Funfetti Pancakes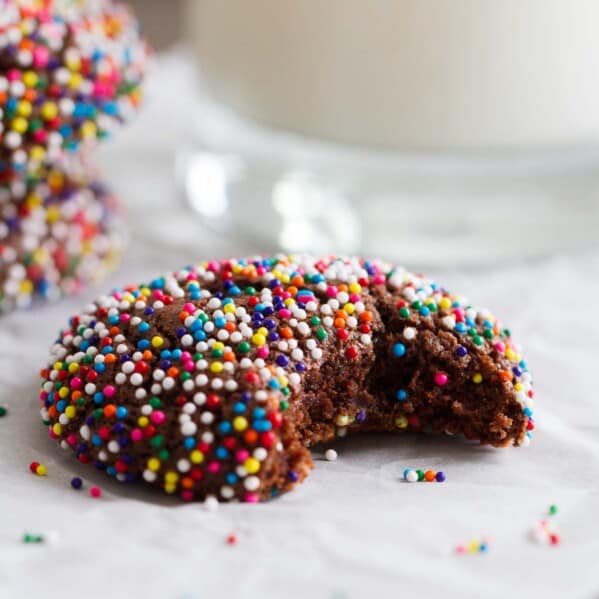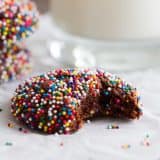 Chocolate Crinkle Sprinkle Cookies
---
Author:
Prep Time: 20 minutes
Cook Time: 12 minutes
Total Time: 4 hours 32 minutes
Yield: 24 cookies 1x
Category: Dessert
Method: Baked
Cuisine: American
Description
Is it a cookie or a brownie? Chocolate lovers will go crazy over these Chocolate Crinkle Sprinkle Cookies! Soft, chewy and full of chocolate flavor, these cookies are so fun and festive!
---
Scale
Ingredients
1 cup all-purpose flour
1 teaspoon baking powder
1/2 teaspoon salt
1/2 cup unsweetened cocoa powder
3/4 cup sugar
1/3 cup vegetable oil
2 eggs
1 teaspoon vanilla extract
1/2 cup rainbow sprinkles*
---
Instructions
Combine the flour, baking powder and salt in a small bowl.
In the bowl of a stand mixer, mix the cocoa powder, sugar and vegetable oil.  Add in the eggs, one at a time, beating after each addition. Beat in the vanilla extract.
Add the dry ingredients and beat until combined. Transfer the dough to a bowl (it will be very sticky), cover, and refrigerate for at least 4 hours, or overnight.
Preheat the oven to 350ºF. Line a baking sheet with parchment paper. Place the sprinkles in a small bowl.
Roll the dough into 1-inch balls. (The dough will be very sticky, still!). Roll the balls in the sprinkles, then place the balls 2" apart on the baking sheet.
Bake just until set, about 10-12 minutes. The cookies will spread a little, but will still be soft. Let the cookies cool completely before removing from the parchment paper.
Cookies will remain soft and chewy.
Recipe Notes:
*I tried this with a couple different sprinkles, and the smaller ball sprinkles or jimmy sized sprinkles work the best.
From THE PRETTY DISH
Nutrition information provided as an estimate only. Various brands and products can change the counts.
Nutrition
Serving Size: 1 cookie
Calories: 93
Sugar: 9 g
Sodium: 836 mg
Fat: 4 g
Saturated Fat: 1 g
Unsaturated Fat: 3 g
Trans Fat: 0 g
Carbohydrates: 15 g
Fiber: 1 g
Protein: 1 g
Cholesterol: 16 mg
Keywords: sprinkle cookies