These Baked Coconut Donuts are for coconut lovers! A baked coconut donut is topped with coconut icing and toasted coconut.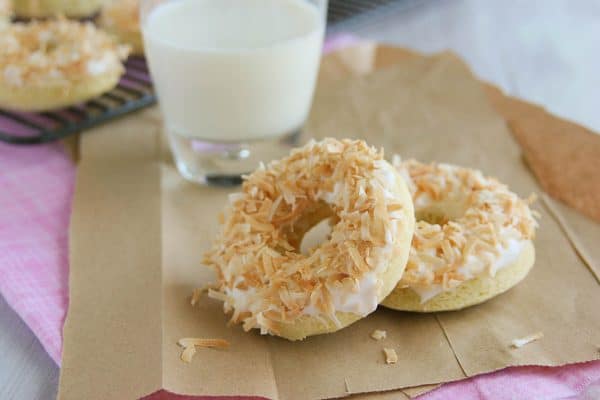 I have a new addiction.  I guess I shouldn't say new, because I've featured a couple of baked donuts here.  But I've held back – mostly because I know that not everyone has a donut pan.
But I'm telling you now – if you are a donut lover, invest the few dollars it costs to buy one.  I have this one – you can get two pans for under $15.  It's totally a good investment – if you ask me.  (And just for the record, I just decided that if it's a yeast doughnut, I call it a doughnut, and if there is no yeast, I call it a donut.  I know I'm weird, but that's the distinction that I came up with, even though one of my past donut recipes is spelled doughnut. I'm seriously confusing myself now!!)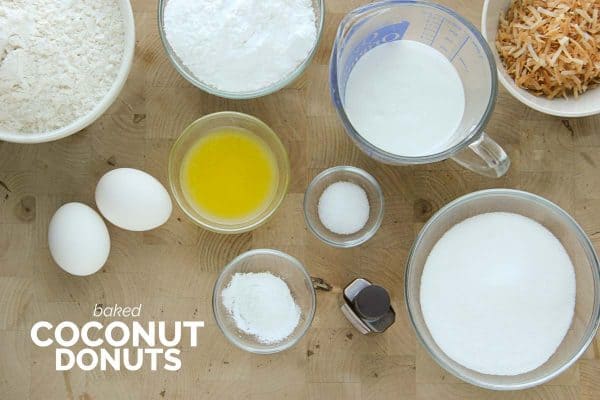 My family was in charge of breakfast for a family reunion this past weekend (that I didn't get to go to – boo hoo), and while we were talking before hand about what to make, I kept thinking donuts.  I imagined baking up dozens of donuts, several different kinds.  I had a whole list of flavors I wanted to try.
After lots and lots of talking and deciding, we all decided to go with breakfast pockets and cinnamon rolls.  But I couldn't get the thought of those donuts out of my head.  So what did I do?  I headed straight into the kitchen!!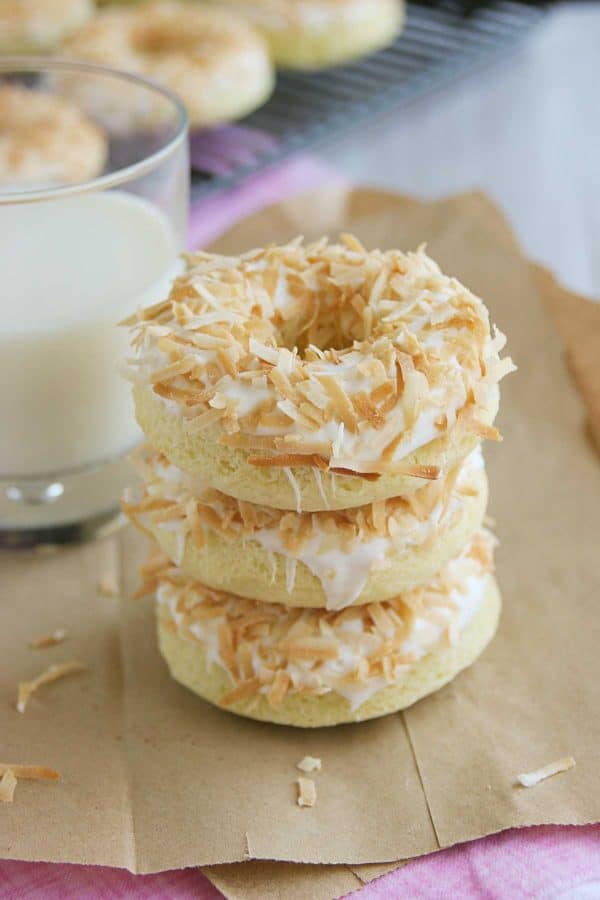 We all know that I love coconut.  So of course my mind went to coconut donuts.  And I'm so glad I started with these.  They were SO good.  My husband snuck one before I got the icing on them, and I think that he wasn't very impressed.  But once I iced them and topped them with the toasted coconut?  He couldn't keep his hands out of them!  And I'll totally admit that I couldn't stop eating them, too.  This is definitely a breakfast treat that I'd love to wake up to!!
And please forgive me if I go a little donut crazy now.  I'm telling you – I came up with some good ones that I want to try out!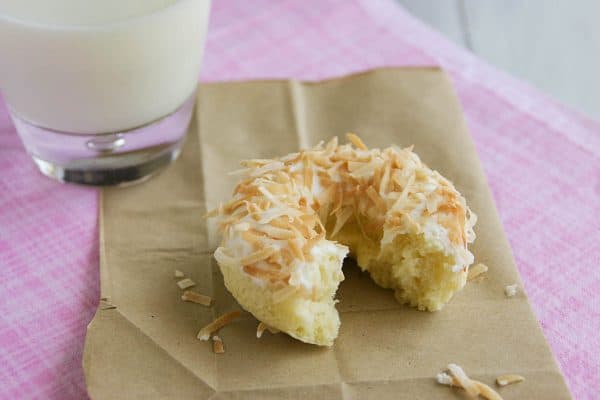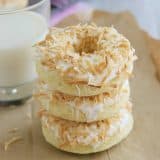 Baked Coconut Donuts
---
Author:
Prep Time: 10 minutes
Cook Time: 10 minutes
Total Time: 40 minutes
Yield: 18 donuts 1x
Category: Breakfast
Method: Bake
Cuisine: American
Description
These Baked Coconut Donuts are for coconut lovers! A baked coconut donut is topped with coconut icing and toasted coconut.
---
Scale
Ingredients
Donuts
2 cups all-purpose flour
3/4 cup sugar
2 teaspoons baking powder
1 teaspoon salt
3/4 cup coconut milk
2 eggs, lightly beaten
1 teaspoon coconut extract
2 tablespoons butter, melted
1/4 cup vegetable oil
Icing
1 1/2 cups powdered sugar
3 tablespooons coconut milk
3/4 teaspoon coconut extract
toasted coconut, for topping
---
Instructions
Preheat the oven to 325F. Spray a donut pan with cooking spray.
In a large bowl, combine the flour, sugar, baking powder and salt. In another bowl, combine the coconut milk, eggs, coconut extract, butter and oil. Stir the dry ingredients into the wet ingredients, mixing just until combined.
Transfer the batter to a large zip top bag and cut off one corner. Pipe the batter into the donut pan, filling each about 2/3 full.
Bake the donuts for about 10 minutes, until a toothpick inserted in the center comes out clean. Remove to a wire rack to cool.
Once the donuts are cool, make the icing:
In a bowl, whisk together the powdered sugar, coconut milk and coconut extract. Carefully dip the tops of the donuts into the icing. (The icing is a little bit thicker, so use a spoon to spread the icing if needed.)
Immediately dip into toasted coconut. Return the donuts to a wire rack for the icing to set up.