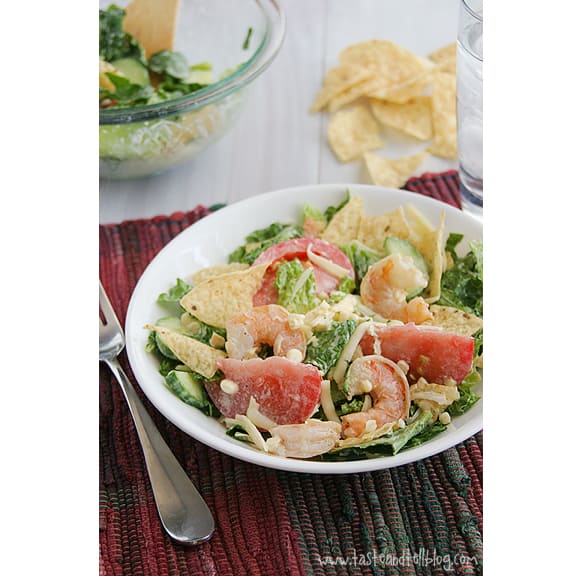 Let's talk pregnancy cravings again. (And you'll want to come back next week – I have a whole theme week based on one of my pregnancy cravings!) My cravings have differed from pregnancy to pregnancy, but there has been one craving that has shown itself with all three pregnancies – salad with ranch dressing. Yes – a craving that is actually semi-healthy!! The funny part, though, is that it has to be ranch dressing. I'm not normally a die hard ranch fan, but no other dressing will do when I am pregnant.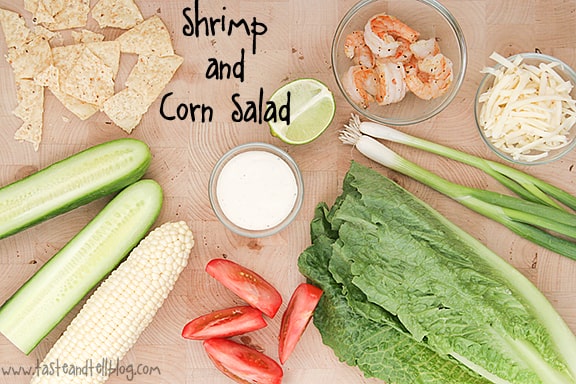 While I normally just throw a few things together and add some ranch when the cravings hit, I decided to actually make dinner out of my craving this time. And this totally falls into the "it's-summer-and-I-don't-feel-like-cooking" category, because basically all you have to cook is the shrimp. You can always buy the precooked shrimp, but for some reason, I really don't like those. Besides, it only takes minutes to cook shrimp. This recipe also uses raw corn. If you're not a fan of raw corn, I'd suggest boiling it for a couple of minutes to get rid of some of the starchiness, and you are good to go!
This Shrimp and Corn Salad has all of the goodness of summer wrapped up in a good-for-you salad. Another perfect summertime meal!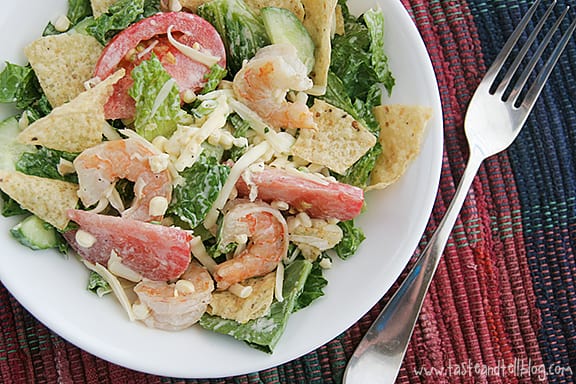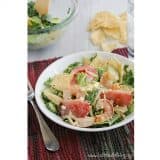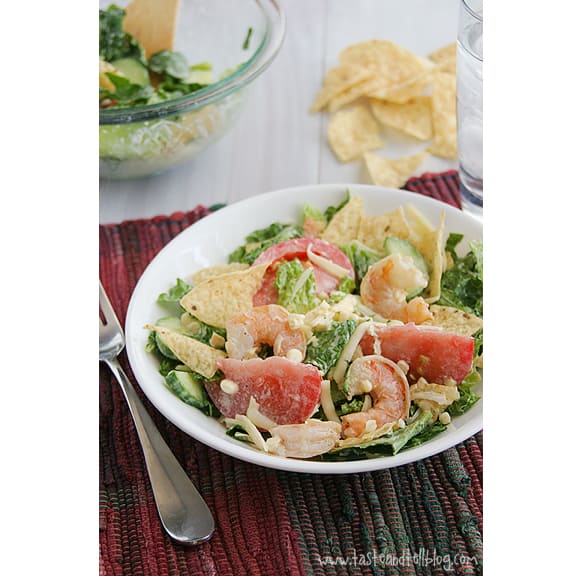 Shrimp and Corn Salad
---
Prep Time: 20 minutes
Total Time: 20 minutes
Yield: 4 servings 1x
Description
Fresh corn and shrimp are the stars of this salad with a hint of tex-mex.
---
Scale
Ingredients
2 ears corn, kernals cut off
12 oz cooked shrimp
1 English cucumber, halved lengthwise then cut into half-moons
3 tomatoes, cut into wedges
3 scallions, sliced
1/3 cup ranch dressing
2 tablespoons fresh lime juice
2 romaine hearts, torn into bite sized pieces
3 cups crushed tortilla chips
4 oz pepper jack cheese, shredded
---
Instructions
In a large bowl, combine the corn, shrimp, cucumber, tomatoes, scallions, ranch and lime juice. Toss to combine.
Add in the romaine, tortilla chips and cheese and toss again.
—————————-
slightly adapted from Every Day with Rachael Ray June/July 2009

More summertime salads:
Chinese Chop Salad from Lauren's Latest
Strawberry Summer Salad with Lime Vinaigrette from Hungry Gnomes
Steph's Summer Salad from Taste and Tell
Poppy Seed Fruit Salad from Healthy Living for Real People
Berry and Bacon Kale Salad with Blackberry Jam Vinaigrette from RecipeGirl