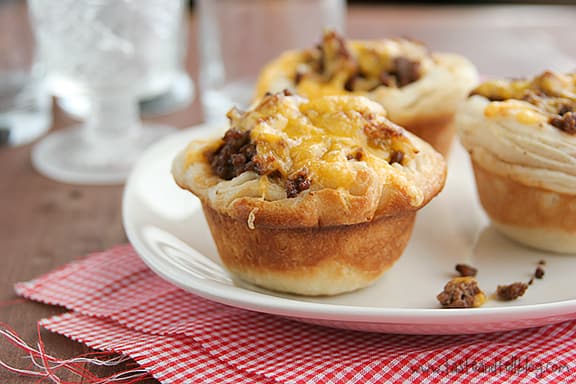 Photo updated June 2012
Let me first warn you – if you are looking for a fancy meal, you can just click right past my blog today. Same goes if you are against using pre-made ingredients.
 
There seems to be a stigma in the food blogging world that pre-packaged ingredients are "not cool". I will totally agree that many of them contain ingredients that aren't the best for us or our families. But I think I'm all about keeping it real. I pride myself on being a "normal" girl who makes "normal" food. I do like to get down and dirty every now and again and make something really elegant or complex, but for the most part, I'm about easy, fast, everyday meals. And if you have to use a few pre-made products to get dinner on the table instead of going through the McDonald's drive thru, I'd say use the pre-made products!
That being said, I really think my cooking has changed a lot since I started this blog. But cooking has become more of a hobby for me than a necessity. But for most families, getting dinner on the table is just a necessary part of the day. And on days when time seems short and you don't know how you are going to make it happen, meals like this are a life saver. This recipe is exactly what I would expect out of a Pillsbury cookbook. But I have to admit, as easy as it was, both my husband and I really loved these! And the leftovers were even better. And this meal saved me from another dinner of jalepeno poppers from the frozen section of the grocery store. I'd say it was a winner!
Recipe updated June 2012
Poppin' Fresh Barbecups
Dinner made easy - a ground beef and barbecue mixture is loaded into a refrigerated biscuit and baked.
Ingredients
1 pound ground beef
½ cup barbecue sauce
¼ cup chopped onion
1 to 2 tablespoons brown sugar
1 (16-oz) can Pillsbury® Grands Refrigerated Buttermilk or Flaky Biscuits
½ cup shredded cheddar cheese
Instructions
Heat oven to 400°F. Grease 8 medium muffin cups. In large skillet, brown ground beef over medium heat until thoroughly cooked, stirring frequently. Drain. Stir in barbecue sauce, onion and brown sugar. Cook 1 minute to blend flavors, stirring constantly.
Separate dough into 8 biscuits. Place 1 biscuit in each greased muffin cup. Firmly press in bottom and up sides, forming ¼-inch rim over edge of cup. Divide beef mixture between each biscuit-lined cup. Sprinkle each with cheese.
Bake at 400°F. for 10 to 12 minutes or until edges of biscuits are golden brown. Cool 1 minute; remove from muffin cups.
-----------------
adapted from PIllsbury Dough Magic