Traditional Whoopie Pies with chocolate cakes and marshmallow filling.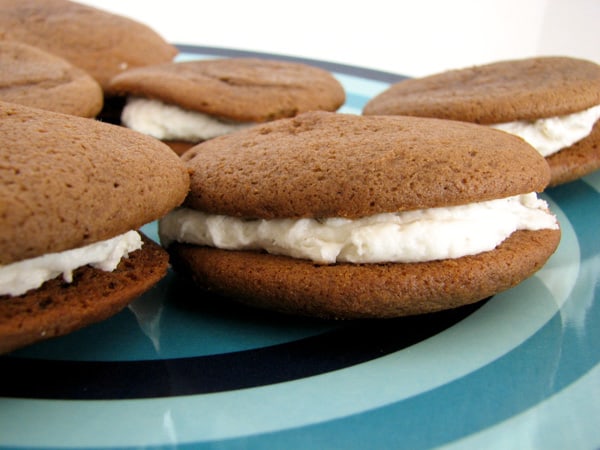 My husband talks about whoopie pies on a regular basis. I don't ever remember having them growing up, but his mom made them a lot. One day last summer, we took a ride up to a nearby town in the mountains where he said they had a bakery that sold really good whoopie pies. I was looking forward to this because although I knew what they looked like, and I could imagine what they tasted like, I had never tasted one. But when we got there, the bakery was closed. So we did the next best thing – we went to a gas station that sold some of the items from the bakery. They did have some whoopie pies, but they weren't fresh, so my husband was a bit disappointed that my first taste of a whoopie pie wasn't the best one.
A couple of weeks ago, I decided I wanted to make something for my husband because he has been working so hard at work lately. Whoopie pies were the first thing that came to my mind. I did a search on the web, and found a website that was very informative. Because I have such limited knowledge of the whoopie pie, I learned a lot! They are a Pennsylvania Amish tradition.
"The recipe for whoopie pies has its origins with the Amish, and in Lancaster county, Pennsylvania, it is not uncommon to find roadside farm stands offering these desserts. Amish cooking is about old recipes that have fed families for generations, with no trendy or cross-cultural fusions or mixtures. These cake-like whoopie pies were considered a special treat because they were originally made from leftover batter. According to Amish legend, when children would find these treats in their lunch bags, they would shout "Whoopie!"
From History and Recipe of Whoopie Pie
They are very well known in the New England area. Whoopie pies are usually very large – about the size of a hamburger. And all of you ingredient purists turn your head, because traditionally, these cookies (although they are more cake-like) are made with vegetable shortening instead of butter. Another traditional ingredient used is Marshmallow Fluff for the filling. Since I cannot find Marshmallow Fluff where I live, marshmallow creme can be substituted.
I decided to try these out using the traditional recipe – vegetable shortening and all. I am not usually an ingredient snob, but if I thought about how much shortening was in this, I had a hard time eating them. They were quite tasty, though. My husband really liked them, but said that they were still a little different than the ones his mom made growing up. He said his mom's had a darker chocolate cookie/cake part, and the filling was a little lighter. I will have to get her recipe from her….
My parents recently bought a new house, so I took some of these down as a housewarming. My mom wasn't home, but called me that afternoon begging for the recipe. I guess they went over really well!!
**Just a note – the recipe says to drop the mixture by 1/4 cup onto the baking sheet. I did not want huge cookies, and I had a really hard time controlling the amount of batter for each cookie and making them into uniform circles for my first batch. I ended up putting the mixture in a piping bag and piping the batter into circles – this worked perfectly!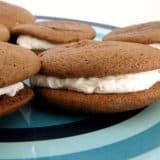 Whoopie Pies
---
Author:
Prep Time: 15 mins
Cook Time: 15 mins
Total Time: 45 mins
Yield: 9 large cookies 1x
Category: Dessert
Method: Bake
Cuisine: American
Description
Traditional Whoopie Pies with chocolate cakes and marshmallow filling.
---
Scale
Ingredients
Cookies:
1/2 cup solid vegetable shortening
1 cup firmly packed brown sugar
1 egg
1/4 cup cocoa powder
2 cups all-purpose flour
1 teaspoon baking powder
1 teaspoon baking soda
1 teaspoon salt
1 teaspoon vanilla extract
1 cup milk
Filling:
1 cup solid vegetable shortening
1 1/2 cups powdered sugar
2 cups Marshmallow Fluff
1 1/2 teaspoons vanilla extract
---
Instructions
To make the cookies:
Preheat the oven to 350ºF. Lightly grease baking sheets.
In a large bowl, cream together the shortening, sugar, and egg.
In another bowl, combine cocoa, flour, baking powder, baking soda and salt.
In a small bowl, stir the vanilla extract into the milk.
Add the dry ingredients to the shortening mixture, alternating with the milk mixture; beating until smooth.
Drop batter by the 1/4 cup (to make 18 cakes) onto prepared baking sheets. With the back of a spoon, spread batter into 4-inch circles, leaving approximately 2 inches between each cake.
Bake 15 minutes or until they are firm to the touch. Remove from oven and let cool completely on a wire rack.
To make the filling:
In a medium bowl, beat together shortening, sugar and Marshmallow Fluff; stir in vanilla extract until well blended.
Assemble the cookies:
When the cakes are completely cool, spread the flat side (bottom) on one chocolate cake with a generous amount of filling. Top with another cake, pressing down gently to distribute the filling evenly.
Repeat with all cookies to make 9 pies. Wrap whoopie pies individually in plastic wrap, or place them in a single layer on a platter (do not stack them as they tend to stick).
Recipe Notes:
Butter may be substituted for all or part of the vegetable shortening, although traditional Whoopie Pies are made with vegetable shortening only.
Marshmallow Creme may be substituted for the Marshmallow Fluff.
Recipe from What's Cooking America