Dark and fudgy, this Italian Chocolate-Almond Flourless Cake is perfect for any chocolate lover. Top each slice with whipped cream and berries for a restaurant quality dessert at home.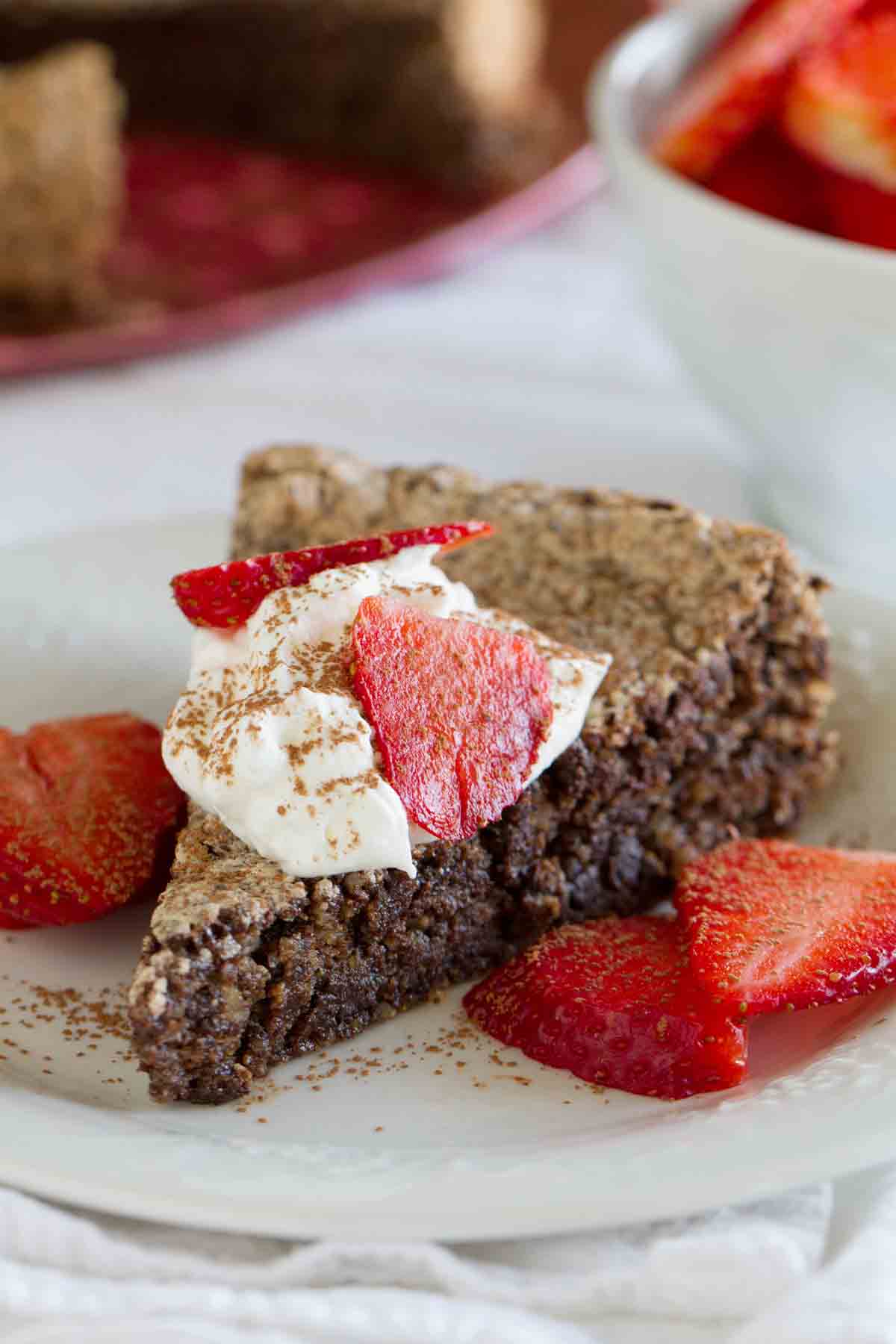 Originally posted April 22, 2008 – Every year, I get caught up in the red velvet love for Valentine's Day, and forget that there are other great desserts for the holiday of love. So I'm glad to be bringing back this delicious flourless cake from the archives. It is a perfect dessert if you are having a Valentine's Day in (which is what we always do!) I think this is more of a special occasion cake, and it's definitely worthy of being served to your loved ones!
If you want more Valentine's day dessert ideas, also check out this Chocolate Mousse!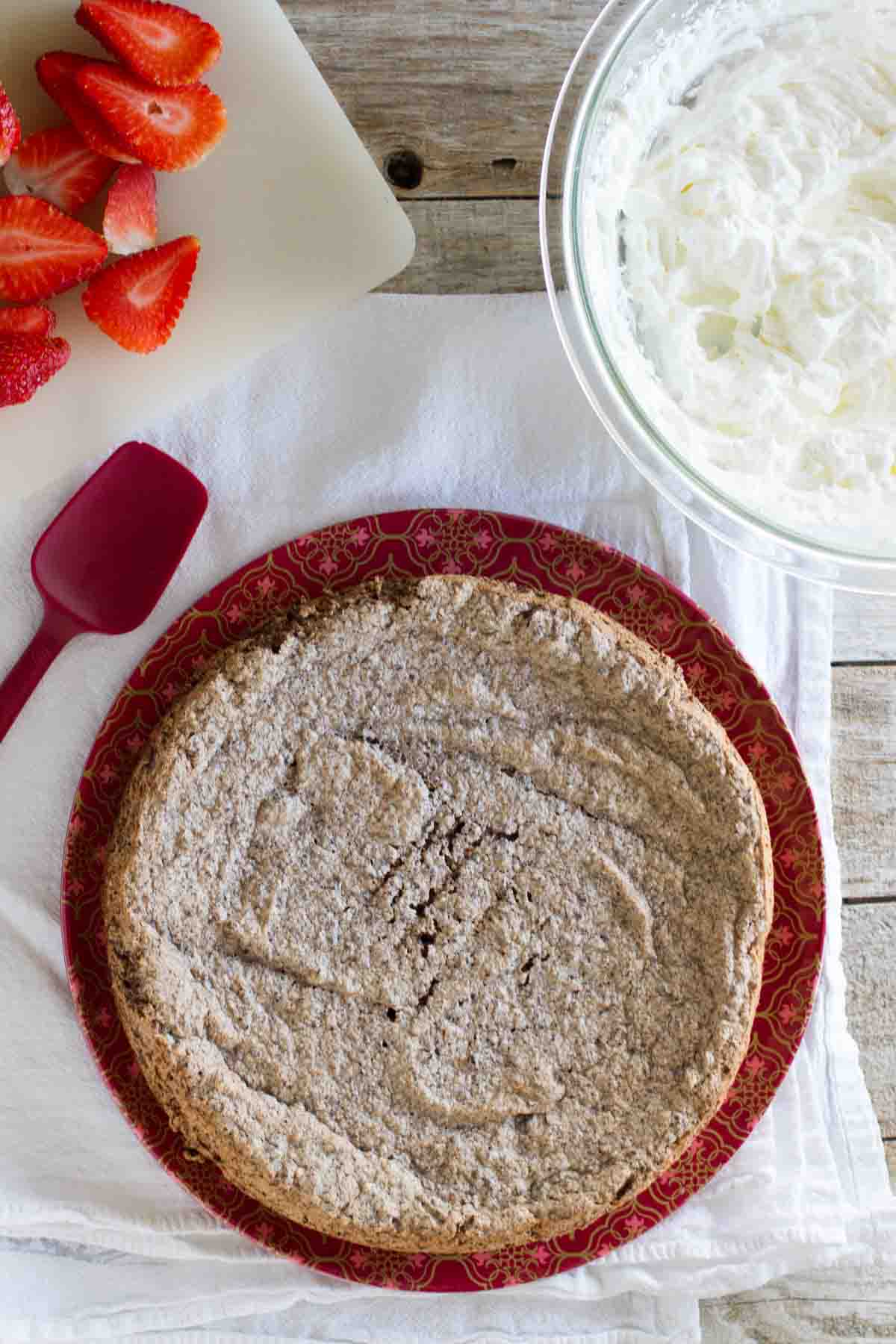 I try to keep everything pretty balanced here on my blog. I don't like to post too many sweet recipes in a row, or too many savory recipes. I like to make sure I mix it up a bit. So sometimes, some of my favorites get pushed out of line, having to wait to be posted about. I cannot believe I haven't posted about this cake yet. It has been sitting on my computer, begging to be posted about for the last month, and somehow, it's taken me this long to get to it. But I couldn't wait one day longer, because this cake is just that good.
This past Easter, I wanted to have a quiet holiday, with just my husband and I. As much as I love spending time with both of our families, the previous few weeks had been crazy and hectic, and all I wanted was a quiet weekend at home with no stress and nowhere to go. I had never prepared a full Easter dinner myself before, and I was afraid it was going to take away from the stress-free weekend, but it was actually one of the easiest meals I have made. (I'll have to write about the ham recipe I used sometime, because it was one of the best hams I've had!)
For dessert, I wanted something that was not fussy, something that could be done ahead of time, and something a little different from the normal desserts we usually have. I went through one of my cookbooks that I'm ashamed to say I hadn't used up to that point – Pure Dessert by Alice Medrich. This cookbook especially appealed to me for this particular meal because it focuses on the simple flavors of different ingredients. I was craving something chocolate, so I decided to go with this Italian Chocolate Almond Flourless Cake.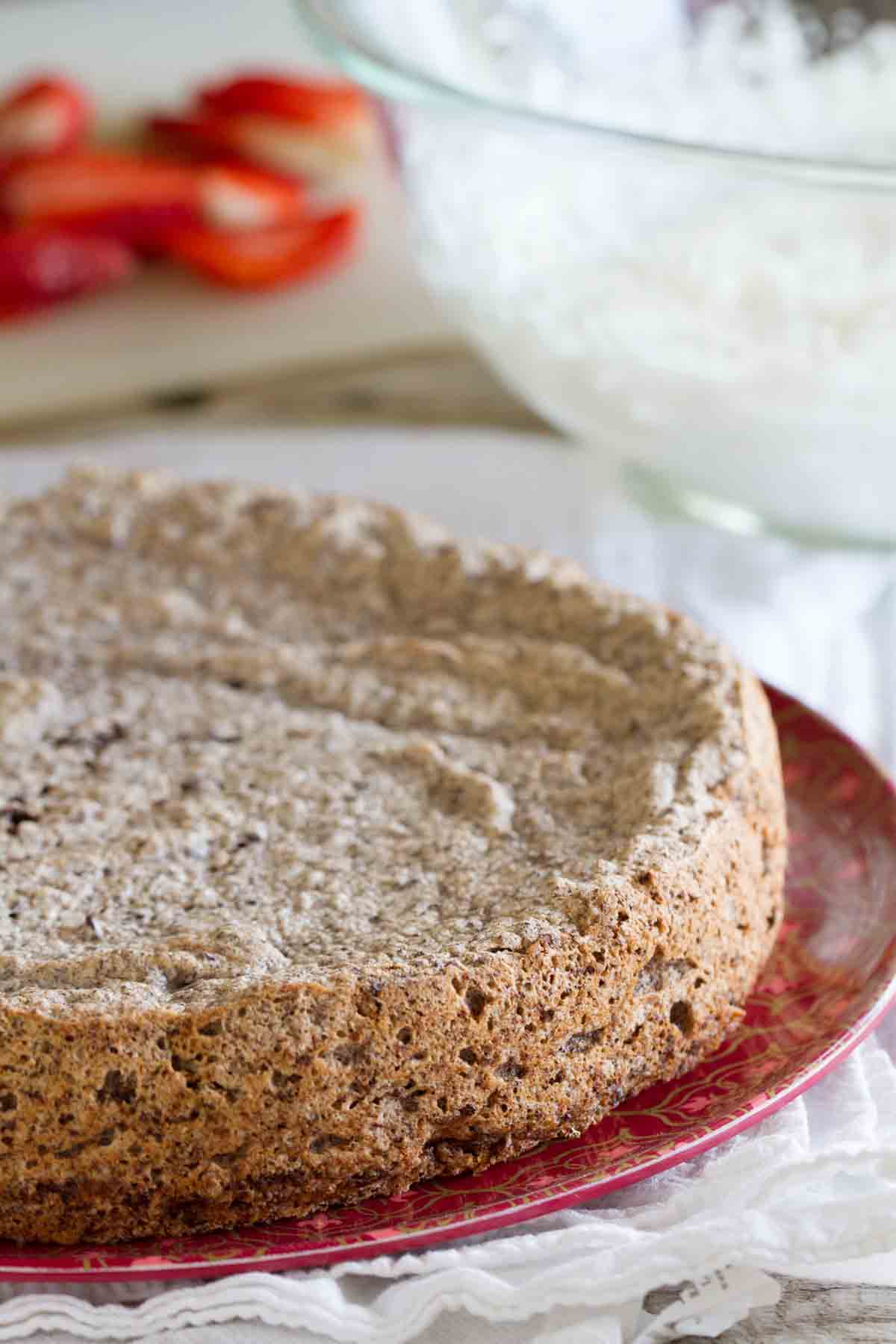 If you are looking for simplicity and sophistication, this cake is perfect for both. It only has 6 ingredients in the actual cake and it comes together quickly. The only problem I had while making this was that I didn't cook it long enough. I realized this after I had already taken it out of the oven, and after a few minutes of worrying about what I should do, I ended up putting it back in the oven while the oven was cooling down. And although the cake ended up falling a bit in the middle, this trick mostly worked because by desert time, the cake was fully cooked.
I found some fresh raspberries at the store that I couldn't pass up, and they were the perfect companion, along with some fresh whipped cream. Both my husband and I were in love with the flavor and texture of this cake. It's not like your typical cake because the flour is replaced with ground almonds. The nutty flavor along with the chocolate were a perfect match. I would suggest using the highest quality ingredients for this cake, as they really shine through.
A perfect ending to a wonderful Easter dinner!!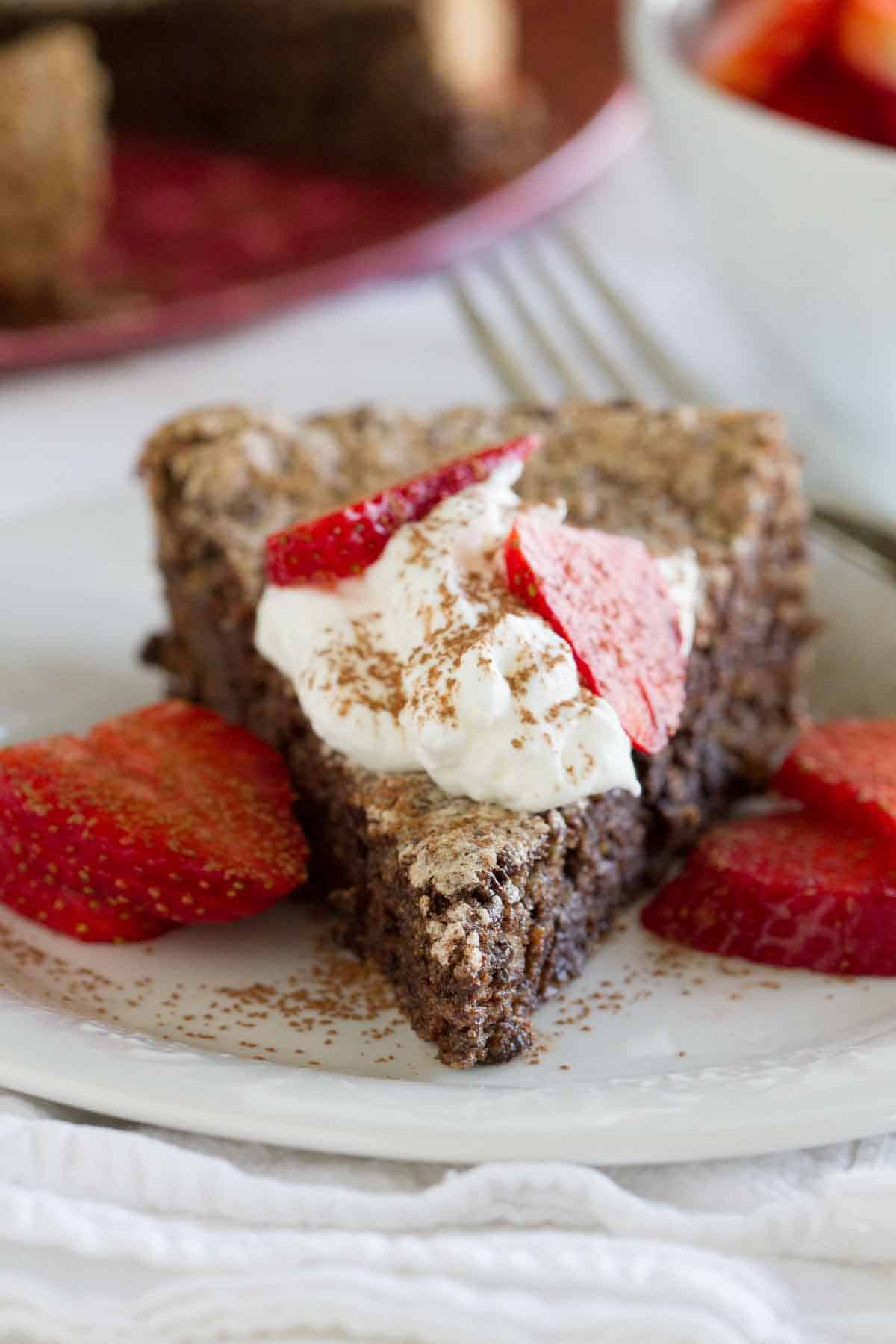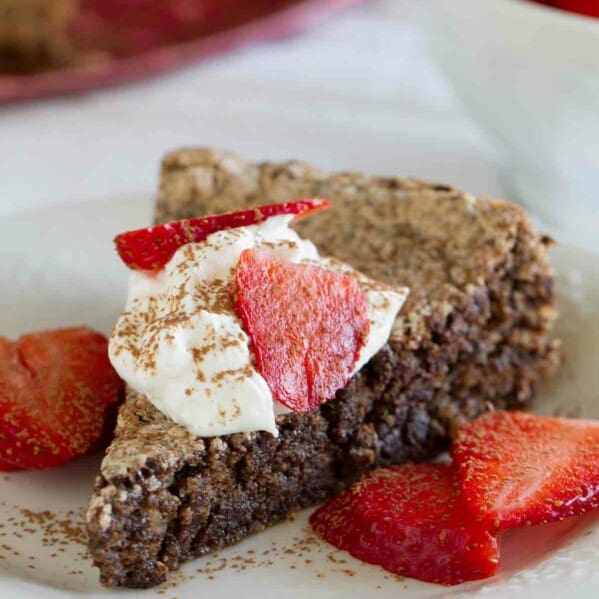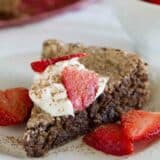 Italian Chocolate Almond Flourless Cake
---
Author:
Prep Time: 15 minutes
Cook Time: 30 minutes
Total Time: 45 minutes
Yield: 8-10 servings 1x
Category: Dessert
Method: Baked
Cuisine: Italian
Description
Dark and fudgy, this Italian Chocolate Almond Flourless cake is perfect for any chocolate lover. Top each slice with whipped cream and berries for a restaurant quality dessert at home.
---
Scale
Ingredients
5 ounces blanched almonds
7 ounces good-quality unsweetened chocolate, roughly chopped
1 cup sugar
1/8 teaspoon salt
7 large egg whites
1/4 teaspoon cream of tartar
Unsweetened cocoa powder for dusting
Sweetened whipped cream and berries, for serving
---
Instructions
Place a rack in the lower third of the oven. Preheat to 350ºF.
Line the bottom of a springform pan with parchment paper, then grease the sides of the pan with nonstick cooking spray.
Place the almonds, chocolate, 1/2 cup of the sugar and the salt in a food processor. Process until the mixture is finely chopped, but not completely pulverized.
Place the egg whites in the bowl of a mixer. Add the cream of tartar. Beat the eggs until soft peaks form, then slowly add the sugar while you are still mixing. Continue to beat until stiff peaks are formed.
Add one third of the nut mixture to the egg whites and fold in. Add the nut mixture in two more additions, folding just until combined.
Pour the mixture into the prepared springform pan and spread it evenly. Bake until a tester inserted in the center of the cake comes out clean or with just a little bit of chocolate on it, 25 to 30 minutes.
Allow the cake to cool for 10-20 minutes, then remove the sides of the pan. Invert the cake to a cooling rack, then remove the paper from the bottom of the cake. Use another cooling rack to invert the cake right side up again, and allow the cake to cool completely.
Serve the cake with sweetened whipped cream, berries, and a dusting of cocoa powder.
Recipe Notes:
The original recipe mentions using whole almonds, but I have a hard time finding whole blanched almonds. I have used slivered almonds with great results.
The first time I made this, I served it with raspberries, but this time I opted for strawberries, because I had some on hand. Both are delicious!
recipe source: Pure Dessert