Deep, dark chocolate with a hint of root beer, this Root Beer Bundt Cake is super moist and irresistible. This cake gets even better the second day!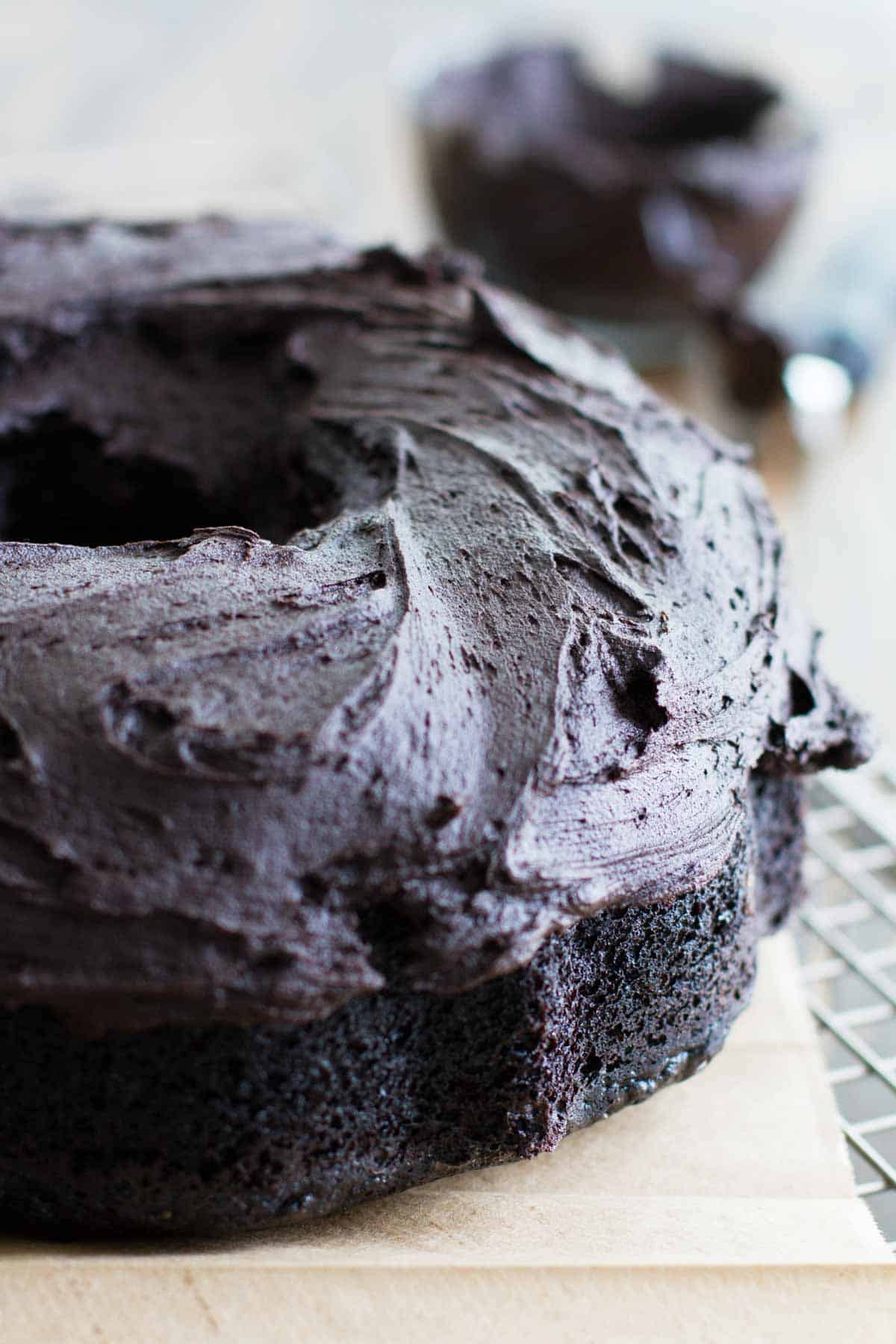 Originally posted April 24, 2009 – It's kind of funny, because I really don't make dessert a lot. Not even on a weekly basis, usually. But I feel like I've been posting a lot of dessert recipes lately, and that's all I have ready to post right now! So I'm obviously not working on my beach body right now – haha!
I actually had to make dessert for a family dinner recently, so I brought 3 cakes, and this Root Beer Bundt Cake was one of those cakes. If you read the original post below, you will read that this cake didn't have a lot of root beer flavor. I wanted to up it a bit, so I did add in some root beer extract this time. It still didn't taste strongly like root beer, but I could get it in the background. It is a very chocolate heavy cake, though, so it's understandable that the root beer flavor isn't quite as strong as the chocolate flavor. But regardless, this is now one of my favorite chocolate cake recipes. It is so full of chocolate flavor. And it is so super moist. Not to mention that it came out of the bundt pan perfectly. If you've ever made a bundt cake, you know this is quite the feat.
This Root Beer Bundt Cake is definitely a winner, and you can bet that I will be making it again in the future!
The original post from 2009 follows: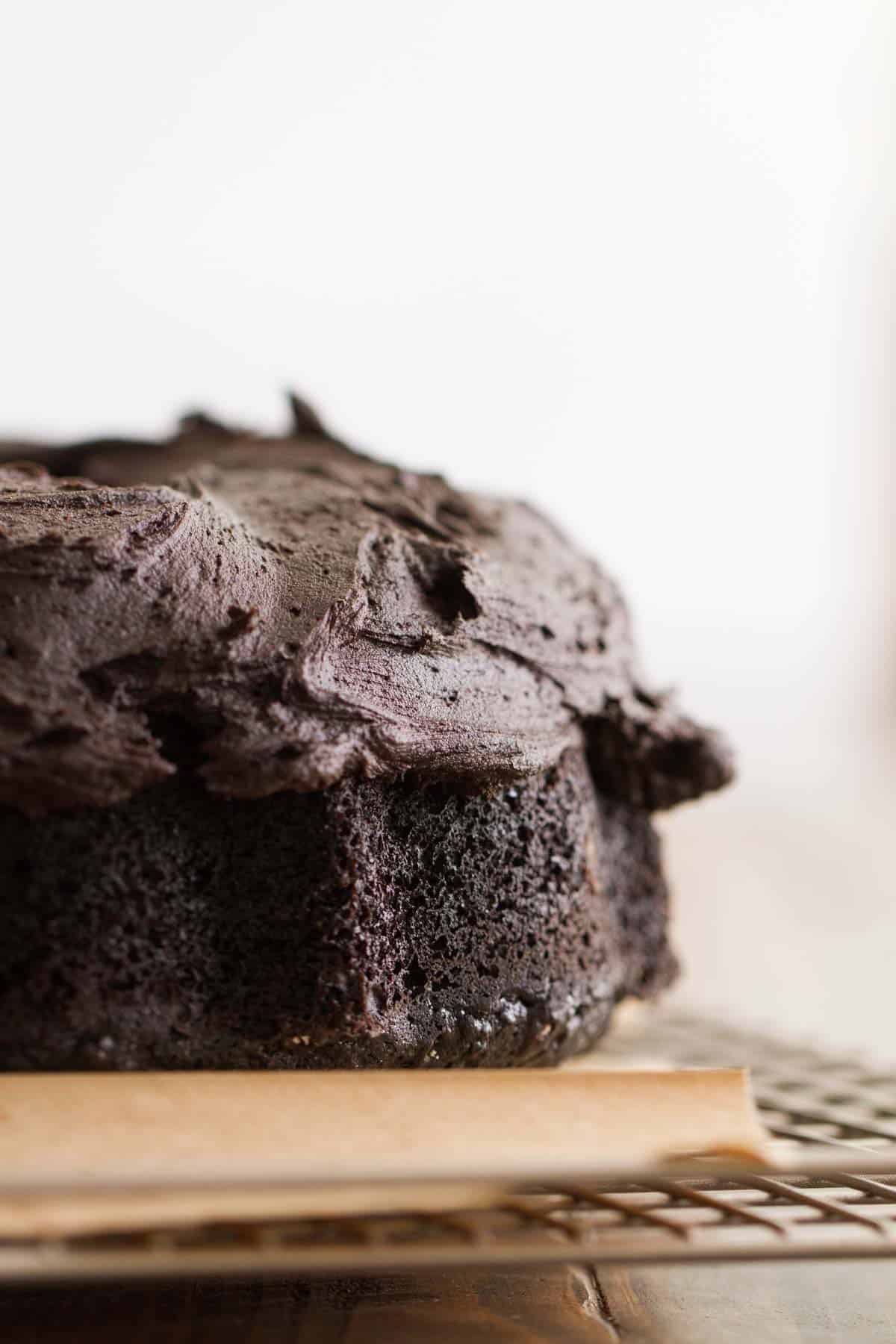 Ooooh, my 4th recipe from this book, and the last for the month. I had such a hard time choosing – would I make the Tuscaloosa Tollhouse Pie? The Coconut Snowball Cupcakes? The Pecan and Almond Chocolate Toffee? So many to choose from, but I ended up going with the Root Beer Bundt Cake. Was it a good decision? Most definitely!!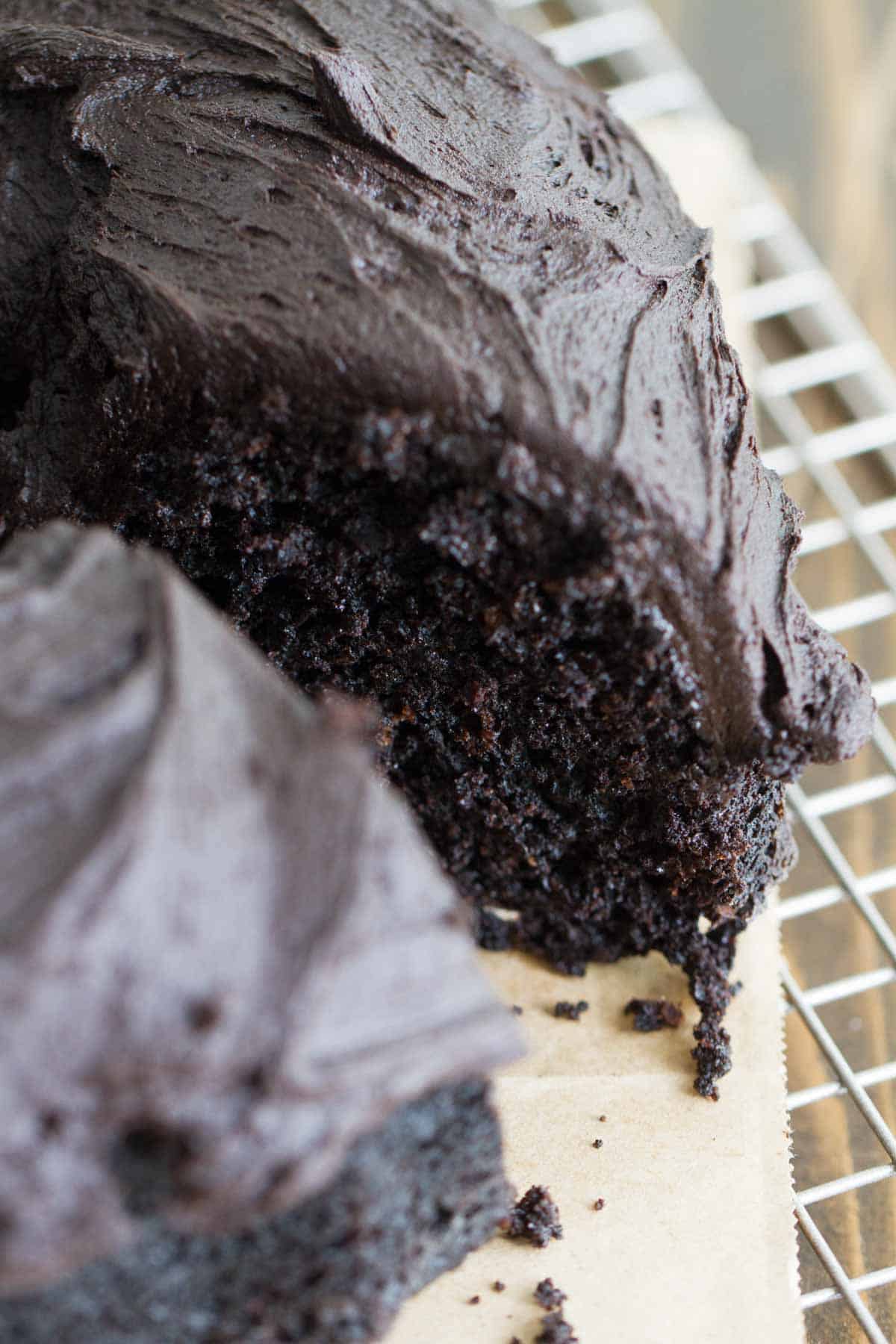 We are root beer drinkers in our house. We don't drink a ton of soda, but we do have a few liters of diet root beer in the pantry for whenever we get that craving. Unfortunately, you aren't supposed to use diet for this recipe, so really, the root beer was the only ingredient I had to pick up from the store – everything else I had on hand. I was originally intending on making this into cupcakes so I could share them, but I decided last minute to go ahead and make the bundt cake.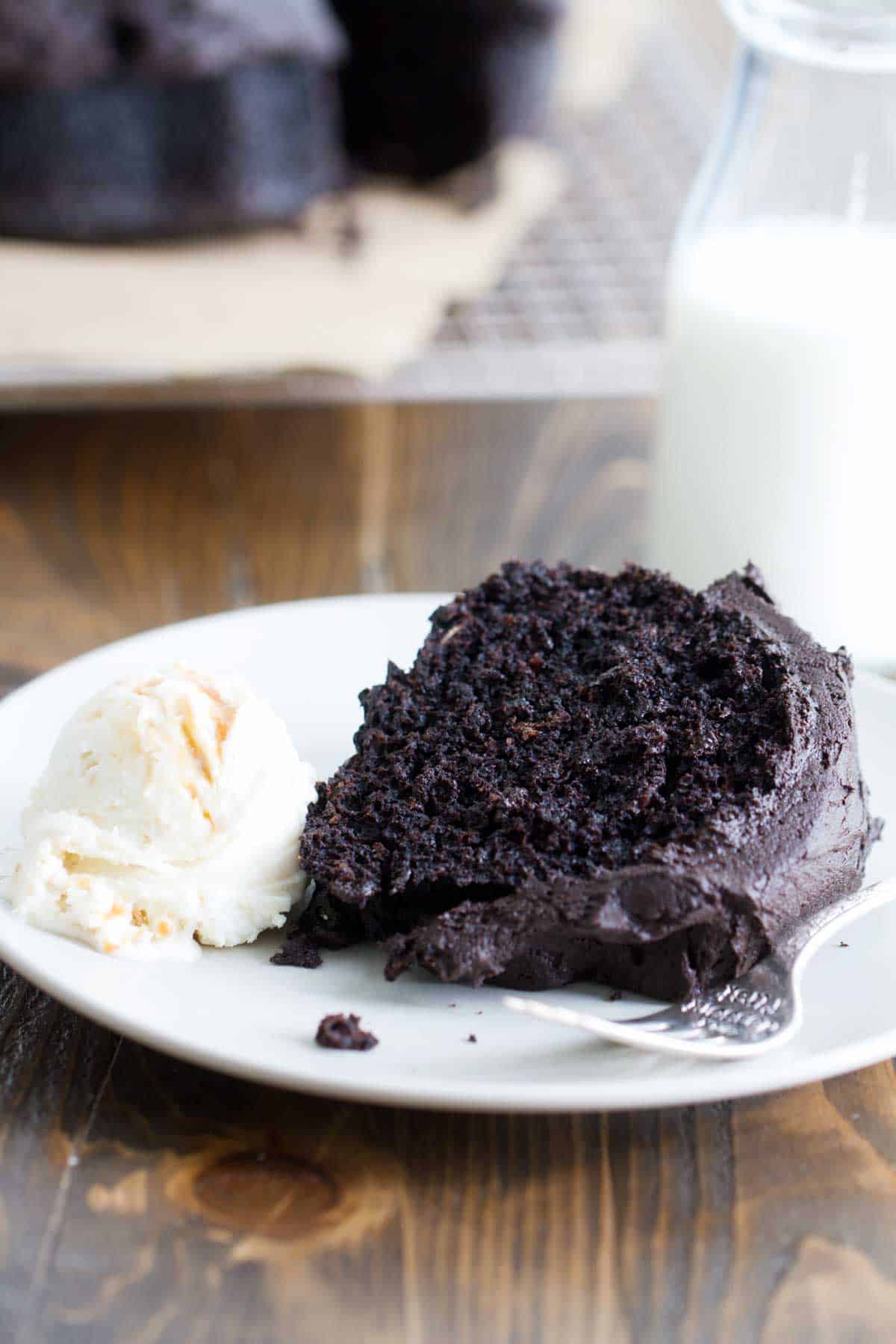 The book says that the cake's flavor intensifies overnight, so I tried a slice after making the cake, and again the next day. Was the cake good? YES! Was the cake chocolaty? YES! Was the cake moist? YES, YES, YES! Did the cake have a strong root beer flavor? No. That was the only disappointing part of this cake. In fact, I could taste a hint of root beer the day I made the cake, but that hint was totally gone the next day. I actually don't think you'd even be able to pick the flavor out at all if you didn't know it was in there. But this cake is so delicious, and one of the moistest cakes I've ever made, that I would go to this recipe again in a heartbeat if I was wanting a good chocolate cake recipe. The frosting is equally good, although it, too, didn't taste like root beer. I'm glad this recipe was so much better than last week's. This one really is worth trying!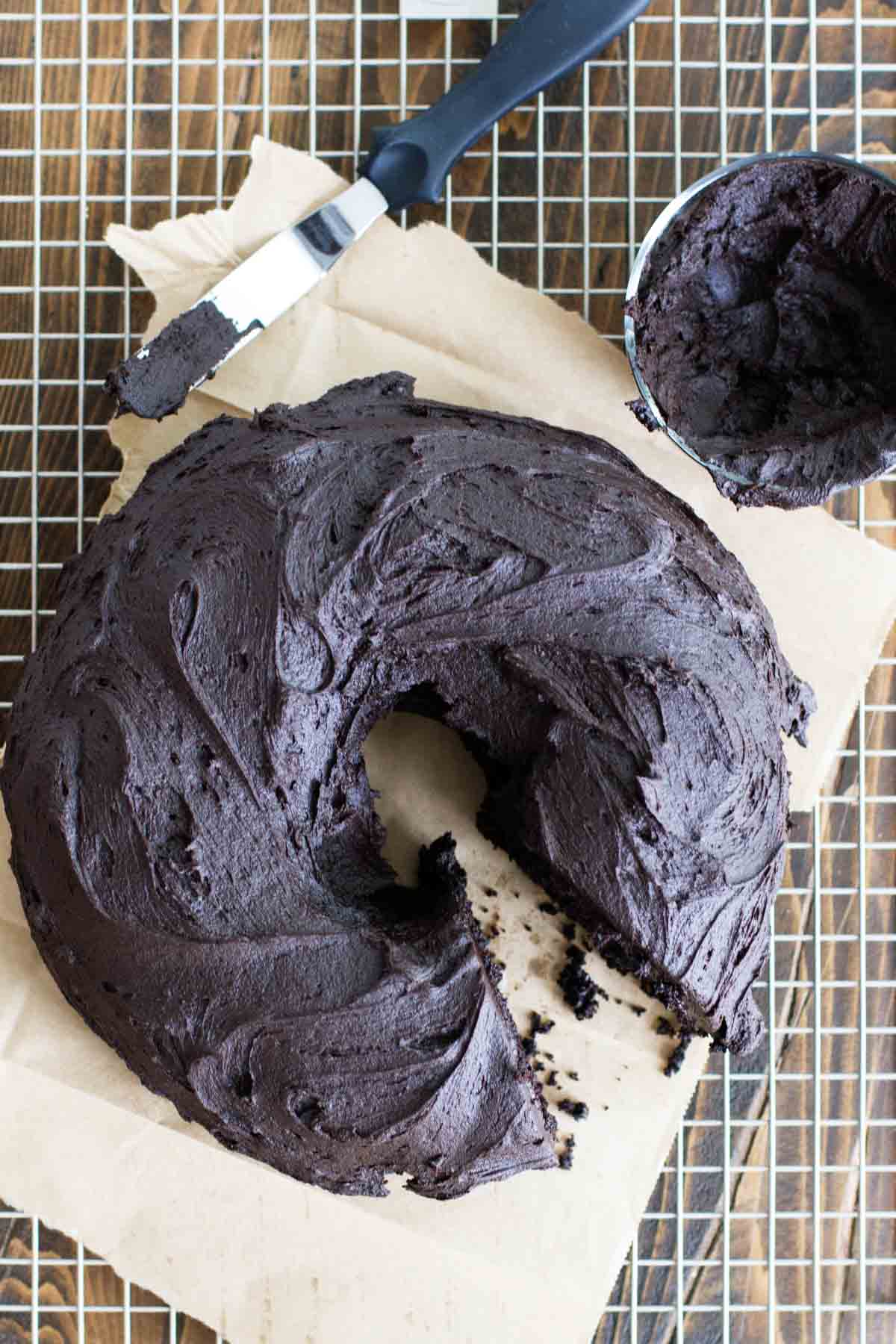 What do you need to make this Root Beer Bundt Cake?
*I love, love bundt cakes, so I have 2 bundt pans. I don't even remember where I bought mine years ago, but this bundt pan has a lot of great reviews. And it's pretty inexpensive, too!
*One of the things that sets this cake apart is the use of dark unsweetened cocoa powder. It is carried in most grocery stores these days and can also be purchased on Amazon.
*The easiest way to spread the frosting on top is with an offset spatula.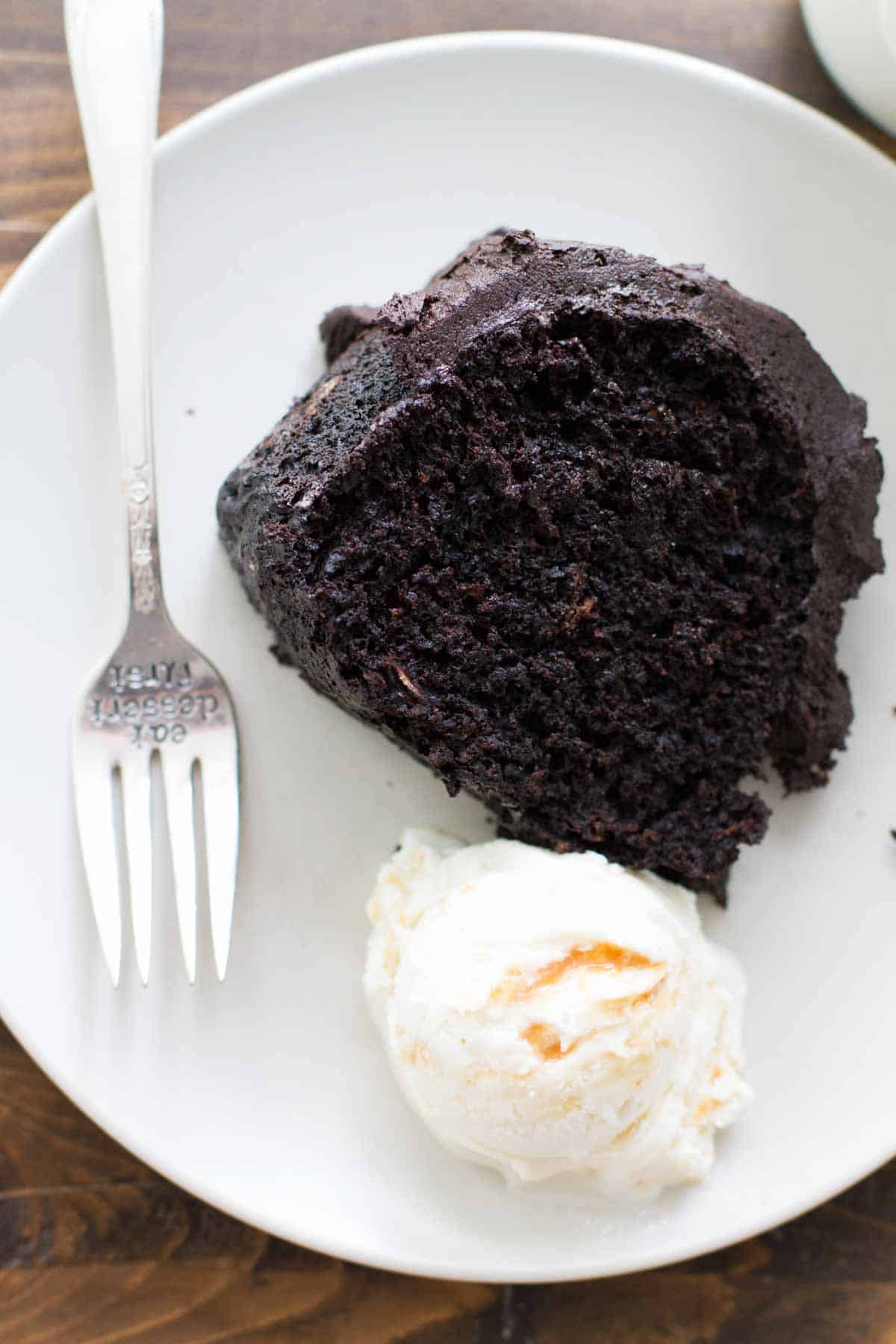 Looking for more can't miss bundt cake recipes?
Orange Glazed Bundt Cake
Crazy for Coconut Bundt Cake
Almond Joy Candy Bar Filled Bundt Cake
Caramel Apple Bundt Cake
Chocolate Bundt Cake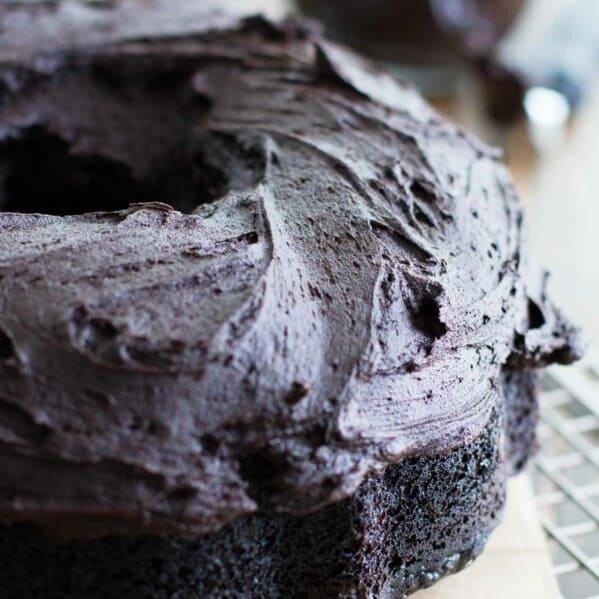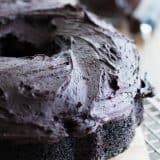 Root Beer Bundt Cake
---
Author:
Prep Time: 30 mins
Cook Time: 40 mins
Total Time: 2 hours
Yield: 12 servings 1x
Category: Dessert
Description
Deep, dark chocolate with a hint of root beer, this Root Beer Bundt Cake is super moist and irresistible. This cake gets even better the second day!
---
Scale
Ingredients
Cake:
2 cups root beer
1 cup dark unsweetened cocoa powder
1/2 cup unsalted butter, cut into 1-inch pieces
1 1/4 cups granulated sugar
1/2 cup packed dark brown sugar
2 teaspoons root beer extract
2 cups all-purpose flour
1 1/4 teaspoons baking soda
1 teaspoon salt
2 large eggs
Frosting:
2 ounces dark chocolate( 60% cacao), melted and cooled slightly
1/2 cup unsalted butter, softened
1 teaspoon salt
1/4 cup root beer
1 teaspoon root beer extract
2/3 cup dark unsweetened cocoa powder
2 1/2 cups powdered sugar
1–2 tablespoons heavy cream (if needed)
---
Instructions
Preheat the oven to 325ºF. Generously grease the inside of a 10-inch bundt pan with butter or shortening and dust it with flour. Tap out any excess flour.
Combine the root beer, cocoa powder, and butter in a saucepan over medium heat. Stir until the butter is melted. Add the granulated sugar and the brown sugar and whisk to dissolve. Remove from the heat and stir in the root beer extract.
In a large bowl, whisk together the flour, baking soda and salt.
Whisk the eggs in a small bowl, then whisk the eggs into the cocoa mixture. Add the cocoa mixture to the large bowl with the flour mixture and fold together. Do not overmix – the batter will be a little bit lumpy.
Pour the batter into the prepared pan and bake for 35 to 40 minutes, rotating the pan halfway through the bake time, until a tester inserted in the middle comes out clean. Transfer to a wire rack to cool completely. Gently turn the cake out onto the rack.
To make the frosting, combine the melted and cooled chocolate, the butter, and the salt in a large bowl and beat to combine. Slowly beat in the root beer and the root beer extract, followed by the cocoa powder. Add the powdered sugar in 1/2 cup at a time until it is all combined.  Add heavy cream, if needed, until you have the correct consistency. The frosting will still be thick, but creamy enough to spread on top of the cake.
To assemble, spread the frosting on top of the cooled cake in a thick layer.
Recipe Notes:
*DO NOT use diet root beer!
*You can find dark unsweetened cocoa powder in most grocery stores and online
Slightly adapted from Baked: New Frontiers in Baking
Nutrition
Calories: 491
Sugar: 57 g
Sodium: 543 mg
Fat: 20 g
Saturated Fat: 11 g
Unsaturated Fat: 4 g
Trans Fat: 0 g
Carbohydrates: 78 g
Fiber: 5 g
Protein: 6 g
Cholesterol: 71 mg