A moist, rich chocolate cake is topped with a fudgy chocolate frosting for the perfect cake for any chocoholic!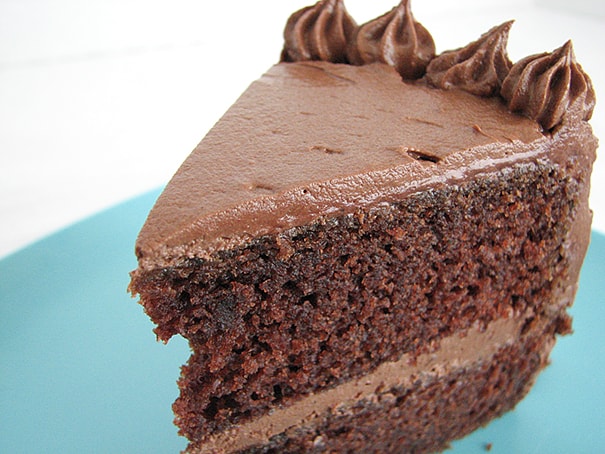 This is another work birthday installment. I started to get worried that I would make something that the birthday boy/girl would not like – or would be allergic to. There aren't any big allergies in my office that I am aware of, but what if I made something with if I made something lemon and the birthday boy/girl hated lemon? So, I tried to be a bit sneaky on this one, and since the co-worker that was having a birthday has a brother that works for the company as well, I asked the brother. After a phone call to the birthday boy's wife, I was told anything chocolate and without nuts would work. The brother also told me that is what he likes, so there will be no guess work for his birthday, either!
I have been checking out cookbooks from the library lately. They have a very large selection, but most of the books are a bit dated. Not to say that the books aren't good, but it's hard for me to preview some of the books that are people are raving about when the library doesn't carry the newer books. So when I saw The Cake Book by Trish Boyle, I new I had to check it out. I have heard it's praises sung on many different blogs, and have been wanting to take a look inside for quite some time. I think I took this book with me to work for a week straight and picked it up several times a day to read through it's pages – there are so many recipes in this book that I would love to try!! I went back and forth between several chocolate cakes, but settled on a sour cream chocolate cake. I also decided to go with her fudgy chocolate frosting.
Why I decided to make a cake that had to be frosted is beyond me. I am NOT a cake decorator – and after this cake, I have decided that once my life settles down a bit, I want to take some cake decorating classes!
I set out to make the cake the night before. The cake came together effortlessly. After the layers had cooled and after I had cut them to make them even, I threw the scraps into a bowl off to the side. I then started to make dinner. My husband came into the kitchen and picked up a scrap of the cake, throwing it into his mouth. And then he took another piece, and then another! He claimed that is was the best chocolate cake that he had ever had, and wanted to just eat chocolate cake for dinner!! I have to agree, this cake is amazing. It is so moist with just the right amount of chocolate. I will also say, that although the frosting was a good frosting as well, this cake does not need it. It was almost overkill. When I make this cake again – and I will – I will just sprinkle a bit of powdered sugar on top and serve it as is. It's just too good to cover it in anything else!!
The frosting, as I said, was very good, but very sweet. This was mostly my fault, because I didn't check my chocolate supply before I made it, and didn't have enough unsweetened or bittersweet chocolate. I ended up substituting one ounce of the unsweetened and one ounce of the bittersweet for semi-sweet, and this just made it a little too over the top for me. It was still good, just chocolate and sweet overkill!!
I stuck the cake in the fridge overnight, and when I got to work the next morning, I put it back in the fridge. I wish I wouldn't have done this. Although I took it out about an hour before serving, it didn't have enough time to come to room temperature, and the frosting was quite hard and a bit difficult to cut through. I definitely think this cake tastes better when served at room temperature.
Overall, I think it was a hit. But I know this book is going on my want list now!! There are so many other recipes from it that I want to try!

Chocolate Chocolate Cake
A moist, rich chocolate cake is topped with a fudgy chocolate frosting for the perfect cake for any chocoholic!
Ingredients
Sour Cream Chocolate Cake
2⅔ cups all-purpose flour
2½ cups granulated sugar
½ cup natural cocoa powder (not Dutch-processed)
1½ teaspoons baking soda
½ teaspoon salt
3 large eggs, at room temperature
⅔ cup sour cream, at room temperature
1 tablespoon vanilla extract
10 tablespoons unsalted butter, melted and cooled
⅔ cup safflower or corn oil
1¼ cups ice-cold water
Fudge Frosting
3 ounces unsweetened chocolate
3 ounces bittersweet chocolate
1 cup unsalted butter, softened
2 cups confectioners' sugar
1 tablespoon vanilla extract
Instructions
For the cake:
Position a rack in the center of the oven and preheat the oven to 350 F. Grease the bottom and sides of two 9-inch round cake pans. Line the bottom of each pan with a round of parchment paper and grease the paper. Dust the paper and sides of the pans with flour.
Sift together the flour, sugar, cocoa powder, baking soda, and salt into a medium bowl. Whisk to combine, and set aside.
In another medium bowl, whisk together the eggs until blended. Whisk in the sour cream and vanilla extract until blended. Set aside.
In the bowl of an electric mixer, using the paddle attachment, mix the melted butter and oil together at low speed. Add the cold water and mix to blend. Add the dry ingredients all at once and mix at medium-low speed for 1 minute. Add the egg mixture and mix for another minute, until well blended, scraping down the sides of the bowl with a rubber spatula as necessary. Scrape the batter into the prepared pans, dividing it evenly.
Bake the cake for 35 to 40 minutes, until a toothpick inserted into the center comes out clean. Cool the cakes in the pans on wire racks for 15 minutes.
Invert the cakes onto the racks, peel off the paper, and cool completely.
*Can be stored at room temperature, wrapped in foil, for up to 5 days.*
For the frosting:
Put both chocolates in a medium stainless steel bowl and place the bowl over a pot of barely simmering water. Heat, stirring frequently, until the chocolate is completely melted. Remove the bowl from the pot and set the chocolate aside to cool until tepid.
In the bowl of an electric mixer, using the paddle attachment, beat the butter at medium speed until creamy, about 30 seconds. Gradually add the confectioners' sugar and beat at high speed until light and creamy, about 2 minutes. Beat in the vanilla extract. Add the cooled chocolate at low speed, mixing until blended and scraping down the sides of the bowl as necessary. Increase the speed to high and beat until slightly aerated, about 1 minute.
*Store at room temperature, covered, for up to 3 hours, or refrigerate for up to 5 days. Bring to room temperature before using.*