Rich and full of orange and coconut flavors, this Coconut Orange Pound Cake takes a classic recipe and gives it is tropical makeover.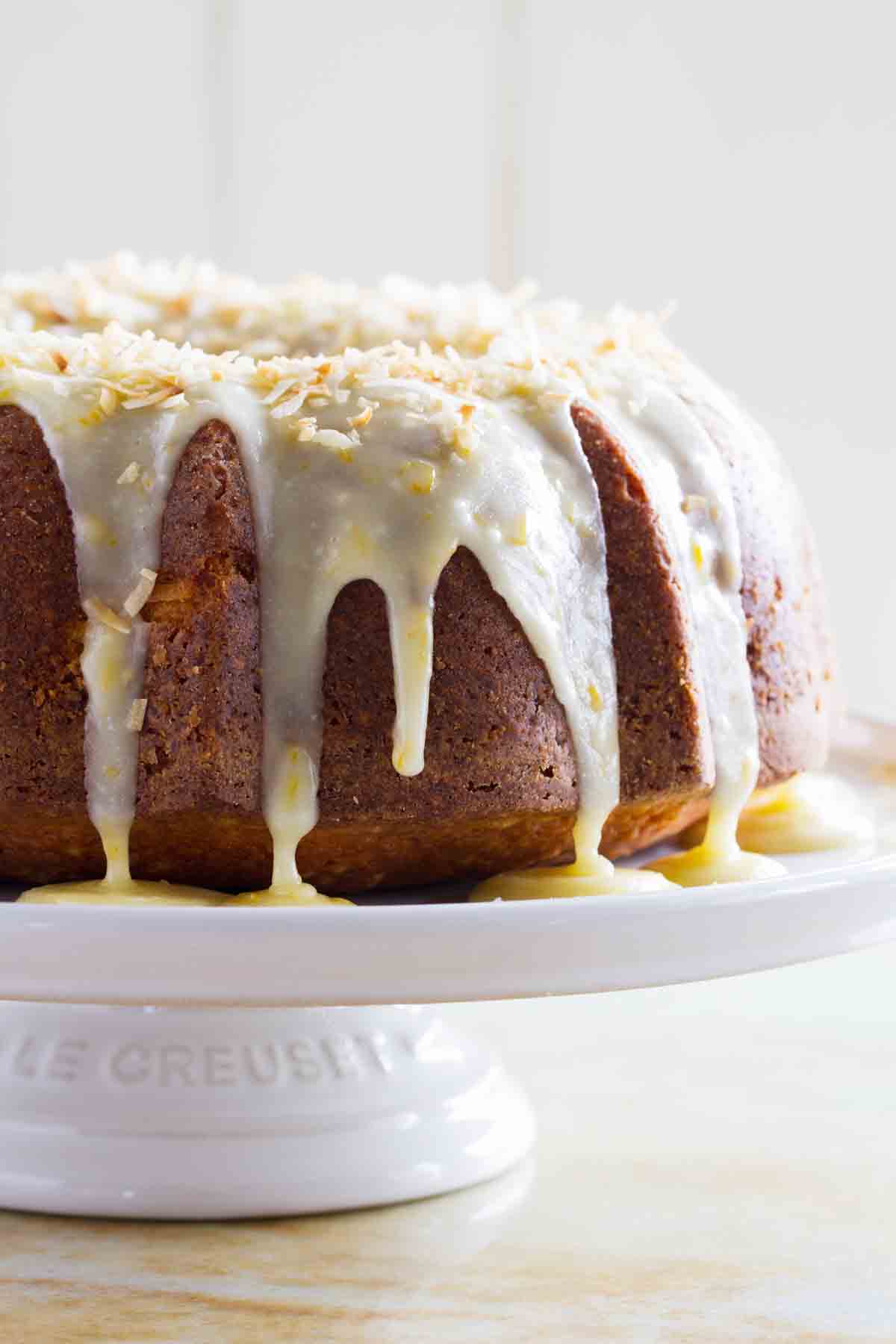 You know that saying – You always want what you can't have? I feel like I'm living proof of that this week.
I cook a lot. Pretty much every day. But all I've wanted to do this week is bake. Maybe it's because I can feel fall in the air, and that makes me want to get in the kitchen and bake up a storm. Or maybe I'm having withdrawals because it feels like it's been weeks since I baked anything but a batch of cookies or muffins. But all I want to do is bake.
And of course, it has been pretty much impossible this week. I started the kids at a new school this year. One where I have to drive them to school. It's only about 10-15 minutes away, but I am having to make that trip 3 times a day. Once in the morning to drop them off, again at noon to pick up Easton, and at 3:30 to pick up Abbi. 10-15 minutes each way. Which is adding up to about an hour and a half in the car every day. I thought I knew what I was getting myself into, and that it wouldn't be that bad. But it hasn't even been a whole week, and I'm wondering how I'm going to make it until February (when we will hopefully be living close enough to walk!!!)
The problem isn't necessarily that I'm spending an hour and a half in the car every day. It's that I'm coming and going every couple hours. Which is why my baking craving hasn't been satisfied this week. I'm in and out all day, and by the time everyone is home and homework and reading is done, it's time to make dinner. When that is finished, I'm just too darn exhausted to do anything else.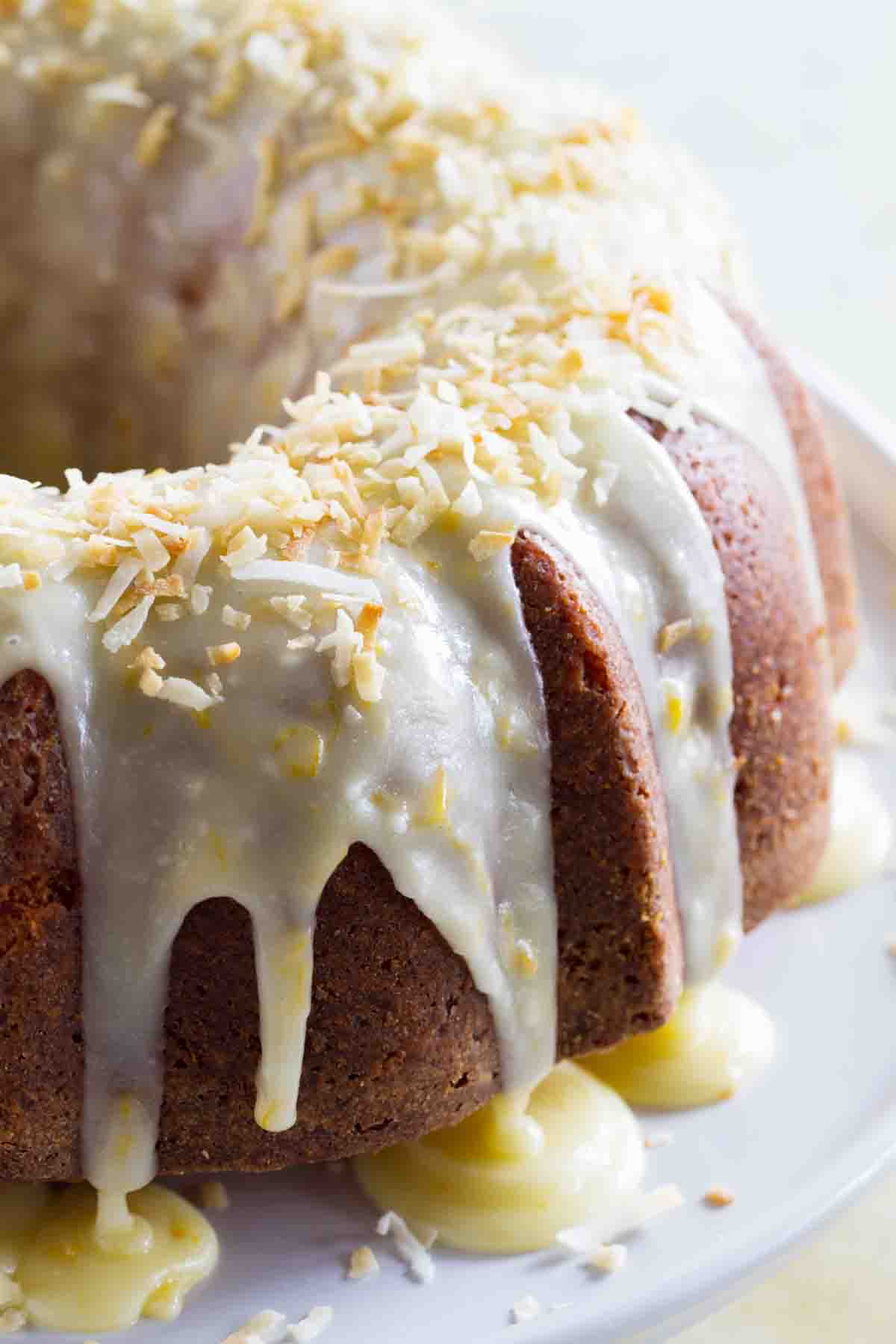 So instead, I drive and I daydream about what I will bake next. Yesterday, it was something with peaches and donuts . Or maybe a new fun cupcake recipe, or even what pie recipes will round out the year.
Or a big, delicious bundt cake.
There is just something about a bundt cake. They are casual yet sophisticated, and they are almost always covered in a dripping glaze that will make just about anyone weak in the knees. Yep. There's just something about a bundt cake.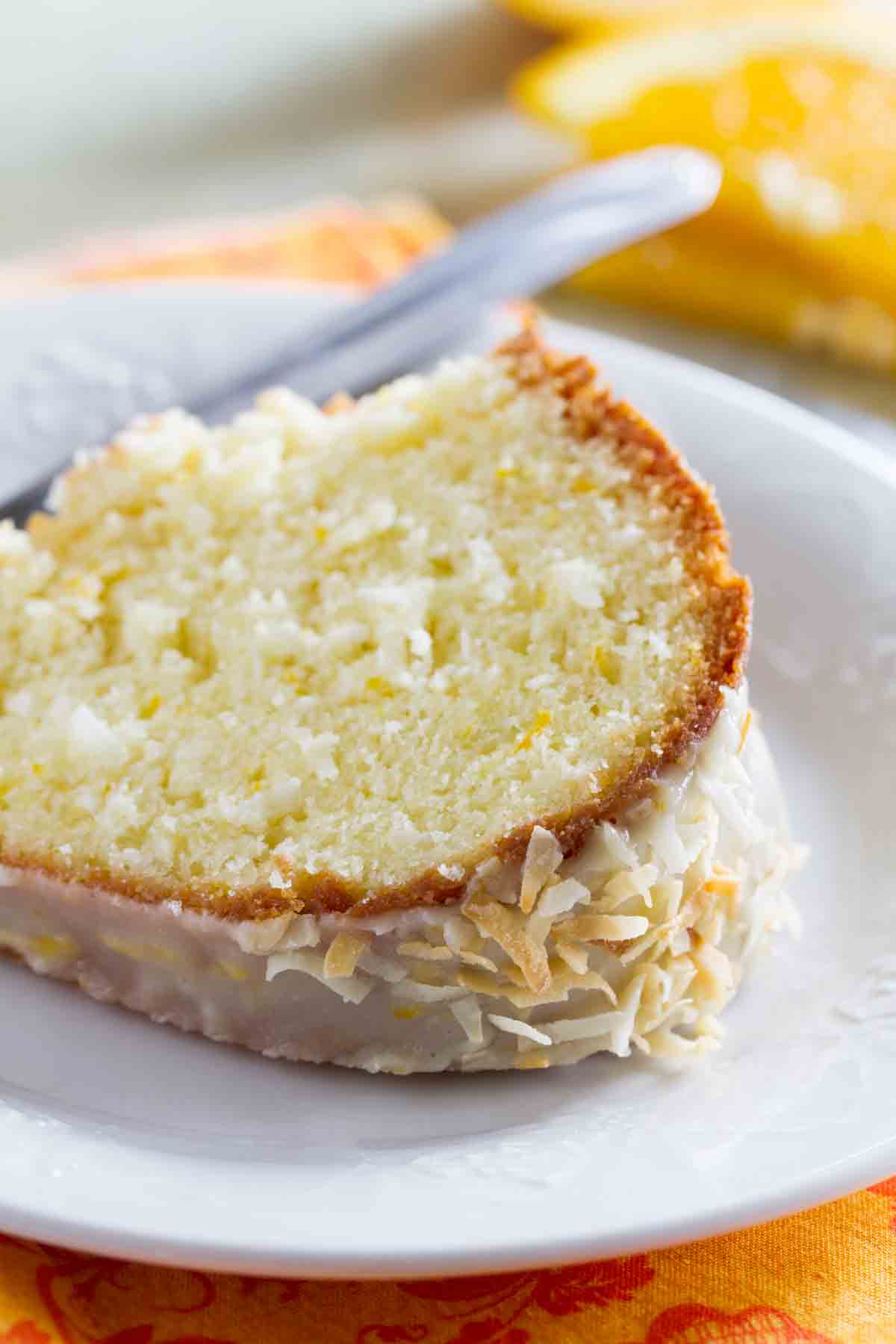 So instead of baking, I dreamt about this Coconut Orange Pound Cake that I made a little while back that I haven't shared with you all yet. You know it's going to be a winner because of the coconut. (Coconut will always be right up there at the top in my book!) Add that to some citrus, and you have a winner. As tempted as I was to turn this into a lemon cake, it made me think back to another orange cake. And I knew I couldn't go wrong with the orange.
This recipe takes a pound cake recipe and turns it into a beautiful bundt cake. Now, if you aren't a bundt cake fan (what???) or if you don't have a bundt pan, you can always bake this in loaf pans, like a traditional pound cake. But if you really want something special, bake it up in a bundt pan, cover it in a delicious orange glaze and then top it off with toasted coconut. And then I dare you to only eat one slice. It's hard – I tried. (And failed.)
So next time you get that baking bug, break out the bundt pan and give this Coconut Orange Pound Cake a try!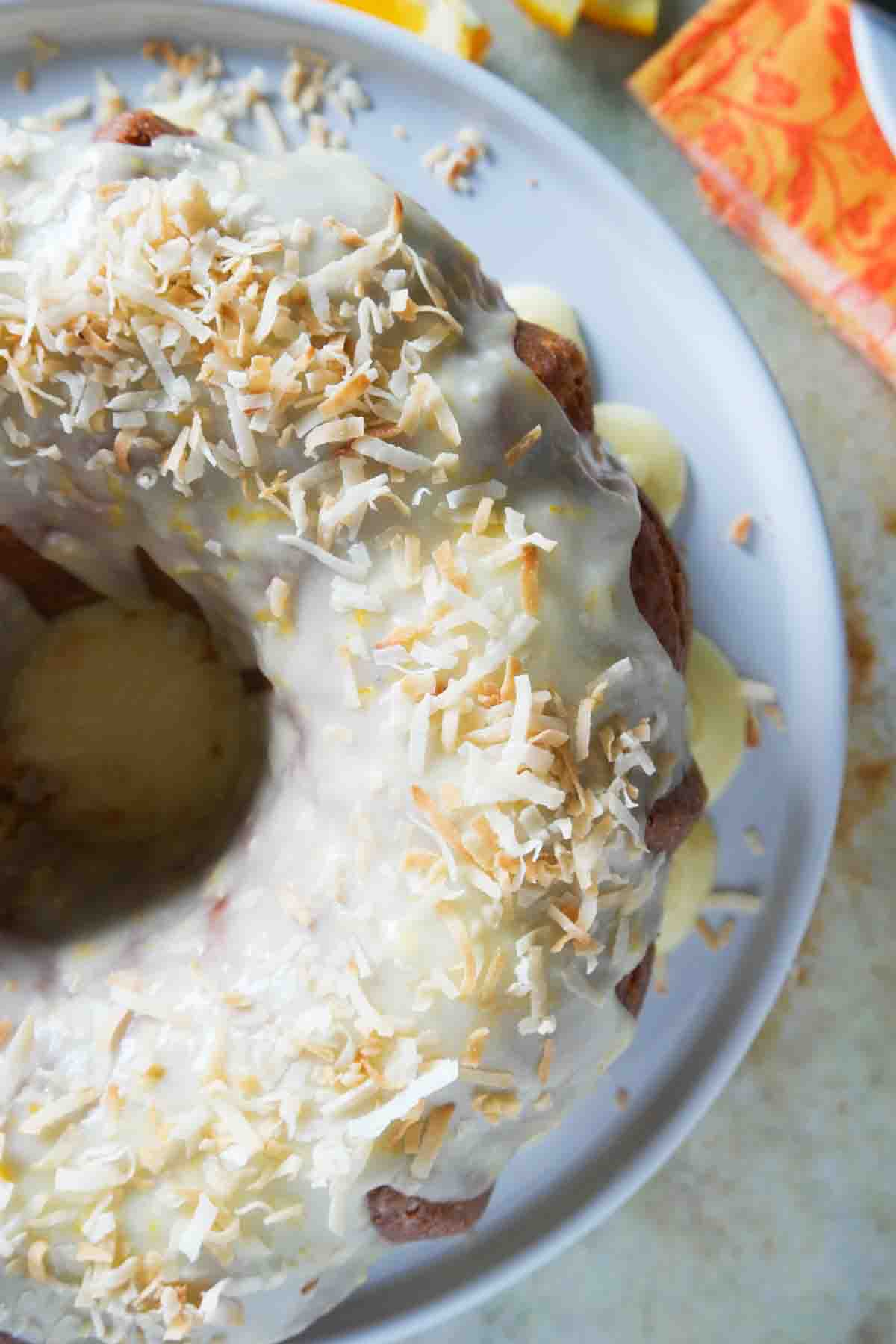 More Beautiful Bundt Cakes
Apple Bundt Cake with Caramel Frosting
Chocolate Bundt Cake
Coconut Bundt Cake
Buttermilk Pound Cake with Caramel Icing
Lime Poppy Seed Cake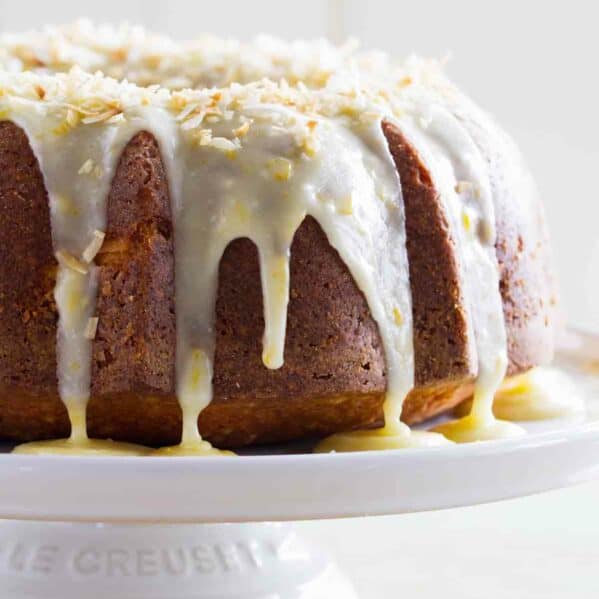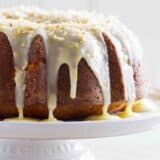 Coconut Orange Pound Cake
---
Author:
Prep Time: 20 minutes
Cook Time: 1 hour 10 minutes
Total Time: 3 hous 30 mins
Yield: 24 servings 1x
Category: Dessert
Method: Baked
Cuisine: American
Description
Rich and full of orange and coconut flavors, this Coconut Orange Pound Cake takes a classic recipe and gives it is tropical makeover.
---
Scale
Ingredients
Cake:
3 cups all-purpose flour
1 teaspoon baking powder
1/4 teaspoon salt
2 1/2 cups granulated sugar
1 cup butter, softened
5 eggs
1 teaspoon vanilla extract
1 cup milk
1 1/2 cups sweetened, shredded coconut
2 tablespoons grated orange zest
Glaze
1/3 cup butter
2 cups powdered sugar
1 tablespoon grated orange zest
2–4 tablespoons orange juice, heated
toasted coconut
---
Instructions
To make the cake:
Preheat the oven to 350ºF. Generously grease and flour a 12-cup bundt pan*.
In a medium bowl, mix together the flour, baking powder and salt. Set aside.
In the bowl of a stand mixer, combine the sugar and the butter and beat until combined. Add the eggs and the vanilla and beat on low for 30 seconds. Scrape the sides and bottom of the bowl. Turn the mixer back on to high speed and beat for 5 minutes, scraping the bowl occasionally. Beat 1/3 of the flour mixture into the batter, followed by half of the milk. Add another 1/3 of the flour, the remaining milk, then the remaining flour, beating just until combined between each addition. Fold in the coconut and orange zest . Pour the batter into the prepared pan.
Bake until a tester inserted in the center comes out clean, about 1 hour 10 minutes. Cool the cake in the pan for 20-30 minutes, then turn out onto a cooling rack. Cool completely, about 2 hours.
To make the glaze:
Place the butter in a medium saucepan and heat until melted. Stir in the powdered sugar and orange zest. Add the orange juice, 1 tablespoon at a time, until it has the consistency of thick syrup. Drizzle the glaze over the cooled cake, then sprinkle toasted coconut over the top.
Recipe Notes:
*You can also bake this in 2 loaf pans. Baking time would change to 55-60 minutes.
slightly adapted from Betty Crocker Cookbook, New Edition
Keywords: orange pound cake