An egg-free chocolate cupcake full of chocolate flavor.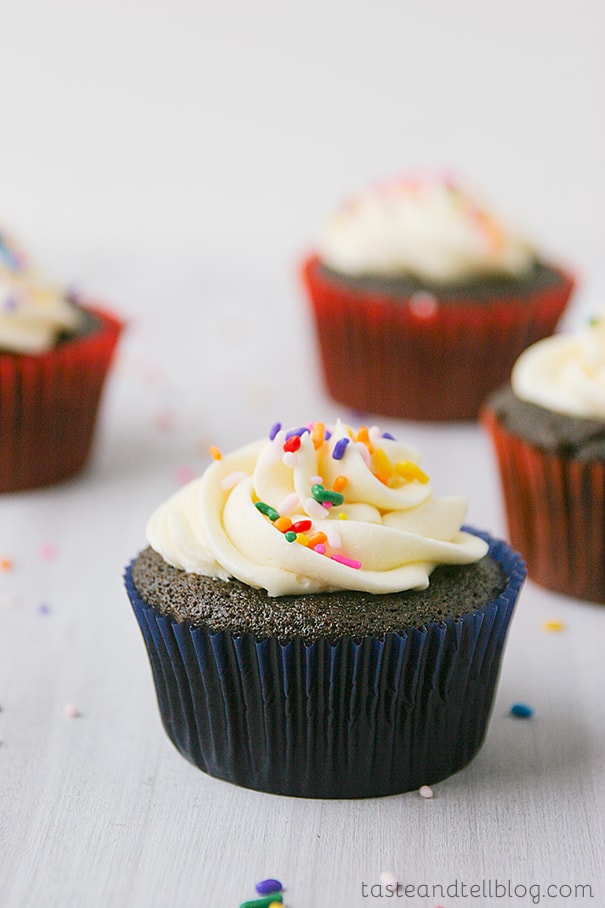 Photo updated August 2012
I guess I'm all about the chocolate lately – I had a chocolate cake last week, and now chocolate cupcakes!!
I actually wanted to post about these months ago, but when I went to type up the post, I realized I had misplaced the recipe and I couldn't find it anywhere! Well, as luck would have it, I found the printed recipe so now I can post about them!
I made these over 6 months ago. If you remember, last year I made cupcakes for each of my family members for their birthdays. Well, one of my brother in law is not a cake fan. Actually, he just hates eggs, and anything that has eggs in it. (I am sooo glad my husband is not like this, or I'd have to eat all the baked goods myself!) I didn't want to skip out on his birthday treat, or find something different for him, so I went on the search for an egg-less cupcake recipe. I should have realized that there are tons of recipes out there today that are egg-less – I just needed a vegan recipe!! This was my first vegan recipe, and I was quite impressed. If they all taste this good, I just might have to go vegan more often!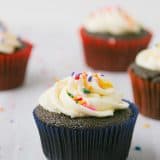 Eggless Chocolate Cupcakes
---
Prep Time: 5 minutes
Cook Time: 25 minutes
Total Time: 30 minutes
Yield: 16 cupcakes 1x
Description
An egg-free chocolate cupcake full of chocolate flavor.
---
Scale
Ingredients
1 1/2 cups flour
1 cup granulated sugar
1 teaspoon baking soda
1 teaspoon salt
1/3 cup cocoa powder
1/2 cup oil
1 cup water
1 teaspoon vanilla extract
1 tablespoon vinegar
---
Instructions
Preheat oven to 350F. Line 16 cupcake tins with liners.
Mix together all of the ingredients. Distribute the mixture between the cupcake tins and bake in the oven until a tester comes out clean, 20-25 minutes.