Mint lovers will go crazy for these Chocolate Mint Cupcakes that are topped with a smooth and creamy mint Swiss meringue buttercream frosting.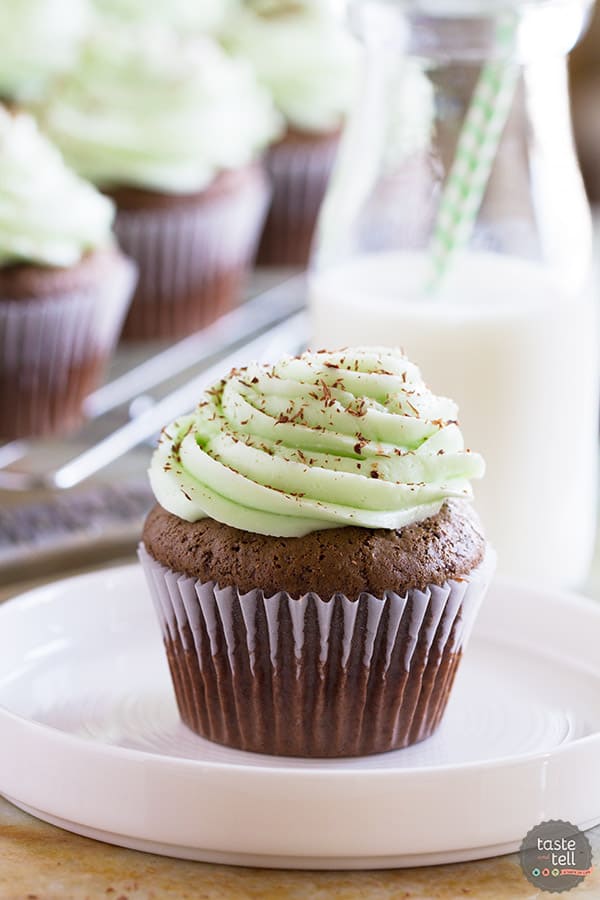 Yum


Originally posted November 10, 2008 – I get a little nostalgic reading this post from my blogging past. And amazed at where this blog has led me in the 7+ years since this post was written. I decided to remake these Chocolate Mint Cupcakes last month for some birthdays, and I'm glad I did. I had forgotten just how much I love Swiss meringue buttercream. It's a little bit more work, but it is so light and silky and delicious – totally worth it! Originally, I made these as mini cupcakes, but this time around, I stuck with traditional cupcakes. Because really, I don't make mini cupcakes very often. But they do work both ways! (If you do make them mini, they bake 9-10 minutes.)
The original post from 2008 follows:
This may sound really silly, but this blog has brought so much joy to my life over the last year and 8 months. Silly, because really, it's just blog, and it's only about food. But it has really helped me to find something that I love and that I am passionate about. I've always enjoyed both making and eating food, but being able to share that passion – it just really makes everything more intense. And exciting. And I know that sometimes, I want to throw in the towel because really, it takes a lot of time and effort. But I don't know – I almost feel like a piece of me would be missing without my blog.
I've really been touched lately. Maybe I'll blame it on the pregnancy hormones, but every time I see my blog listed somewhere else, it makes me smile, and it makes me wonder how the little blog I started back in March of 2007 has made it this far. I know there are lots of food blogs out there that are a lot better than mine, but just knowing that it's mine – somehow it makes me smile knowing that I have been able to do what I have done and learn what I have learned from this whole experience.
I don't look at my stats very often, maybe once or twice a month, but I checked the other day and found out that the Salted Peanut Chews that I posted about last week were listed on Apartment Therapy's The Kitchn as one of their delicious links for 11/06/08. I also got an email informing me that I was listed as one of the top 100 food blogs on the Culinary School Guide website. And then I got a call from a neighbor this past weekend, informing me that she had just received a copy of a local magazine in the mail, and was excited to see that I had contributed to it. I got an email months ago, asking if I'd contribute – and back then, I was seriously flattered and excited. And even though it's only a local magazine, it's the first time I've actually been in print, and it was an honor. So for the past day or two, I've been asked by many neighbors and family members about my blog, and although I claim to them that it's just a "hobby", it really has become a part of me and who I am. I know it would all sound silly to someone who doesn't blog about food, but I'm sure many of you out there know exactly what I'm talking about!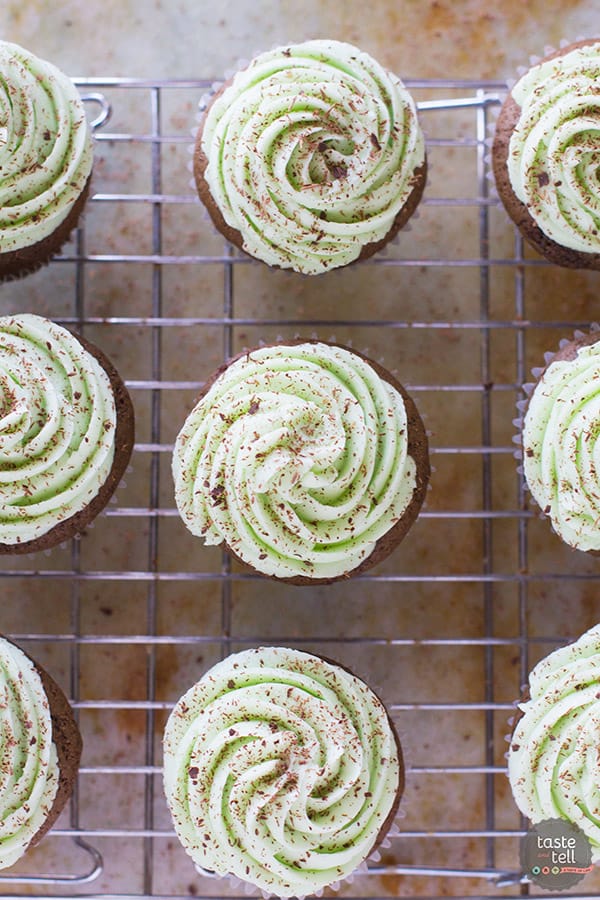 So really – I want to thank all of you who read my little blog – from the very depths of my heart. I have made so many online friends, and I even talk about some of you to people in real life. You have really changed my life – for the better. I know that first and foremost, I do this for myself, it's my hobby and my little escape from the real world, but without all of you reading and commenting, it just wouldn't be quite so much fun. I just hope that I bring a little bit of something into your lives like you have brought into mine.
I wanted to bring a virtual treat to all of you, and I thought – what better way to say "thanks" than to show a recipe made by another food blogger? I know it's the ultimate compliment to me when you make one of the recipes I have posted. So here are some delicious Chocolate Mint Cupcakes that I made from the wonderful blog – How to Eat a Cupcake (update 2016 – sadly, this blog is no longer online). The only change I made to them was to leave out the chocolate chips, because I didn't have any mini ones, and since I made mini sized cupcakes (see note at the top of the post), I knew regular chocolate chips would be just too big. These Chocolate Mint Cupcakes were awesome – and really – food bloggers rarely let me down!!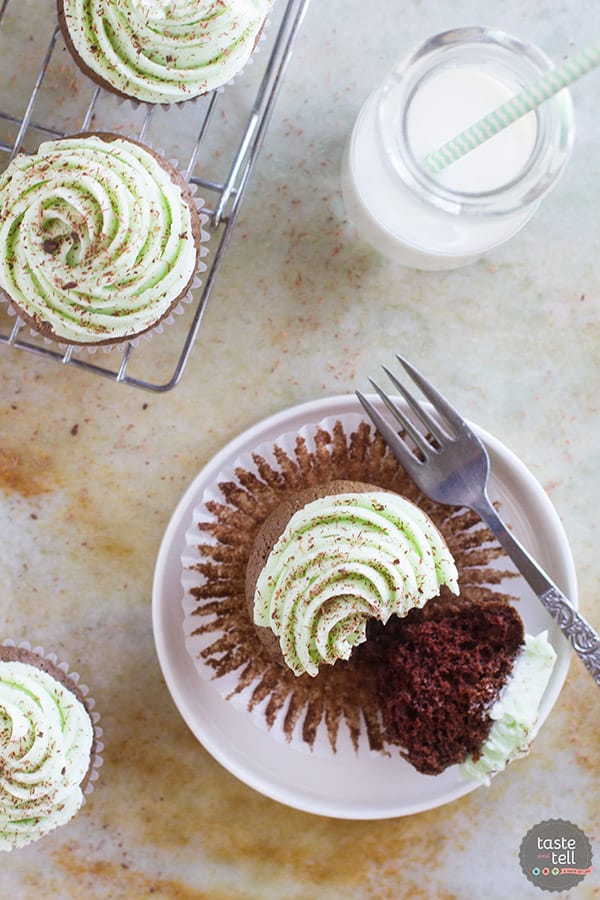 Like what you see here? Make sure you are following Taste and Tell for more recipes and ideas!
Facebook | Pinterest | Instagram | Twitter | Google+ | Weekly Newsletter | Feedly | Bloglovin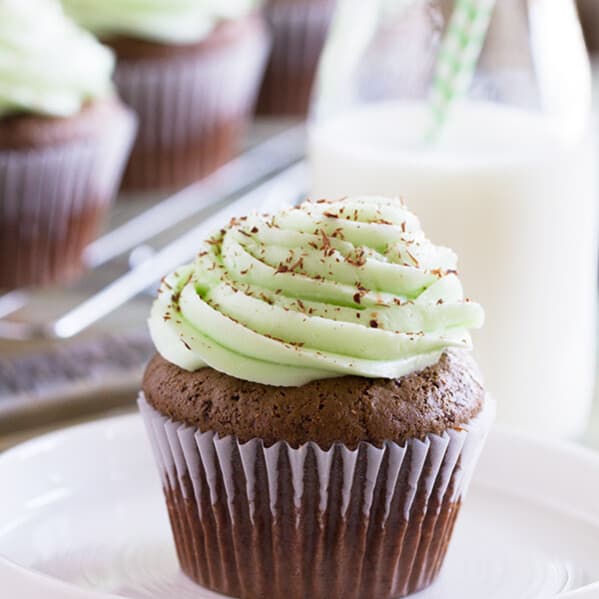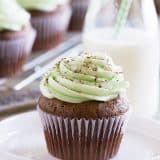 Chocolate Mint Cupcakes
---
Author:
Prep Time: 40 mins
Cook Time: 18 mins
Total Time: 58 mins
Yield: 12 servings 1x
Description
Mint lovers will go crazy for these Chocolate Mint Cupcakes that are topped with a smooth and creamy mint Swiss meringue buttercream frosting.
---
Scale
Ingredients
Chocolate Mint Cupcakes
1/4 cup unsalted butter, at room temperature
3/4 cup sugar
2 oz unsweetened chocolate, chopped and melted
2 large eggs, at room temperature
1/2 cup chocolate milk
3/4 teaspoon peppermint extract
1 1/2 cups all-purpose flour
1 teaspoon baking soda
Mint Swiss Meringue Buttercream
3 egg whites
1 cup sugar
3/4 cup (1 1/2 sticks) unsalted butter, at room temperature, cut into small pieces
1 1/2 teaspoons peppermint extract
1/4 teaspoon vanilla extract
a few drops of green food coloring
---
Instructions
Preheat the oven to 350ºF. Line 12 muffin tins with paper liners.
In the bowl of a stand mixer, or in a large bowl, combine the butter and sugar and beat until light and fluffy. Beat in the melted chocolate. Add in the eggs, one at a time, beating well between each addition and scraping down the sides of the bowl as needed. Beat in the chocolate milk and the peppermint extract. Add the flour and the baking soda and beat just until combined, making sure to scrape the bottom and sides of the bowl to ensure it is all incorporated.
Fill each of the cupcake liners 2/3 full. Bake for 15-18 minutes, or until a tester inserted in the center comes out clean. Cool completely.
To make the buttercream, combine the egg whites and the sugar in the bowl of a stand mixer. Fill a small pot with about 1 inch of water and bring to a simmer over medium heat. Place the stand mixer bowl on top of the pot and whisk the eggs and sugar until the sugar is dissolved and the mixture is about 160ºF.
Transfer the bowl to the stand mixer fitted with the whisk attachment. Beat until the mixture forms stiff peaks, then continue to beat until the sides of the bowl are no longer warm, about 6 minutes.
Switch to the paddle attachment. With the mixer on medium-low, start adding the butter, a couple tablespoons at a time, beating well after each addition. Continue to beat until the mixture is smooth. (It may start to separate and look curdled – if this happens, just continue to beat until it all comes together, 3-5 minutes.)
Beat in the peppermint extract and the vanilla extract as well as the food coloring. Beat for 2 minutes. Stir the buttercream with a rubber spatula before transferring to a piping bag. Pipe the frosting onto the cooled cupcakes.
Recipe Notes:
Cupcake recipe adapted from Crazy About Cupcakes.
Mint Swiss Meringue Buttercream from How To Eat A Cupcake (no longer online)
SHOP THIS POST!
More Mint Favorites: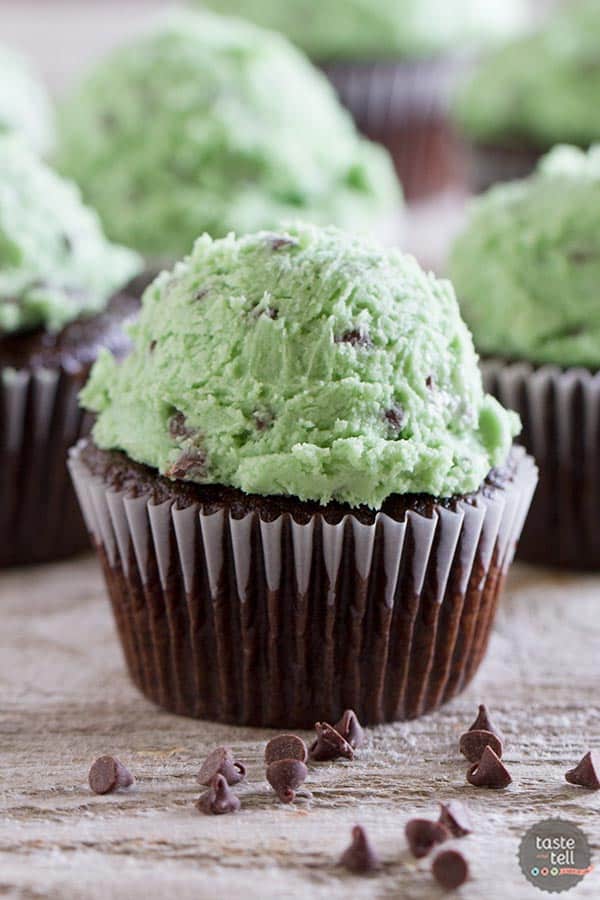 Mint Chocolate Chip Cookie Dough Frosting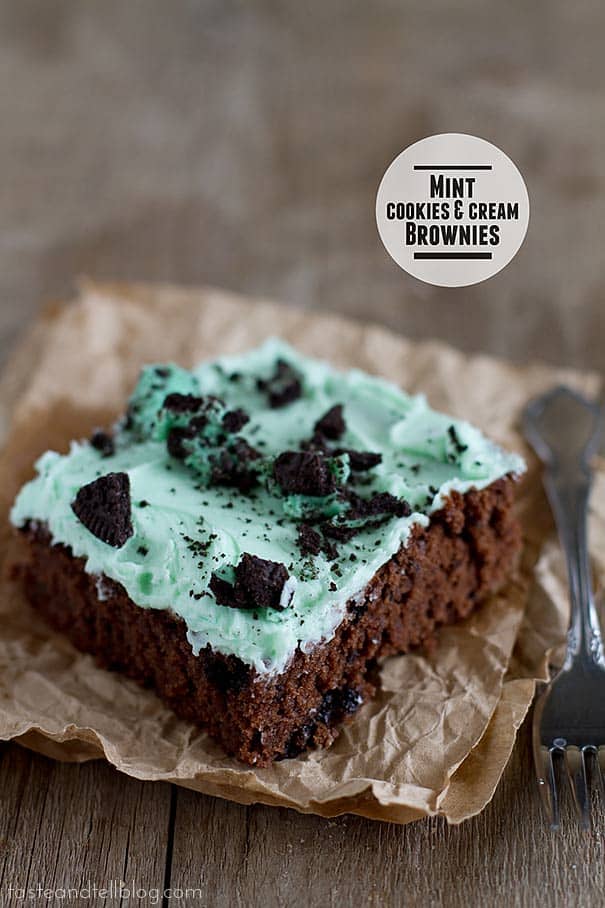 Mint Cookies and Cream Brownies
Don't miss a thing! Follow me on Pinterest to see what I'm pinning!
Visit Taste and Tell's profile on Pinterest.