This is not your normal German chocolate cupcake! A chocolate cupcake gets dressed up with chocolate frosting, German chocolate frosting, and a raspberry filling.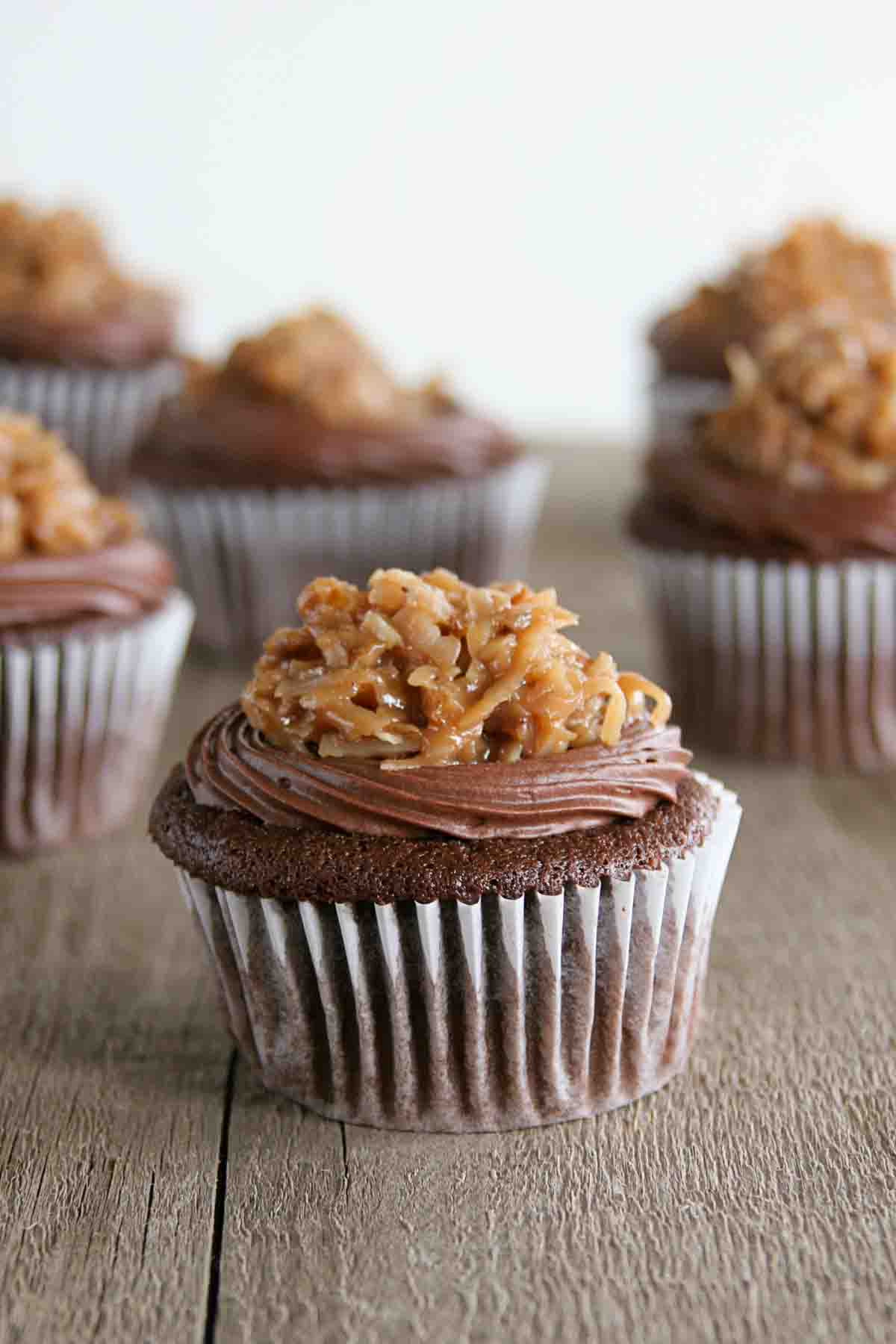 Years ago, I had a job that was just down the street from a popular local bakery. As much as I would have loved to visit every day to sample one of their baked goods, I was too cheap to pay $4 for an eclair every day. But there was one thing that I couldn't resist.
They sold several different kinds of cake by the slice. But my all-time favorite was their German chocolate cake. But their German chocolate cake wasn't like every other German chocolate cake. There was one small thing that set it apart from any other cake that I have ever had. It had a layer of raspberry puree in-between the layers. I had never had German chocolate cake like that before, and I don't think any other cake will ever measure up to that cake. Both my sister and I became addicted, and it was a sad, sad day when they stopped selling that cake by the slice.
This was many years ago. And I haven't been able to get that combination out of my head since then.
If you've been reading my blog for awhile, you might remember a few years ago when I decided to make cupcakes for each member of my family for their birthdays.  Well, this year, I decided to bring back that tradition.  This month was my brother's birthday, and he is a German chocolate fan.  I immediately thought of that cake when I thought to make him German chocolate cupcakes, and I knew I had to try to re-create those flavors. 
I'm so glad I had that thought come to my mind, because I loved these cupcakes.  The raspberry with the chocolate and the German chocolate frosting was so delicious.  I hope my brother loved them as much as I did!!
I'm on the quest to find the perfect at-home, bakery style cupcake recipe.  And while this cupcake recipe was delicious, it wasn't exactly what I was looking for.  While they were delicious, they were a little bit crumbly and hard to fill, and not the texture that I was looking for for that bakery style cupcake.  But they were still very tasty!  I'm excited to use this year and all of the birthdays ahead to try to find that perfect cupcake recipe!!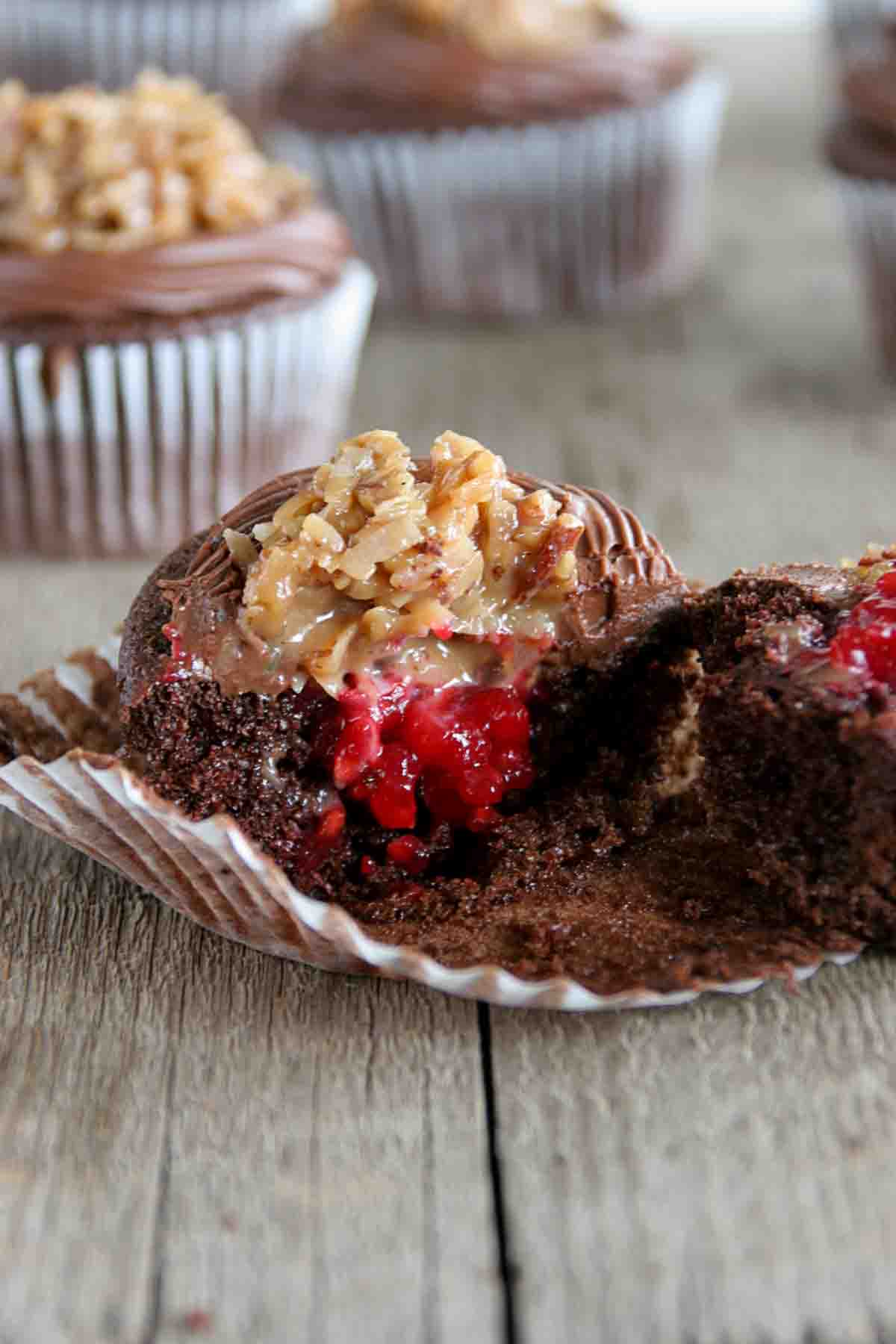 More Cupcake Recipes
Carrot Cake Cupcakes
Coconut Cherry Cupcakes
Coconut Cupcakes
Tres Leches Cupcakes
Chocolate Sour Cream Cupcakes with Chocolate Buttercream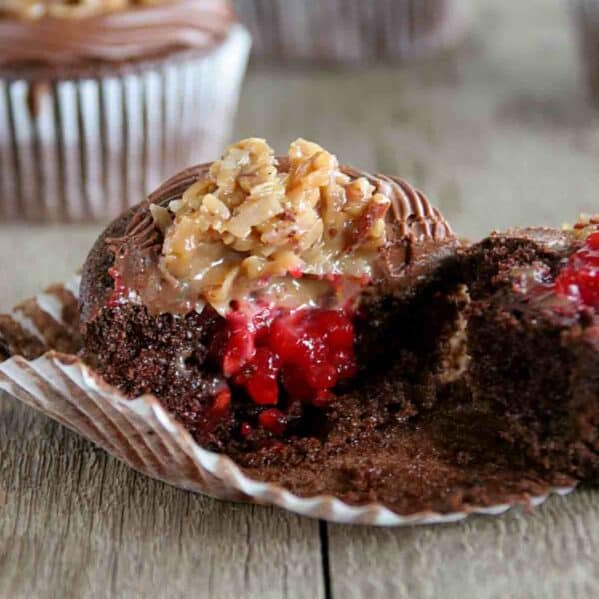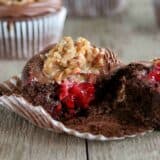 German Chocolate Cupcakes with Raspberry Filling
---
Author:
Prep Time: 30 minutes
Cook Time: 25 minutes
Total Time: 1 hour 30 minutes
Yield: 30 cupcakes 1x
Category: Dessert
Method: Baked
Cuisine: American
Description
This is not your normal German chocolate cupcake! A chocolate cupcake gets dressed up with chocolate frosting, German chocolate frosting, and a raspberry filling.
---
Scale
Ingredients
For the Cupcakes
2 cups sugar
1 3/4 cups all-purpose flour
3/4 cup cocoa
1 1/2 teaspoons baking powder
1 1/2 teaspoons baking soda
1 teaspoon salt
2 eggs
1 cup milk
1/2 cup vegetable oil
2 teaspoons vanilla extract
1 cup boiling water
For the Raspberry Filling
2 cups frozen, unsweetened raspberries
1/4 cup sugar + 1/3 cup sugar
1 1/4 cups water (minus the raspberry liquid)
3 tablespoons cornstarch
1 teaspoon lemon juice
For the Chocolate Frosting
1/2 cup butter
2/3 cup cocoa
3 cups powdered sugar
1/3 cup milk
1 teaspoon vanilla extract
For the German Chocolate Frosting
1/2 cup evaporated milk
1 (11 oz) bag caramel bits
1 1/4 cup chopped pecans
1 1/4 cup shredded sweetened coconut
---
Instructions
Make the cupcakes:
Preheat the oven to 350F. Line 30 muffin cups with paper liners. Set aside.
In the bowl of a mixer, combine the sugar, flour, cocoa, baking powder, baking soda and salt. Add in the milk, eggs, oil and vanilla. Beat for 2 minutes on medium speed. Stir in the boiling water. (Batter will be thin.) Fill each muffin cup about 2/3 full with the batter. Bake in the preheated oven for 22-25 minutes, or until a toothpick inserted in the center comes out clean.
Cool Completely.
Make the Raspberry Filling:
Mix the raspberries and the 1/4 cup sugar and allow the raspberries to thaw. Once thawed, drain any juices away from the raspberries, reserving the juice.
Combine the reserved juice and enough water to make 1 1/4 cups of liquid.
In a medium saucepan over medium heat, combine the 1/3 cup sugar, water and juice, cornstarch and lemon juice. Bring to a boil and stir until it thickens. Remove from the heat and cool. Stir in the raspberries. (Filling can be made ahead of time. Refrigerate until needed.)
Make the Chocolate Frosting:
Melt the butter. Stir in the cocoa. Alternately mix in the powdered sugar and the milk, beating until smooth. Add more milk, if needed. Mix in the vanilla.
Make the German Chocolate Frosting:
In a medium saucepan, heat the evaporated milk until it starts to simmer. Add the caramel bits and cook, stirring, until the caramel is melted and smooth. Bring the mixture to a boil, then immediately remove from the heat. Stir in the pecans and the coconut.
Assemble the cupcakes:
Cut a cone out of the top of each cupcake. Fill the cupcake with the raspberry filling. Pipe a border of the chocolate frosting around the edge of each cupcake. Fill the center of the frosting with a mound of the German chocolate frosting.
Keywords: german chocolate cupcakes