Super simple, yet super tasty, these Cabbage and Beef Bundles take a simple cabbage and beef filling and stuff it inside crescent rolls. Don't skip the horseradish mayo for dipping!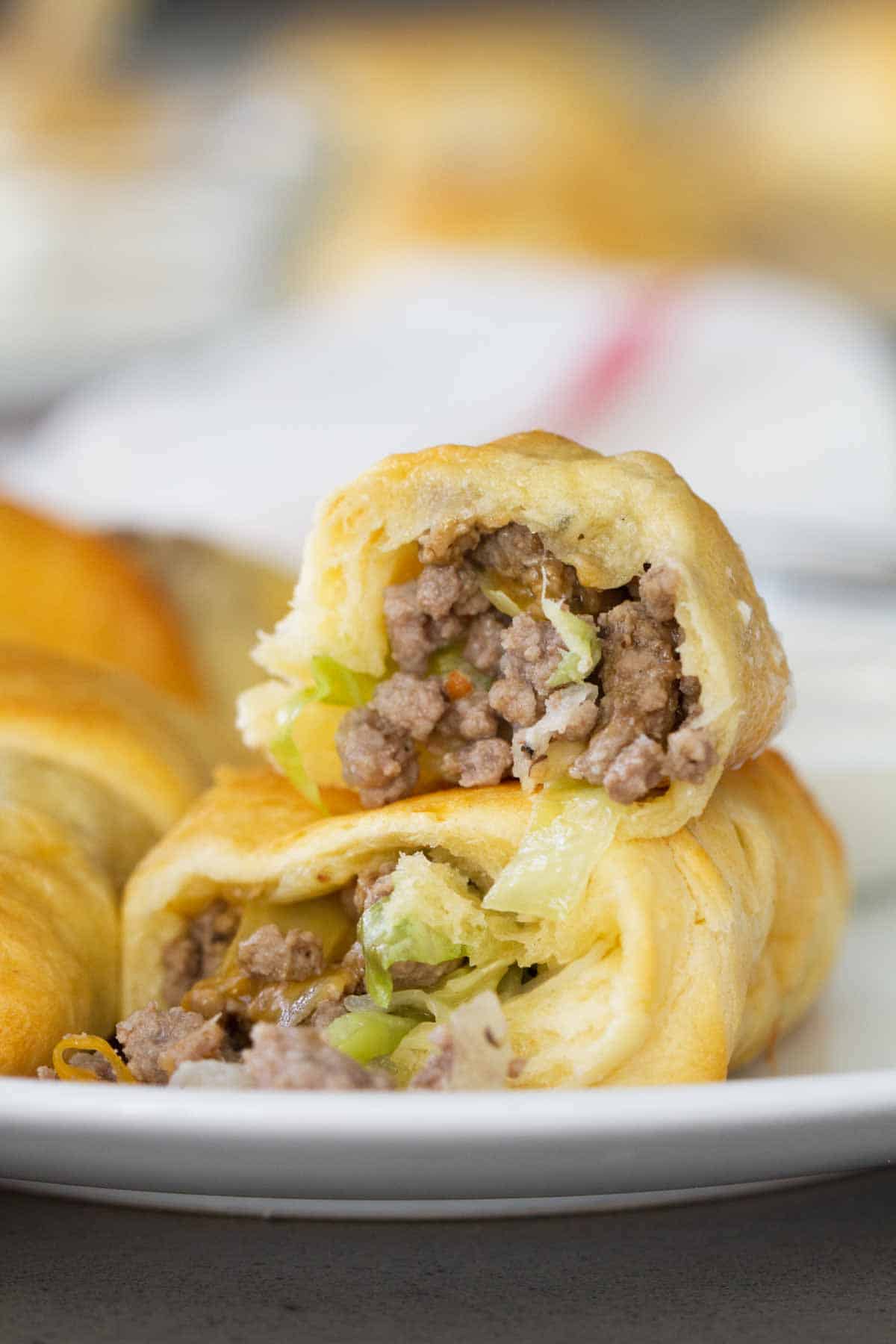 Originally posted June 3, 2010 – I was looking for something easy to add to the menu a few weeks ago for a night when we had a lot going on. I hadn't made these Cabbage and Beef Bundles in ages, and they sounded good to me. So onto the menu they went. Little did I know that they would get gobbled up by the whole family – especially my husband! In fact, he claimed the leftovers for lunch the next day before we were even finished eating. I love, love, love the horseradish mayo that you make for dipping these little bundles into. If you aren't a horseradish fan, you might not love it, but my husband and I definitely did. I know these will make an appearance more often, now!
The post from 2010 follows: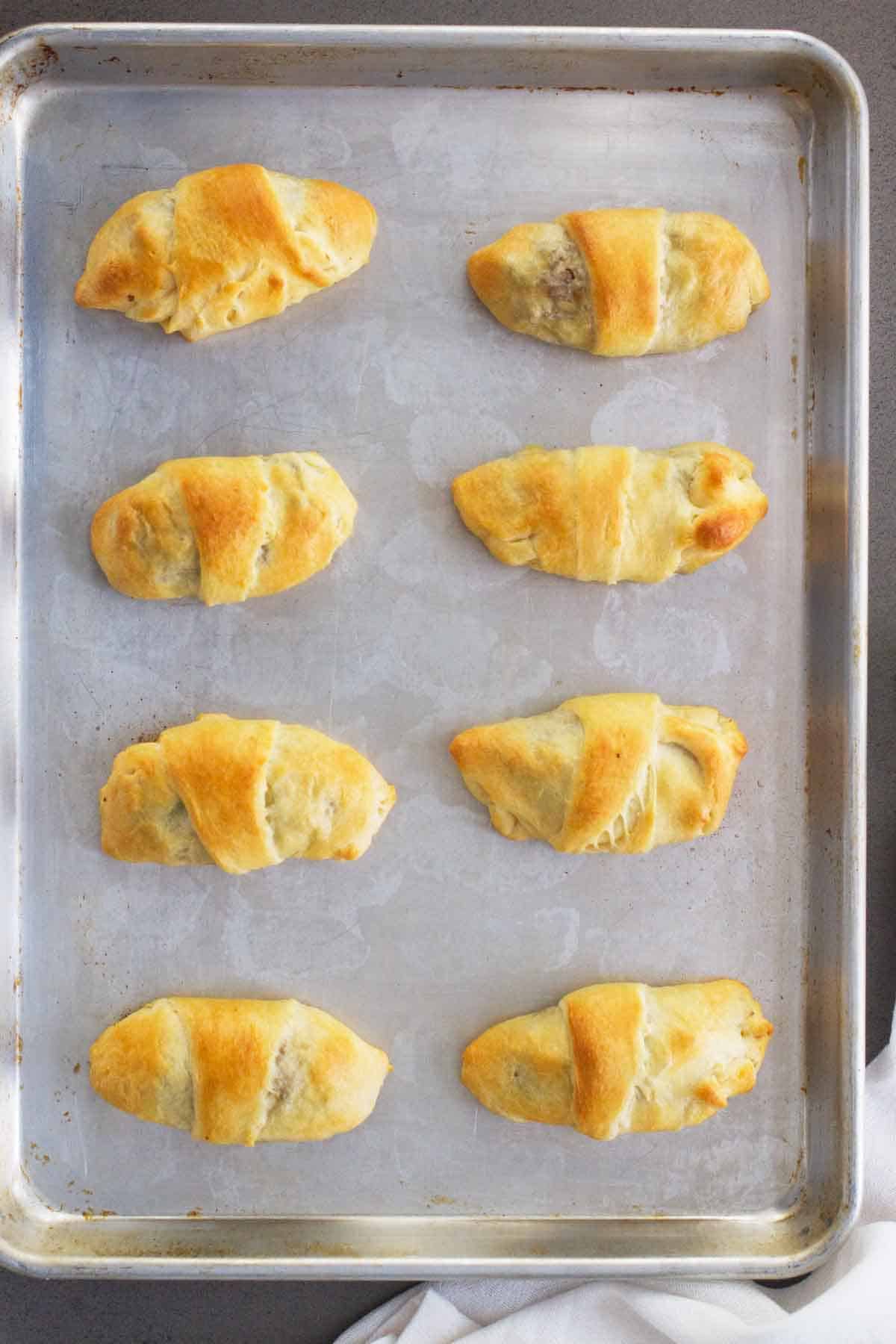 Years ago, my parents used to own a Play It Again Sports. Because of this, my mom spent just about every Saturday morning out at garage sales. She became quite the garage sale expert. One thing she kept her eyes open for were those little Pillsbury magazine/cookbook things that you can buy at the grocery store checkout. For some reason, they must have really appealed to her, and she could often find them for cheap at garage sales. And now I have a nice thick stack of them, most of them coming from my mom. For some reason, when I'm making my menu, I tend to forget about these little books, which is a shame, because they really do hold some great recipes in them. So I decided to pull a couple of them out the other day and find something for dinner. I knew I had some ground beef in the fridge that needed to be used, so on a search I went. And these Cabbage and Beef Bundles are what I ended up deciding on.
Can you believe I used to not like horseradish? Now whenever I see it in a recipe, I want to make that recipe asap. I think that is why this one called out to me!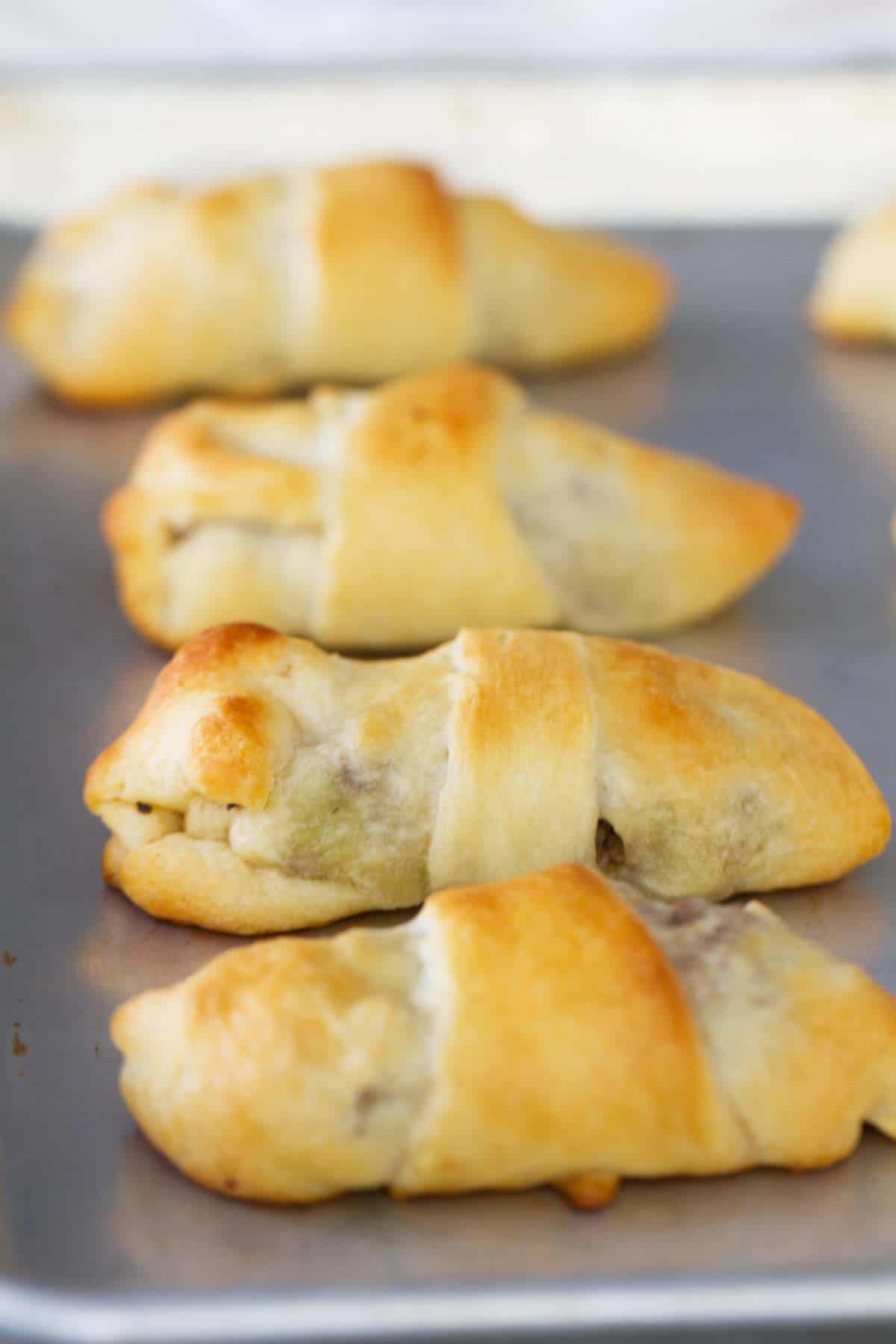 Recipe Notes:
I didn't quite understand the directions on how to "bundle" these up. (Or maybe I was just too impatient!) So I just rolled them and tucked them the best I could. It worked just fine!
It seems like a lot of cabbage at first, but it will cook down. My version has a lot more than the original, and I definitely love the extra cabbage in them!
Don't skip on the dipping sauce! That is what makes these delicious! My daughter ate hers with the sauce, but my boys just ate theirs plain.
We loved these. So did Abbi. She couldn't get enough! I love that they are super easy and use very few ingredients. Now I'm headed off to look through more of these little books!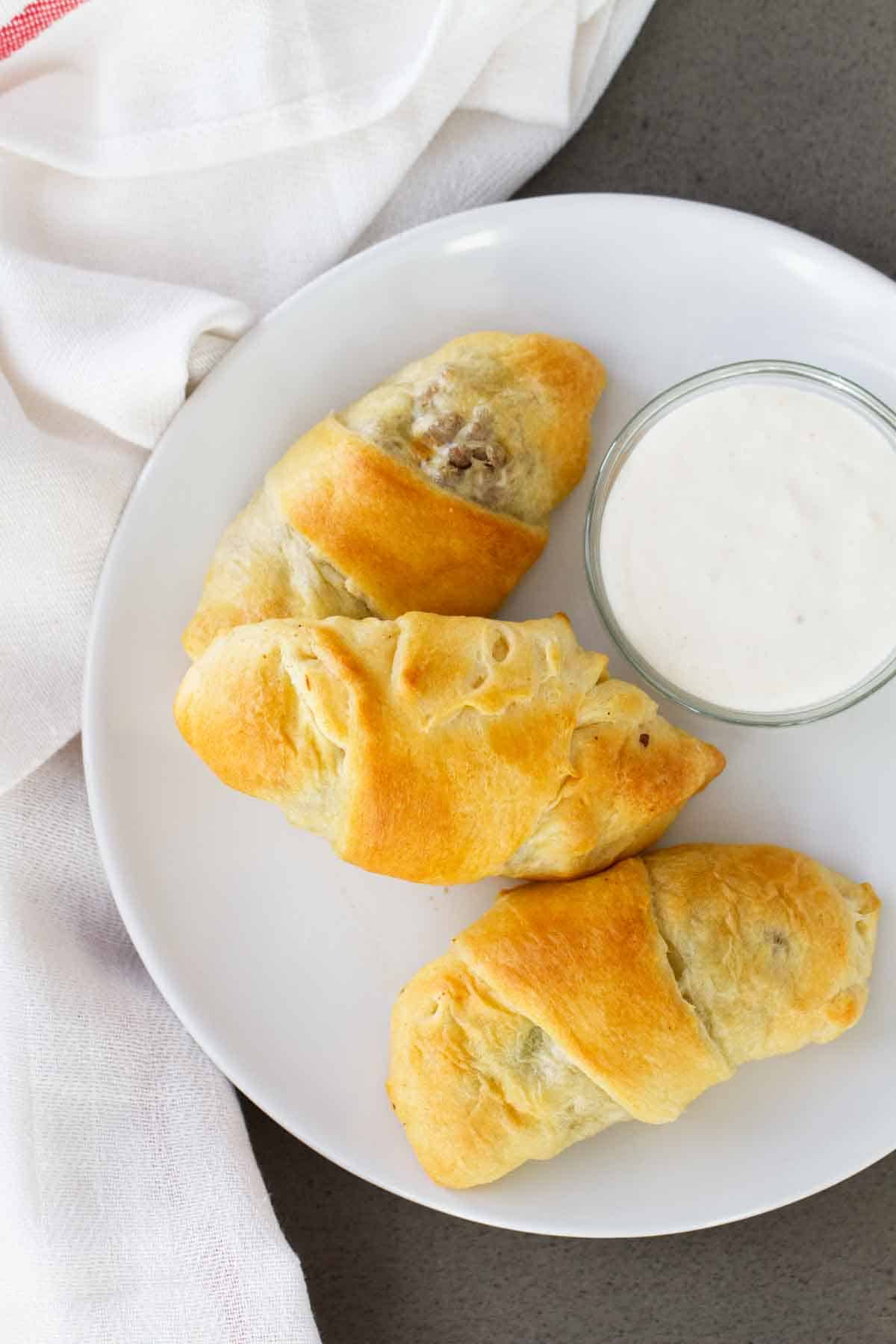 Here are some more kid-approved dinner ideas:
Creamy Chicken and Corn Turnover Recipe
Crispy Chicken Nuggets
Pizza Pasta
Pizza Cups
Sloppy Joe Mac n Cheese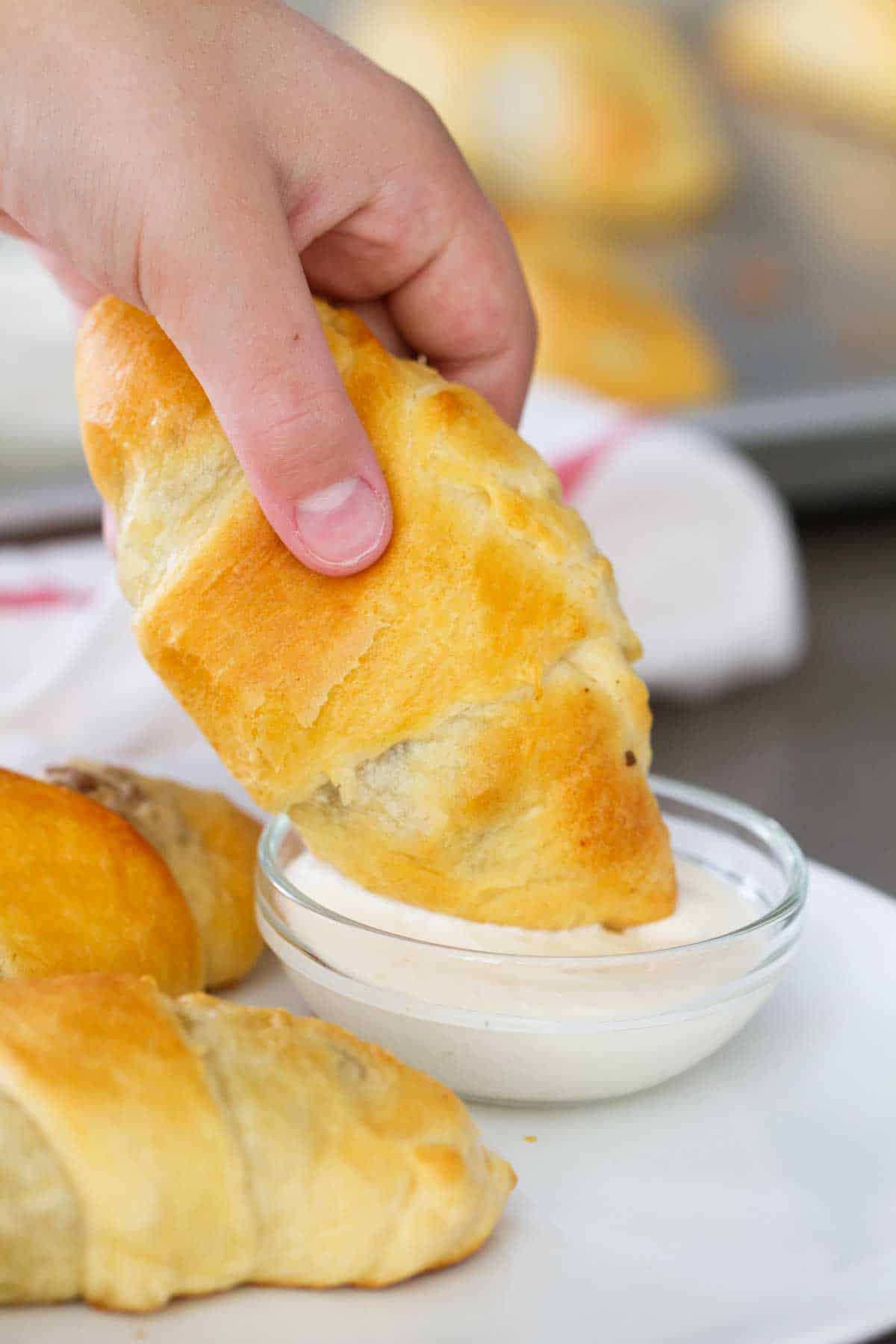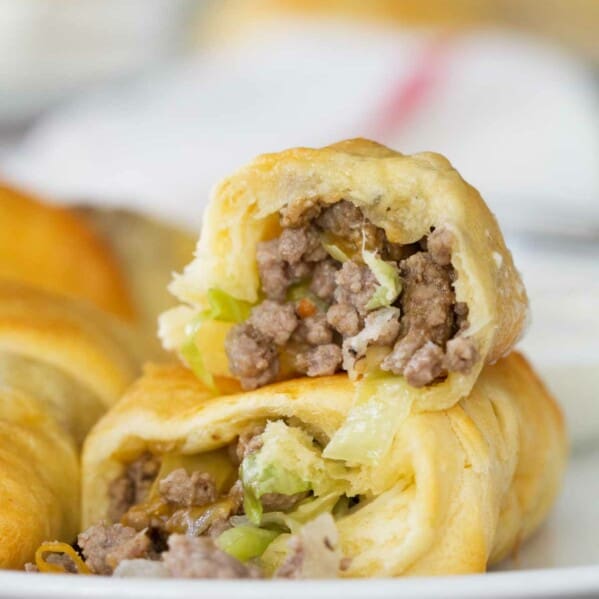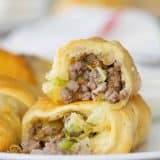 Cabbage and Beef Bundles
---
Author:
Prep Time: 15 minutes
Cook Time: 55 minutes
Total Time: 1 hour 10 minutes
Yield: 8 servings 1x
Category: Main Dish
Method: Baked
Cuisine: American
Description
Super simple, yet super tasty, these Cabbage and Beef Bundles take a simple cabbage and beef filling and stuff it inside crescent rolls. Don't skip the horseradish mayo for dipping!
---
Scale
Ingredients
Sauce:
1/3 cup mayonnaise
2 tablespoons horseradish
Bundles:
1 pound ground beef
1/3 cup diced onion
4 cups chopped Napa cabbage
1 teaspoon salt
1/4 teaspoon pepper
1/2 cup shredded Cheddar cheese
2 cans (8 oz ea) crescent rolls
---
Instructions
Combine the mayonnaise and horseradish in a small bowl and mix completely. Refrigerate until needed.
Preheat the oven to 375ºF.
Cook the ground beef in a large skillet over medium high-heat until browned, breaking it up as it cooks. In the last few minutes, add the onions and cook until the onion is soft. Drain, if needed.  Add the cabbage, salt, and pepper; stir to mix. Cover the pan and reduce the heat to medium. Cook until the cabbage is crisp-tender, stirring occasionally, about 10-15 minutes.  Remove from the heat and allow to cool for 5 minutes.
Stir in the cheese.
Separate the crescent dough into 16 triangles, pressing each triangle out slightly to form a larger triangle. Place about 1/4 cup of the beef mixture in the middle and roll the filling up in the dough.  Pinch the edges to seal the mixture inside, then place on an ungreased baking sheet, seam side down.
Bake in the preheated oven for 15 to 20 minutes, or until golden brown.
Serve the bundles with the horseradish mayo for dipping.
Recipe Notes:
slightly adapted from Pillsbury
Serving size is 2 bundles. Adults may want more, while children may only eat 1.
Nutrition information provided as an estimate only. Various brands and products can change the counts.
Nutrition
Serving Size: 2 bundles
Calories: 403
Sugar: 7 g
Sodium: 5553 mg
Fat: 26 g
Saturated Fat: 9 g
Unsaturated Fat: 6 g
Trans Fat: 0 g
Carbohydrates: 26 g
Fiber: 0 g
Protein: 18 g
Cholesterol: 47 mg
Keywords: easy dinner, ground beef, crescent rolls