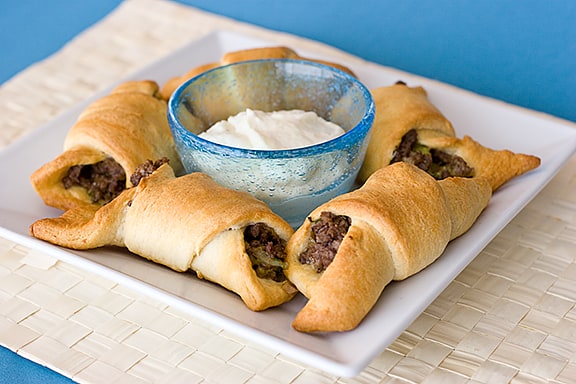 Years ago, my parents used to own a Play It Again Sports. Because of this, my mom spent just about every Saturday morning out at garage sales. She became quite the garage sale expert. One thing she kept her eyes open for were those little Pillsbury magazine/cookbook things that you can buy at the grocery store checkout. For some reason, they must have really appealed to her, and she could often find them for cheap at garage sales. And now I have a nice thick stack of them, most of them coming from my mom. For some reason, when I'm making my menu, I tend to forget about these little books, which is a shame, because they really do hold some great recipes in them. So I decided to pull a couple of them out the other day and find something for dinner. I knew I had some ground beef in the fridge that needed to be used, so on a search I went. And these little bundles are what I ended up deciding on.
Can you believe I used to not like horseradish? Now whenever I see it in a recipe, I want to make that recipe asap. I think that is why this one called out to me!
Recipe Notes:
I didn't quite understand the directions on how to "bundle" these up. (Or maybe I was just too impatient!) So I just rolled them. It worked just fine!
I used some Napa cabbage that I had on hand, and I used twice as much as the recipe calls for. I think I would have liked even more!
Surprisingly, I would leave the cheese out next time. I couldn't even really taste it in there, and that would be a great way to cut some calories out of this.
Don't skip on the dipping sauce! That is what makes these delicious!
We loved these. So did Abbi. She couldn't get enough! I love that they are super easy and use very few ingredients. Now I'm headed off to look through more of these little books!
Crescent Cabbage and Beef Bundles
from Pillsbury America's Bake-Off Cookbook
serves 6-8
total time: about 45 minutes
1 pound ground beef
1/3 cup chopped onion
2 cups chopped cabbage
1 teaspoon salt
1/4 teaspoon pepper
2 oz. (1/2 cup) shredded cheddar cheese
2 (8-oz) cans Quick Crescent Dinner rolls
Sauce
1/3 cup mayonnaise
2 tablespoons horseradish
Heat oven to 375°F. In large skillet, cook ground beef and onion over medium-high heat until beef is thoroughly cooked, stirring frequently. Drain.
Add cabbage, salt and pepper; mix well. Reduce heat to medium; cover and cook 10 to 15 minutes or until cabbage is crisp-tender, stirring occasionally. Cool 5 minutes. Stir in cheese.
Separate dough into 16 triangles; press or roll each until slightly larger. Spoon about 1/4 cup beef mixture on shortest side of each triangle. Roll up, starting at shortest side of triangle, gently wrapping dough around beef mixture and rolling to opposite point. Pinch edges to seal. Place point side down on ungreased large cookie sheet.
Bake at 375°F. for 15 to 20 minutes or until golden brown. Meanwhile, in small bowl, combine mayonnaise and horseradish sauce; blend well. Serve sauce with sandwiches.