This recipe for Whole Wheat Bran Muffins is a great way to start your day! Filled with whole grains and sweetened with bananas and dates, these muffins are healthy, hearty and delicious!
Love bran muffins? You also need to check out our favorite Classic Bran Muffins or these Peanut Butter Banana Bran Muffins.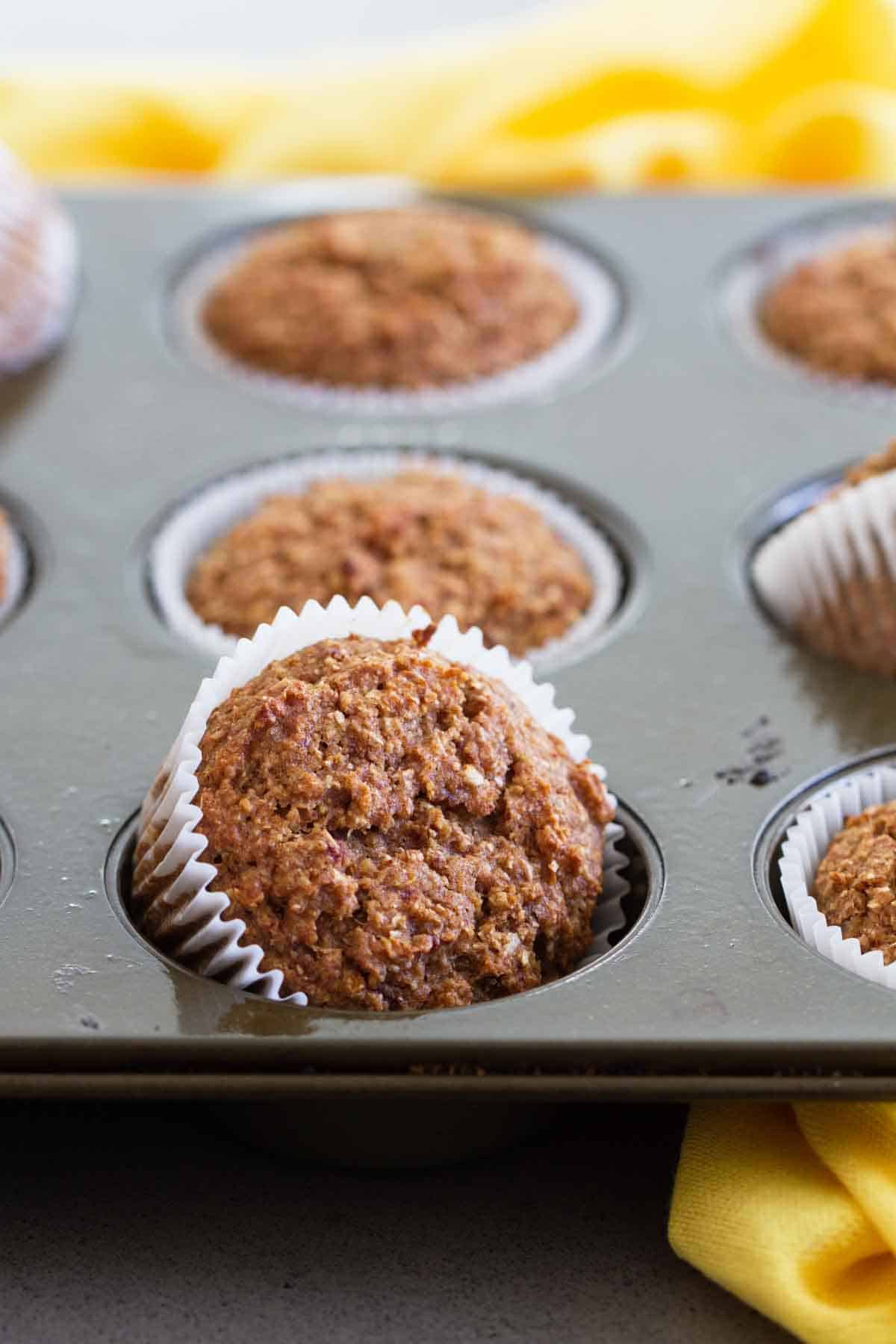 We are almost halfway through February – how many of you are still sticking strong to your New Year's resolutions?
I have always been a moderation in all things kind of person, but the older I get, the more I realize that moderation actually changes as you age. More healthy and less indulgences is the only way to keep things in balance. But luckily, healthy eating doesn't necessarily mean chicken breasts and boiled eggs every single day. There are so many resources out there today, and so many great, healthy recipes that actually taste really good, too.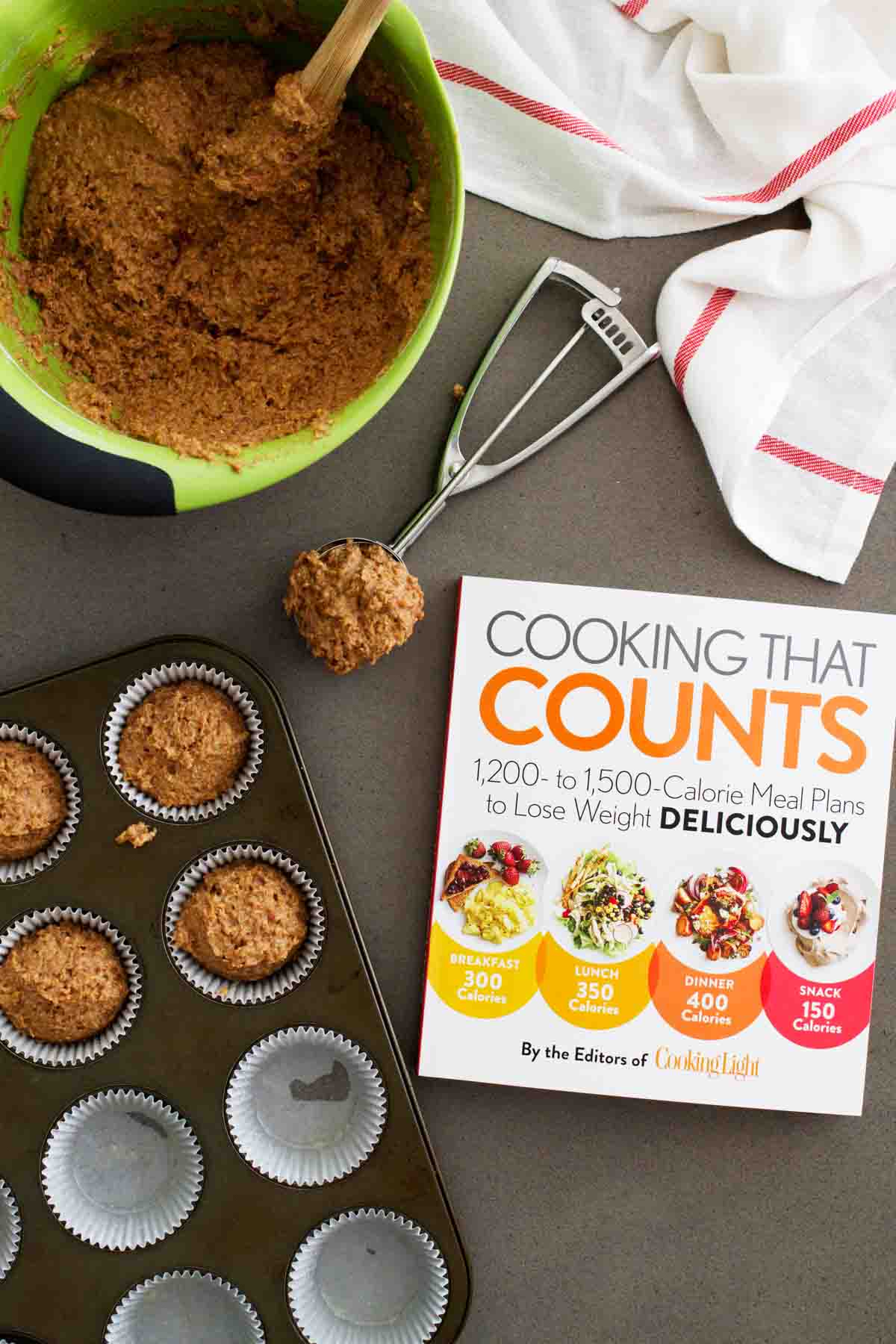 Cooking That Counts
I've been cooking from a few healthy cooking cookbooks lately, and I am going to share one with you all, today! Cooking That Counts – by the editors of Cooking Light.
I used to be a subscriber to Cooking Light, and made the recipes all the time. And I still love their recipes to this day. I was super excited for this cookbook and for even more delicious but good for you recipes.
Here are my thoughts on this book so far:
I have always been a devout menu planner, so seeing the 30 day meal plan in the beginning of the book was one of my favorite things. I would love to follow it completely (but alas, life as a food blogger doesn't allow me to do that), and it looks totally doable and delicious at the same time!
I also love that the basic meal plan is a 1200 calorie meal plan, but there are additions each day to take that to a 1500 calorie plan. Or if you need to go higher than that, there is a whole chapter at the end with ways to bulk up the recipes. So the meal plans are very versatile.
I also love that the recipes are super easy, and most of them are super fast, as well. Also, many times, "diet" cookbooks have a lot of recipes that don't really appeal to me. That is not the case with this cookbook. I really think that almost every recipe looks good, and I would definitely be willing to try them all.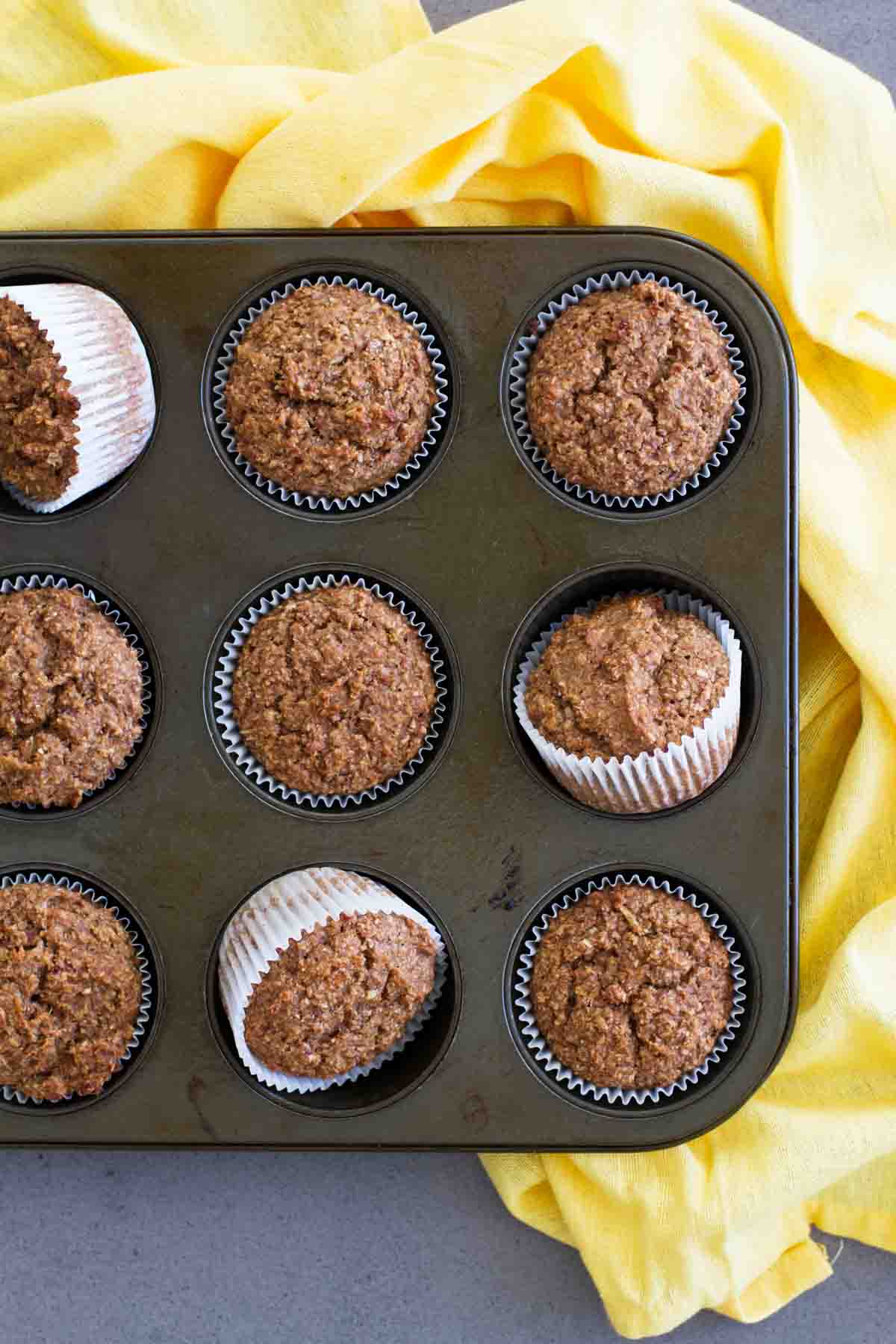 Ingredients
Dates: The dates are used to sweeten the muffins.
Orange Juice: The orange juice adds to the sweetness, along with adding some flavor. For the healthiest option, use freshly squeezed orange juice.
Buttermilk: This will make the muffins nice and tender. Use a buttermilk substitute if you don't have buttermilk on hand.
Banana: The banana adds sweetness. The banana flavor was very subtle to me, but my husband claimed that the banana was more prominent for him.
Butter and Oil: These muffins use a mixture of butter and oil. The butter adds great flavor, and the oil adds moisture. Feel free to use all of one or the other, though.
Vanilla: This is for flavor.
Wheat Bran: You can usually find this on the baking aisle, but if you can't find it, you can order wheat bran online.
Whole Wheat Flour: I usually find baked goods made with whole wheat flour dense, but these muffins came out nice and light.
Baking Powder & Baking Soda: You will need both to give the muffins good lift and texture.
Salt: The salt balances the flavor.
Eggs: I use large eggs.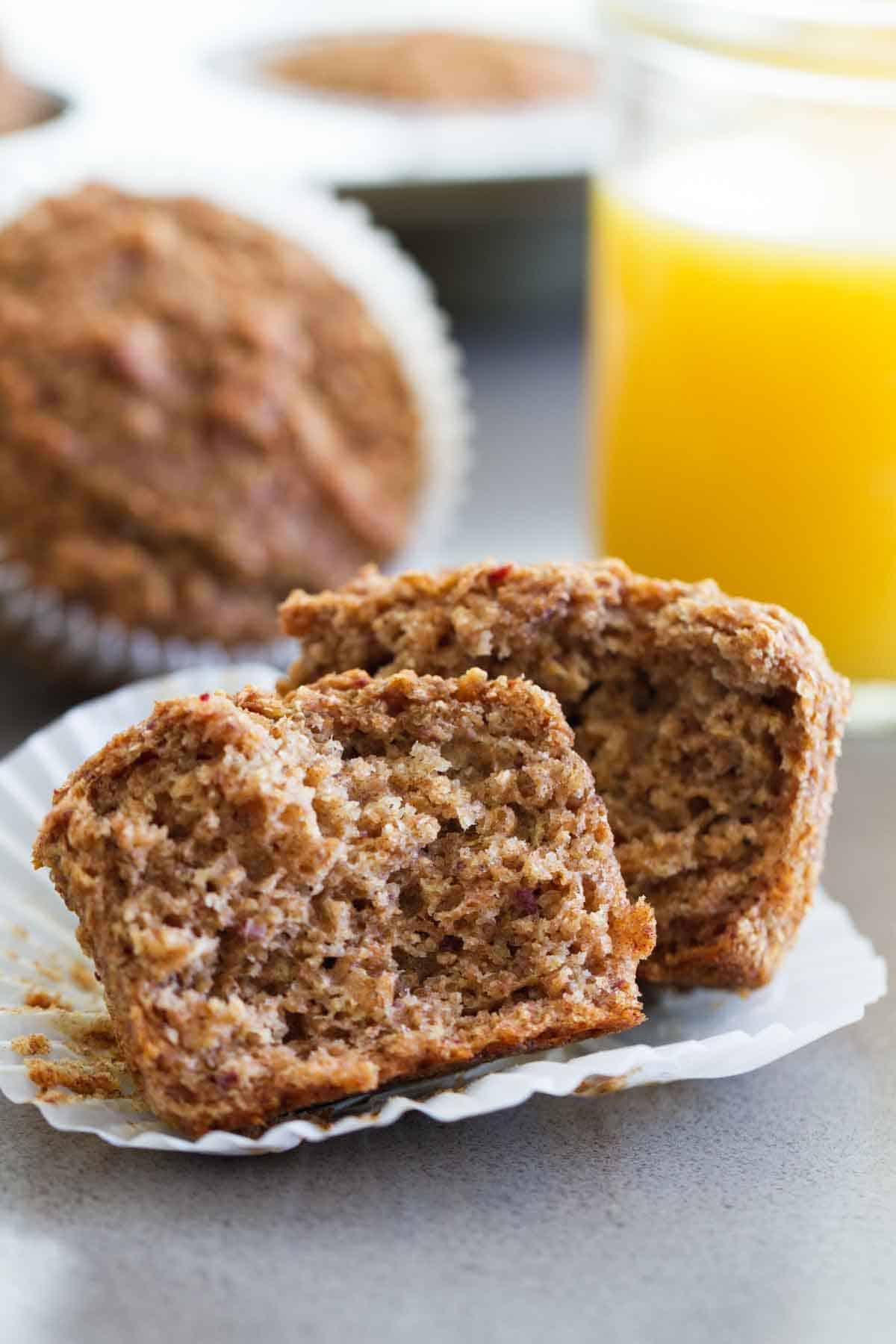 Tips and Tricks
I like to use paper liners for these muffins because they tend to stick to the pan more than other muffins.
These muffins freeze really well. Leave them at room temperature or pop them into the microwave for a few seconds to thaw.
Store any leftover muffins in an airtight container at room temperature. The leftovers are delicious warmed up slightly in the oven or the microwave.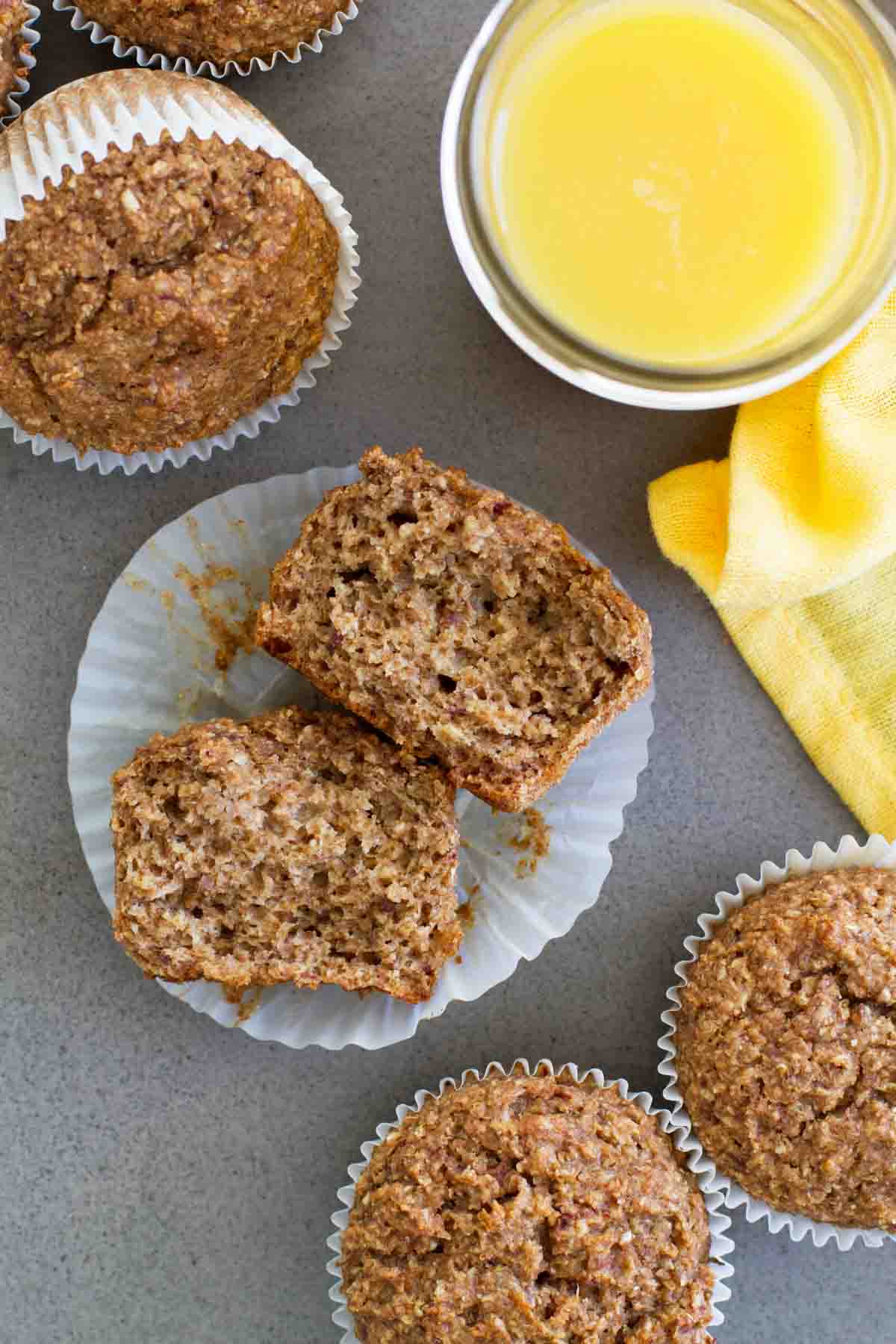 Looking for more healthier breakfast ideas?
Huevos Rancheros Inspired Spaghetti Squash
Pineapple Banana Kale Smoothie Recipe
Mexican Egg and Sweet Potato Breakfast Scramble
Whole Wheat Oatmeal Chocolate Chip Pancakes
Banana Oat Bread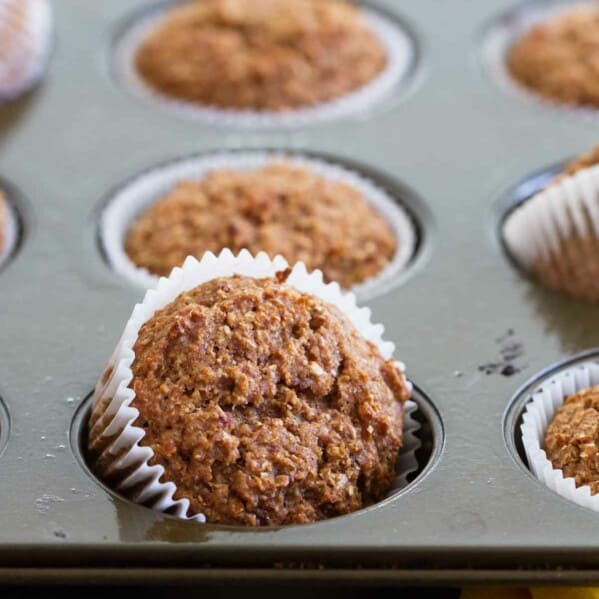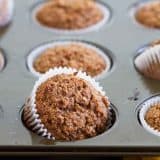 Whole Wheat Bran Muffins
---
Author:
Prep Time: 25 minutes
Cook Time: 25 minutes
Total Time: 50 minutes
Yield: 16 servings 1x
Category: Breakfast
Method: Baked
Cuisine: American
Description
This recipe for Whole Wheat Bran Muffins is a great way to start your day! Filled with whole grains and sweetened with bananas and dates, these muffins are healthy, hearty and delicious!
---
Scale
Ingredients
1 cup whole pitted dates (about 6 oz)
3/4 cup fresh orange juice
1 cup nonfat buttermilk
1/2 cup mashed ripe banana
2 tablespoons butter, melted
2 tablespoons vegetable oil
1 teaspoon vanilla extract
1 3/4 cups wheat bran
1 cup whole wheat flour
1 1/2 teaspoons baking powder
1/2 teaspoon baking soda
1/4 teaspoon salt
2 large eggs, lightly beaten
---
Instructions
Combine the dates and the orange juice in a small saucepan and set over medium heat. Bring to a boil, then cover the pan and reduce the heat. Allow to simmer for 20 minutes.
Remove from the heat and allow to sit for 5 minutes.
Preheat the oven to 350ºF. Line 16 muffin tin cups with liners. Spray with nonstick cooking spray.
In a food processor or blender, combine the date and orange juice mixture with the buttermilk, banana, butter, vegetable oil and vanilla. Process until smooth.
In a large bowl, combine the bran, flour, baking powder, baking soda and salt, stirring with a whisk to mix completely.  Add the mixture from the food processor and stir together just until combined. Stir in the eggs just until combined.
Spoon the batter into the prepared cups, filling evenly. Bake until a tester inserted in the middle comes out clean, about 22-25 minutes.  Remove from the pan and allow to cool completely.
Recipe Notes:
Adapted from Cooking That Counts
Nutrition information provided as an estimate only. Various brands and products can change the counts.
Nutrition
Serving Size: 1 muffin
Calories: 123
Sugar: 10 g
Sodium: 702 mg
Fat: 4 g
Saturated Fat: 1 g
Unsaturated Fat: 3 g
Trans Fat: 0 g
Carbohydrates: 21 g
Fiber: 4 g
Protein: 4 g
Cholesterol: 27 mg
Keywords: whole wheat bran muffins