A slightly sweet yeasted bread, this Portuguese Sweet Bread is perfect for French Toast or bread pudding.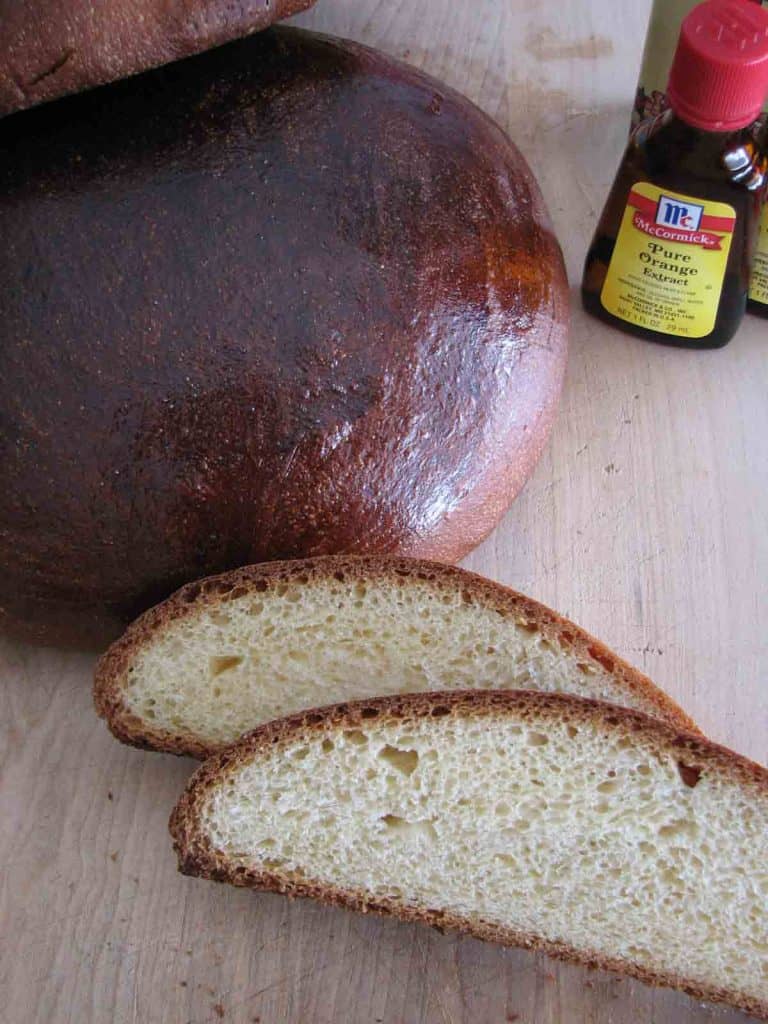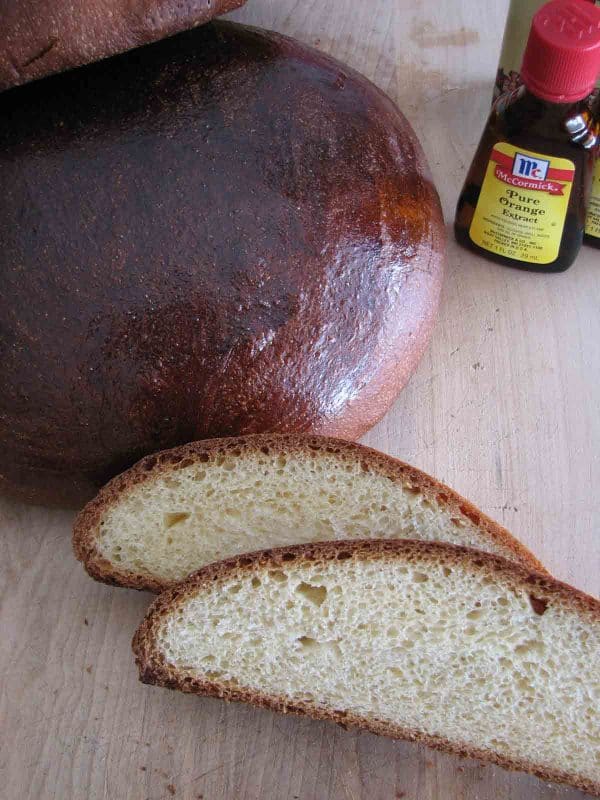 While I was reading through this month's Cookbook of the Month, just about every recipe was jumping out at me. I really would like to make every recipe in this book, but since bread making is a bit time consuming, I know that I will be limited to 3 or 4 choices this month, as there are only 4 weekends in the month!!
I saw this recipe for Portuguese Sweet Bread, and I knew it was going to be one of my choices. I have always known this bread as Hawaiian bread, which Peter Reinhart says that even the Hawaiians tribute this bread to the Portuguese. My experience with making this bread up to this point has been a dough mix that comes in a box for bread making machines. And although that box is tasty, you get none of the sense of accomplishment of making it for yourself. And let's face it – just about everything is better made from scratch.
I'm still a bit wary of my bread-making skills. If, let's say, baking a cake takes talent, then making a loaf of bread requires not only talent, but practice as well. I would be surprised if there was a bread maker out there that didn't have some sort of a learning curve. I consider myself a very beginner bread maker. I have made a few loaves before, but they are far from perfect and I have a lot of room to grow.
I chose this recipe to try first simply because it only takes 1 day to make, and I had everything on hand. My husband has a crazy work schedule and works half of the time during the day and half of the time at night. Well, last weekend, my husband was working nights, so I knew that I wouldn't be able to run the mixer in the morning because he would be sleeping.
So late on Sunday morning, I started the sponge about an hour and a half before I knew my husband would be up. After the sponge was ready, I started on the dough. It came together easily, but the only worry I had was when I added the water. The recipe says to add water (up to 6 tablespoons) as needed to make a soft dough that is not sticky or wet. Well, after only about 3 tablespoons, my dough seemed to come together, and I didn't want to add anymore water for fear that the dough would become sticky or wet. I had the dough in my mixer to knead, and I kept checking in on it. After about 10 minutes, the dough still did not pass the windowpane test (that I just learned about from a fellow Daring Baker on last month's challenge, and then learned about it again in this book) so I took the dough out of the mixer to knead by hand. I did this so I could have a better feel of the bread. Well, I kneaded and kneaded and kneaded, but my dough never passed the windowpane test. I finally gave up and set the dough in a oiled bowl for its first rise.
The first rise was perfect. I shaped the loaves and put them in pans and covered them for their second rise. The second rise took about 3 hours, but they looked good, so I turned the oven on and set out to bake the bread.
This is where it gets scary. I under bake my bread a lot more often than I over bake it, just because when the top starts to get brown, I panic. I can't tell you how many loaves of bread (both quick bread and yeast breads) I have made that have been hollow and doughy in the middle because I did not bake it long enough. Peter Reinhart warns that this bread will brown very quickly because of the sugar in the bread, but not to panic. I did take it out about 5 minutes before the time was up, just because I know my oven and know that it cooks a little hot.
This is a beautiful bread. It's rich brown color is a sight to see. It needs to cool for 90 minutes before you cut into it, and it was late by the time the bread was done, so I didn't sample any the day I made it. But the next day at lunch, I sliced it open to try it out. Hmmmm, this is kind of dry. What did I do wrong??? I thought about it and I'm pretty sure I know what I did wrong.
1. I should have added all of the water. I was expecting a soft dough like cinnamon roll dough, but this dough did not feel like that. I really shouldn't have only used half of the water.
2. And although a co-worker didn't think I cooked it too long, I think I should have taken it out just a few minutes earlier. I really need to invest in a thermometer to test my bread if I am really going to be serious about this! That way, I will know for sure when to take it out of the oven.
If anyone reading is a fantastic bread baker and knows if this is what I did wrong, or if it was something entirely different, I would love to know!!
Although my bread was a bit on the dry side, the flavor was still fantastic. I made myself a little peanut butter and jelly sandwich for lunch with it, and it was fabulous. I will be trying this bread again to correct my mistakes, because it is a wonderful bread with a pleasant hint of sweetness and citrus. Peter Reinhart suggests using it for French toast of bread pudding – I see some French toast in my future!!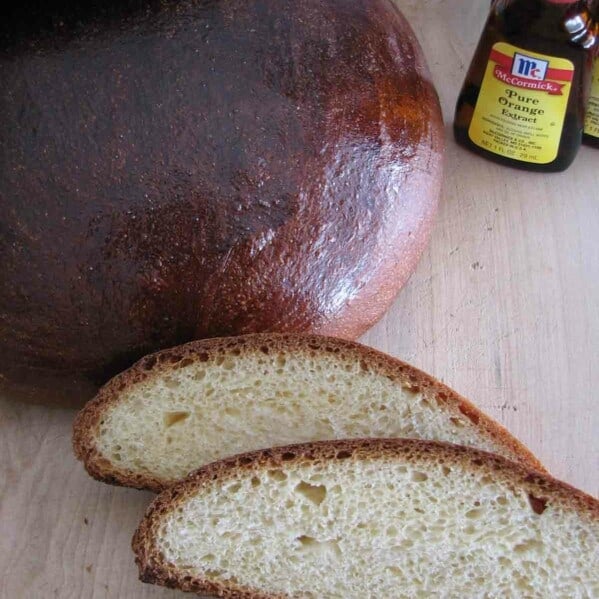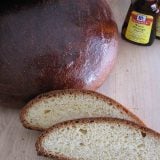 Portuguese Sweet Bread
---
Author:
Category: Bread
Method: Bake
Description
A slightly sweet yeasted bread, this Portuguese Sweet Bread is perfect for French Toast or bread pudding.
---
Scale
Ingredients
Sponge:
1/2 cup unbleached bread flour
1 tablespoon granulated sugar
2 1/4 teaspoons instant yeast
1/2 cup room-temperature water
Dough:
6 tablespoons granulated sugar
1 teaspoon salt
1/4 cup powdered milk
2 tablespoons unsalted butter, at room temperature
2 tablespoons vegetable shortening
2 large eggs
1 teaspoon lemon extract
1 teaspoon orange extract
1 teaspoon vanilla extract
3 cups unbleached bread flour
about 6 tablespoons water, at room temperature
---
Instructions
To make the sponge, stir together the flour, sugar, and yeast in a small bowl. Add the water and stir until all the ingredients are hydrated and make a smooth batter. Cover the bowl with plastic wrap and ferment at room temperature for 60 to 90 minutes, or until the sponge gets foamy and seems on the verge of collapse.
To make the dough, combine the sugar, salt, powdered milk, butter, and shortening in a 4-quart mixing bowl (or the bowl of an electric mixer). Cream together with a sturdy spoon (or the paddle attachment) until smooth, then mix in the eggs and the extracts. Knead by hand (or switch to the dough hook attachment) and mix in the sponge and the flour. Add the water, as needed, to make a very soft dough. The finished dough should be very supple and soft, easy to knead, and not wet or sticky. It will take 10 to 12 minutes with the electric mixer and close to 15 minutes by hand to achieve this consistency. (Dough with high amounts of fat and sugar usually take longer to knead because the gluten requires more time to set up.) The finished dough should pass the windowpane test and register 77 to 88 degrees F. Lightly oil a large bowl and transfer the dough to the bowl, rolling it around to coat it with oil. Cover the bowl with plastic wrap.
Ferment at room temperature for approximately 2 hours, or until the dough doubles in size.
Remove the dough from the bowl and divide it into two equal pieces. Form each of the pieces into a boule. Lightly oil two 9-inch pie pans and place 1 boule, seam side down, in each pan. Mist the dough with spray oil and loosely cover the pans with plastic wrap.
Proof at room temperature for 2 to 3 hours, or until the dough fills the pans fully, doubling in size and overlapping the edges slightly. (If you only want to bake one loaf, you may retard the second in the fridge for 1 day, although it will take 4 to 5 hours to proof after it comes out of the refrigerator.)
Very gently brush the loaves with egg wash. Preheat the oven to 350 degrees F with the oven rack on the middle shelf.
Bake the loaves for 50 to 60 minutes, or until they register 190 F in the center. After 30 minutes, check the loaves and rotate 180 degrees, if necessary, for even baking. Because of the high amount of sugar, the dough will brown very quickly, but don't be fooled into thinking it is done. It will get darker as the center gradually catches up with the outside, but it will not burn. The final color will be a rich mahogany brown.
Remove the bread from the pie pans and place on a rack to cool. The bread will soften as it cools, resulting in a very soft, squishy loaf. Allow the bread to cool for at least 90 minutes before slicing or serving.