Dark and rich, this Dark Chocolate Cake with Nutella Buttercream is the perfect centerpiece for your Halloween party. Chocolate lovers will instantly fall in love with this dark chocolate cake!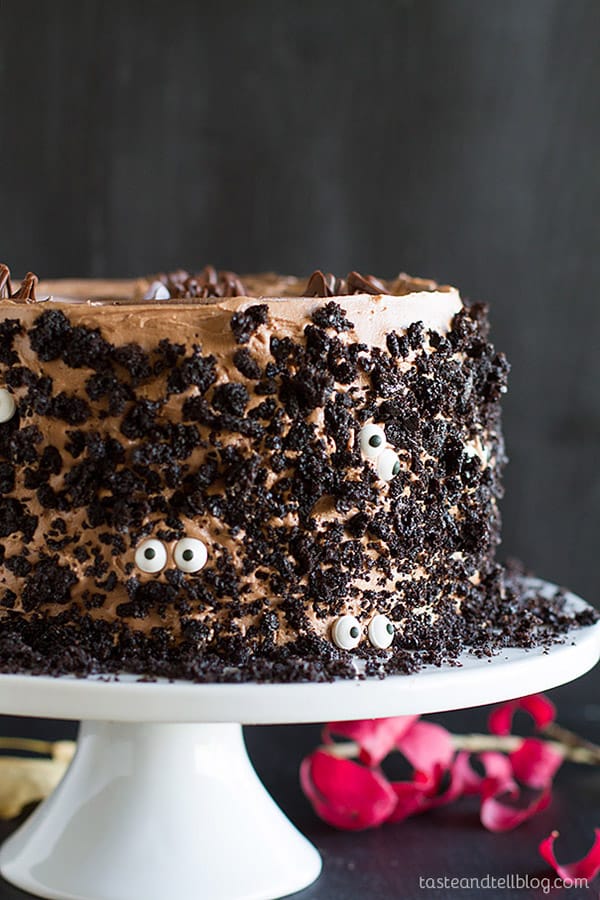 I'm not very good at the whole holiday thing.
I think I didn't realize my shortcomings until Pinterest came around. Don't get me wrong. I love Pinterest. I think it has definitely helped me in many ways, and I'm constantly inspired when I spend time browsing everyone's pins. But it also makes me realize just how bad I am at holidays.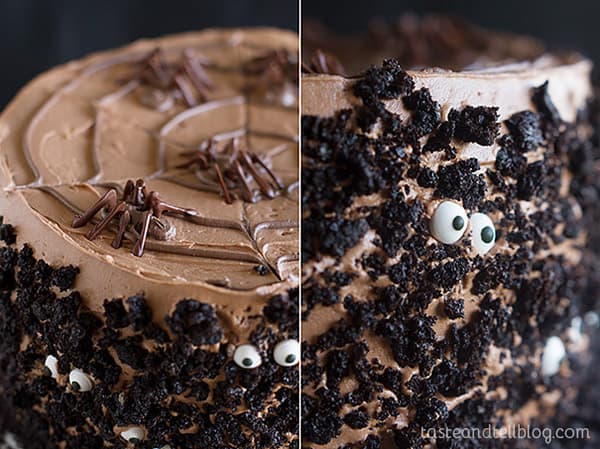 I've tried before. Spiders and ghosts and monster brains – oh, my! But it's just not my strong point. While others have been brainstorming and posting cute Halloween ideas for parties and gifts for the past month, I've been stuck on comfort foods and soups.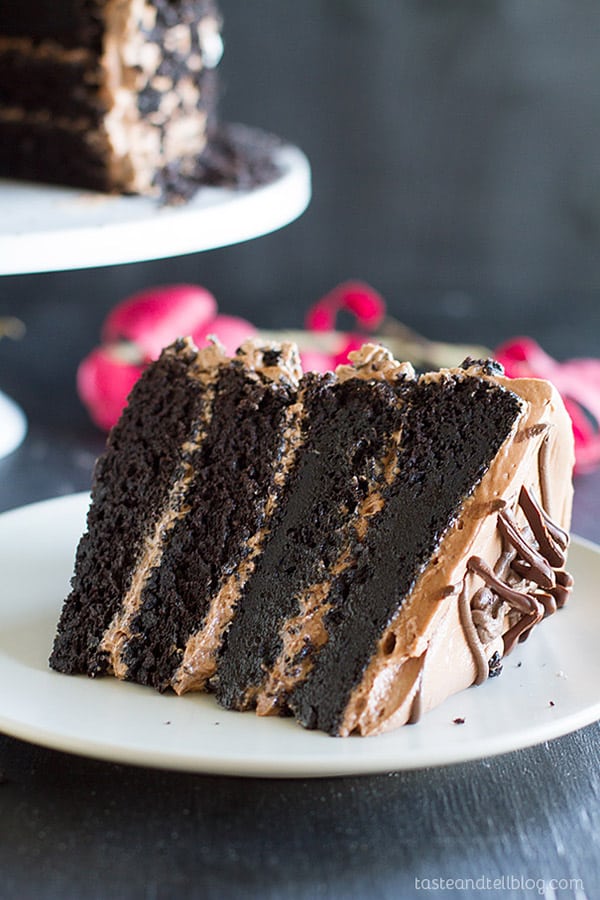 At the beginning of October, I decided that I was ok with it. I didn't need any recipes specifically made for Halloween. I'd let the creative people take care of that.
But then my friends at Challenge Butter asked me if I wanted to come up with a recipe for Halloween. And I was totally up for the challenge.
As I was trying to decide what to make, I came across a container of dark cocoa powder in my cupboard, and I instantly knew what I wanted to make. The ultimate chocolate cake. Deep and dark and perfect for Halloween.
The beauty of this cake, though, is that it doesn't have to be just for Halloween. The cake is a very rich, dark chocolate cake that will leave chocoholics with a smile on their face. I didn't want to do a straight up chocolate frosting, and I decided that a Nutella buttercream would be perfect with the dark chocolate.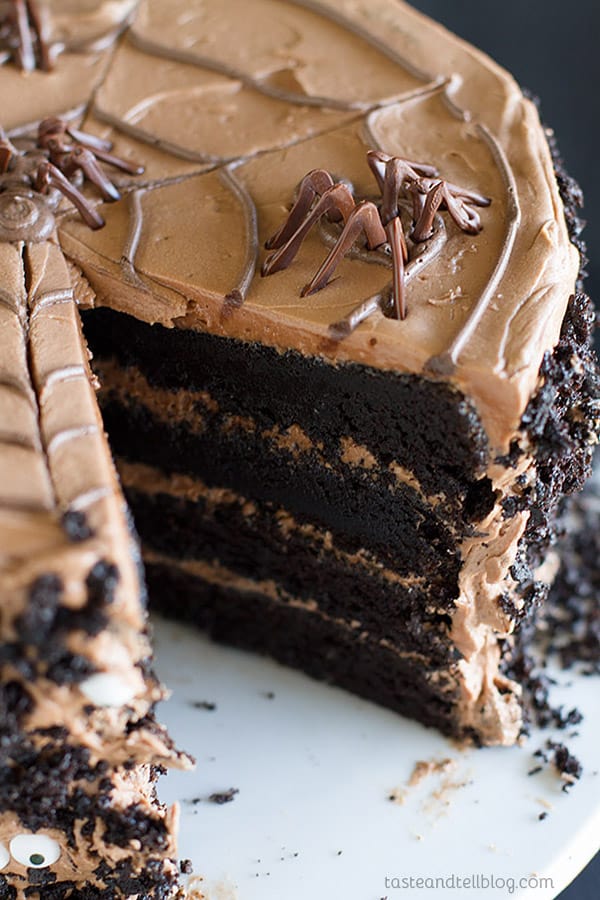 Now, this isn't your typical chocolate layer cake. This cake is the most moist chocolate cake you will ever have. Not even kidding. I added in melted Challenge Butter (since you want the best when you are making a cake of this magnitude.) I originally was going to just make a 2 layer cake, but for some reason, it just didn't feel right. This cake was screaming to be made into a full 4 layer cake. It's totally over the top and rich and decadent, and a little slice goes a long way, but it's all totally worth it. And totally holiday worthy.
Because of the nature of this cake recipe, don't be alarmed if the cakes fall a little bit in the middle, because they probably will. This isn't a light and fluffy cake, but an extremely moist cake. But don't fret – you'll level off the cakes and you can use the scraps to decorate the outside of the cake. Since I'm such a horrible cake decorator, I love having tricks like this up my sleeve because then no one can tell that you didn't frost the cake perfectly!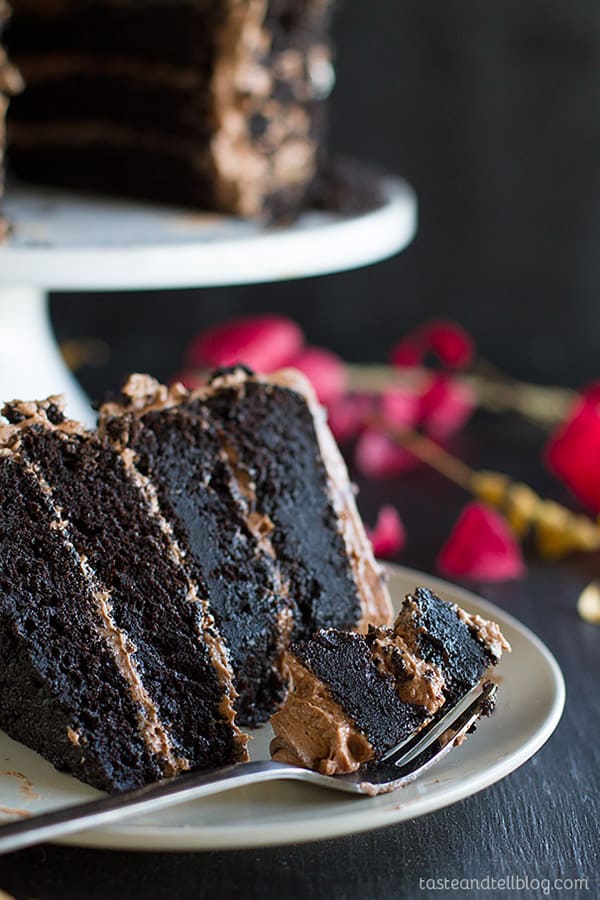 I love using Challenge Butter in all of my recipes, but especially when I am making something where quality totally counts. Like this cake. If you are going to go to the trouble of making a full 4 layer cake, you want to make sure all of your ingredients are the best. Challenge Butter is pure and natural. 100% cream. And their cows are not treated with rbST, so you can feel good about their products.
This is the perfect cake for Halloween because it is so deep and dark. I originally bought the eyes to put on my spiders, but they were just too big and didn't look right, and at the last minute, I decided to put them randomly over the outside of the cake. And I think that ended up being my favorite part! Most grocery stores sell the little eyes these days, and they are an easy way to decorate when you are decorating challenged.
Now I'm ready for Halloween!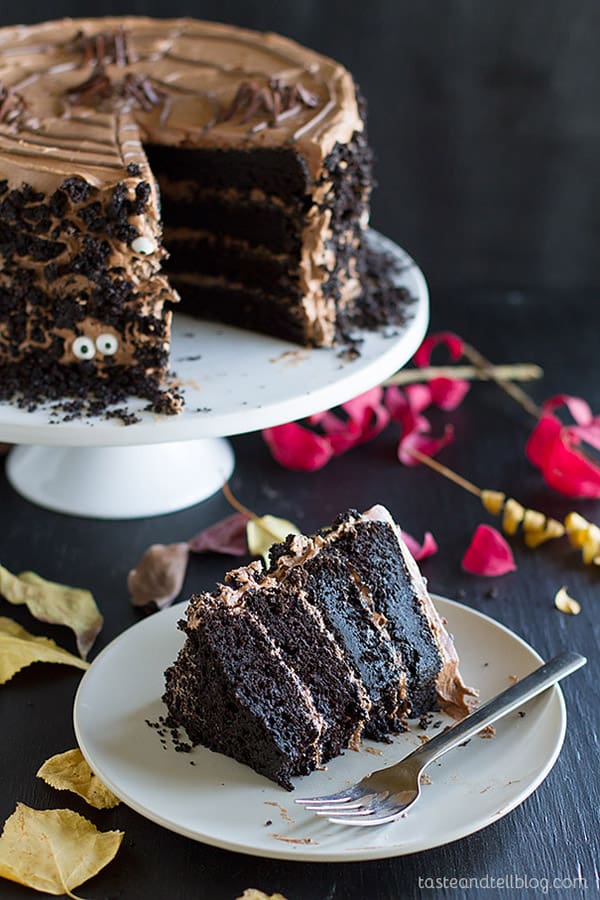 Like what you see here? Make sure you are following Taste and Tell for more great recipes and ideas!!

Facebook ** Pinterest ** Twitter ** Instagram ** Google+
or you can subscribe to my newsletter or Feedly or Bloglovin


Print
Dark Chocolate Cake with Nutella Buttercream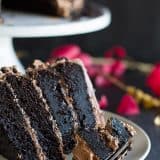 Dark and rich, this Dark Chocolate Cake with Nutella Buttercream is the perfect centerpiece for your Halloween party. Chocolate lovers will instantly fall in love with this dark chocolate cake!
Prep Time:

45 mins

Cook Time:

35 mins

Total Time:

1 hour 20 mins

Yield:

20 servings
Ingredients
Dark Chocolate Cake
3 1/2 cups all-purpose flour
1 1/2 cups dark cocoa powder
3 teaspoons baking powder
3 teaspoons baking soda
2 teaspoons salt
4 cups sugar
1 cup Challenge butter, melted
2 cups milk
4 large eggs
1 tablespoon vanilla extract
1 1/2 cups boiling water
Nutella Buttercream
1 1/2 cups Challenge butter
3 cups powdered sugar
1 cup Nutella
1 teaspoon vanilla extract
pinch of salt
1-2 tablespoons cream
1 tablespoon dark cocoa powder
Chocolate Spiders (optional)
semi-sweet chocolate chips
Instructions
Preheat the oven to 350ºF. Spray 4 9-inch round baking pans with nonstick cooking spray. Line the bottoms of the pans with parchment paper, then lightly spray the paper with nonstick cooking spray.
In a large bowl, whisk together the flour, cocoa powder, baking powder, baking soda and salt.
In the bowl of a mixer, mix together the sugar and the butter. Add in the milk, eggs and vanilla, and mix until combined. Add the dry ingredients and mix until combined. Pour in the boiling water and gently mix until combined. The batter will be thin.
Divide the batter evenly between the 4 pans. Bake in until a toothpick inserted in the center comes out clean, 30-35 minutes. (Don't be alarmed if your cakes puff up and then fall in the center. They will probably fall a little, but you will even the cakes out and can use the scraps to decorate the cake.)
Let the cakes cool for 10 minutes, then run a knife around the outside of the pan and turn them out onto a cooling rack to cool completely. Remove the parchment paper from the bottoms of the cakes.
At this point, you can wrap the cakes in plastic wrap and refrigerate them or freeze them, which will make decorating the cake easier, or you can proceed to assembling the cake as long as they are cooled completely.
To make the buttercream, cream the butter in a mixer until smooth and creamy. Add in the powdered sugar, a little at a time, until fully incorporated. Mix in the Nutella, vanilla and salt and beat until light and fluffy. Add as much cream as needed to make the frosting a spreading consistency, adding a teaspoon at a time. If making the spiders and the spiderweb, transfer 1/2 cup of the frosting to another bowl and mix in the 1 tablespoon of cocoa powder.
To make the spider legs, place some chocolate chips in a ziplock bag. Microwave on 50% power in 15 second increments until the chocolate chips have melted. Cut a small corner off the bag, and pipe out legs in the shape of a 7 onto a piece of waxed paper on a baking sheet. Transfer to the freezer until you are ready to decorate the cake.
To assemble the cake: Level each of the cake layers, reserving the scraps. Place one layer on a cake stand or serving plate. Top with some of the buttercream and spread in an even layer to the edged. Top with another cake layer, then more buttercream. Repeat with another cake layer, more buttercream, and then the final cake layer. Spread a thin layer of frosting over the outside of the cake. Refrigerate the cake for 10-15 minutes.
While the cake is in the refrigerator, take the reserved scraps of cake and crumble them as best as you can. The cake is very moist, so if the scraps aren't crumbling, you can put them on a baking sheet and place them in a 250ºF oven to dry them out a bit, which will help.
Use the remainder of the frosting to go over the cake, making sure it is covered evenly.
Take the reserved 1/2 cup of frosting and place it in a piping bag fitted with a small round tip. Starting in the center of the cake, make a spiral for the spider web. Using a toothpick, starting at the center, gently pull out through the frosting to pull the lines of the darker buttercream, forming the spider web. With the remaining buttercream, pipe out the heads and bodies of the spiders. (Make sure you don't make more spiders than you have legs, though.) Remove the chocolate legs from the freezer and place 8 legs on each spider.
Take the cake crumbs and gently press them into the outside of the cake.
SHOP THIS POST!
More Can't Miss Chocolate Desserts: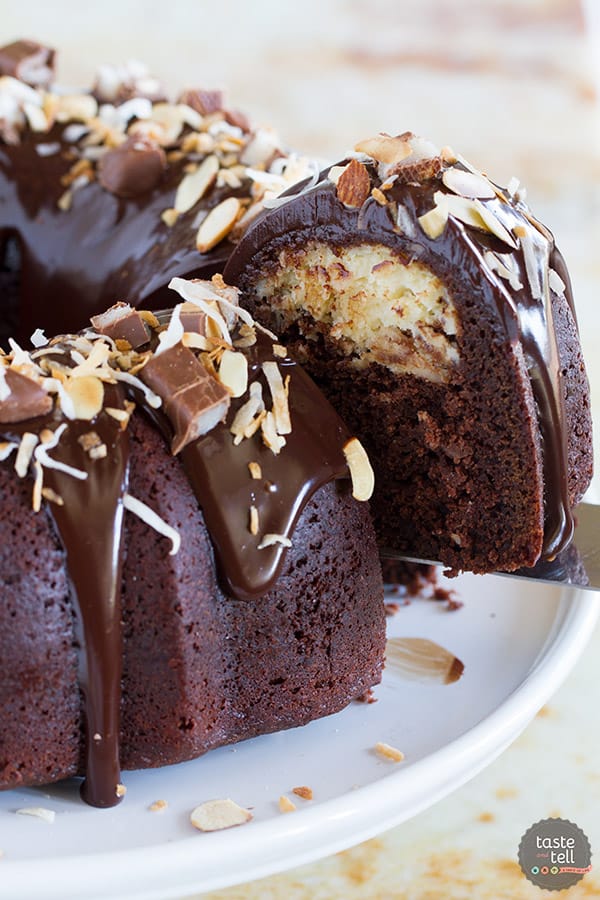 Almond Joy Candy Bar Filled Chocolate Bundt Cake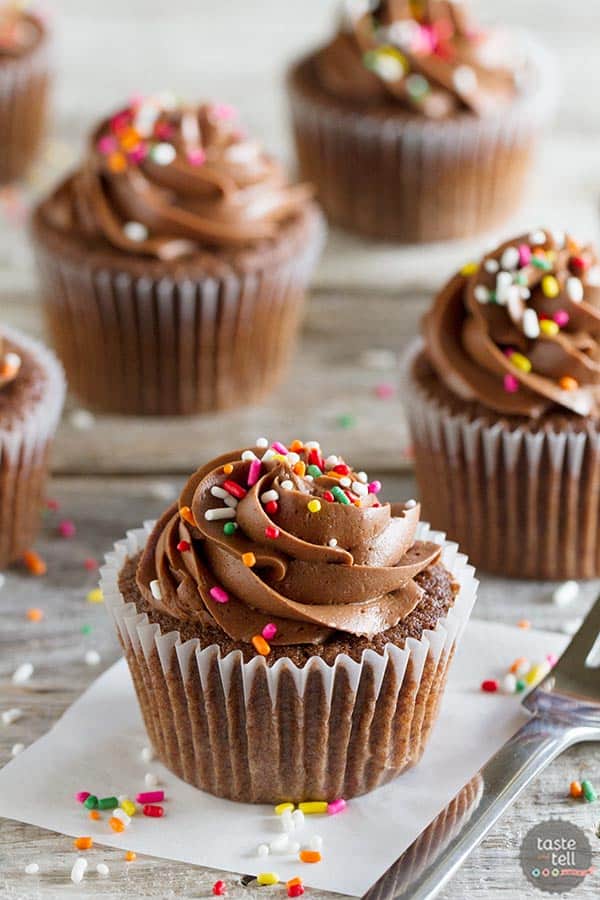 Chocolate Sour Cream Cupcakes with Chocolate Buttercream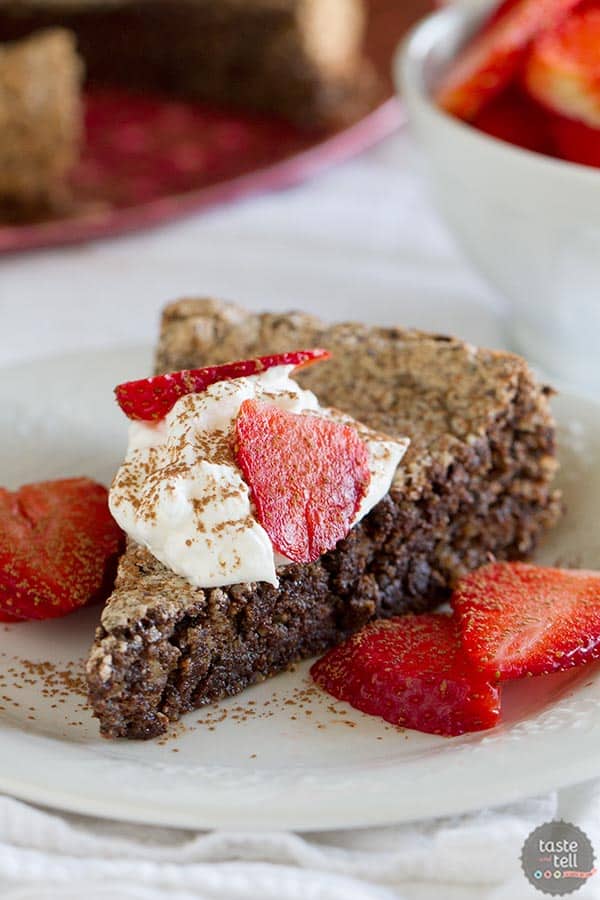 Italian Chocolate-Almond Flourless Cake
Around the Web:
Cookies and Cream Cupcakes from Two Peas and Their Pod
Gooey Candy Filled Brownie Cake from Crazy for Crust
Gooey Texas Sheet Cake Skillet from The Cookie Rookie
Don't miss a thing! Follow me on Pinterest to see what I'm pinning!
Visit Taste and Tell's profile on Pinterest.



I am in a working relationship with Challenge Butter, and this post has been sponsored. I'm so glad to be able to work with companies and organizations that I truly believe in. Thank you for supporting them, too.