Dark and rich, this Chocolate Pound Cake is any chocolate lover's dream. A dense chocolate cake has dark chocolate chips throughout and then is topped with a dark chocolate glaze.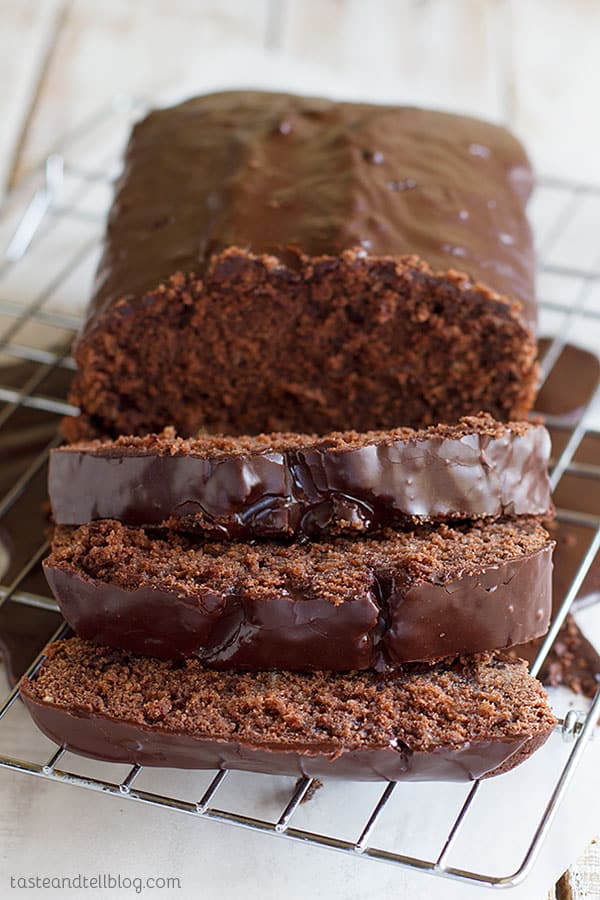 Are you noticing a theme around here lately?
Um…. cookbook review….cookbook review….cookbook review…
So I just realized that this is the 3rd cookbook review I've done in the last 5 days. If you didn't already know that I'm a little obsessed with cookbooks – well, you do now!! And this time of year is like Christmas for a cookbook collector. There are SO many great cookbooks that have been released that I can't wait to get my hands on. I'm obviously working on getting my hands on all of them though! 🙂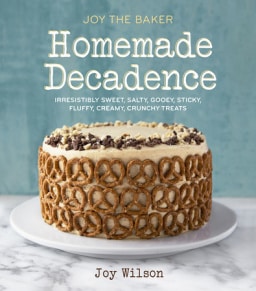 Today's book is one that I have been eagerly awaiting – Homemade Decadence by Joy Wilson. You should have seen me obsessively checking my mailbox every day. Wilson, the writer of Joy the Baker, has amassed quite the following on her blog, flocking to recipes like The Best Brown Butter Chocolate Chip Cookies and Spicy Vegetarian Black Bean Soup.
I'll admit that it was the cake on the cover of the cookbook that first drew me in. But then I spent some one-on-one time with this book, reading through the pages, and kind of fell in love with the whole book. I love that there are recipes that have just a little twist to make them unique – like the Butterscotch Cream Pie with Thyme-Marshmallow Meringue. But then you get recipes that are familiar, like Lemon Bars. There is definitely a great variety of recipes in this book.
Here are the details:
Number of Photos: Many
There are plenty of photos in this book. I'm pretty sure every recipe has a photo, although there are a few of those that aren't of the finished dish. But the book is definitely not lacking in photographs!
Difficulty Level of Recipes: Medium
I think this would depend on your level of comfort with baking. I wouldn't say this is a beginners book, but I don't think any of the recipes are overcomplicated, either. Baking in and of itself can be more daunting than other recipes, but even if you are a beginner, I wouldn't be scared away from this book. There are plenty of super easy recipes and then there are some that are a little more complicated.
Availability of Ingredients: Easy to Medium
There may be a few ingredients that are harder to come by, like rose water or Dutch process cocoa powder (can you believe none of the grocery stores close to me carry Dutch process cocoa??). But the vast majority of the recipes take ingredients that you'd have in a stocked baking pantry.
Other Recipes I Want to Try:
Horchata Ice Cream
Chocolate-Peanut Butter Pretzel Layer Cake
Pineapple-Coconut Ambrosia Pie
Raspberry Cream Cheese Brownies
Hawaiian Sweet Pineapple Breakfast Rolls
Buy it on Amazon.
More information here.
Overall thoughts:
Buy this book. I love that it is creative, yet approachable. I'm sold.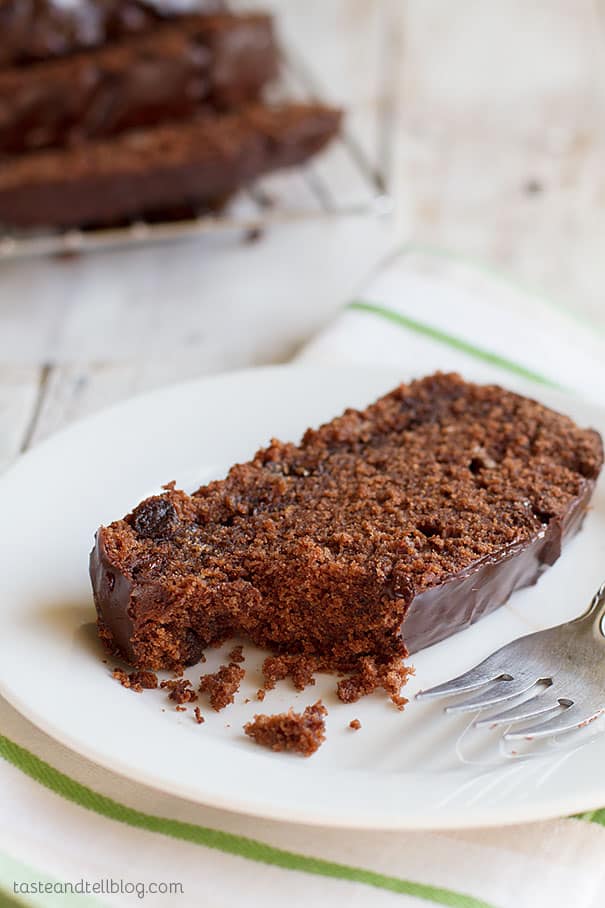 Then came the decision of what to make. It wasn't an easy one. In fact, I couldn't decide, so I narrowed it down to about 6 or 7 recipes and then I had my husband choose. This Chocolate Pound Cake was the easy winner.
As much as I love a good layer cake, there is something charming and alluring about the understated pound cake.
But this Chocolate Pound Cake is nothing close to understated.
The cake ingredients call for hot coffee. And, well, I'm not a coffee drinker. I considered substituting in just water for the coffee, but in the end I decided to just go for it because I know that the coffee intensifies the chocolate flavor. But since I'm not a coffee drinker, I didn't have a cup of coffee laying around. And I know I should have probably gone for high quality, but I bought a little jar of instant coffee from the grocery store, hoping for the best.
Now, I can't say to how this would have turned out had I used high quality coffee, but this chocolate pound cake was a hit with the whole family. The flavors are deep and dark and if you are a chocolate fan, you will definitely love this.
We all devoured a piece of this cake the day I made it. But if you have the self control, I beg you to wait a day – as much as I liked it when it was fresh, the texture and crumb of the cake on the second day was so spot on. And honestly – I can't tell you if it got even better by the third day because there wasn't any left! 🙂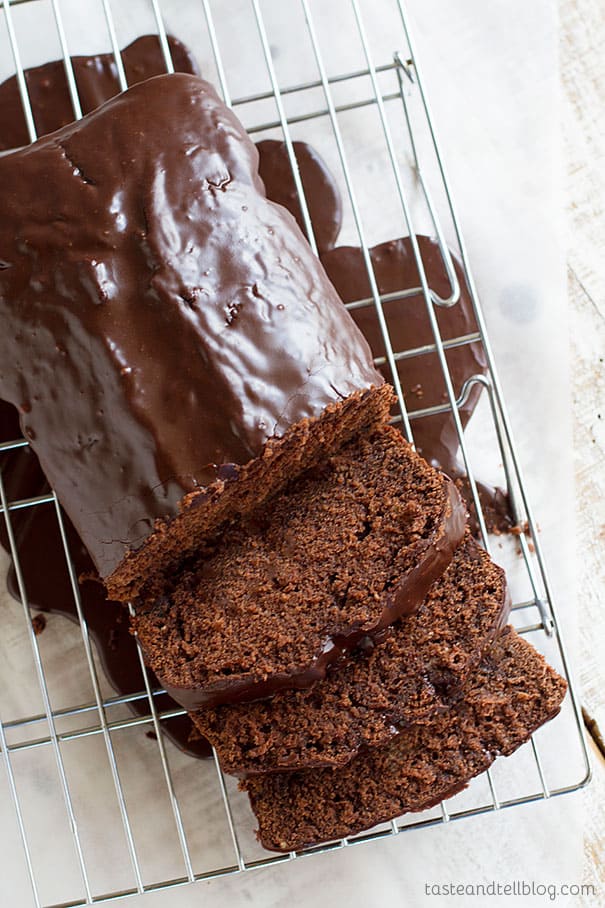 Like what you see here? Make sure you are following Taste and Tell for more great recipes and ideas!!

Facebook ** Pinterest ** Twitter ** Instagram ** Google+
or you can subscribe to my newsletter or Feedly or Bloglovin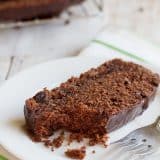 Chocolate Pound Cake
---
Prep Time: 15 mins
Cook Time: 60 mins
Total Time: 1 hour 15 mins
Yield: 1 9x5-inch cake 1x
Scale
Ingredients
Cake
1/3 cup unsweetened Dutch process cocoa powder
1/3 cup hot coffee
1 3/4 cups cake flour
1 teaspoon baking powder
1/2 teaspoon salt
1 cup unsalted butter, at room temperature
1 cup sugar
2 large eggs
2 teaspoons vanilla extract
1/4 cup buttermilk
3/4 cup dark chocolate chips
Glaze
1 1/2 cups powdered sugar
3 tablespoons unsweetened Dutch process cocoa powder
pinch of salt
2 teaspoons vanilla extract
2 to 4 tablespoons milk or water
---
Instructions
Preheat the oven to 350ºF. Grease and flour a 9×5-inch loaf pan, or line with parchment paper.
In a small bowl, mix together the cocoa powder and hot coffee until the cocoa powder has dissolved.
In another bowl, whisk together the flour, baking powder and salt.
In the bowl of a mixer, cream together the butter and sugar until light and fluffy, about 3 minutes. Add in the eggs one at a time, mixing for 1 minute after each addition. Mix in the vanilla. Add in the flour mixture and mix just until combined. Very carefully mix in the coffee/chocolate mixture until combined. Add in the buttermilk, then fold in the chocolate chips. Pour the mixture into the prepared loaf pan and smooth the top.
Bake in the preheated oven until a tester inserted in the center comes out clean, 50-60 minutes. Allow the cake to cool for 20 minutes, then turn out onto a cooling rack to cool completely.
Meanwhile, to make the glaze, sift together the powdered sugar and cocoa powder. Stir in the salt and then the vanilla. Whisk in 2 tablespoons of milk, then continue to add the liquid until the glaze reaches the desired consistency.
When the cake is cooled, pour the glaze over the top of the cake. Let the cake sit for 30 minutes before cutting and serving.
**I received this book from Blogging for Books for this review, but all opinions are my own. This post contains affiliate links. If you purchase an item from Amazon from the link Taste and Tell receives a small commission. Thank you for supporting Taste and Tell through your purchases!**