Photo updated September 2012

I'm pretty good about using up ingredients around the kitchen. But leftovers are usually eaten as leftovers. The same thing the next day, just reheated. Boring, I know. That's why I was really excited when I saw this recipe, along with the meatloaf from yesterday. This is such a great way to turn the leftovers from one meal into something completely different! I've had my fair share of quesadillas, but before this recipe, there were none with meatloaf in them. But now my view of leftovers has changed, because you can very well have meatloaf in your quesadillas, and you would never know that this came from leftovers!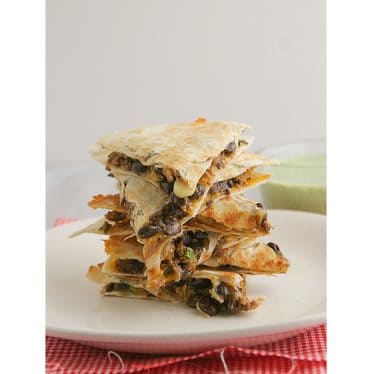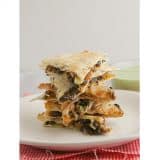 Meatloaf Quesadillas with Cilantro Cream
---
Prep Time: 15 minutes
Cook Time: 15 minutes
Total Time: 30 minutes
Yield: 4 servings 1x
Description
A great way to utilize leftovers – these meatloaf quesadillas are made from leftover meatloaf.
---
Scale
Ingredients
For the Cilantro Cream
1/2 cup sour cream
1/2 cup fresh cilantro
juice of 1/2 lime
few drops of Tobasco
For the Quesadillas
2 cups leftover Mini Skillet Meatloaves, crumbled
1 14.5–ounce can black beans, drained and rinsed
1 scallion, chopped
1 teaspoon ground cumin
1/4 teaspoon cayenne pepper
salt and pepper
2 tablespoons unsalted butter
8 8-inch flour tortillas
2 cups shredded cheddar cheese
---
Instructions
Make the cilantro cream: Puree the sour cream, cilantro, lime juice and hot sauce in a blender until smooth.
Prepare the quesadillas: Mix the meatloaf, beans, scallion, cumin, cayenne, and salt and black pepper to taste in a bowl.
Melt 1/2 tablespoon butter in a large nonstick skillet over medium-high heat. Place a tortilla in the pan, sprinkle with 1/4 cup cheese, then top with one-quarter of the meat mixture and another 1/4 cup cheese. Top with another tortilla and cook until golden, about 2 minutes per side. Repeat with the remaining butter, tortillas and filling. Cut the quesadillas into wedges and serve with the cilantro cream.
——————
adapted from Food Network Magazine December 2009