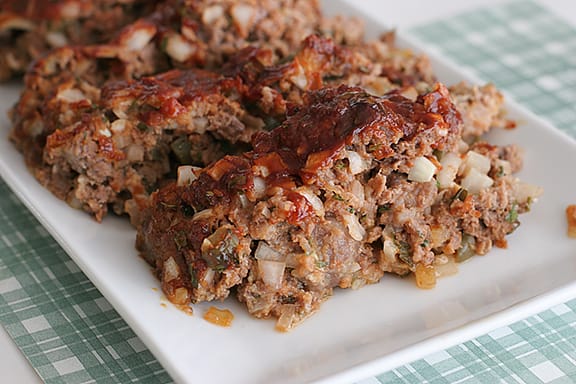 I love digging into a new cookbook, although sometimes, I get so overwhelmed I don't even know where to start. That's kind of how I felt about this cookbook – it is huge after all – until I saw this meat loaf recipe. Yes, I know that I've said several times that my husband doesn't really care for meatloaf. But I honestly think I have changed his mind. I've made several versions now, and every time, he has cleared his plate – and even gone back for seconds!! So I think I can officially say that meat loaf is off of the "husband won't eat it" list!!
Thank goodness, because I am a meatloaf lover. This is pure down home, comfort cooking to me. It reminds me of Sunday dinner and family around the table. And really, what's better than that?? This meat loaf is not the one my mamma made, but that's ok, because this one is going up as one of my top meat loaf recipes. It's got a few ingredients that are out of the ordinary for meat loaf – like pickles and Tabasco. Have you ever heard of pickles in meat loaf before?? If not, now would be a good time to try it!
Recipe Notes:
There were 2 elements in this meatloaf that I absolutely loved. The pickles and the sausage. I've been known to throw sausage into dishes that just call for beef, so the sausage was right up my alley. And the pickles were the element that you probably couldn't pick out if you didn't know they were there, but you definitely sensed that there was something extra and special in there.
I was impatient when I made this. It was hours after we normally eat, and I didn't want to wait 10 minutes to dig in. I think that's why mine looks like a crumbly mess. No, the pieces did not stick together well when I cut and served them, but it didn't matter, because it was delicious!! I'm sure the tip at the bottom of the recipe about refrigerating the meat loaf for 24 hours helps with that a lot, too!
Recipe Rating: 4.4 out of 5
Harlem Meat Loaf
from The Lee Bros. Southern Cookbook
serves 4
total time: 1 1/4 hours
1 pound ground beef, chuck or sirloin
1/2 pound sweet Italian sausages, cut from their casings
1/2 cup ketchup
1 tablespoon plus 2 teaspoons Worcestershire sauce
1 tablespoon Tabasco sauce
1/2 cup chopped dill pickles
1 1/2 cups finely chopped onion
3 garlic cloves, peeled and minced
1/2 cup finely chipped fresh flat-leaf parsley
1/2 cup bread crumbs, preferably fresh
1 large egg, lightly beaten
1/2 teaspoon kosher salt
Preheat the oven to 350F.
In a large bowl, break the beef and the sausage into golf-ball sized chunks. In a second bowl, combine the 1/2 cup of the ketchup, 1 tablespoon Worcestershire sauce and 2 teaspoons Tabasco sauce and pour evenly over the beef and sausage mix. In the same small bowl, combine the pickle, onion, garlic and parsley, and pour evenly over the beef and sausage. Sprinkle the breadcrumbs over the top, then add the egg and the salt. Spread your fingers wide apart and gently mix the ingredient together – it should take 6 to 8 gathering motions to blend the mixture together.
Transfer the mixture to a 9×13 pan and pat it into a loaf shape. Put in the preheated oven and bake for 35 minutes.
While the meat loaf is cooking, mix together the remaining 1/4 cup ketchup, 2 teaspoons Worcestershire and 1 teaspoon Tabasco together. After the meat loaf has cooked for 35 minutes, brush the ketchup mixture over the loaf. Continue to bake until the glaze stiffens and darkens, about 15 minutes. Let the meat loaf rest 10 minutes before cutting.
For the best flavor, let the meat loaf cool to room temperature, tent with foil, and refrigerate for 24 hours. Then reheat the covered loaf in a warm oven.