Grilled Indian Chicken Skewers – These grilled chicken skewers are filled with lots of Indian flavors for a great meal filled with spice!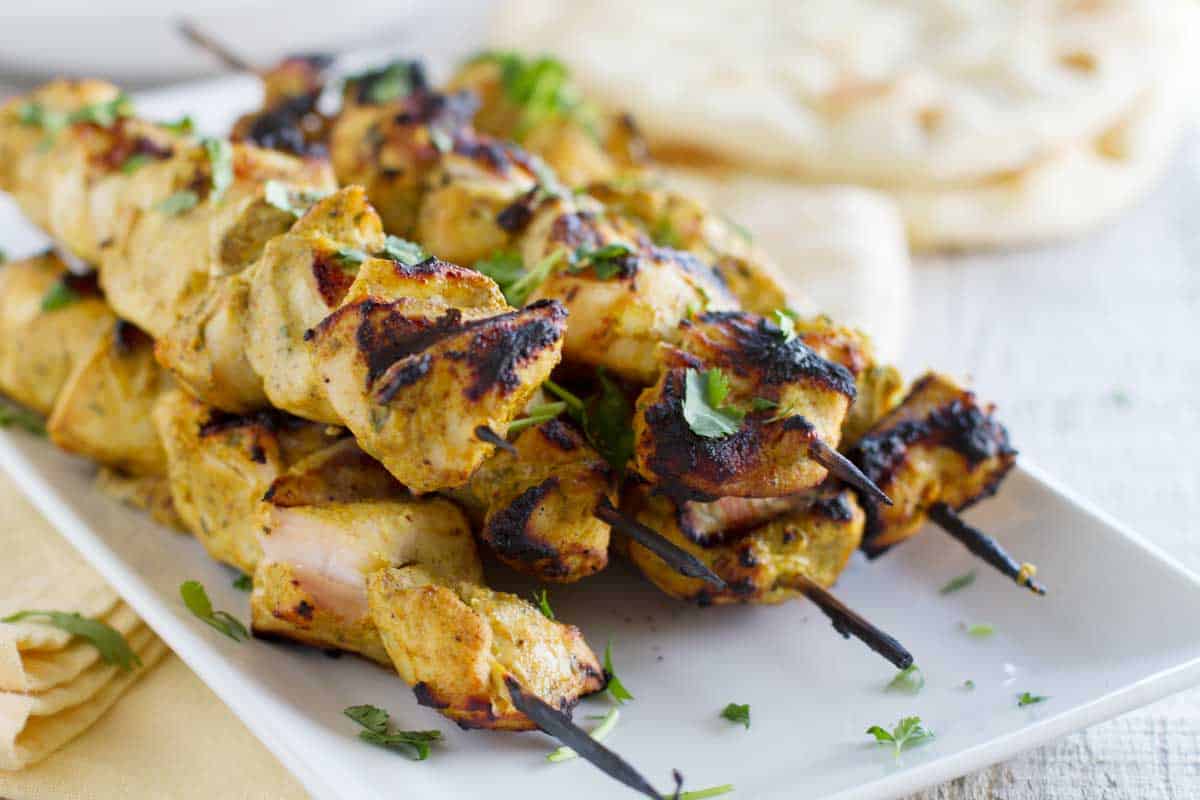 This post has been sponsored by Tyson® Fresh Chicken and I have been compensated. All opinions are my own.
This is probably my favorite time of year. We are in that spot where it still feels like summer but it's technically fall. I love that I can bake up a batch of caramel apple cupcakes one day, and then hit the grill the next. I love this in between time, where it's perfectly acceptable to act like it's Summer and Fall at the same time.
In fact, I think I'd much rather grill this time of year than I would in the middle of the summer heat. Because standing over a hot grill when it's 100º outside is no fun, in my opinion. But heading out to the backyard when the temps are in the 70s, and the kids can run in the grass while I grill up dinner? Now that's more like it!!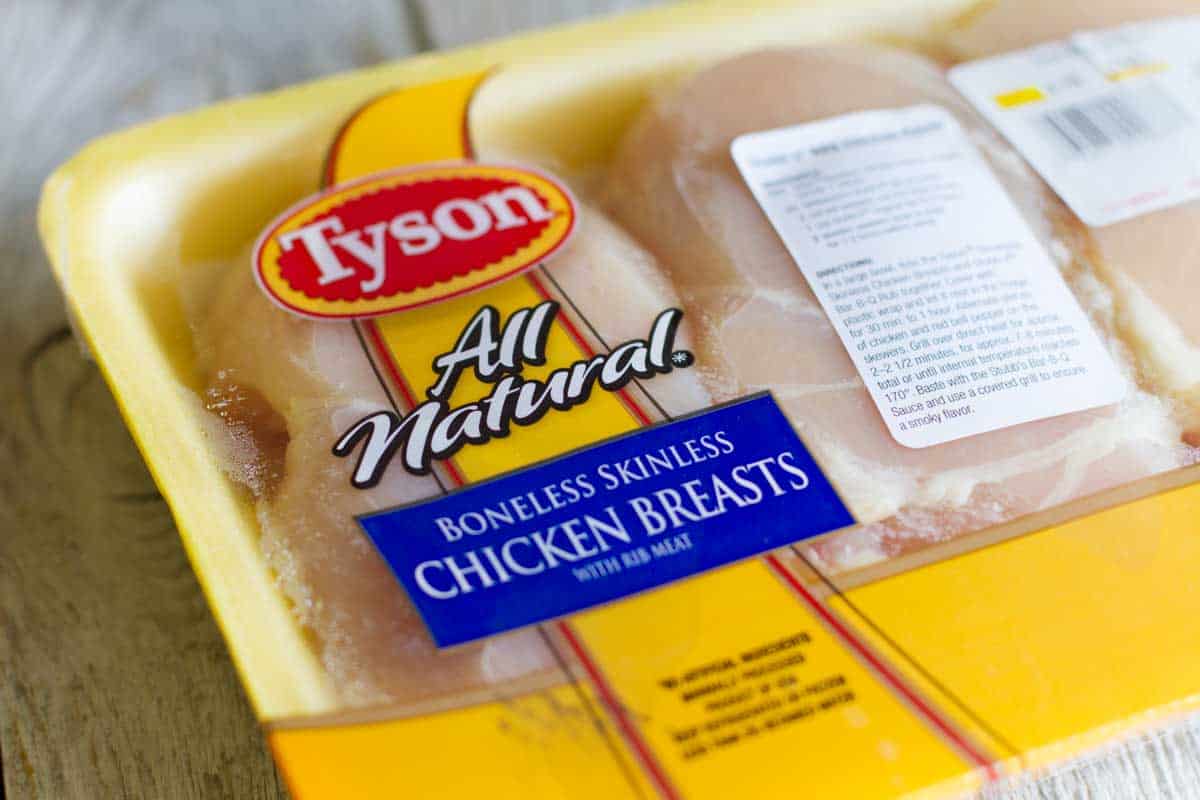 I'm all about the burgers and the hot dogs when it comes to grilling, but sometimes it's fun to change things up. These Grilled Indian Chicken Skewers are a great way to jazz up a Thursday night! Filled with all kinds of Indian flavors, they pack a bold punch of flavor and they are a great way to bring some family friendly spice to the table.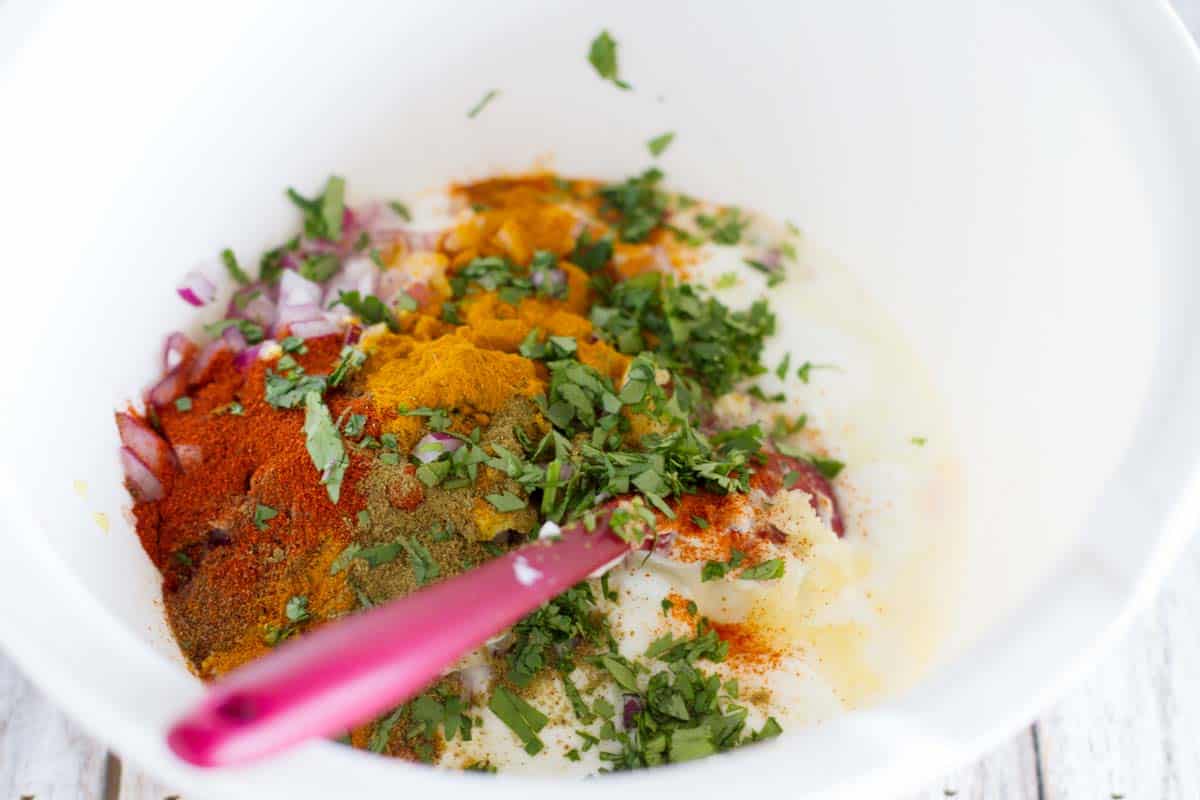 There are quite a few spices that make up the marinade, along with some yogurt, garlic and lemon juice. The chicken in marinated for a few hours, and then threaded onto skewers before hitting the grill. I loved the combination of the flavors with the char from the grill. Serving the chicken skewers over some coconut rice with a side of naan made for a perfect meal!!
And let's talk chicken. I have found that when you are dealing with a protein, especially when it's the star of the meal, you want to make sure you are buying quality. I love the boneless, skinless chicken breasts from Tyson Fresh Chicken. I love that it has been produced by family farmers for the last 75 years. And knowing that it arrives in stores just days after it leaves the farm, and that it is all natural* with no added hormones or steroids** makes me feel good about serving it to my family.
If you are looking for a way to take advantage of the last of the nice weather, grill up some of these Grilled Indian Chicken Skewers. It's a delicious and easy meal the whole family will love!
For even more ideas for more great chicken meal ideas, check out www.tyson.com.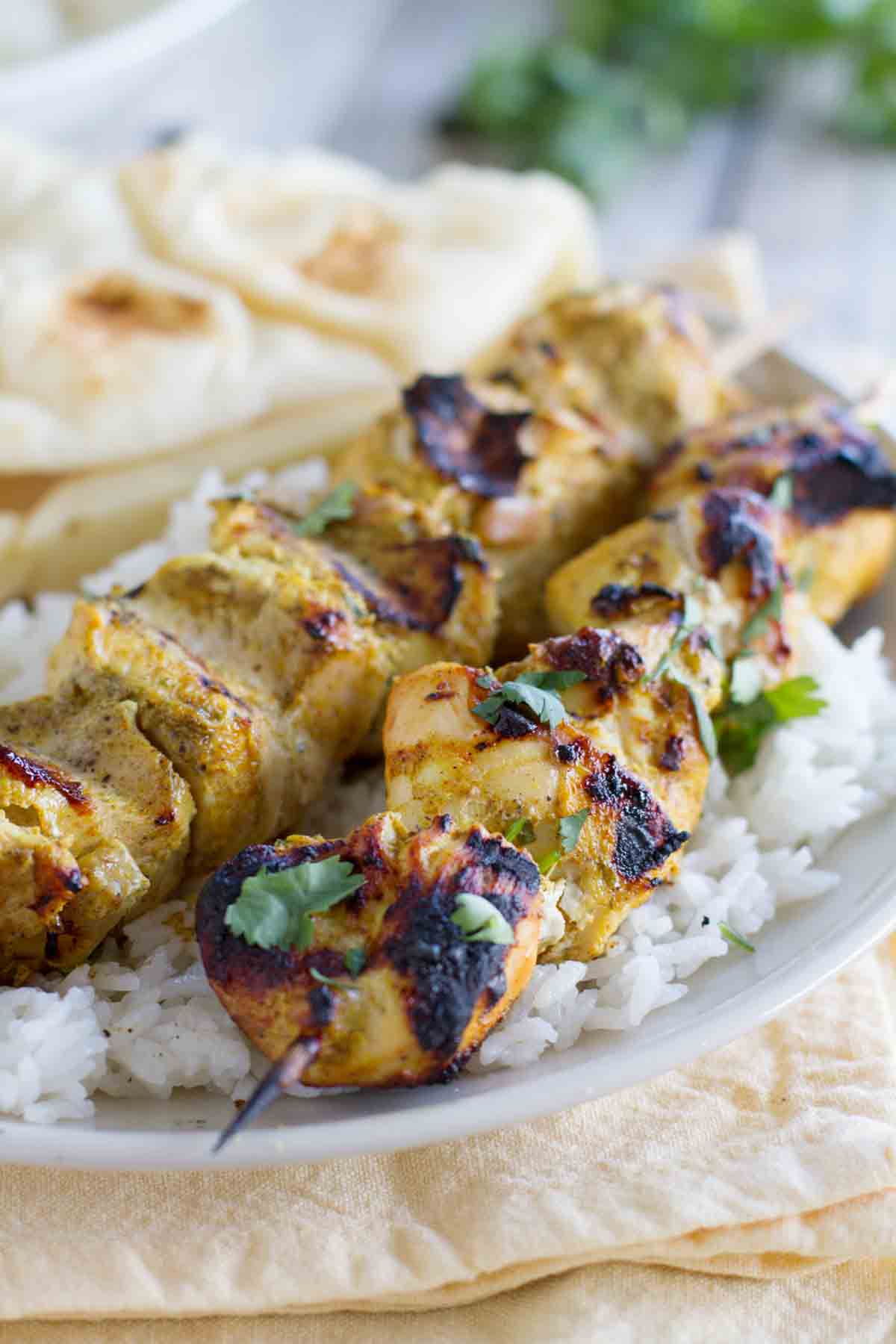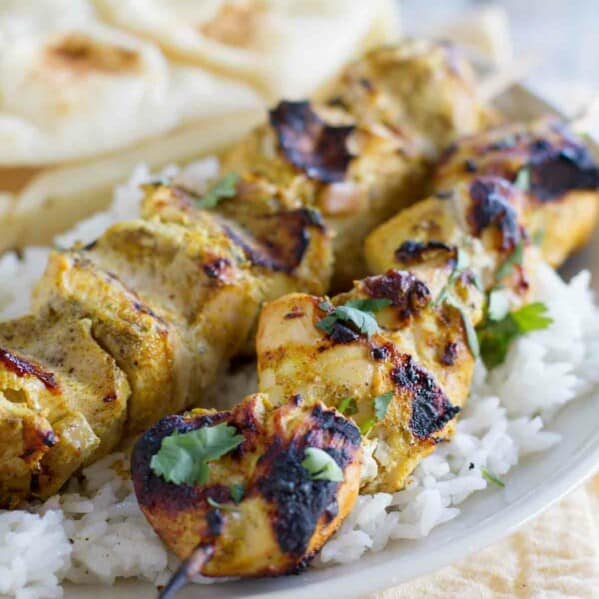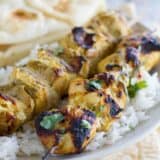 Grilled Indian Chicken Skewers
---
Author:
Prep Time: 10 minutes
Marinating Time: 4 hours
Cook Time: 20 minutes
Total Time: 4 hours 30 minutes
Yield: 4-6 servings 1x
Category: Main Dish
Method: Grilled
Cuisine: Indian
Description
These grilled chicken skewers are filled with lots of Indian flavors for a great meal filled with spice!
---
Scale
Ingredients
2 lbs Tyson Fresh Chicken, cut into 2-inch pieces
1 1/2 cups plain yogurt
1/2 cup chopped red onion
1 clove garlic, minced
1 tablespoon lemon juice
2 teaspoons garam masala
2 teaspoons chopped cilantro
1 teaspoon freshly grated ginger
1 teaspoon salt
1/2 teaspoon turmeric
1/2 teaspoon paprika
1/2 teaspoon cumin
1/4 teaspoon cayenne
additional cilantro, for garnish
---
Instructions
Place the chicken in a 9×13-inch baking dish.
In a bowl, combine the yogurt, onion, garlic, lemon juice, garam masala, cilantro, ginger, salt, turmeric, paprika, cumin and cayenne. Spread over the top of the chicken. Cover the dish and refrigerate for 4-6 hours.
Remove the chicken from the refrigerator and let it sit out for 30 minutes. If using wood skewers, soak in water during that 30 minutes. Take the chicken pieces and thread onto the skewers.
Preheat a grill to medium high heat and lightly oil the grates. Grill the skewers until the chicken is cooked through, about 20 minutes, flipping as needed.
Top with additional cilantro before serving.
Keywords: grilled Indian chicken skewers
*Minimally processed. No artificial ingredients.
**Federal regulations prohibit the use of added hormones or steroids in chicken.
Thank you to Tyson Foods for sponsoring this post. Because of sponsors like Tyson Foods, I am able to bring you all of the recipes I feature here.