Hearty and filling, these Salsa Verde Steak Sandwiches are piled with cooked steak, cheese and a homemade salsa verde sauce.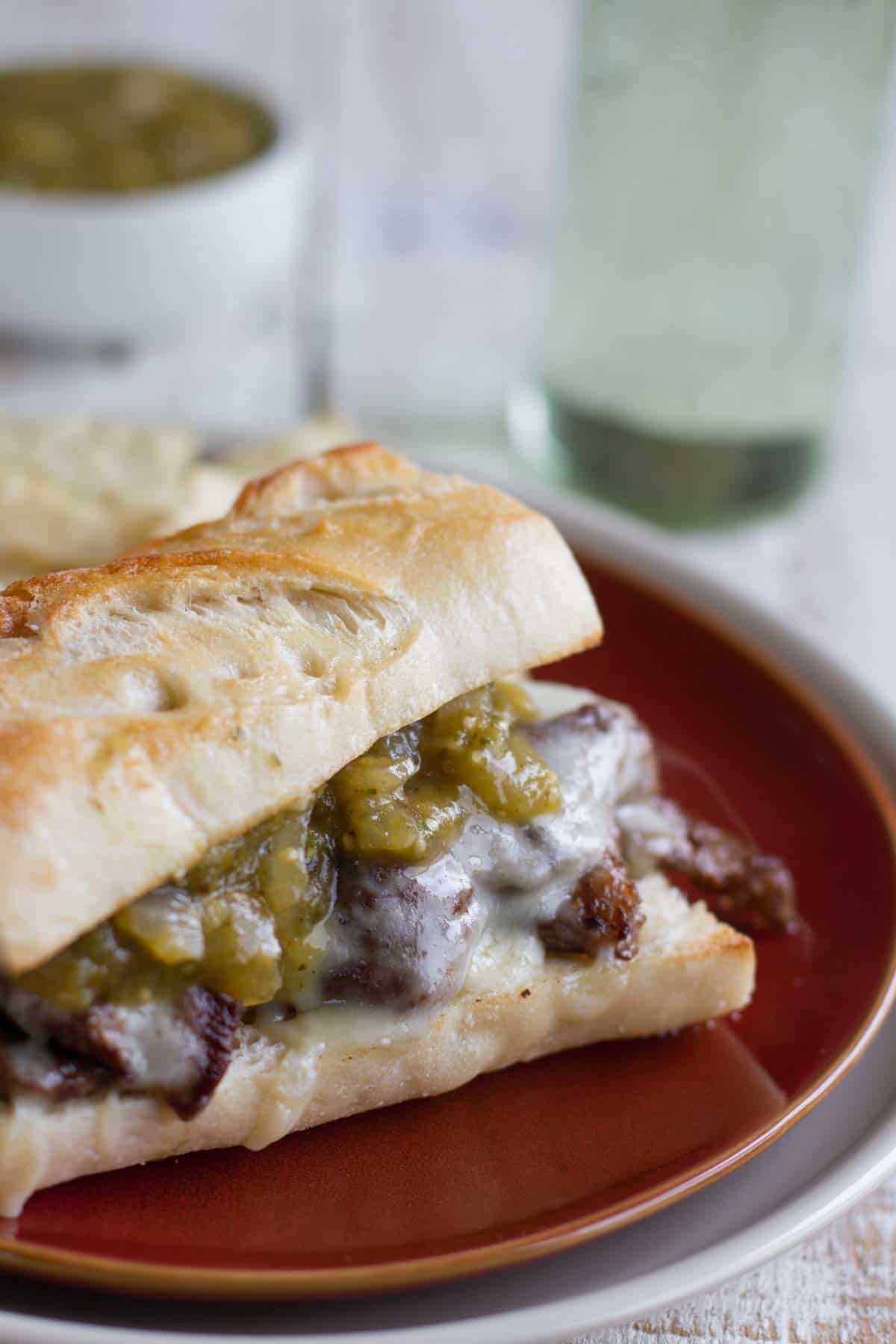 I used to never be a big tv watcher. And I'm still not totally, especially since 90% of the time when the tv gets turned on during the day, it's on Peppa Pig or Frozen or Cars. I just don't have the time to sit down during the day and watch tv.
But at night, it's turned into a different story. I work a lot at night, and I started turning on the tv to halfway watch while I am working. And now I am totally addicted to way too many shows.
It's gotten out of control, though. Because to watch these shows, you can't just have the tv. Or the dvr. We have the regular programming and dvr, netflix, hulu and Blockbuster online. Seriously – if we can't find it, it's not on. It's a little crazy!! But at least I have something to keep me entertained, right??
One of the shows that I have on my dvr is of course, the Rachael Ray Show. I am convinced that whenever I lose my motivation or desire to cook, I just need to watch an episode or two and it makes me want to get right into the kitchen.
I keep an ongoing list of recipes from RR that I want to make, both from the show and the magazine. I was skimming over that list the other day, and saw this Salsa Verde Steak Sandwich recipe. I immediately wanted it. Homemade salsa verde? Thinly sliced steak? Cheese? All served on bread? Count me in!!
Don't be intimidated by making your own salsa verde. It is seriously delicious. I have a hard time with store bought salsa verde – I can't really find one that I have fallen in love with – so I'm all over making my own.
I loved everything about this sandwich. I served it on a sliced baguette for the adults, but I knew the bread would be too hard for the kids, so I swapped theirs out for a softer bun.
And now I'm thinking that this is the perfect meal to enjoy while watching your favorite show!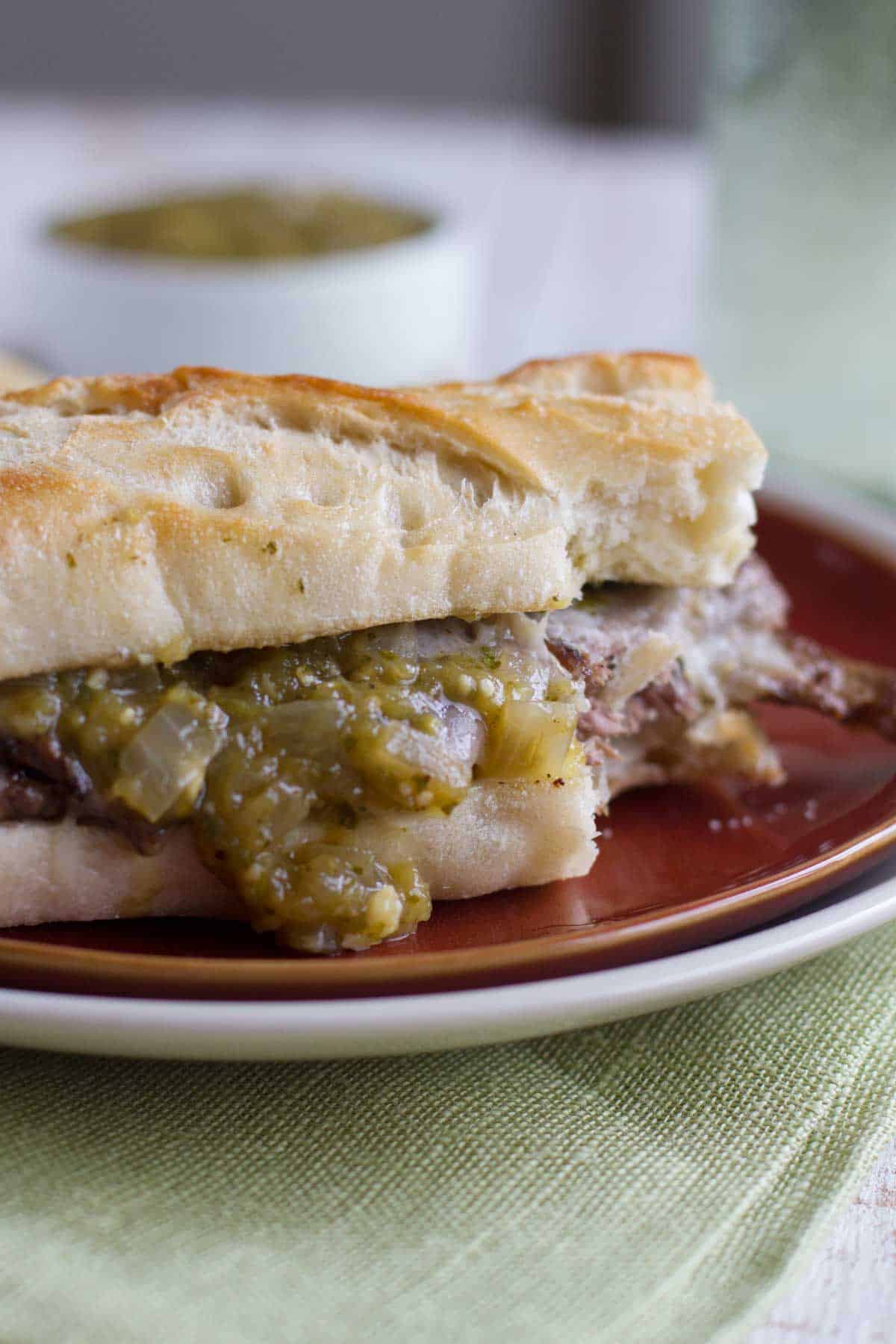 More Sandwich Recipes:
Club Sandwich
Turkey Sub with Artichoke and Basil
Meatball Sub
Three Cheese Grilled Cheese with Tomato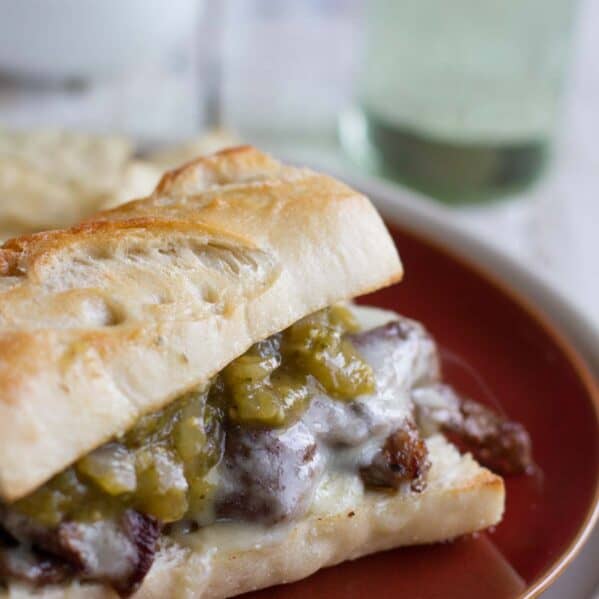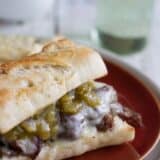 Salsa Verde Steak Sandwiches
---
Author:
Prep Time: 10 minutes
Cook Time: 20 minutes
Total Time: 30 minutes
Yield: 4 servings 1x
Category: Main Dish
Method: Baked
Cuisine: American
Description
Hearty and filling, these Salsa Verde Steak Sandwiches are piled with cooked steak, cheese and a homemade salsa verde sauce.
---
Scale
Ingredients
1 1/2 lbs. flank steak
6 large tomatillos
extra virgin olive oil
salt and pepper
4 tablespoons vegetable oil
1 large onion, chopped
4 cloves garlic, chopped
1/2 teaspoon ground cumin
1/2 teaspoon ground coriander
1/2 teaspoon dried oregano
1 cup beef broth
1 (4 oz) can diced green chiles
1/4 cup cilantro
1 teaspoon honey
2 tablespoons Worcestershire sauce
4 hoagie rolls, or a baguette cut into sandwich sizes
2 cups shredded Monterey Jack cheese
---
Instructions
Preheat the oven to 450F. Place the steak in the freezer for 10 minutes. (This firms it up a bit to make it easier to slice.)
Remove the husks from the tomatillos and clean, and place on a baking sheet. Drizzle with olive oil and sprinkle with salt and pepper. Roast until the tomatillos are charred, about 20 minutes.
Meanwhile, heat the 3 tablespoons of the vegetable oil in a cast iron skillet over medium-high heat. Add the onion, garlic, cumin, coriander and oregano. Saute until the onions are tender, about 10 minutes. Add the beef broth and cook until it has reduced by half.
Place the roasted tomatillos in a food processor. Add the green chiles, cilantro and honey. Puree. Add to the onion mixture in the skillet and reduce the heat to a simmer.
Cut the meat very thinly against the grain. Add the last tablespoon of vegetable oil to a clean cast iron skillet over high heat. Working in a few batches, add the meat and toss to sear and cook the meat through. Add all the meat to the pan, season with salt and pepper and stir in the Worcestershire sauce.
Turn on the broiler. Divide the steak between the sandwiches and top with the cheese. Place the sandwiches on a baking sheet and broil until the cheese is melted. Top with the salsa verde and the bun top to serve.
Recipe Notes:
adapted from Every Day with Rachael Ray June 2013