Turn your salad into a meal with this Steak Cobb Salad. All of your favorite Cobb Salad ingredients plus steak on top to turn it into a hearty meal.
For another twist on the Cobb salad, check out this Protein Packed Cobb Salad Recipe.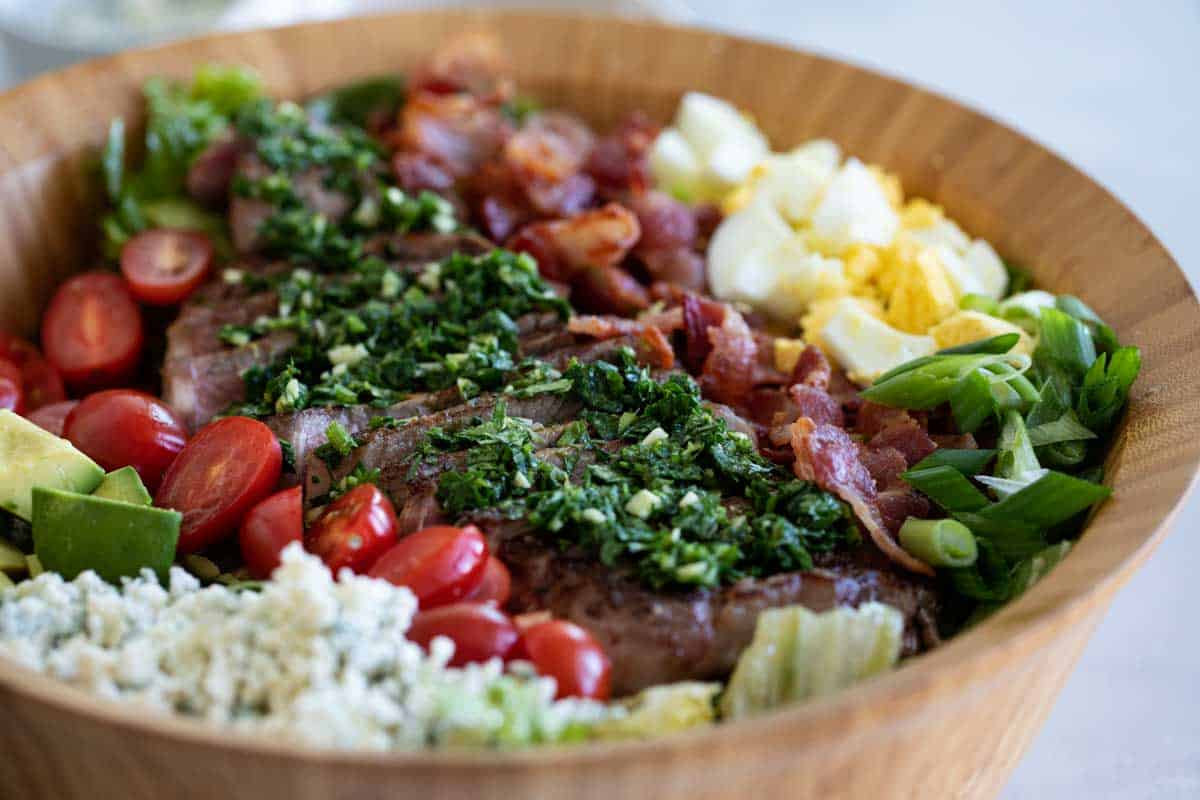 Finally, a salad that actually fills you up! Say goodbye to empty bellies after making this delicious Steak Cobb Salad.
While I love a classic cobb salad with all its different flavors, I have found that adding a protein like steak takes it to the next level. This is far from a boring salad – from all of the different toppings to the steak-sauce like dressing ties all the rich flavors together. This is my idea of salad for dinner!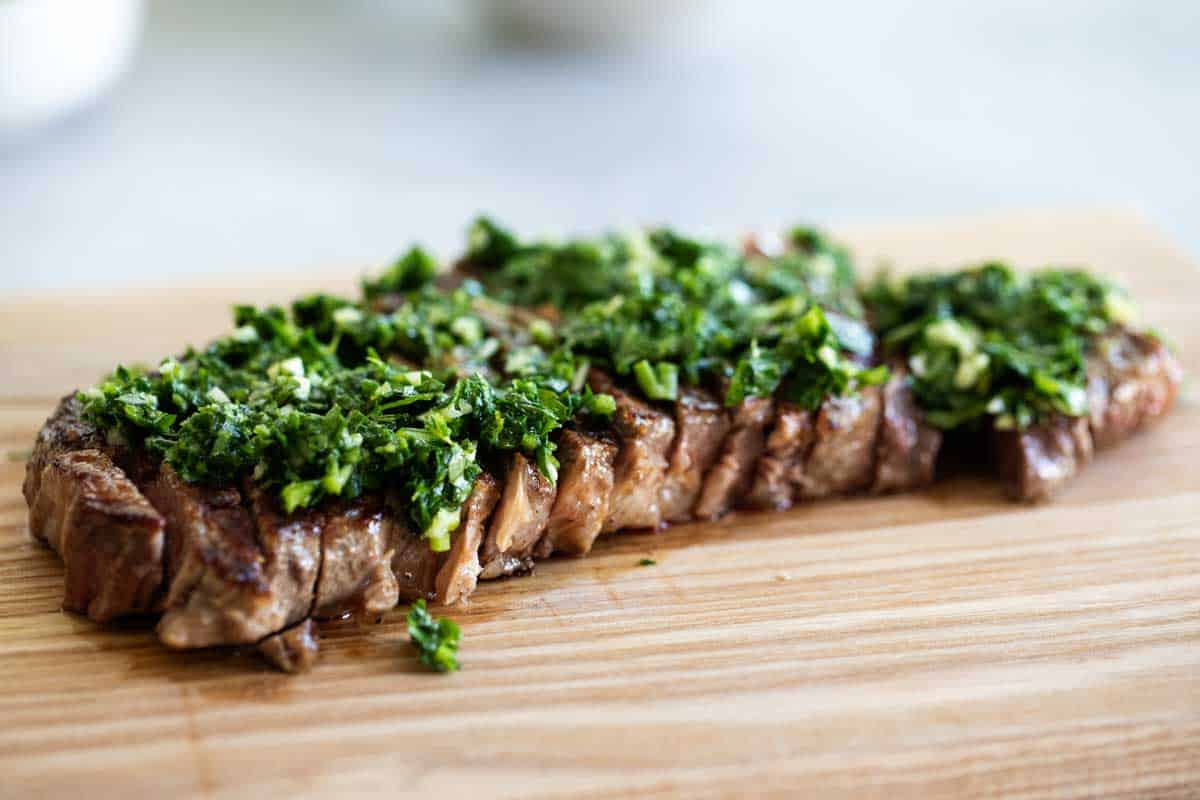 Ingredients
One thing I love about Cobb salads are the variety of textures and flavors. I've included a few toppings in this recipe that are considered the classic Cobb salad ingredients, but I'm definitely not against adding more, depending on your preferences. Some other add-ins to consider are garbanzo beans, black beans, green onions, or corn.
Some of the classic Cobb salad ingredients are:
tomato
bacon
hard boiled eggs
avocado
blue cheese
green onions (or any thinly sliced onion)
Some additions you can make are:
garbanzo beans
black beans
corn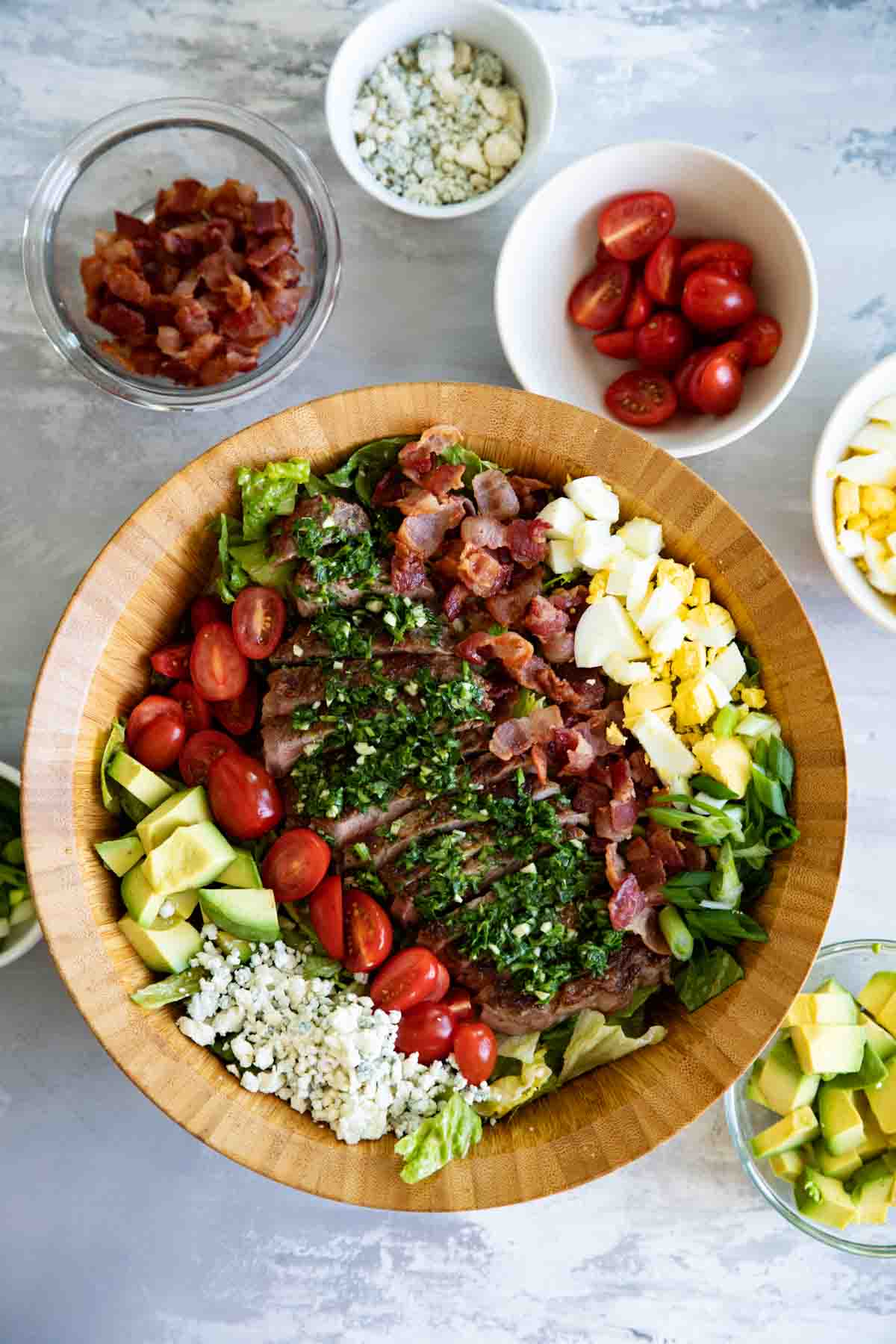 Tips on Cooking Steak
Many Cobb salads include chicken, but I love this addition of steak. And while it may seem intimidating to prepare steak, it's actually quite easy. In fact, I think cooking steak is easier than cooking chicken!
The grill is a great place to start, but if you don't have one or don't prefer that method, go ahead and use a cast iron skillet to cook your steak.
Adding that touch of oil to the steak beforehand will help prevent any sticking to the grill or skillet, you don't need too much though!
Let the steaks rest on the counter for about 30 minutes before cooking, this will help them cook evenly.
Start with high heat, this locks in flavor and gives the steak that nice texture on the outside.
This steak Cobb salad is truly one of those go-to meals that I have enjoy over and over again all summer. I love using fresh produce I have on hand and getting in a good serving of veggies and protein at once.
More Favorite Salad Recipes
Shrimp Caesar Salad with Spicy Croutons
Antipasto Salad Recipe
Southwest Chicken Salad
Greek Quinoa Salad
Italian Chopped Salad
Red Raspberry Spinach Salad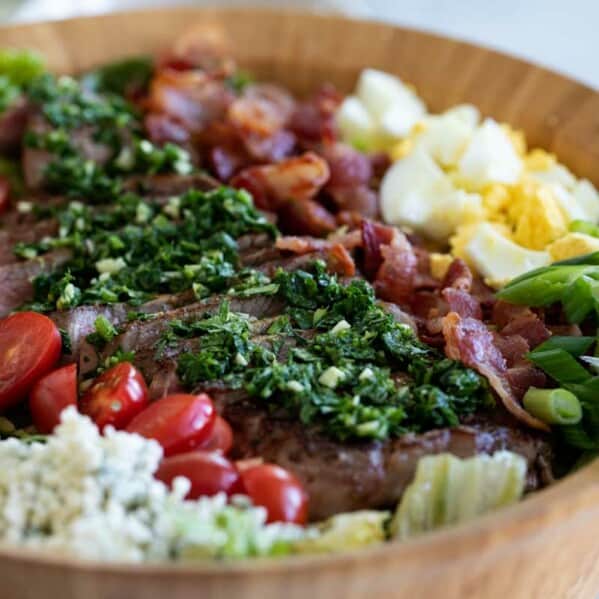 Steak Cobb Salad
---
Author:
Prep Time: 20 minutes
Cook Time: 12 minutes
Total Time: 35 minutes
Yield: 6 servings 1x
Category: Salad
Method: Grill
Cuisine: American
Description
Turn your salad into a meal with this Steak Cobb Salad. All of your favorite Cobb Salad ingredients plus steak on top to turn it into a hearty meal.
---
Scale
Ingredients
1 large shallot, peeled
2 cloves garlic, divided
2 tablespoons red wine vinegar
1 tablespoon Dijon mustard
1 tablespoon Worcestershire sauce
1 tablespoon warm water
1 teaspoon tomato paste
1/2 cup plus 1 tablespoon extra virgin olive oil, divided
Salt and pepper
1 1/2 lbs good quality steak (I used NY Strips, but you can use what you like)
1/2 cup flat leaf parsley, finely chopped
2 limes
2 romaine hearts, shredded
1/2 head iceberg lettuce, shredded
4 oz bacon, cooked and crumbled
1/2 cup blue cheese crumbles
1/2 pint cherry or grape tomatoes, cut or quartered
4 hard boiled eggs, chopped or sliced
1 large avocado, peeled and diced
2–3 green onions, sliced
---
Instructions
To make the dressing:
Grate the shallot and 1 clove of garlic into a bowl. Add the red wine vinegar, mustard, Dijon, Worcestershire sauce, water and tomato paste; whisk to combine.
While whisking, slowly add in the 1/2 cup of olive oil until it all comes together. Season with salt and pepper to taste.
Refrigerate until needed.
To make the steak:
Bring the steak to room temperature, then season with salt and pepper.
Heat an outdoor grill or a cast iron skillet to medium-high heat.
Right before you are ready to cook your steak, drizzle it with the 1 tablespoon of olive oil.
Place the steak on the grill (or in the skillet) and cook for 4-6 minutes per side.
Remove the steak and let it rest.
While the steak is resting, combine the chopped parsley, the last clove of garlic, finely chopped, and the zest of the 2 limes. Add the juice of one lime and stir to combine. Season with salt.
After the steak has rested, slice it against the grain and then dress it with the parsley mixture.
To assemble the salad:
Combine the romaine and the iceberg lettuce in a large salad bowl. Toss with the prepared dressing.
Place the steak on top of the lettuce, then add the bacon, blue cheese, tomatoes, eggs, avocado and green onion.*
Serve immediately.
Recipe Notes:
*If desired, serve each topping on the side and let each person add which ingredients they would like.
Adapted from The Rachael Ray Show
Nutrition
Serving Size: 1/6 of recipe
Calories: 767
Sugar: 6 g
Sodium: 530 mg
Fat: 60 g
Saturated Fat: 17 g
Unsaturated Fat: 27 g
Trans Fat: 0 g
Carbohydrates: 15 g
Fiber: 4 g
Protein: 43 g
Cholesterol: 239 mg