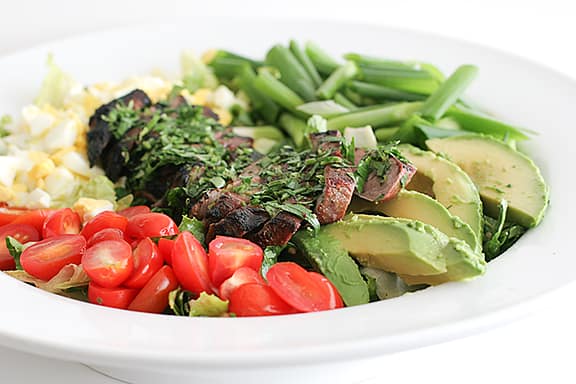 Last weekend, my in-laws invited us over for dinner. My mother in law made her delicious lasagna. But at the side of each setting was a salad. It looked just like your normal, every day, run of the mill green salad. But for some reason, I took my first bite, and I did not put that fork down until every bit of that salad was eaten. It was the best thing I had eaten in a long time. I don't know – maybe that was my body's way of telling me that I need more vegetables in my life, but I still can't stop thinking of that salad – or salads in general.
So when I started looking to decide what to make for this week's RR recipe, of course I was drawn to this salad. I had written down the title of it after watching this episode, but looking at the title, I didn't remember watching her make it. Until I started making it. And then it all came back to me and I remembered why this sounded so good. Salad – onions, tomatoes, avocado, hard boiled eggs, and steak – all covered in a steak-sauce like dressing with blue cheese. I knew it was going to be one I would love!! And love it, I did. Except for the fact that I overcooked the steak. I've gotten pretty good at cooking steak on a grill pan, but I actually went outside to the grill to cook this one, and let's just say I need some more grilling practice. But overcooked steak or not, this was still quite tasty!!
Things I changed:
I used a petite sirloin instead of strip steak
instead of the mix of different lettuces, I just stuck with romaine
I used grape tomatoes instead of cherry, because I had some that needed to be used
I would add more blue cheese next time – I didn't taste it as much as I would have liked to!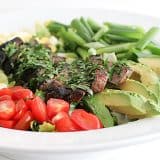 Steak-Swap Cobb Salad
---
Prep Time: 15 minutes
Cook Time: 12 minutes
Total Time: 30 minutes
Yield: 4 servings 1x
Description
Turn your Cobb salad into a meal with this Steak-Swap Cobb Salad
---
Scale
Ingredients
4 small strip steaks, 8-10 ounces
salt and pepper
1/2 cup extra virgin olive oil, plus more for drizzling
1/2 cup flat-leaf parsley, finely chopped, or 1/4 to 1/3 cup cilantro leaves, finely chopped
2 lemons or 3 limes
1 large shallot, peeled
1 clove garlic, grated, minced or pasted
1 tablespoon Dijon mustard
1 tablespoon Worcestershire sauce
1 teaspoon tomato paste
1 tablespoon warm water
2 tablespoons red wine vinegar
salt and pepper
1 heart romaine lettuce, shredded
1/2 head iceberg lettuce, shredded
1 small bunch watercress leaves, trimmed
1/2 cup blue cheese crumbles
2 baby Vidalia onions or 1 small bunch scallions, thinly sliced on an angle
1 pint cherry tomatoes, halved
4 hard boiled eggs, sliced or chopped
2 ripe Haas avocados, peeled, seeded and diced or sliced
---
Instructions
Bring steaks to room temp and season with salt and pepper. Heat outdoor grill or indoor grill pan over medium-high heat or broiler. When you're about ready to eat, dress meat with a drizzle of oil and cook steaks 4 minutes on each side for medium rare, up to 12 minutes, turning once, for well done.
Let meat rest while you combine chopped parsley or cilantro and zest of 1 lemon or 2 limes. Slice each steak thinly against the grain and dress sliced steaks with herb, garlic and zest mixture, the juice of 1/2 lemon or 1 lime, another drizzle of oil and a little more salt.
Grate shallot and garlic into a bowl and add mustard, Worcestershire, tomato paste and warm water then whisk to combine. Add vinegar and pour in EVOO, about 1/2 cup, in a slow stream while you whisk the dressing to emulsify it. Season the dressing with salt and pepper.
Combine the lettuces in a bowl with dressing and blue cheese. Arrange dressed greens on individual plates and top with arrangement of sliced meat across the center. Place the tomatoes mixed with scallions along one side and the eggs and avocados along the opposite side. Dress the avocado with the juice of 1/2 lemon or a lime before arranging on salad to keep it form browning on the plate.
———————
From The Rachael Ray Show