These Pineapple and Pork Kabobs have pork that is marinated in a Jamaican jerk marinade then added to skewers with fresh pineapple and onions. Grill the kabobs for a perfect summer supper with a bit of spice.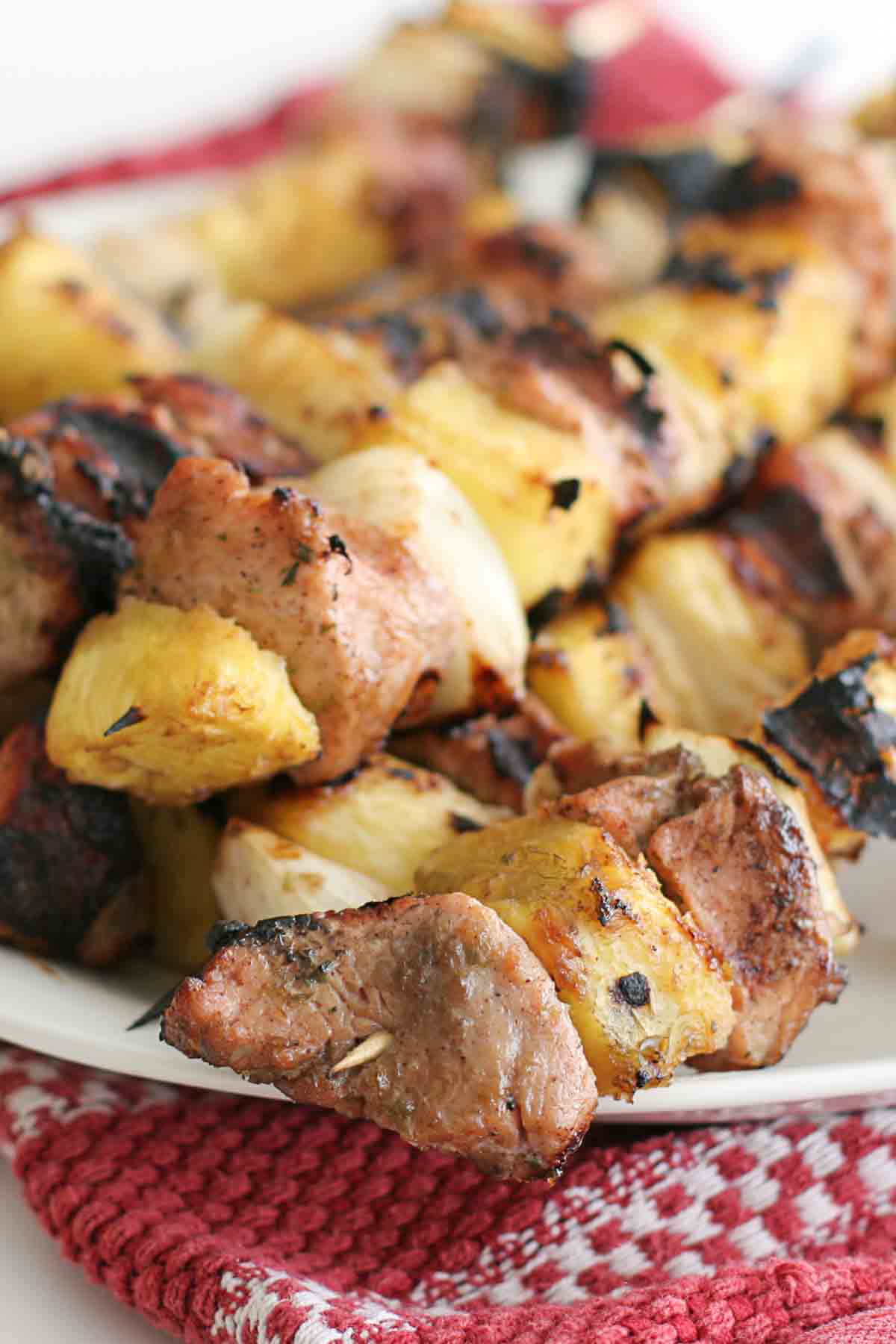 When I was a few weeks from my due date with my daughter, I was so ready to have that baby. I had it in my head that she was going to come 2 weeks early, but that day came and went without a baby. As my due date approached, I was prepared to do anything to get her to come. I was so excited to meet her, and I was so tired of being pregnant! So I did what many expectant mothers do – I tried all of the "methods" out there to get her to come. I walked (and walked, and walked…), I ate spicy food, and even went to get a pedicure after I heard there is a spot on your foot that most salons know about that is said to induce labor. Nothing worked. Then I read something that said that eating fresh pineapple helps. Something to do with an enzyme that is in it helping to soften the cervix. So I bought a pineapple. And I ate the whole thing. Over the course of a week, I think I ate 3 pineapples. By the time that was over, I didn't want to see another pineapple ever again. (By the way, the pineapple didn't work, either. She ended up coming a few days after my due date, regardless of everything I tried!)
Since then, I haven't eaten much pineapple. I guess it goes to show you that there can be too much of a good thing! But here I am, 18 months later, and when I saw this pineapple and pork kabobs recipe, I immediately wanted that fresh pineapple. Especially grilled!
I only had one issue with this recipe. You are supposed to marinate the meat for 2-4 hours. Well, since I'm working, that wasn't possible. It was either marinate it for 6-7 hours, or for 1 hour. I wish I would have opted for the 1 hour. These pork kabobs ended up super flavored, and it was a bit overpowering. Actually, more than a bit – it was very overpowering. It was good, but you couldn't eat too much, because it was so strong. I used to think that you couldn't marinate something too long, but I am now learning that that isn't true!
Recipe Notes:
You can choose what kind of pepper you want in the marinade. I chose a jalapeño, and I removed the seeds and ribs. I know that jerk is typically hot, but I also know that my husband won't eat it if it is too spicy. This gave it a little kick, but it wasn't too hot.
The jerk marinade calls for Jamaican allspice, but I used regular. Supposedly, the Jamaican allspice is supposed to give it the authentic jerk flavor, but I used what I had!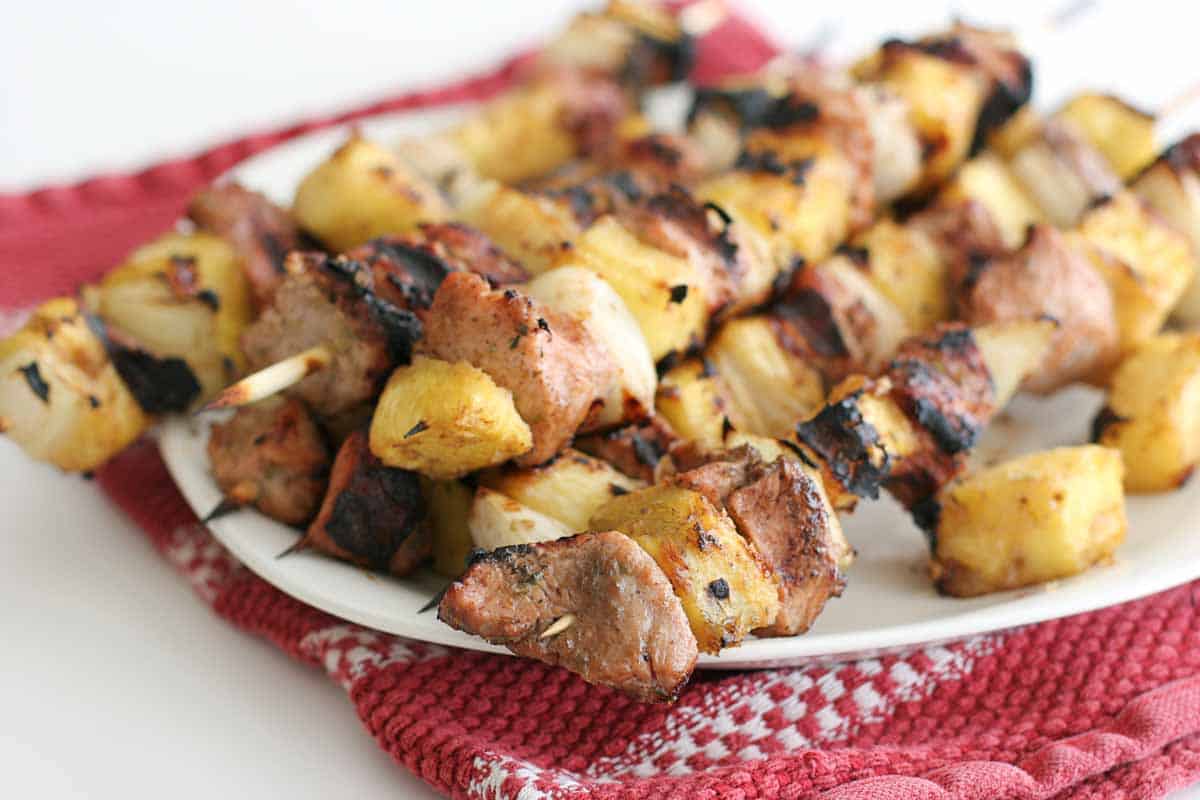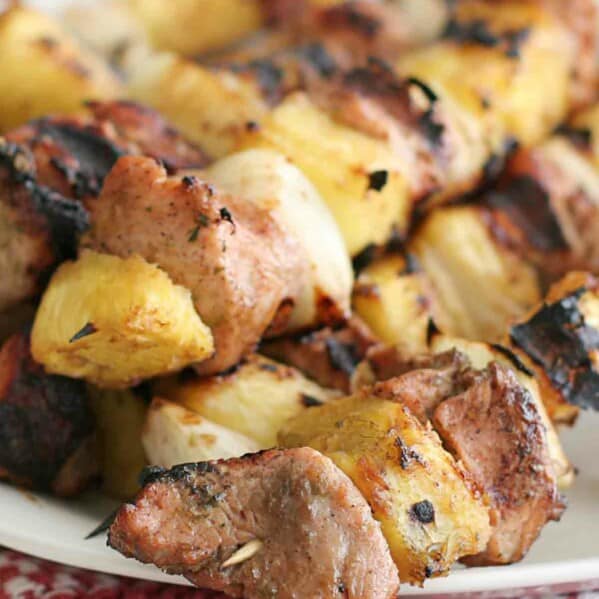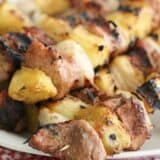 Pineapple and Pork Kabobs
---
Author:
Prep Time: 15 minutes
Cook Time: 20 minutes
Total Time: 2 hours 35 minutes
Yield: 4 servings 1x
Category: Main Dish
Method: Grilled
Cuisine: Jamaican
Description
These Pineapple and Pork Kabobs have pork that is marinated in a Jamaican jerk marinade then added to skewers with fresh pineapple and onions. Grill the kabobs for a perfect summer supper with a bit of spice.
---
Scale
Ingredients
Jerk Marinade
1/2 yellow onion, finely chopped
1/4 cup finely chopped scallions
1 teaspoon fresh thyme leaves
1/2 teaspoon salt
1 teaspoon sugar
1/2 teaspoon allspice
1/4 teaspoon ground nutmeg
1/4 teaspoon ground cinnamon
1/2 to 1 habenero, jalapeño, or serrano chile, chopped
1/2 teaspoon freshly ground pepper
1 1/2 tablespoons soy sauce
1/2 tablespoon vegetable oil
1/2 tablespoon cider vinegar or distilled white vinegar
Kabobs
One 1 1/2 pound boneless pork loin, cut into 1 1/2-2 inch cubes
3/4 cup Jerk marinade (recipe follows)
1 fresh pineapple, peeled, cored, and cut into 2-inch cubes
12 pearl onions, peeled, or 1 large yellow onion, peeled and cut into 1-inch wedgesa
---
Instructions
Prepare the marinade:
Combine all ingredients in a blender or food processor and process until smooth. Store leftover marinade in the refrigerator in a tightly closed jar for up to 1 month.
Prepare the kabobs:
In a resealable plastic bag, combine the pork and the jerk marinade. Rotate the bag several times to coat the meat. Refrigerate for 2 to 4 hours.
Add the pineapple and onion to the meat to marinate slightly. At the same time, soak 8 wooden skewers in water for 20 to 30 minutes. Prepare a hot fire in a charcoal grill or prepare a gas grill.
Skewer the pork, pineapple and onions alternately on the skewers. Grill for 15 to 20 minutes, turning to brown on all sides. Serve hot.