Heat that grill up for these Grilled Shrimp and Sausage Kabobs – with lots of veggies, sausage, shrimp and bacon, all covered in a sticky sweet glaze.
In the mood for grilling shrimp tonight? Also try these Chili Honey Garlic Shrimp Kabobs or these Grilled Lemon Shrimp.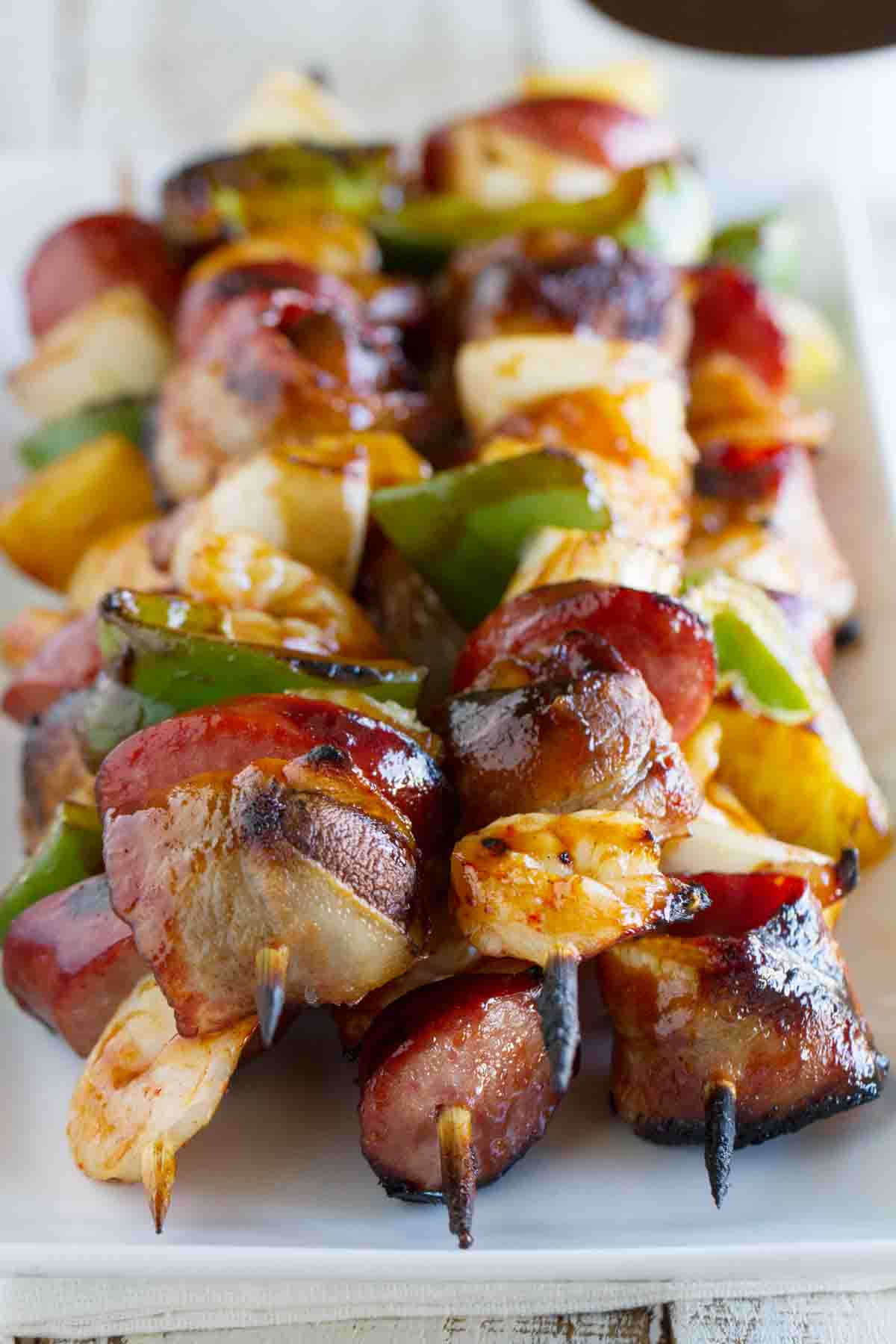 I'm melting.
Ok, maybe I'm being a little bit dramatic (#notreally) but it's really hot. Really hot. Like triple digits that make you just want to lie on the floor in front of the air conditioner hot.
Which reminds me of when I was younger, and we lived in a house with a swamp cooler. I remember being so hot in the summer that I would literally lie in the hallway, right under where the air came in from that swamp cooler. The cold, wet air would hit you and you'd get a short break from the summer heat, until you had to actually peel yourself away from the 8×8 area immediately below the swamp cooler. And the heat everywhere else in the house would force you back to that hallway.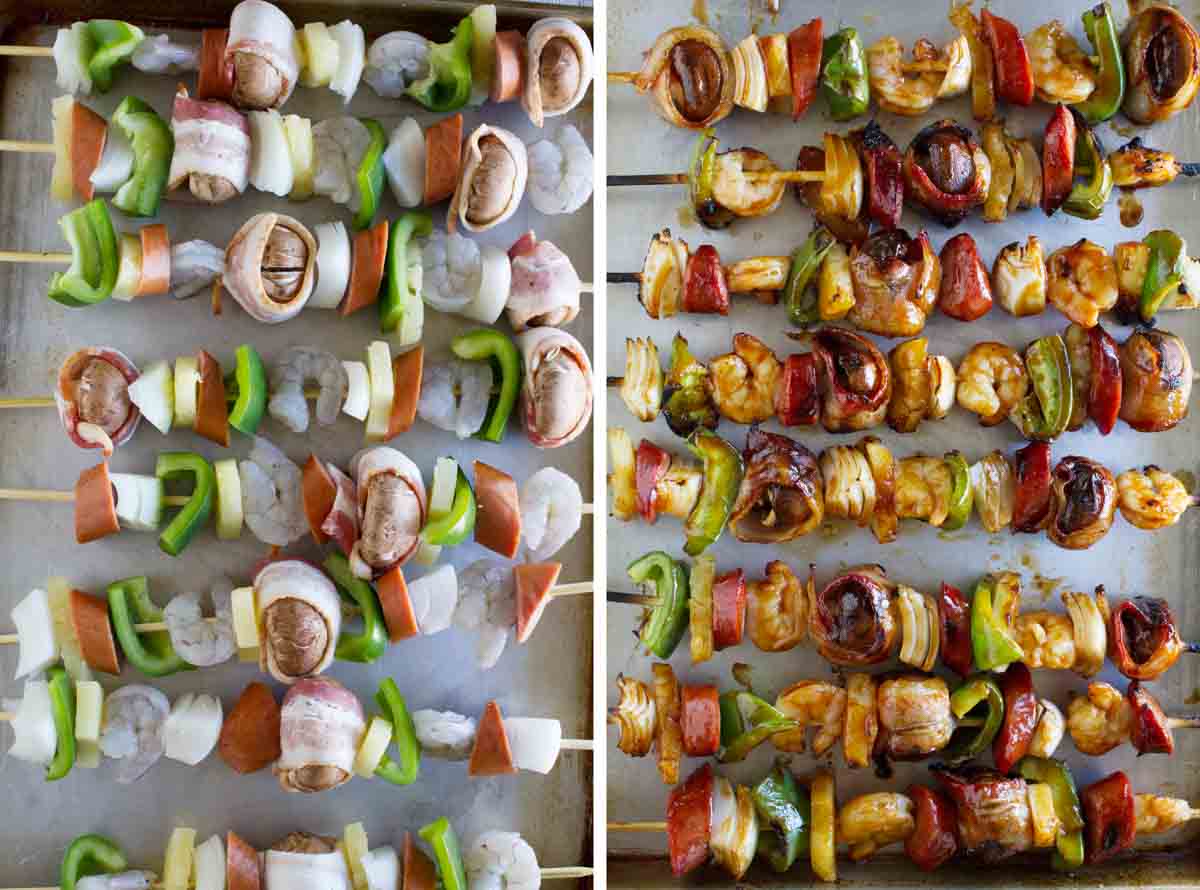 I know I have it easy today, because well – central air. I know I really have no ground to stand on when it comes to complaints, because there are areas of the country where central air isn't pretty much standard. But still – the heat zaps all of the energy and motivation right out of me.
I actually start the week off motivated – with a menu full of dinner ideas. But when 2:00 hits, all I want to do is sit around, eating popsicles and ice cream.
And I'll be honest – I kind of don't love grilling in the summer. Spring, fall, winter – sign me up – but standing in front of the grill when it's 100ºF outside is not my idea of fun.
But turning on the stove or the oven and heating up the house is even less fun. So a few minutes in front of the grill beats heating up the whole house that won't cool down for hours. So if I actually want to be a responsible mother, and feed my kids more than frozen treats for all 3 meals, to the grill I go.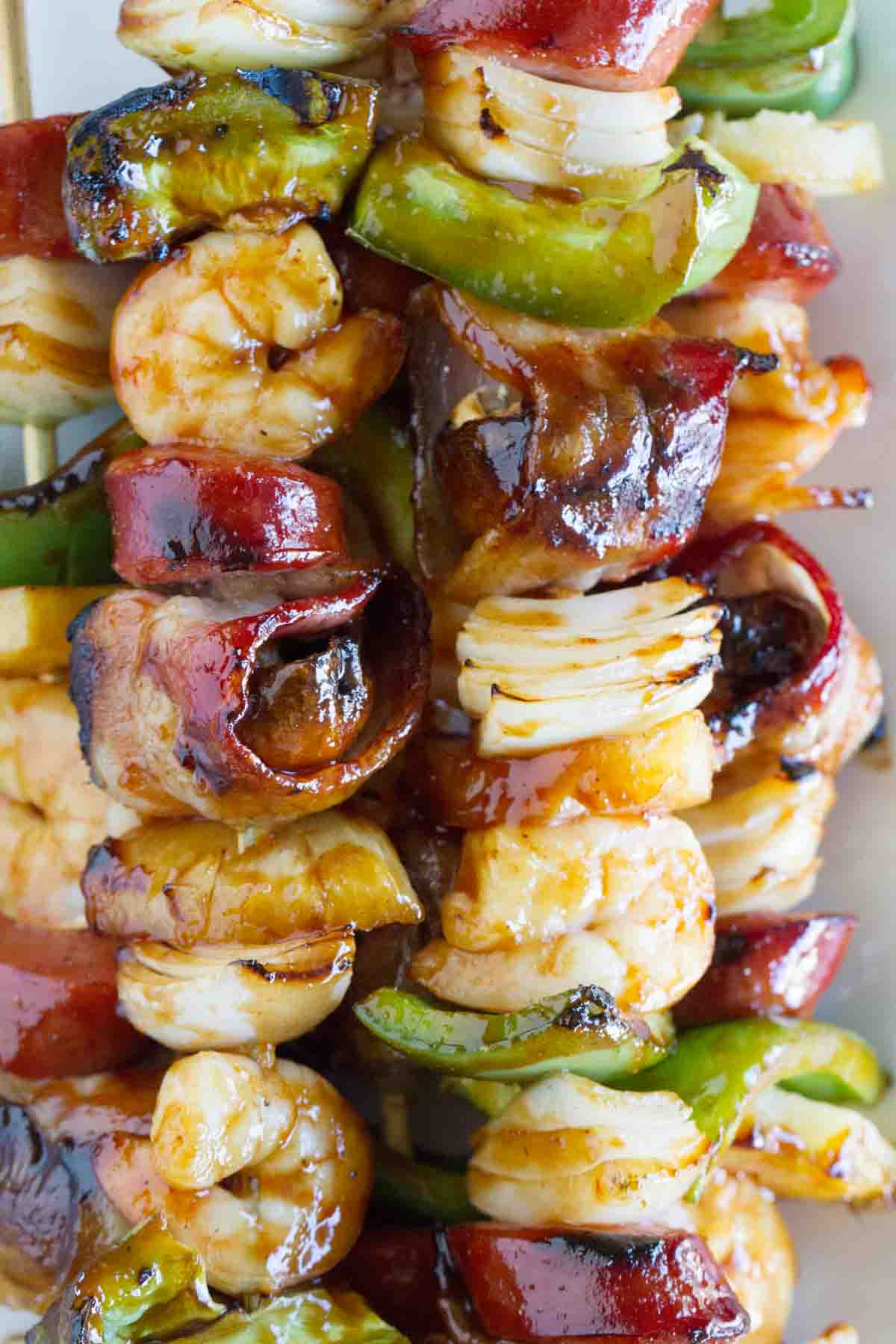 And these Grilled Shrimp and Sausage Kabobs make those hot minutes in front of the grill worth it.

The ingredient list in the glaze for these kabobs is a little unconventional, but trust me – it works. The sauce is sticky and sweet and is perfect on this kabob recipe. I always love a good grilled shrimp recipe, and combining that shrimp with veggies and sausage is pretty much perfect in my book. And did I mention bacon wrapped mushrooms? Because that alone should sell you on this recipe.
The only change I would make next time would be to maybe grill the shrimp separately, simply because they cook so quickly. I was afraid they would be totally overdone and tough, but even grilling them with the veggies and sausage, they were still pretty darn good. But if you like your veggies grilled until they are pretty soft, you'll want to grill the shrimp separately.
How do you stay motivated to cook in the summer?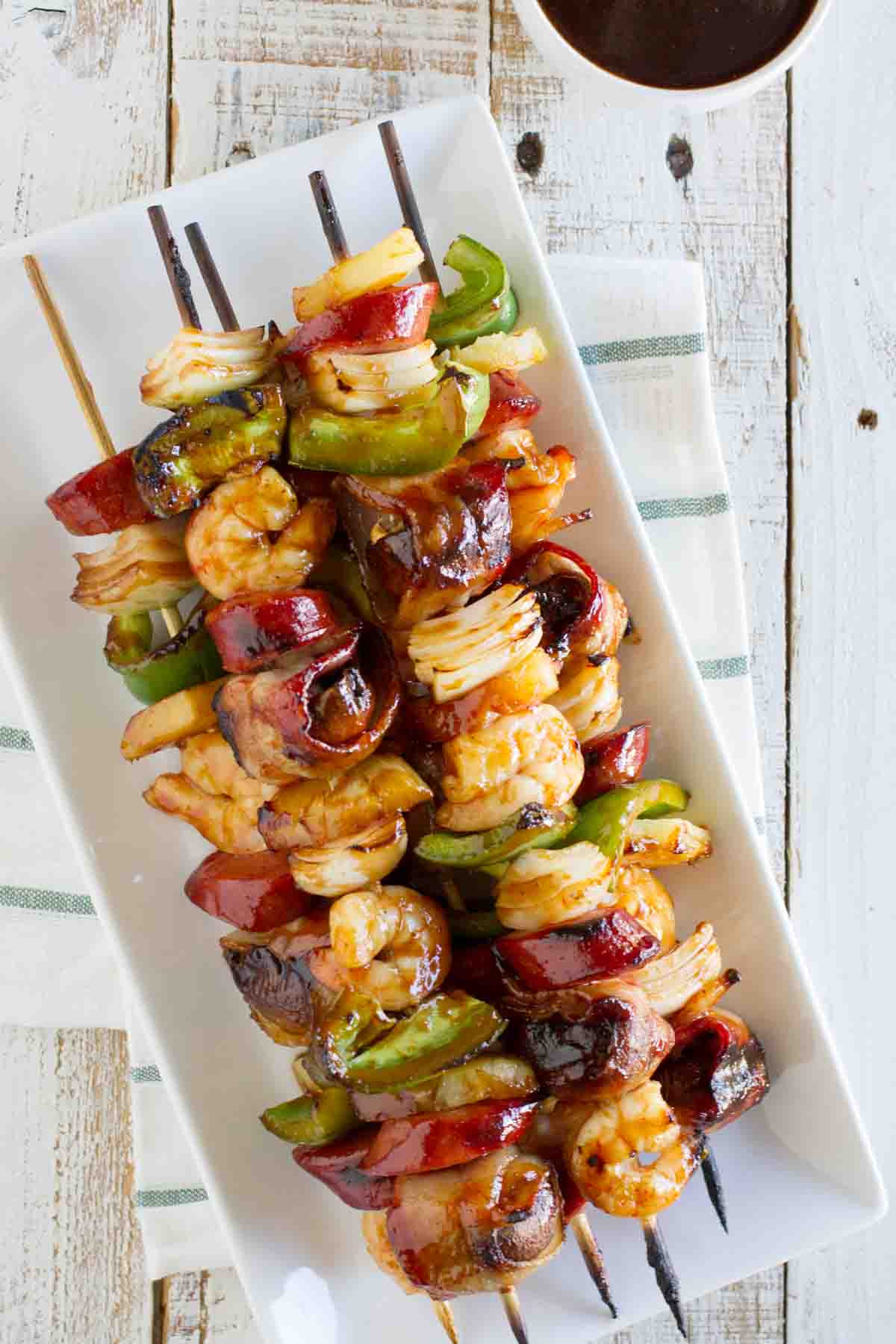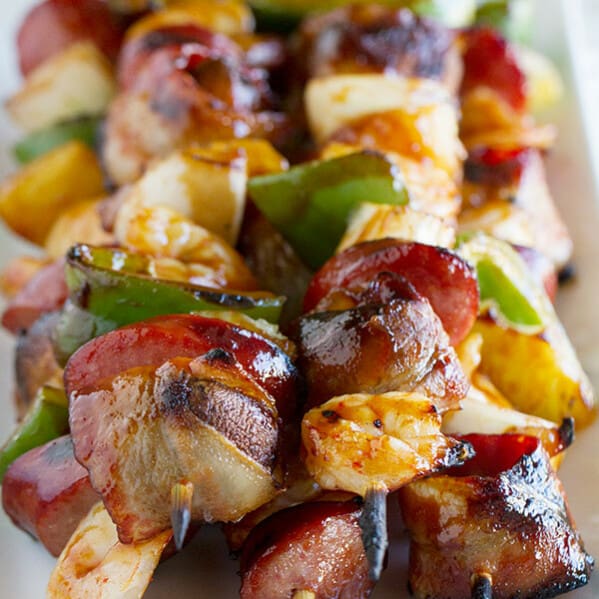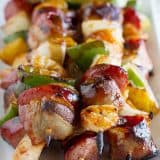 Grilled Shrimp and Sausage Kabobs
---
Prep Time: 25 mins
Cook Time: 10 mins
Total Time: 35 mins
Yield: 8 kabobs 1x
Description
Heat that grill up for these Grilled Shrimp and Sausage Kabobs – with lots of veggies, sausage, shrimp and bacon, all covered in a sticky sweet glaze.
---
Scale
Ingredients
1 can (8 oz) pineapple chunks in juice
8 strips of bacon
16 fresh mushrooms
16 large shrimp, peeled and deveined, tails removed
12–oz smoked sausage, cut into 1/2-inch pieces
1 large sweet onion, cut into chunks
1 large green bell pepper, cut into chunks
1/2 cup prepared barbecue sauce
1/3 cup corn syrup
1/4 cup ketchup
3 tablespoons low sodium soy sauce
1 tablespoon fresh lime juice
1/2 teaspoon maple extract
1/4 teaspoon garlic powder
1/4 teaspoon ground ginger
1/8 teaspoon ground coriander
---
Instructions
Heat an outdoor grill to medium heat.
Drain the pineapple, reserving the juice in a medium bowl.
Cut the bacon strips in half. Wrap the bacon pieces around each mushroom. On 8 metal or soaked wooden skewers, alternate threading the pineapple chunks, bacon wrapped mushrooms, shrimp, sausage, onion, and bell pepper.
In the bowl with the pineapple juice, add the barbecue sauce, corn syrup, ketchup, soy sauce, lime juice, maple extract, garlic powder, ground ginger and ground coriander. Whisk to combine. Reserve 2/3 cup for serving. Baste the top side of the kabobs with some of the remaining sauce.
Lightly oil the grill and transfer the kabobs to the grill, basted side down. Baste the opposite side of the kabobs, then close the grill. Cook until the vegetables are tender and the bacon is done, turning and basting occasionally with the sauce, about 10 minutes.
Serve with the reserved sauce.