Dinner doesn't get easier than these Easy Chicken Teriyaki Wraps! Conquer those busy nights with an easy, good for you weeknight dinner that is done in no time flat.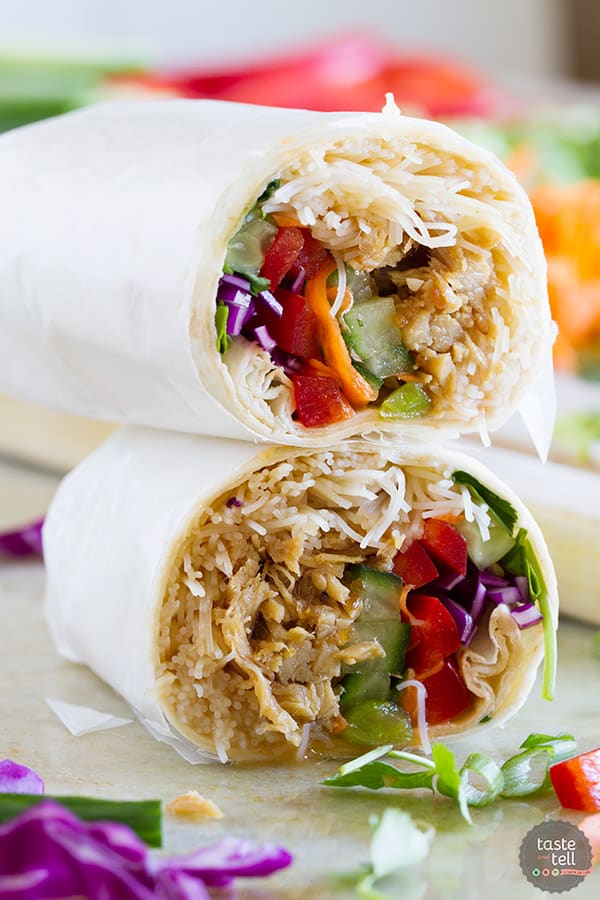 Yum


Life is crazy. I hesitate to use the word busy, because really, everyone is busy. But some days, when the day is done and I finally make it to bed, I wonder how I made it through the day. When you are juggling being a mom, a wife, and a business owner, as well as taking care of a household, it's no wonder that things get crazy.
In my life, there is no such thing as a "typical" day, (the joys of running your own business!), but let's take a look at how a weekday might go in my life.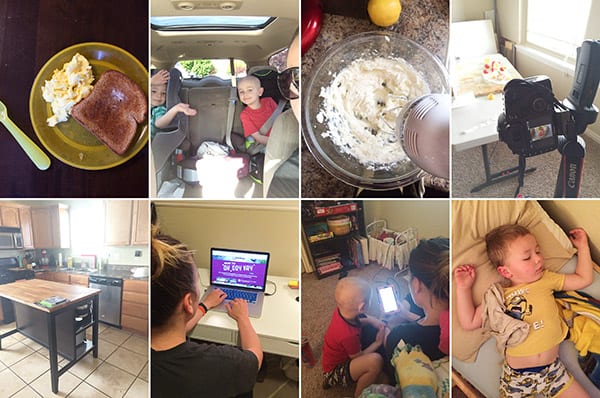 6am: the alarm goes off. I usually want to hit snooze a time or two, but my boys are usually right there, begging me to get out of bed. Go downstairs and do a little bit of morning work before waking my daughter up at 6:30 to get ready for school.
6:45am: breakfast for the whole crew. Usually something quick and easy.
7:25am: bus comes for my daughter for school. I change into my workout clothes for a quick workout at home before really starting the day.
9:00am: make a quick trip to the store because the grocery store I went to the night before was out of one ingredient that I needed.
10:30am: home for some recipe testing and recipe development. Today will be spent mostly in the kitchen and behind the camera.
12:00pm: short lunch break with the boys.
12:15pm: back into the kitchen for some recipe testing, as well as some photographing.
2:30pm: my daughter gets home from school, so it's time to take some time with her for reading and homework. Spend the next little while with the kids playing.
3:30pm: back to the kitchen to clean up the disaster from the day. Realize that I have no idea what I'm going to make for dinner. I need something easy and quick, so I head to the Soy Vay website to find a recipe that will make dinner easy for me. Get inspired to make some wraps using Soy Vay® Veri Veri Teryiaki® Less Sodium plus lots of veggies I have on hand.
5:00pm: dinner time!
7:00pm: bath time for the kids then pjs and reading. We just started Stuart Little!
8:00pm: kids to sleep! Then my work night starts…






Although your day probably doesn't consist of the exact same schedule, I'm guessing that it's just as packed as mine. So I'm here today to tell you all about a tool that is going to make dinnertime so much easier!
Soy Vay just launched their new website with the coolest cooking tool. Have you ever wanted to make a recipe from a video online, or even just a recipe that you've found online, but don't love getting messy hands all over your devices? Or how about when you are watching that video, but you can't quite keep up because you've never made the recipe before and the video is going to quickly for you? Well, the new Soy Vay website is the ultimate digital cooking experience. It is the first of its kind to offer voice activated recipes that make cooking so much easier and so much fun. Find your recipe on the Soy Vay website, and it will walk you through the recipe. You use voice activated prompts to tell the recipe when to continue so you aren't left behind. Super cool, right?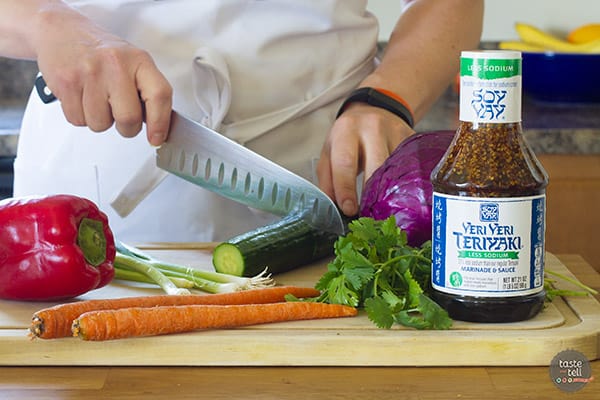 After staring at a bottle of Soy Vay® Veri Veri Teryiaki® Less Sodium, I was inspired by the Soy Vay website to whip up these Easy Chicken Teriyaki Wraps for dinner. I mentioned that when the weather starts getting nice, I tend to gravitate towards wraps, burgers and sandwiches, and that night, I just happen to have a craving for a good wrap.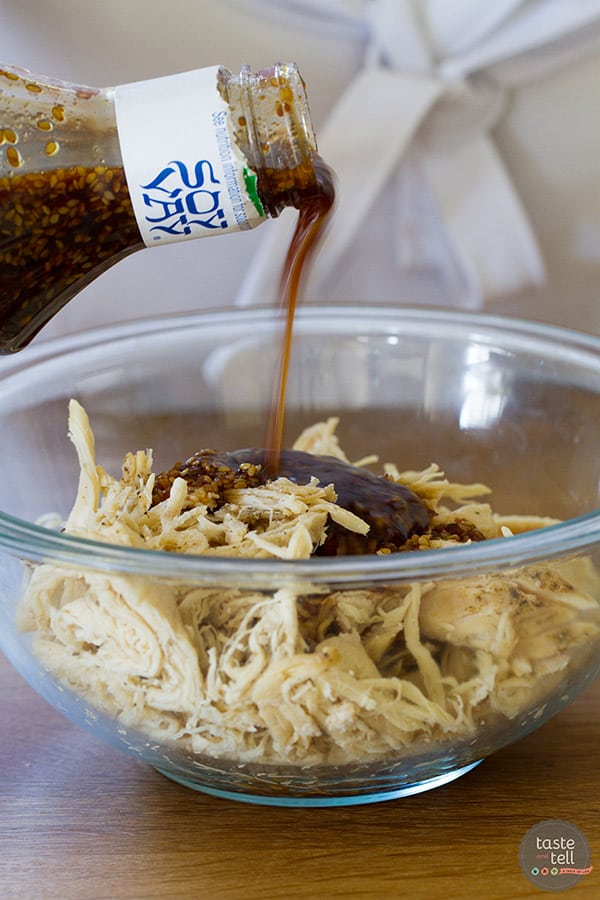 I used 2 shortcuts for this recipe. 1st, pre-cooked, shredded chicken. If you are a regular here, you know that I always keep my freezer stocked with this shortcut. And 2nd, a bottle of Soy Vay® Veri Veri Teryiaki® Less Sodium is always a time saver. I love the flavor, as well as the fact that it is filled with sesame seeds. Love it!!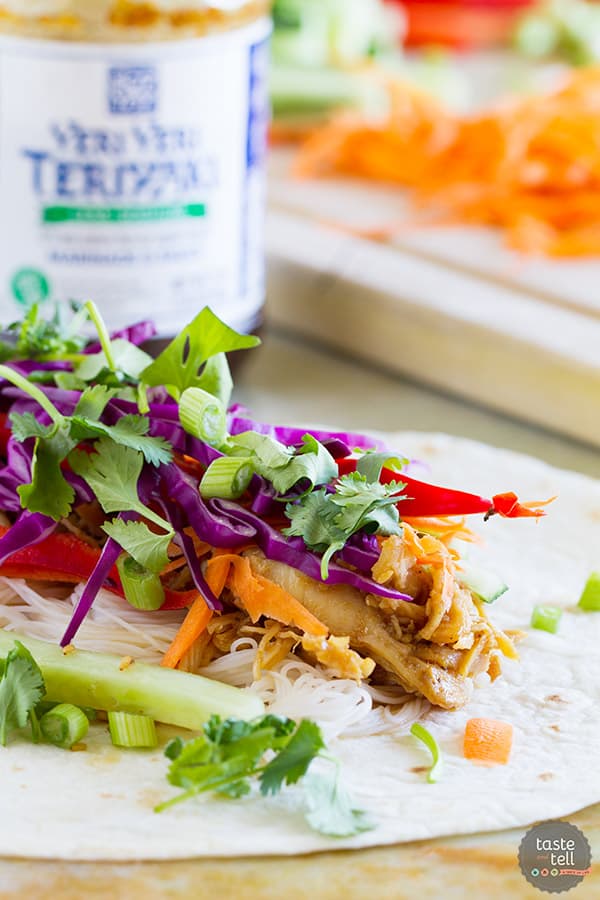 There is a local restaurant here that sells Italian street food, and they put spaghetti in their wraps. I thought it was weird until I tried it and fell in love. So I thought I'd take that same idea and add some rice noodles to my wrap. It was the best idea!! These Easy Chicken Teriyaki Wraps were easy and fast, and hearty enough for a weeknight dinner. One wrap was definitely enough for me – they were quite filling!!
These are very versatile, as well – you can use whatever vegetables you have on hand. And I used some extra Soy Vay® Veri Veri Teryiaki® Less Sodium for dipping. The perfect weeknight meal for when you don't know what you are going to make!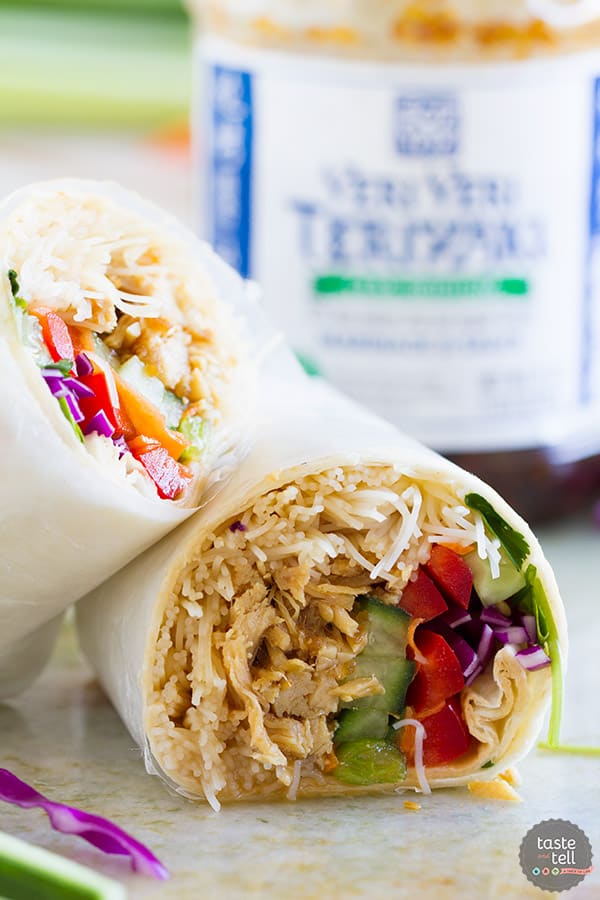 Like what you see here? Make sure you are following Taste and Tell for more recipes and ideas!
Facebook | Pinterest | Instagram | Twitter | Google+ | Weekly Newsletter | Feedly | Bloglovin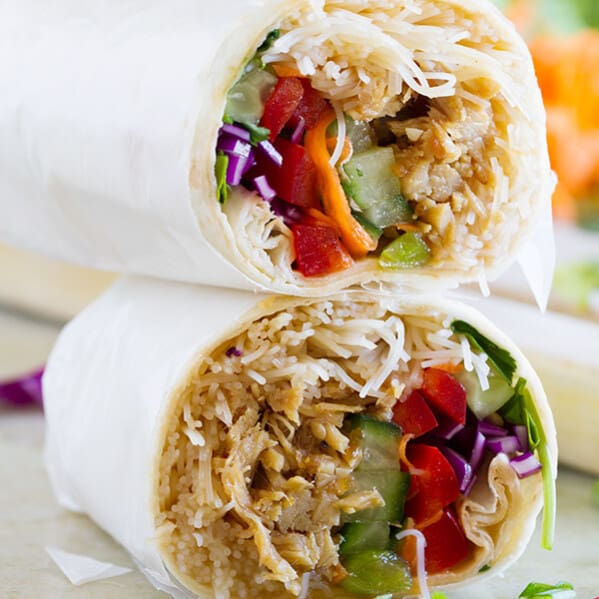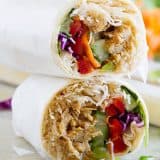 Easy Chicken Teriyaki Wraps
---
Author:
Prep Time: 15 mins
Total Time: 15 mins
Yield: 6 servings 1x
Description
Dinner doesn't get easier than these Easy Chicken Teriyaki Wraps! Conquer those busy nights with an easy, good for you weeknight dinner that is done in no time flat.
---
Scale
Ingredients
3 cups cooked, shredded chicken
1 cup Soy Vay® Veri Veri Teryiaki® Less Sodium
4 oz vermicelli rice noodles
6 (12-inch) flour tortillas
1 cup shredded purple cabbage
1/2 cup shredded carrots
1/2 cup julienned cucumbers
1/2 cup julienned red bell peppers
1/3 cup sliced green onions
1/3 cup cilantro leaves
extra Soy Vay® Veri Veri Teryiaki® Less Sodium, for serving
---
Instructions
Combine the chicken and the teriyaki sauce and stir to combine. Set aside.
Bring a large pot of water to a boil and cook the rice noodles according to the package directions.
To assemble the wraps, place the tortillas in the microwave for 30 seconds to soften. Put one-sixth of the noodles down the center of one tortilla, followed by some of the chicken. Top with the cabbage, carrots, cucumbers, red bell peppers, green onions and cilantro. Fold the sides of the tortilla in, then roll the tortilla, enclosing the filling on the center. Serve.
Don't miss a thing! Follow me on Pinterest to see what I'm pinning!
Visit Taste and Tell's profile on Pinterest.



This is a sponsored conversation written by me on behalf of Soy Vay. The opinions and text are all mine.