With layers of flavor, this easy to assemble Chicken Tortilla Stack is great for a weeknight meal, or even for company.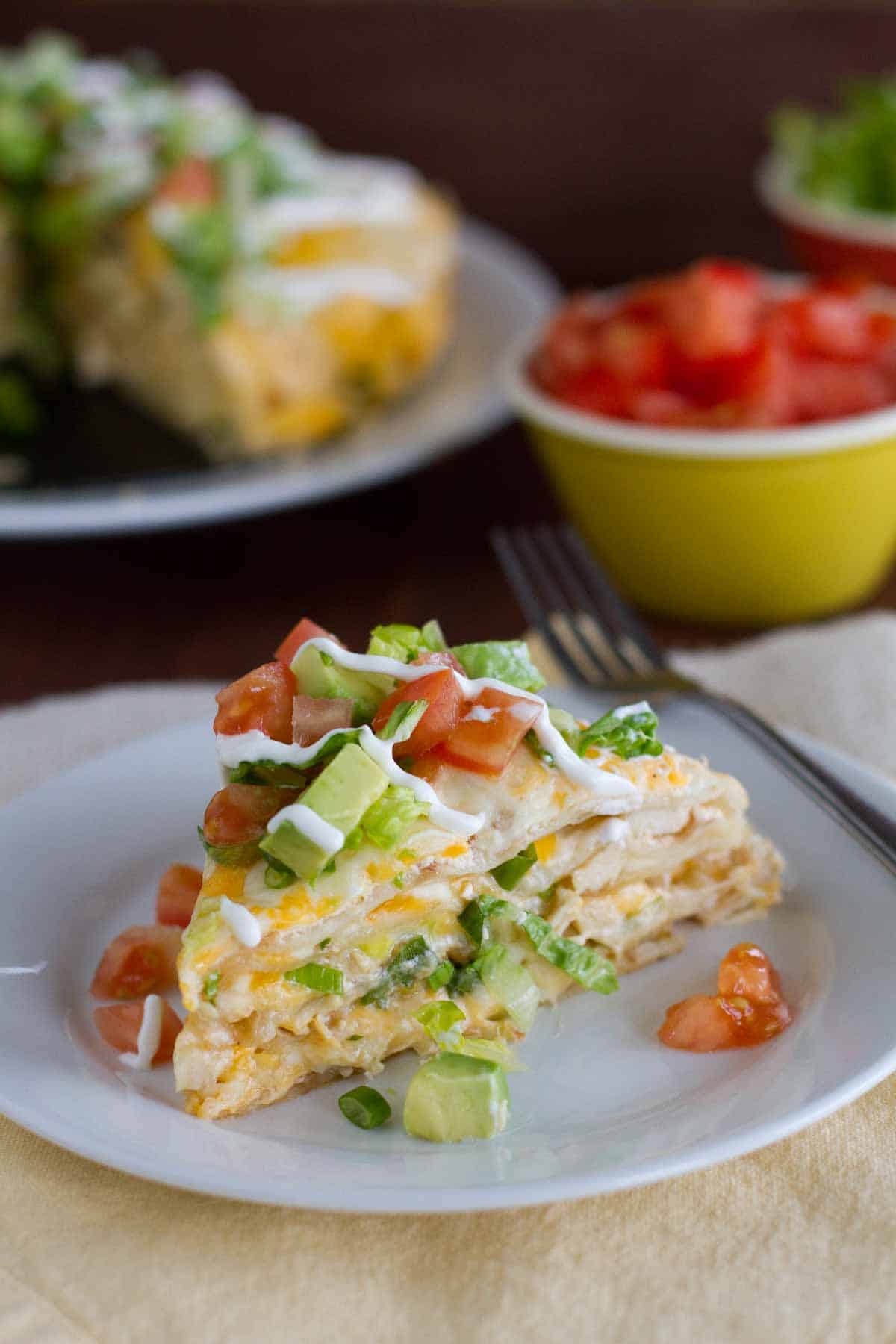 Don't tell me I'm the only one.
I go to the grocery store, and see something – let's say crackers – on sale. I think to myself – "great, we like crackers. I'll grab a box or two." And then you get home, and as you are putting away the groceries, you realize you already have crackers. And not just one box. Or even two.
But like a whole shelf of crackers down in the basement food storage.
That is me with chicken. Seriously, I see it on sale, and I can't help but buy it. Only to get home and discover that I have a freezer full of it, and it's getting quite difficult to even fit anything else in the freezer.
It could be worse. I mean, we do eat a lot of chicken. So it's not like I have a freezer full of something that I'm having the hardest time getting rid of. But right now, I have a lot of chicken.
So please forgive me if I go a little overboard on the chicken recipes in the coming weeks. I promise we do eat more than just chicken!!
This recipe is another gem from a family cookbook. (Thanks, Kacy!!) It's definitely a keeper. It's kind of like enchiladas, but stacked. But at the same time, it's not really like enchiladas. (Could I be any more vague??) But I guess all you really need to know is that it is layers of tortillas, chicken and deliciousness. Definitely worthy of that spot on the family cookbook!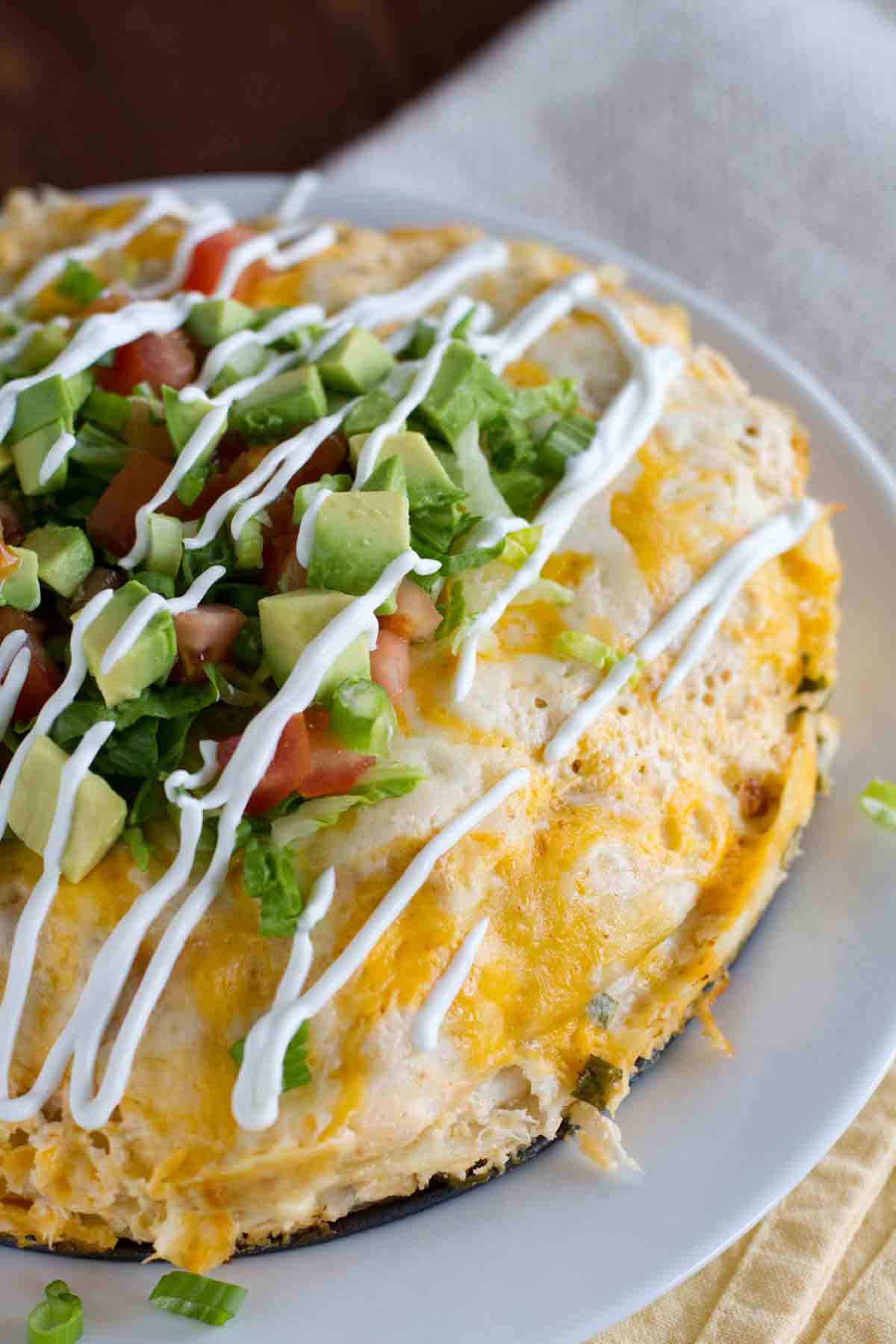 More Tortilla Stack Recipes: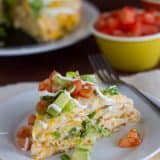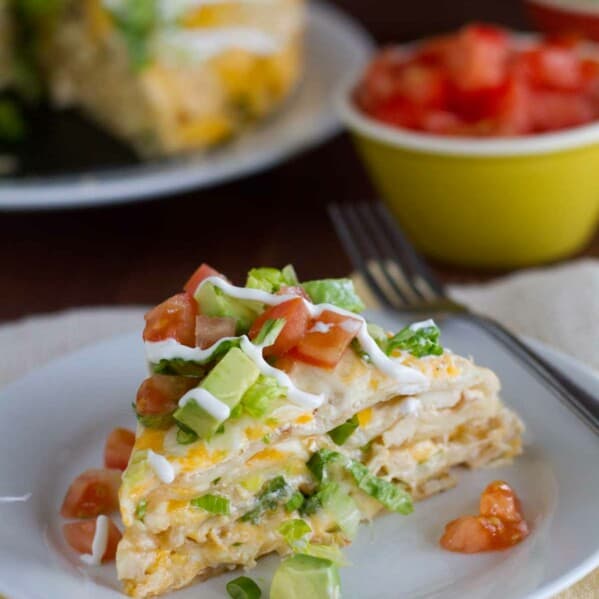 Chicken Tortilla Stack
---
Author:
Prep Time: 15 minutes
Cook Time: 25 minutes
Total Time: 40 minutes
Yield: 0 servings 1x
Category: Main Course
Method: Baked
Cuisine: Tex-Mex
Description
With layers of flavor, this easy to assemble Chicken Tortilla Stack is great for a weeknight meal, or even for company.
---
Scale
Ingredients
8 oz sour cream
1 tablespoon hot sauce
1/2 teaspoon seasoned salt
1 cup grated Cheddar cheese
1 cup grated Monterey Jack cheese
1 cup grated Mozzarella cheese
2 tablespoon vegetable oil
5 9-inch flour tortillas
2 1/2 cups cooked chicken, (shredded or cubed)
6 green onions, (sliced)
shredded lettuce, diced tomatoes, diced avocado, additional sour cream – for serving
---
Instructions
Preheat the oven to 400F. Spray a 9-inch springform pan with nonstick cooking spray.
In a small bowl, combine the sour cream, hot sauce and seasoning salt.
In another bowl, combine all 3 cheeses.
In a large skillet over medium-high heat, heat 1 tablespoon of the oil. Working with one tortilla at a time, add to the hot oil to crisp up, flipping over when the first side gets lightly brown. Continue with the remaining tortillas, adding more oil if needed.
To assemble the stack, place 1 tortilla on the bottom of the springform pan. Spread on ⅕ of the sour cream mixture, followed by ¼ of the chicken, 2 tablespoons of green onion, and ⅕ of the cheese mixture. Add another tortilla, sour cream, chicken, green onions and cheese. Repeat 2 more times, then lay the remaining tortilla on top. Spread with the remaining sour cream mixture and top with the remaining cheese. Cover with foil.
Bake until the cheese is melted and the stack is heated through, about 25-30 minutes. Remove from the oven and let sit for 10 minutes for easier slicing. Top with the remaining green onions, lettuce, tomato, avocados and more sour cream, if desired.