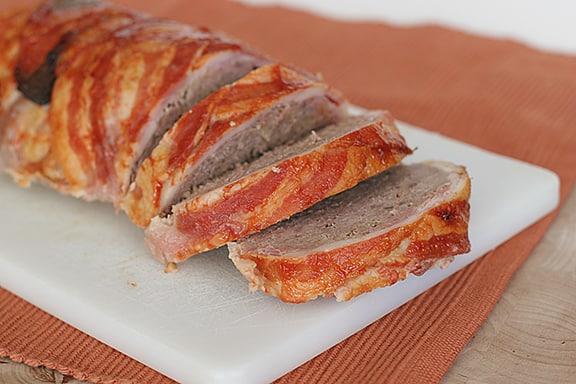 You know how earlier this week I said that there are a few ingredients that always call out to me?  Bacon was one of them.  And I'm sure I'm not alone on this one.  So imagine my delight when I saw that there is a whole chapter in this month's Cookbook of the Month that is dedicated to bacon.  Ok, not just bacon, but beer, bacon and bar food.  I'm not a beer drinker, so the bacon part is what excited me!!
But where to start?  Well, at my last doctor's appointment, they told me that my iron was a little bit low.  Sure, I could eat a big spinach salad or go crazy with the broccoli, but I decided I needed a little bit more red meat in my diet!!  And what is better than bacon wrapped beef?
I loved this meatloaf.  Even my meatloaf hating husband ate it.  I've been really good at trying to only make as much food as we are going to eat so I don't overburden myself with leftovers, but I made this full recipe – just so I could have a meatloaf sandwich the next day!  And I'm so glad I did, because this was the perfect meatloaf for sandwiches.  I can't really think of anything I didn't like about this dish!
Recipe Notes:
I made my own breadcrumbs.  I keep bread leftovers in the freezer and then just pulse them in the food processor whenever I need breadcrumbs.  I prefer fresh breadcrumbs to the dried ones you can buy.
I cut my bacon strips in half and made the loaf longer and skinner so that I could overlap them that way.  I was afraid they would shrink, but happily, they stayed in place!
Recipe Rating:  9 out of 10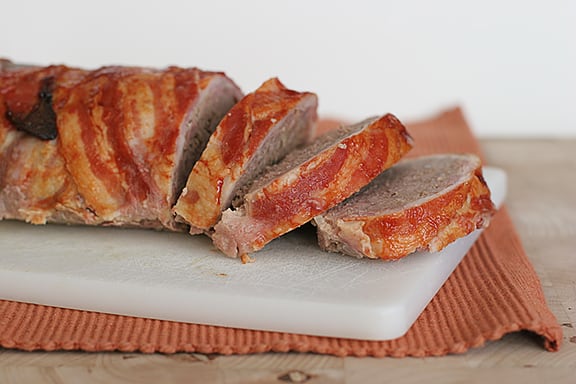 Bacon-Wrapped Meatloaf
From Recipes Every Man Should Know
Serves 4-6
Prep time: 15 minutes
Cook time: 1 hour
1 tablespoon canola oil
1 small yellow onion, diced
2 pounds ground beef
¾ cup plain bread crumbs
2 eggs, lightly beaten
1 tablespoon Worcestershire sauce
2 tablespoons spicy mustard
1 teaspoon salt
1 teaspoon black pepper
several dashes hot sauce
6 tablespoons ketchup, divided
8 to 10 slices bacon
Preheat oven to 350F. Heat oil in a large skillet over medium-high heat. Add onions and sauté 3 to 5 minutes, or until lightly browned; let cool slightly.
In a large bowl, combine sautéed onions with all ingredients from ground beef through hot sauce, plus 2 tablespoons ketchup. Using your hands, mix until thoroughly combined. Transfer beef mixture onto a large baking sheet lightly greased with canola oil or cooking spray. Shape into an oval mound and lay bacon slices over the top so that they crisscross. Wash your hands, then brush remaining 4 tablespoons ketchup over bacon and meatloaf.
Bake 50 to 60 minutes or until browned on top and cooked through. (A thermometer inserted into the thickest part of the meatloaf should read 160 to 165F. If you don't have a thermometer, insert a knife into the thickest part to ensure meat is no longer pink.)