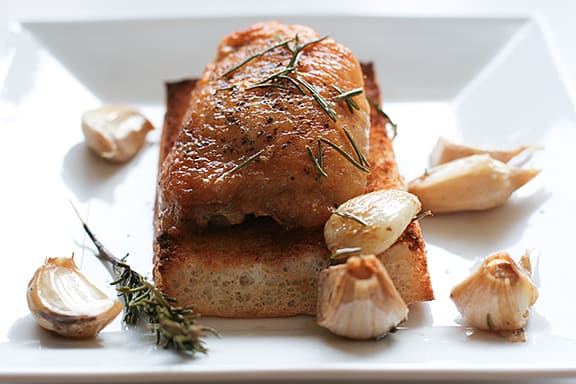 I've been in a bit of a cooking rut lately. So many things look good when I am just casually looking through books or magazines, but when it comes time to actually make dinner, I just don't feel up to it. I could probably count on one hand the times I've actually made dinner in the past couple weeks. I don't know what my deal is! And when I do actually muster the energy to make dinner, I haven't planned very well and I have to scrounge through my fridge and pantry to make something that I have everything on hand for. That is where this meal came from.
Last week, I posted about a Lemon-Pepper Fettuccine that I made, (which was actually fantastic!) Well, in the same magazine that that recipe came from – the recipe right next to it in fact – was this recipe for Garlic-Roasted Chicken. It sounded easy enough, and although it called for skin-on boneless chicken breasts, I had skin-on bone-in chicken thighs in the freezer, and the rest of the ingredients on hand. It looked delicious and simple, so I went for it.
I would actually like to try this again with the breasts, because I think it would be quite delicious. With the thighs, it was good, but not overly impressive. I think the biggest thing I had a problem with was that I didn't really know how to eat it. Do I eat the bread and the chicken in the same bite? Do I go through and squeeze all the garlic out and eat it as well? I guess I'm just a simple girl, and eating this became quite complicated! Regardless, I still cleaned my plate. I guess in the end, you can't really go wrong with chicken, garlic and bread!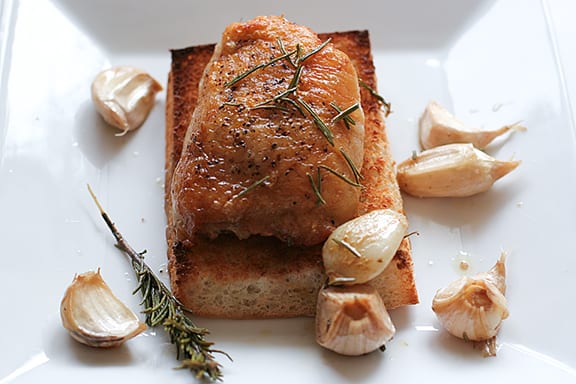 Garlic-Roasted Chicken
from Food Network Magazine March 2010
Serves 4
active time: 15 minutes
total time: 30 minutes
2 tablespoons extra-virgin olive oil
4 skin-on chicken thighs (or use skin-on, boneless chicken breasts)
salt and pepper
2 heads garlic
4 sprigs fresh rosemary
4 slices sourdough bread, grilled or toasted
2 tablespoons white wine vinegar
Preheat the oven to 425 degrees F. Heat the olive oil in a large ovenproof skillet over medium-high heat. Season the chicken with salt and pepper and cook, skin-side down, until browned, about 5 minutes.
Separate the heads of garlic into cloves but do not peel. Flip the chicken; add the garlic and rosemary to the skillet and transfer to the oven. Roast until the chicken is cooked through but still moist, 15 to 20 more minutes.
Place the bread on a platter and top each slice with a piece of chicken. Add the vinegar to the skillet and scrape up any browned bits with a wooden spoon. Add 3 tablespoons water and simmer until the sauce thickens slightly, about 2 minutes. Pour the sauce and garlic over the chicken and bread.