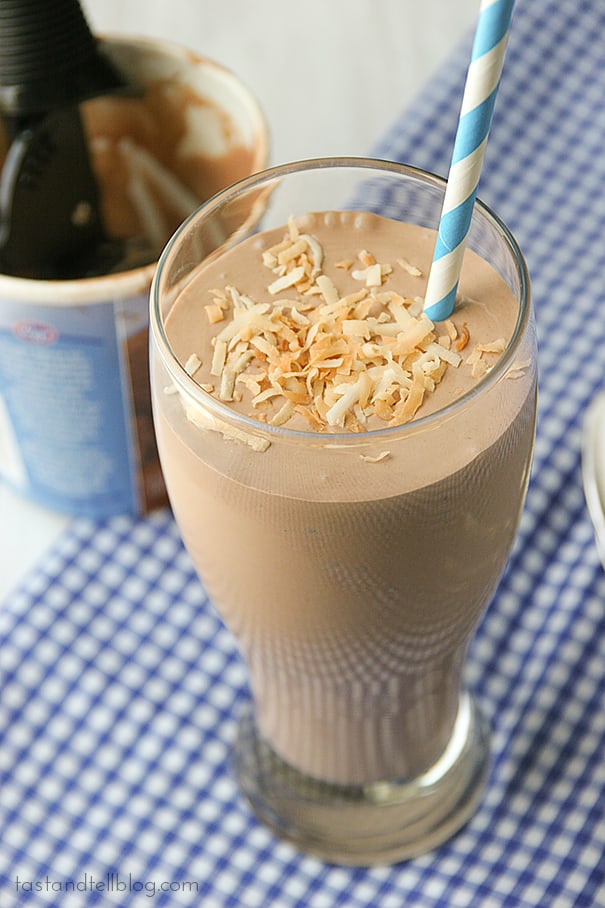 If you don't know that I love the chocolate/coconut combination by now, then you should know now.  It's one of my favorites!!  And combine them together into a milkshake – like this Coconut Patty Shake – I'm in pure milkshake heaven!
I'm so excited to be a participating blogger in today's Great Shake 2012.  25 bloggers are joining together to celebrate all things milkshake with Adam Ried's new book – Thoroughly Modern Milkshakes.  If you are a milkshake fan, this is a book that you want to add to your collection.  There are chocolate shakes, vanilla shakes, old fashioned shakes and all kinds of new fangled shakes.  Want something a little more familiar?  Try the Triple Peach Shake.  Want something a little different?  How about the Sweet Corn and Basil Shake?  There is definitely a little bit of something for everyone in this book!
After flipping through the book, I just kept going back to this chocolate and coconut combination.  I couldn't get it out of my head!  The original shake is made with sorbet, and after going to 3 grocery stores, not able to find chocolate or coconut sorbet, I thought about just trying a different recipe, but I had my heart set on those flavors.  So I switched it up, and went with ice cream.  (Which is kind of funny, because in the book, Adam Ried says that he can't find coconut ice cream.  I guess I live in an ice cream town, and he lives in a sorbet town!!)  And then when I typed up the recipe just now, I realized that I did the large amount of chocolate and small amount of coconut, and the original recipe is opposite.  Oh well – because I loved this milkshake!!  I wanted to drink the entire thing myself!!
If you want more milkshake love today, join the Great Shake 2012 twitter party!  AT 8pm Eastern tonight (June 25), Adam Ried will be on Twitter – talking about the book and all things milkshake.  Come chat with Adam and other milkshake lovers using the hashtag #GreatShakes. I just may have to mix up another one of these Coconut Patty Shakes for the party!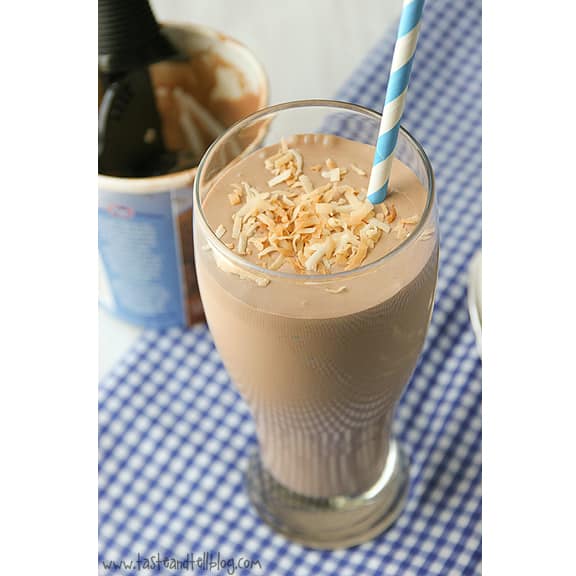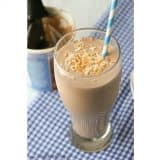 Coconut Patty Shake
---
Prep Time: 10 minutes
Total Time: 10 minutes
Yield: about 3 1/2 cups 1x
Description
Coconut and chocolate ice cream come together in the perfect milkshake.
---
Scale
Ingredients
1/2 cup cream of coconut (such as Coco Lopez)
6 medium scoops chocolate ice cream
2 medium scoops coconut ice cream
toasted coconut, for garnish
---
Instructions
In a blender, combine the cream of coconut and both ice creams. Blend until blended, thick and creamy.
————————-
adapted from Thoroughly Modern Milkshakes
Want more chocolate and coconut?
Chocoalte Filled Coconut Macaroon Sandwich Cookies from Jane's Sweets & Baking Journal
Chocolate and Coconut Cream Pie Bars from Willow Bird Baking
Almond Joy Cupcakes from Taste and Tell
**Disclosure – I was sent a review copy of this cookbook. This is not a compensated post. All opinions are my own.**