A sweet and creamy rice pudding is served with fresh raspberries and an easy homemade salted caramel sauce for an impressive yet easy dessert.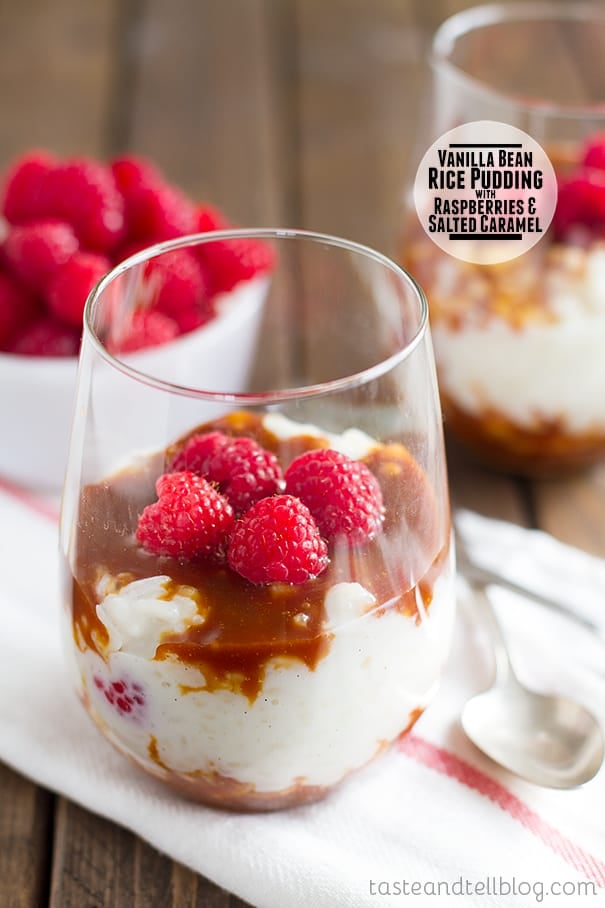 After a full week of sweets last week, I thought I had Valentine's Day out of my system.
Well, I was wrong.
I was flipping through one of my cookbooks the other day, and came across a recipe for rice pudding. My husband loves rice pudding, and well – being the amazing wife that I am, I realized I have never once made it for him.
(Hangs head in shame…)
So, since it's the holiday of love and all, I figured I might as well make a dessert that I know my husband will love.

And as luck would have it, this is actually a pretty perfect Valentine's Day dessert. If you are like me, you would rather spend the night in and avoid the crowds and the increased prices. Make a nice meal at home, put the kids down for bed early, and enjoy a fancy looking dessert that is actually pretty easy.
And the beauty of this is that the components can be made a couple days ahead of time, and even assembled a few hours ahead of time. No stress = a perfect Valentine's Day dessert.
And did I mention that this is pretty much amazing? I'm not even usually a huge rice pudding fan, but I was definitely a fan of this!!
Like what you see here? Make sure you are following Taste and Tell for more great recipes and ideas!!

Facebook ** Pinterest ** Twitter ** Instagram ** Google+
or you can subscribe to my newsletter or Feedly or Bloglovin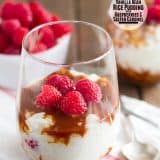 Vanilla Bean Rice Pudding with Raspberries and Salted Caramel
---
Prep Time: 15 minutes
Cook Time: 25 minutes
Total Time: 2 hours
Yield: 2 Valentine's Day servings, or 4 smaller servings to share 1x
Description
A sweet and creamy rice pudding is served with fresh raspberries and an easy homemade salted caramel sauce for an impressive yet easy dessert.
---
Scale
Ingredients
Rice Pudding
1/2 cup Arborio rice
2 – 2 1/2 cups milk
1/4 vanilla bean, halved lengthwise
6 tablespoons sugar
Salted Caramel
1/2 cup sugar
3 tablespoons unsalted butter
1/2 teaspoon sea salt
1/3 cup heavy cream
For serving
1/2 pint fresh raspberries
---
Instructions
To make the rice pudding:
Place the rice in a strainer and run it under cold water for a minute to remove some of the starch.
Combine the rice, 2 cups of milk and vanilla bean in a large saucepan. Place over medium heat and bring to a simmer. Cook until the rice is very tender, adding more milk if needed, 25-30 minutes. Remove from the heat and remove the vanilla bean. Stir in the sugar. Transfer to a container and refrigerate until ready to assemble.
To make the caramel:
Place the sugar in a large saucepan. Over medium-high heat, cook the sugar without stirring until it melts and becomes an amber color. You can pick up the pot and swirl it as needed to evenly melt the sugar.
Add the butter and salt and whisk until the butter is melted and combined. (It will bubble up.) Once the butter is melted, stir in the cream until the sauce is smooth. (It will bubble up again, continue to stir until is it smooth and together.) Let the caramel cool slightly before transferring to a heatproof container. Refrigerate until ready to assemble.
To assemble:
In the bottom of your serving cups or glasses, put a layer of the caramel sauce. Top with some of the rice pudding, then a layer of fresh raspberries. Top with more rice pudding, then another layer of caramel sauce. Garnish with a few more berries.
Recipe Notes:
*You may have more caramel than needed for serving, but it goes great on ice cream!
*Make sure you use a large saucepan (about 2 quarts) to make the caramel, as it will bubble up as ingredients are added.
*You can make the rice pudding up to 3 days in advance and the caramel up to 1 week in advance.
*Rice pudding recipe adapted from Chocolate and Vanilla
More Holiday Worthy Desserts: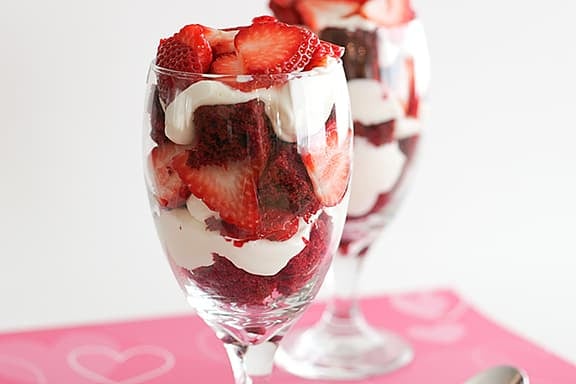 Red Velvet and Strawberry Trifles
Around the Web:
Vanilla Bean Pudding with Pineapple and Coconut from Bran Appetit
No Bake Banana Split Cheesecake from Confessions of a Cookbook Queen
Caramel Pecan Cheesecake Trifles from Hoosier Homemade