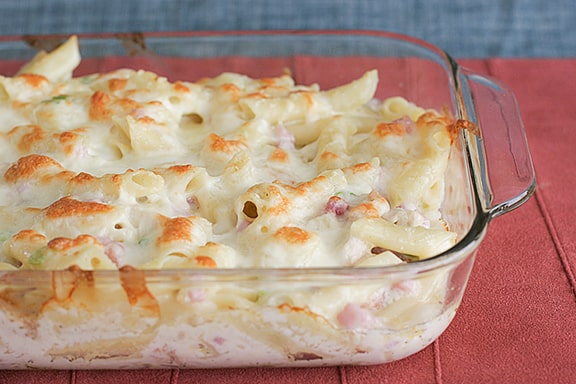 I am an "everything in moderation" kind of girl.
I'm not big on diets or deprivation, but I do try to watch my portion sizes and eat fairly healthy. But for some reason, with this pregnancy, I have mostly felt like eating really unhealthy food. Luckily, I haven't had too much of a sweet tooth, but cheese, butter, pasta – bring it on! Which I know is one big reason I was totally drawn to this recipe.
Let me warn you – this recipe is not diet friendly. Not even close. In fact, it's probably one of the most un-healthy recipes I've made in awhile. But it was absolutely decadent and delicious. Totally worth every calorie. It's not one that you will have on a regular menu rotation, but it's so good that you'll definitely want to save room for it once a year!!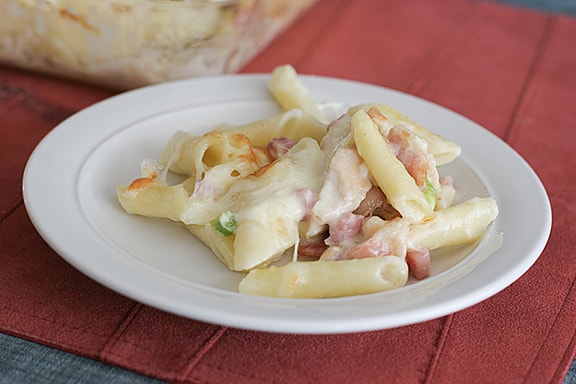 Chicken Cordon Bleu Pasta
The flavors of Chicken Cordon Bleu come together in a pasta dish.
Ingredients
Alfredo Sauce
1¼ cups Cache Valley Shredded Mozzarella Cheese, divided
¾ cup Parmesan cheese, grated, divided
½ cup Cache Valley Unsalted Butter
2 garlic cloves, minced
2 cups heavy cream
¼ teaspoon white pepper
Pasta
10 to 12 ounces penned pasta, cooked
1 chicken breast, cooked and diced into ¼-inch strips
¾ cup diced, cooked ham
¼ cup bacon, cooked and crumbled
additional optional ad-ins:
sliced green onions
steamed broccoli
fresh sliced mushrooms
Instructions
Prepare the Alfredo sauce: Melt the butter in a pot over medium heat. Add the white pepper, heavy cream and minced garlic. Bring the mixture to a simmer. Reduce heat to medium low. Add the Parmesan & Mozzarella, reserving about ⅓ of each cheese. Simmer for 5 – 10 minutes, stirring frequently.
Set the oven to broil. Coat a 9×13-inch baking dish with cooking spray. Add the cooked pasta, chicken, bacon, and any additional ingredients. Pour Alfredo sauce over the top, and gently stir to combine everything. Top with the reserved cheeses.
Place the baking dish on the oven's middle rack. Broil for 3-5 minutes, or until the cheese bubbles and turns light brown.
-------------------------
slightly adapted from Cache Valley Hometown Favorite Recipes
**Disclosure: I was not compensated for this post, but Cache Valley Cheese did send me a goody bag of products. All opinions expressed are my own.**