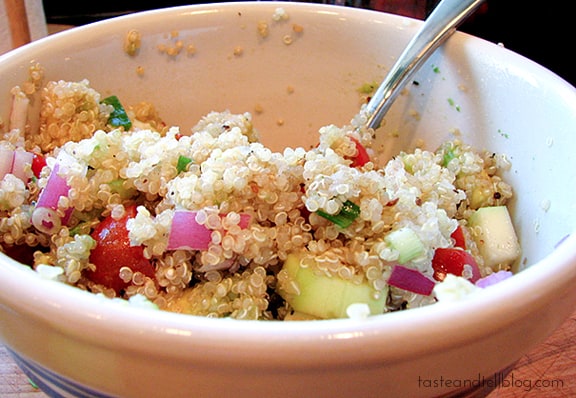 **Sorry about the bad photo – it was one of those nights where I just wanted to eat and didn't want to bother with trying for a good photo!!

I'll admit that I didn't really know a lot of things about food before I started blogging. I still don't know a lot about food, but this has been a learning journey. One thing I had never heard of before, but quickly learned is a favorite out there – is quinoa. I saw it being used in recipes, and everyone talked so highly of it, so naturally I started looking for it. And I looked, and I looked, and I looked. It actually took me several months until I stopped in at a store I had not been to before where I finally found this elusive grain.
So I bought some. But then it was a bit daunting when I read the package and it said that the grains must be cleaned first to remove it's bitter, resin-like coating. I wasn't quite sure how to do this, so I rinsed it through a dish towel (my version of a cheesecloth!) which worked, but the quinoa became a bit sticky and when I tried to put it in a pan to cook it, I lost a lot of it to the dishtowel that was holding on for dear life. Then I cooked it – and I love it!! I can see why this grain (or more accurately a seed) has been gracing the tables of so many people. Not only is it super healthy, but I really enjoyed the taste as well.
I didn't really use a recipe, more of a guideline like Brilynn did. I just threw in some halved grape tomatoes, zucchini, red and green onion, avocado, olive oil and red wine vinegar. We had it as a side dish one night, and I gladly ate the remainder for lunch the next day. So, if you haven't given it a try yet, go out and find some – it's worthy of all the hype!