Not your normal chicken noodle soup, this Asian Chicken Noodle Soup combines chicken, lots of veggies and ramen noodles in an Asian-inspired broth. This is a sure way to warm your belly!
For another change up to chicken noodle soup, try this Lemon Chicken Orzo Soup!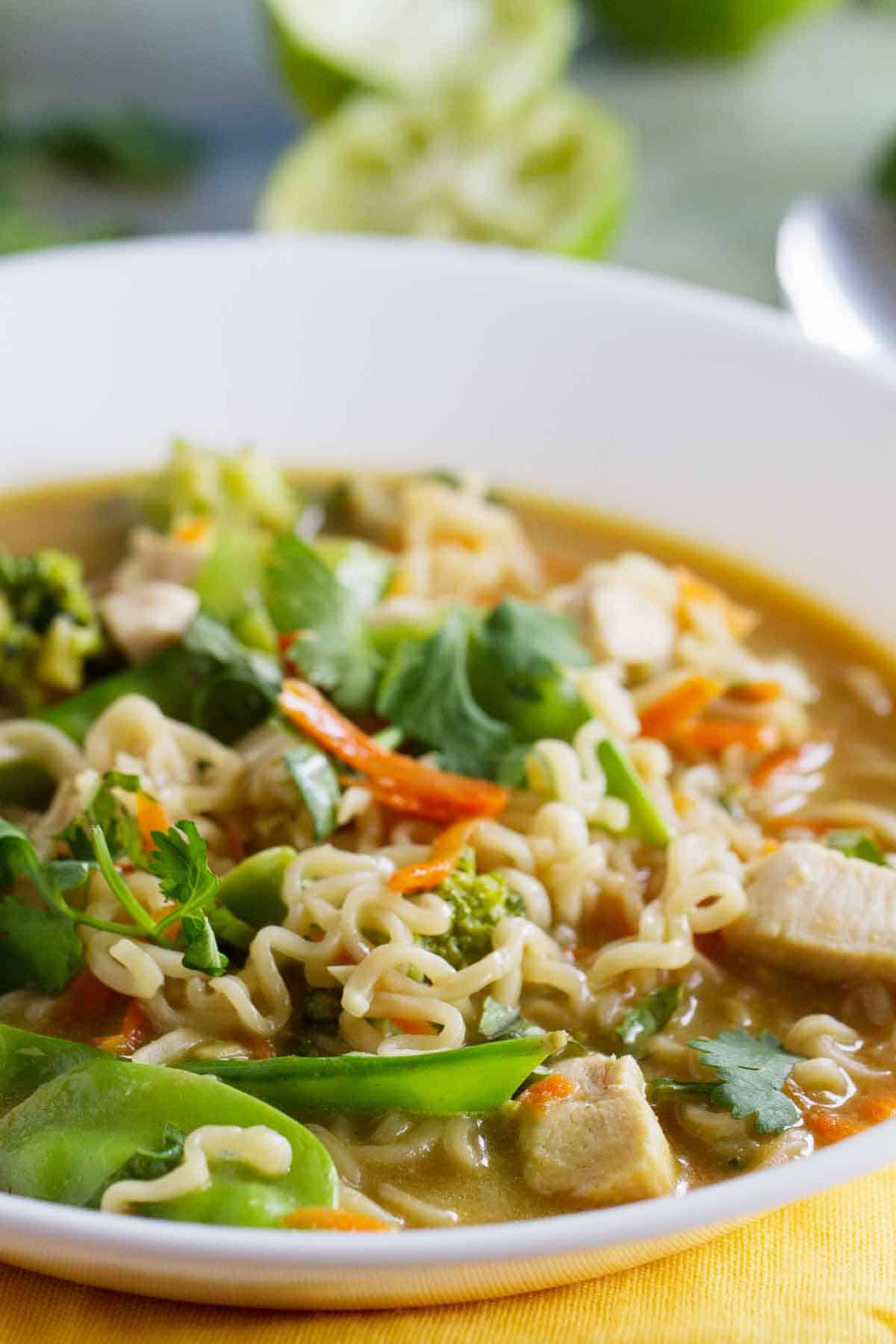 Last week we spent the better part of the week at a lodge in southern Utah. My whole family was there, and it was a wonderful, fulfilling week. We try to get together every year over New Years, and I look forward to it all year long. We sit around and talk, eat and play lots of games. The kids have fun playing together, and the adults get some much needed adult time.
One of the reasons that we like to get a big house/cabin/lodge where we can all stay together is that we can cook and eat together. Before we go, we split up meal duties, and all take turns cooking for the crowd. I had 2 meals, but was looking forward to some time off from the kitchen, since I feel like I live in the kitchen most days.
Well, I had to laugh while I was there, because I ended up cooking almost every day. It was then that I realized that being in the kitchen really is where I love to be, and where I really belong. While I thought I was looking forward to a break from the kitchen, it turned out that even on vacation, the kitchen is where I want to be.
You might think this is a funny story, coming from someone that blogs about food for a living, but sometimes I get so caught up in the business side of cooking that I forget just how much I really do love cooking. And I'm glad I had those days to remind me.
One of the most relaxing things for me to cook has always been soup. And this Asian Chicken Noodle Soup is the perfect soup to bring out this time of year when it seems like sniffles abound and you can feel the cold in your bones. I love the Asian flair, and I especially love all of the good for you veggies in this soup. And really, who said those ramen noodle packages are only for poor college students?
I say you get yourself in the kitchen and rekindle your love of cooking with this Asian Chicken Noodle Soup. You definitely won't regret it!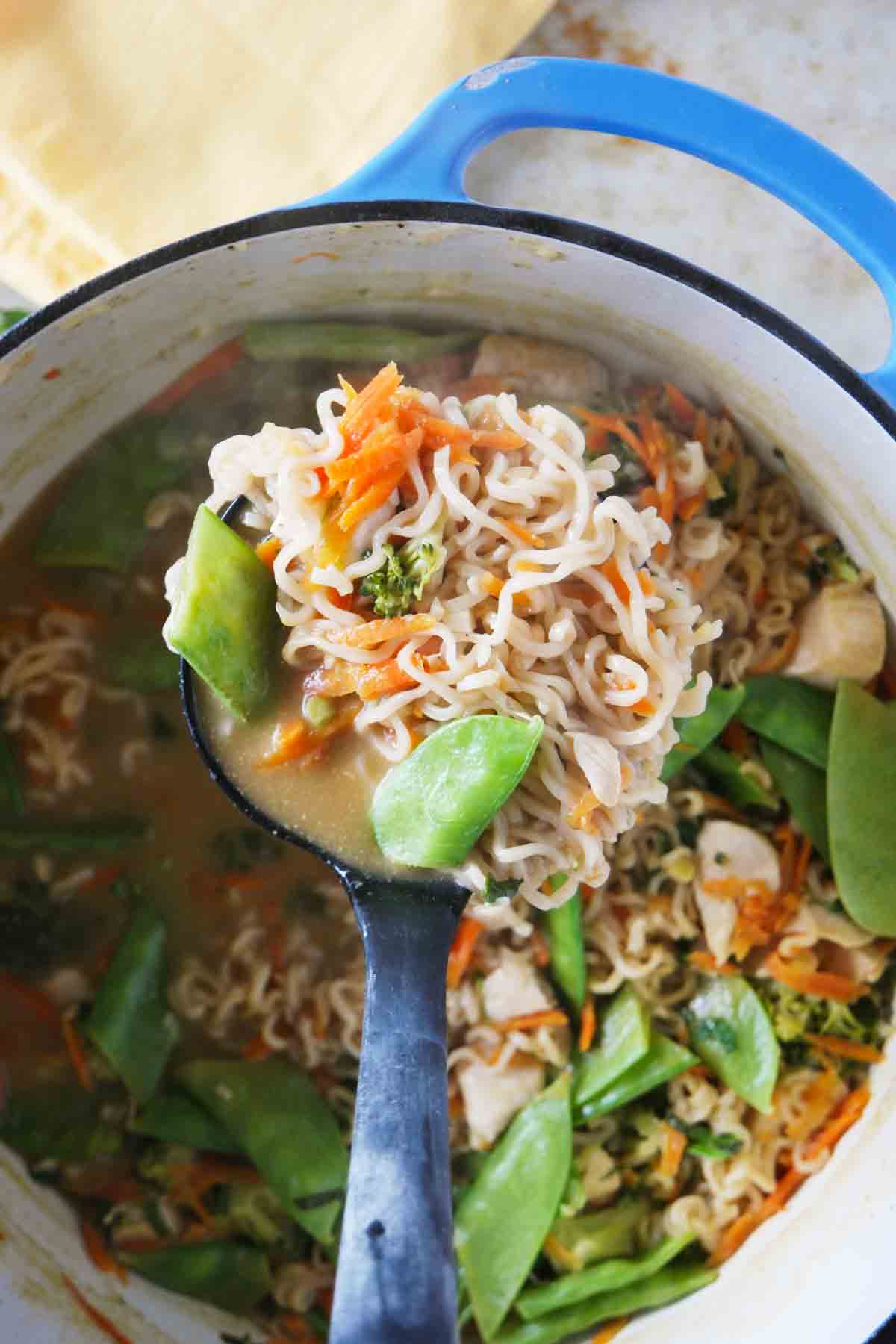 More Asian Inspired Recipes:
Chicken Lettuce Wraps
Asian Rice and Beef Stir Fry
Asian Beef and Cabbage Salad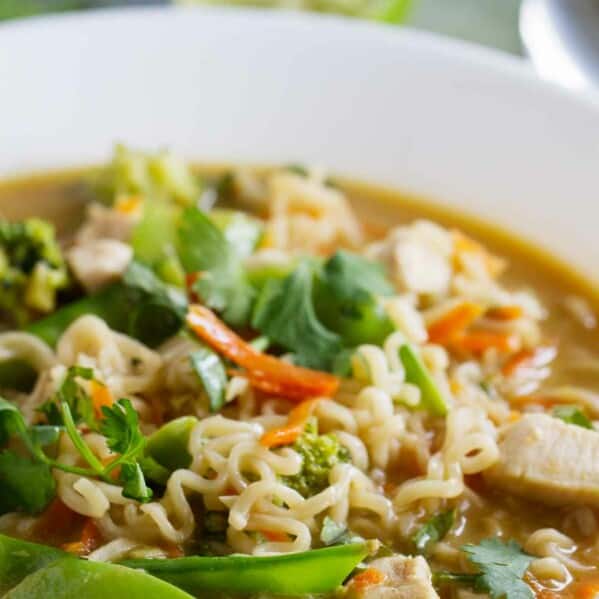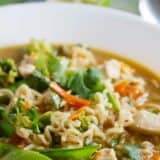 Asian Chicken Noodle Soup
---
Author:
Prep Time: 25 minutes
Cook Time: 15 minutes
Total Time: 40 minutes
Yield: 6 servings 1x
Category: Soup
Method: Stove Top
Cuisine: Asian
Description
Not your normal chicken noodle soup, this Asian Chicken Noodle Soup combines chicken, lots of veggies and ramen noodles in an Asian-inspired broth. This is a sure way to warm your belly!
---
Scale
Ingredients
2 tablespoons olive oil, divided
1 lb boneless, skinless chicken breasts, cut into bite-sized pieces
8 cloves garlic, minced
4 teaspoons minced fresh ginger
1 teaspoon ground cumin
dash of cayenne pepper
4 cups chicken broth
1 (14 oz) can unsweetened coconut milk (lite is ok)
2 cups shredded carrots
2 cups small broccoli florets
2 (3 oz each) packages chicken-flavored ramen noodles, coarsely broken
2 cups fresh snow pea pods, cut in half crosswise
2 tablespoons soy sauce
4 teaspoons fresh lime juice
1/2 cup finely shredded fresh basil
1/3 cup coarsely chopped fresh cilantro
---
Instructions
Heat 1 tablespoon of the olive oil in a Dutch oven or large soup pot over medium-high heat. Add the chicken and cook until browned and cooked through, about 5 minutes. Remove to a bowl and set aside.
Heat the remaining tablespoon of olive oil in the pot. Add the garlic, ginger, cumin and cayenne, and cook for 30 seconds. Add the chicken broth, coconut milk, carrots, broccoli, and ramen noodles. Bring the mixture to a boil, then reduce the heat and cover the pot. Cook for 3 minutes.
Add the seasoning packets, snow peas, soy sauce, lime juice, basil and cilantro and stir to combine. Serve immediately.
Recipe Notes:
adapted from Better Homes and Gardens
I like to add only one seasoning packet, then taste the soup to see if it needs more. One is usually enough for me, but you can add both.
Keywords: asian chicken noodle soup