These pumpkin cheesecake cupcakes have moist pumpkin cupcakes that have a cheesecake center baked in, and then are topped with a light brown sugar marshmallow frosting.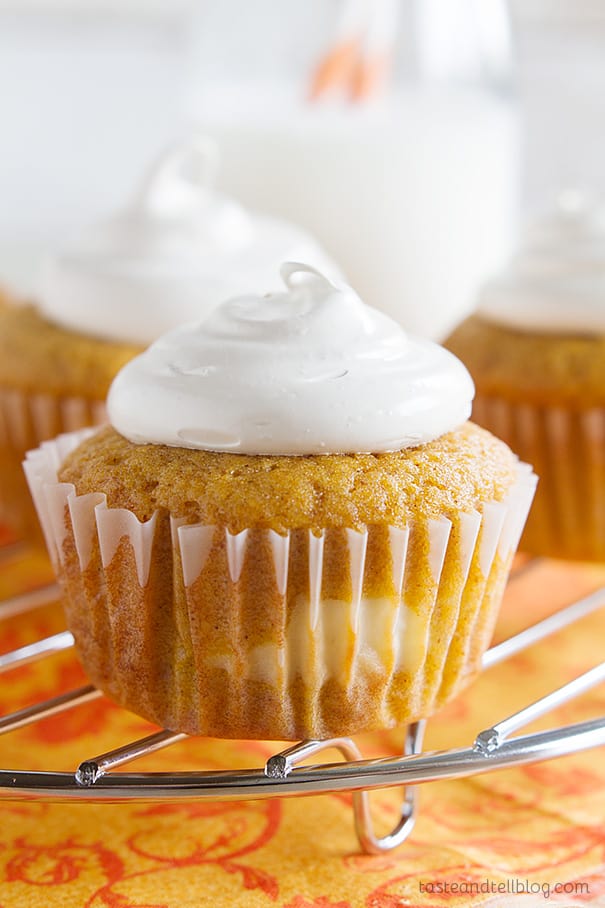 I originally posted these cupcakes on November 18, 2009, but as I often did back then, I kind of just posted the recipe and not much else. So I thought I'd bring this one back up front today to share with all of you and just start over!
We are several days into October, and I've been slacking on the pumpkin recipes. And I really wasn't planning on posting another sweet recipe today, because I have a whole week of sweet treats coming to you this week, but I couldn't resist. I have several pumpkin cupcake recipes posted here on Taste and Tell, but as I was browsing through the archives, I knew I wanted to make these again.
Because what is better than a pumpkin cupcake that is stuffed with a cheesecake mixture? Oh yeah, one that is also topped with a brown sugar marshmallow frosting!!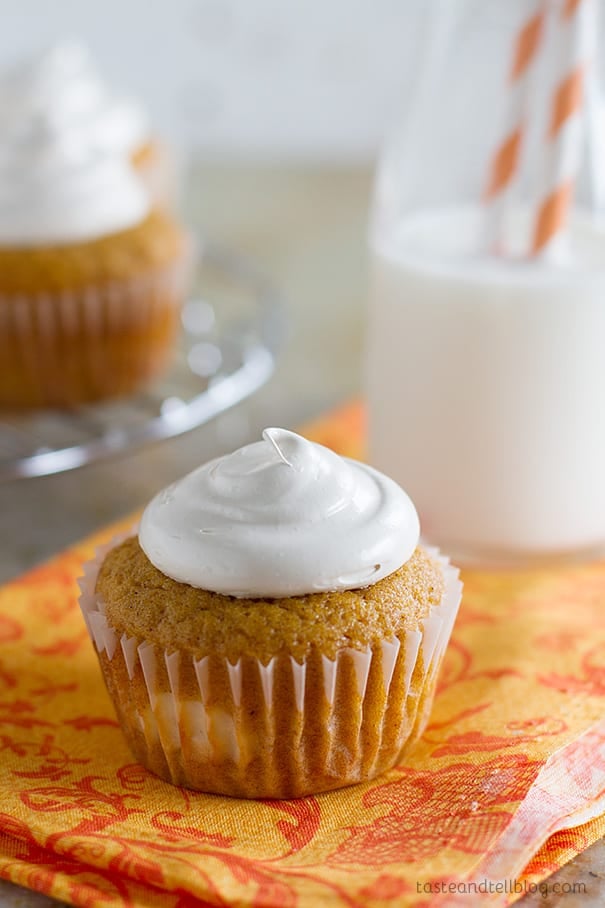 I think I've improved a lot in the kitchen over the past few years, and I did end up tweaking a few things on this recipe to make it just right. The original recipe said that it made 12 cupcakes, and while I was filling the cups, I kept thinking that they were just too full. And I should have listened to my instincts, because while they didn't overflow, they were far from perfect. After testing and trying again, I actually decided that 18 cupcakes was the right amount. The cups are filled the perfect amount, making the perfect pumpkin cheesecake cupcakes.
You really could stop there, and you'd have delicious cupcakes. Or even call them muffins without frosting, right? But this brown sugar marshmallow frosting really takes these over the top. I would have never thought that the perfect companion for pumpkin cheesecake cupcakes would be a marshmallow frosting, but they really do go perfectly together.
These Pumpkin Cheesecake Cupcakes are just one reason I love fall baking!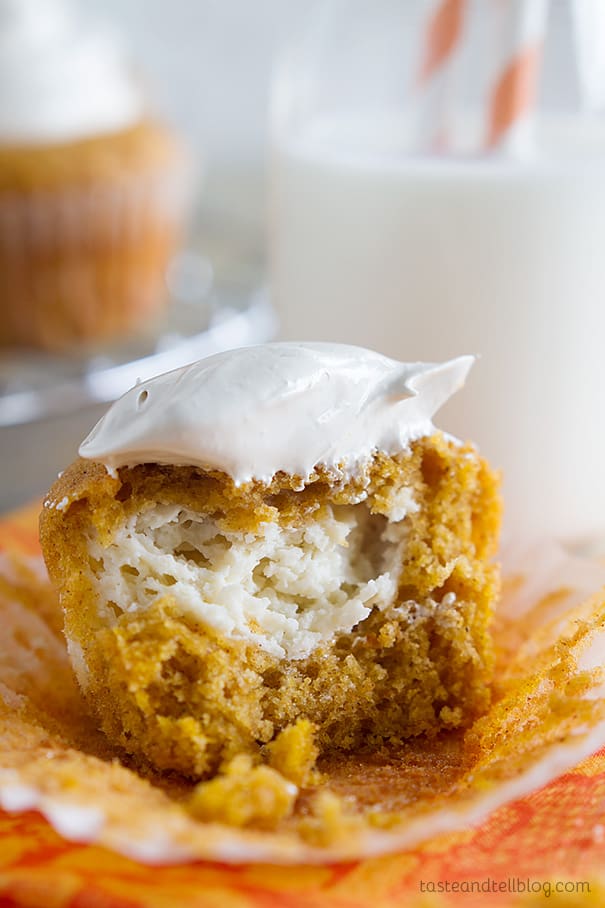 Like what you see here? Make sure you are following Taste and Tell for more great recipes and ideas!!

Facebook ** Pinterest ** Twitter ** Instagram ** Google+
or you can subscribe to my newsletter or Feedly or Bloglovin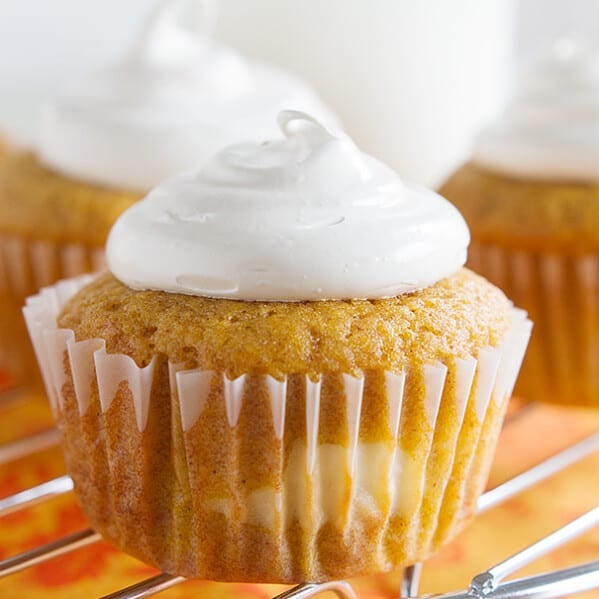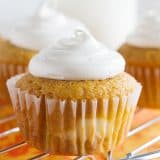 Pumpkin Cheesecake Cupcakes with Brown Sugar Marshmallow Frosting
---
Prep Time: 25 minutes
Cook Time: 20 minutes
Total Time: 1 hour
Yield: 18 cupcakes 1x
Description
These pumpkin cheesecake cupcakes have moist pumpkin cupcakes that have a cheesecake center baked in, and then are topped with a light brown sugar marshmallow frosting.
---
Scale
Ingredients
Filling:
1 package (8 oz) cream cheese, softened
1/2 cup powdered sugar
1 egg white
1/2 teaspoon vanilla extract
Cupcakes
1 1/2 cups all-purpose flour
2 teaspoons pumpkin pie spice
1 1/2 teaspoons baking powder
1/2 teaspoon salt
1 cup pumpkin puree
1 cup sugar
2 eggs
1/2 cup vegetable oil
1 teaspoon vanilla extract
Brown Sugar Marshmallow Frosting
4 egg whites
1 cup light brown sugar
1/2 teaspoon vanilla extract
---
Instructions
Preheat the oven to 350ºF. Line 18 muffin cups with paper liners.
With an electric mixer, beat the cream cheese and the powdered sugar until light and fluffy, about 3 minutes. Add in the egg white and the vanilla and beat to combine.
In another bowl, whisk together the flour, pumpkin pie spice, baking powder and salt. In a second bowl, combine the pumpkin puree, sugar, eggs, vegetable oil and vanilla. Add the flour to the pumpkin mixture and stir just until combined.
Put about 1 tablespoon of the pumpkin batter in each prepared cup. Add a dollop (about 2 teaspoons) of the cheesecake mixture on top of the pumpkin batter. Add another spoonful of pumpkin batter, dividing it evenly over the cheesecake filling, filling each cup about 2/3 full.
Bake the cupcakes until they are springy to the touch, about 25 minutes. Let cool completely.
To make the frosting, beat the egg whites and the brown sugar int eh bowl of an electric mixer to combine. Bring a small pot with about 1 inch of water to a simmer and place the mixer bowl over the top. Whisk the mixture until it registers 160ºF on an instant read thermometer.
Return the bowl to the mixer and beat until light and fluffy, then lower the speed and continue to beat until the frosting is at room temperature, about 5 minutes. Beat in the 1/2 teaspoon of vanilla.
Pipe the frosting on the cooled cupcakes.