The perfect chicken dinner for those nights when you want to keep it simple, these Easy Lime Baked Chicken Thighs are tender, juicy, and full of flavor.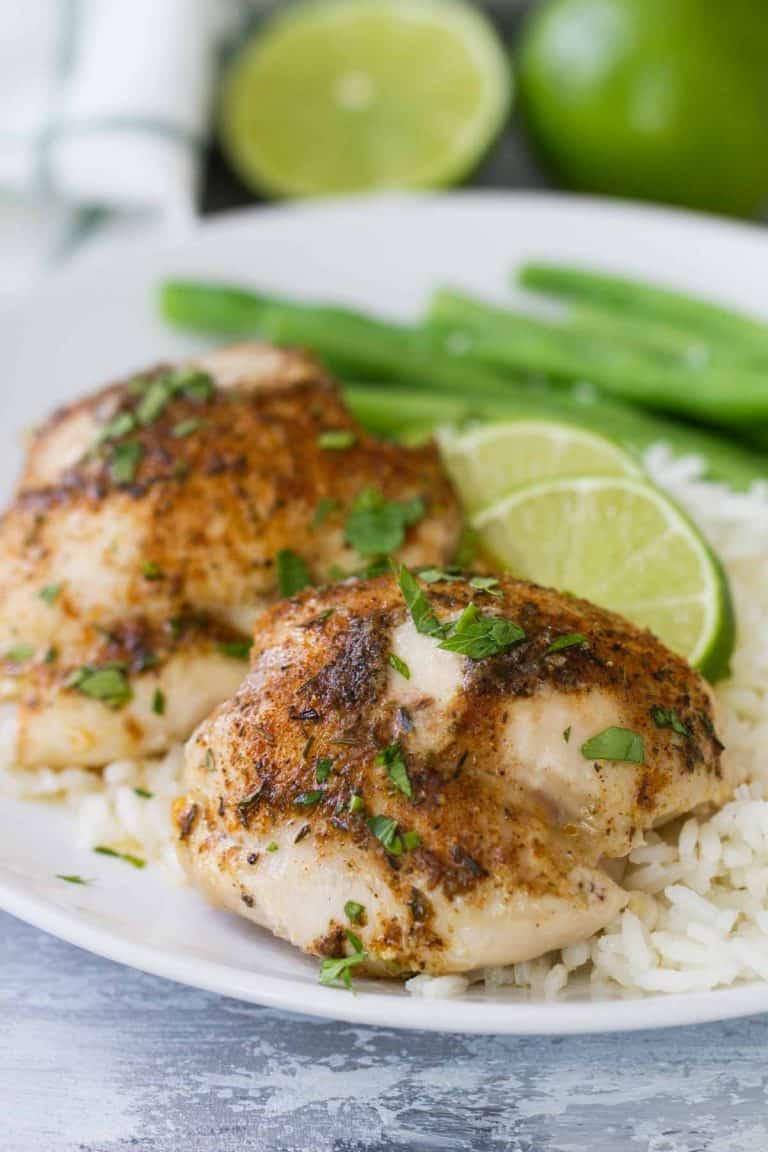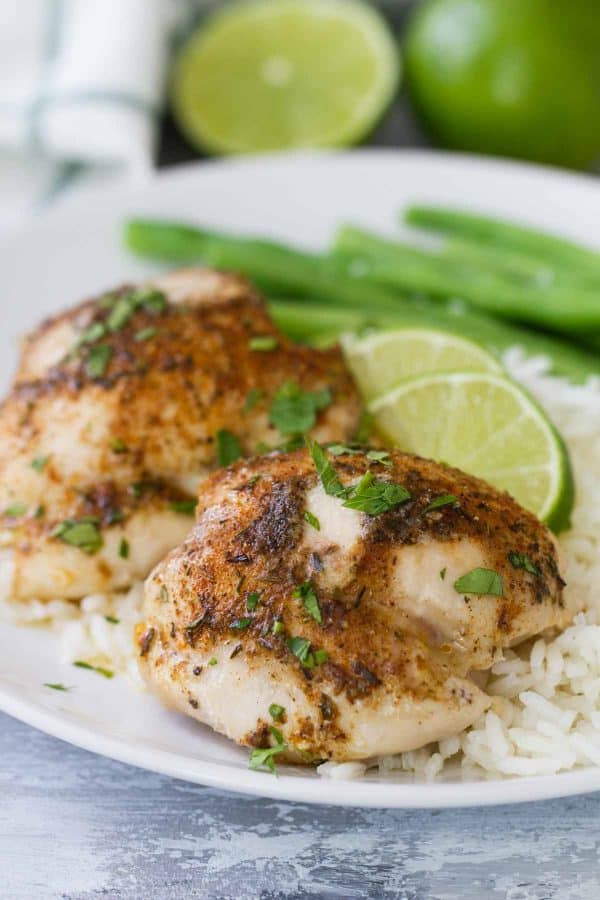 As much as I hate to admit it, I have come to realize that I thrive on being busy. Sometimes I think I'm going to lose my mind because there is too much to do and too little time, but when things get quiet and slow for very long, I start to get antsy. I wouldn't know what to do without an overflowing to-do list and days filled from sun up to (long after) sun down. (Although let me be clear – I do cherish those moments when I have down time!!)
But while I'm go-go-going, sometimes my body yells at me to stop. Too little sleep, too much stress. I rarely get sick. When a cold or fever goes through my house, I'm not the one that catches them. Every once in awhile, though, my body says enough is enough. I'll catch one of those bugs and it will wipe me out completely. And this weekend, one of those bugs struck.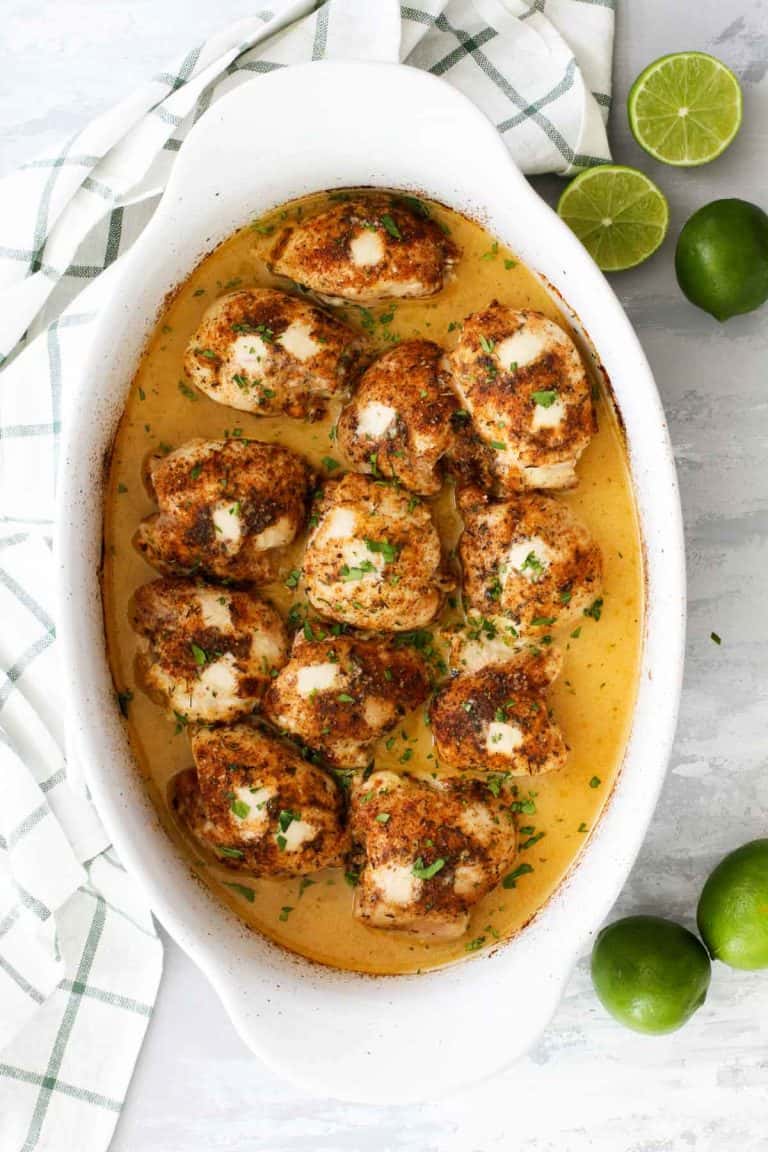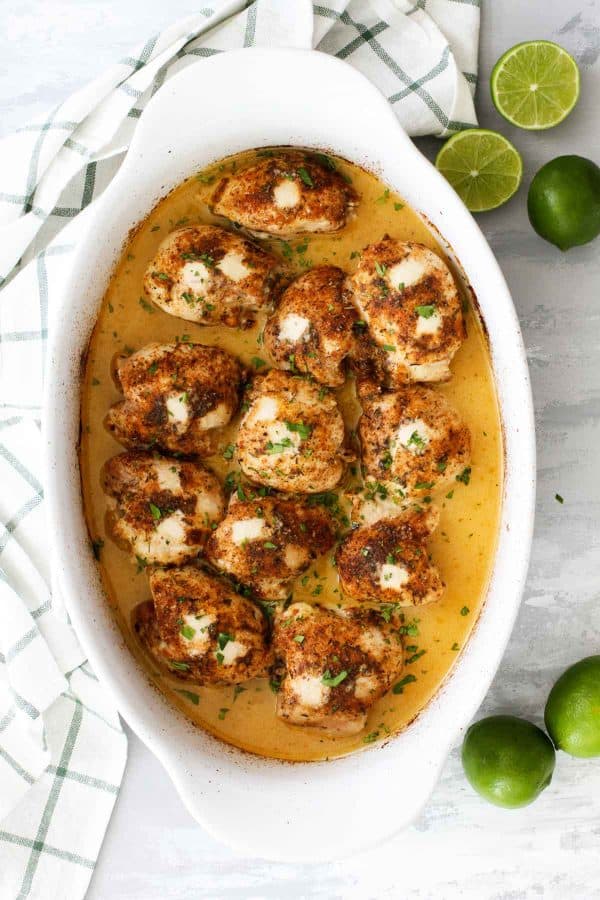 I spent the last 2 days in bed, not wanting to move because of a headache that wouldn't leave no matter what I did. As I laid in bed, neglecting all of my motherly duties and all of my blogging duties, I had to remind myself that my body was telling me to slow down. To take a day (or two) off. That the world won't fall apart if I relax.
I obviously need that reminder time to time. It also reminds me that it's always a good idea to simplify when I can, and to cut back when I can.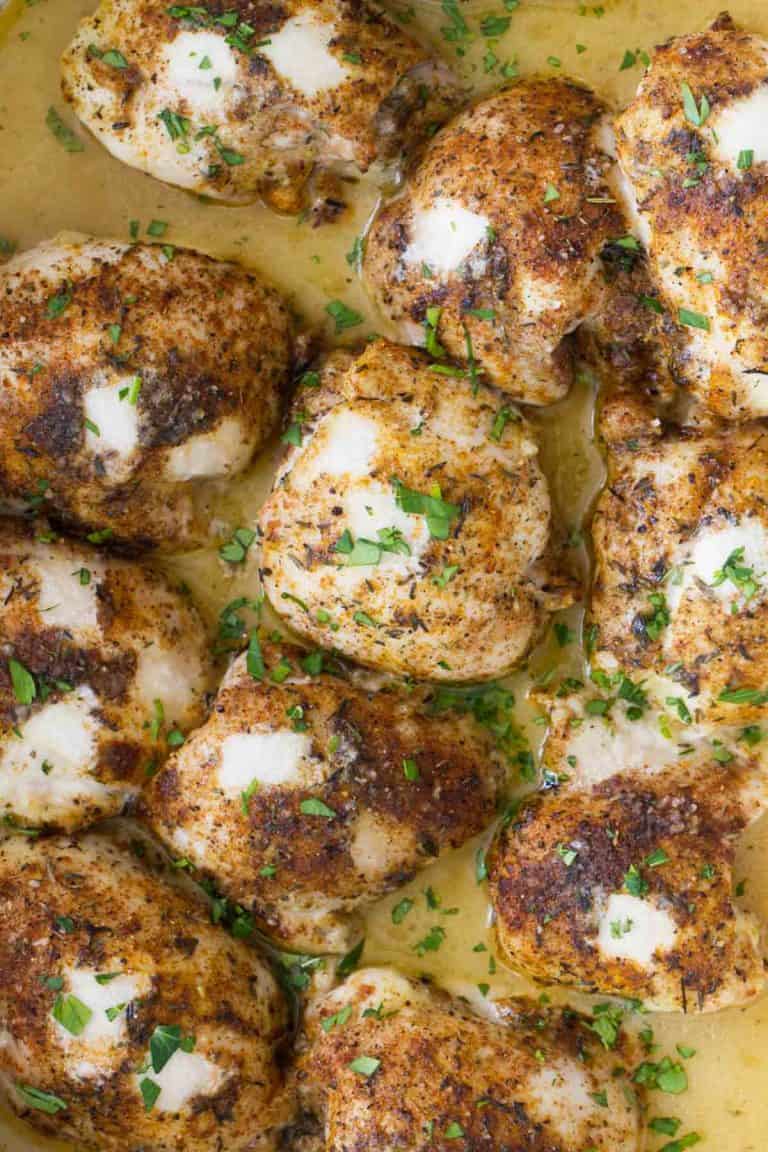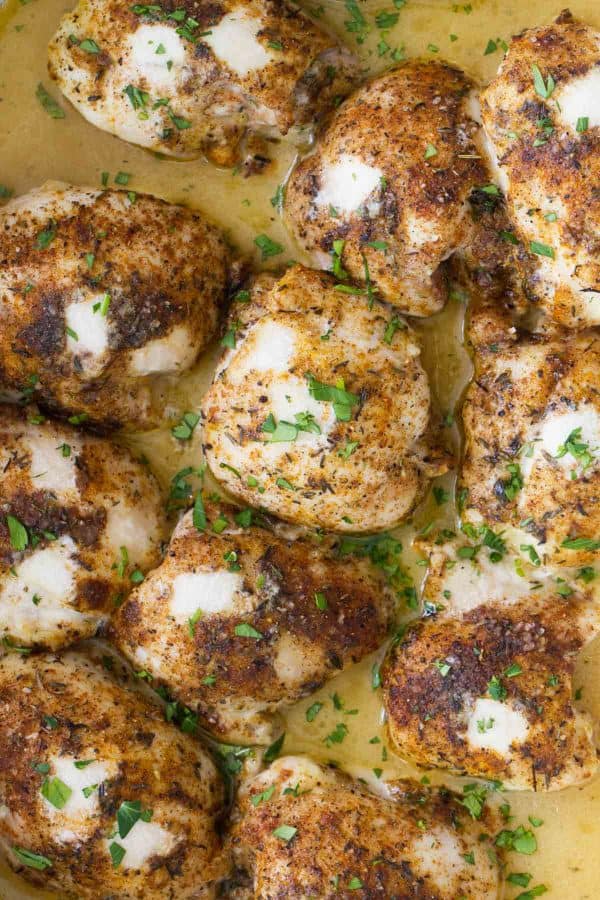 Now, I'm not one to ever really go crazy or over the top with dinner plans. I tend to always keep things pretty simple. But these Easy Lime Baked Chicken Thighs just may be my new fall back when I'm feeling that need to slow down. Because dinner really doesn't get much easier than this recipe. You can honestly have this prepped and ready to slide into the oven before the oven has even had time to preheat completely. You can't beat that for simplicity!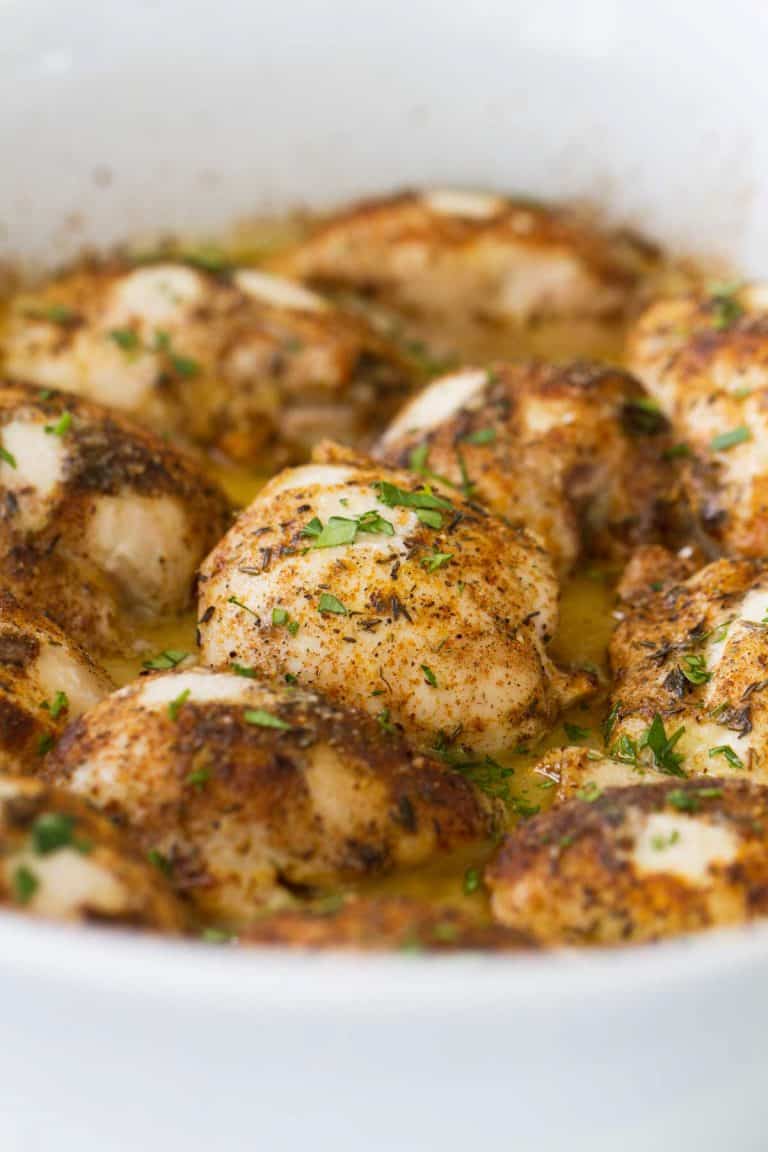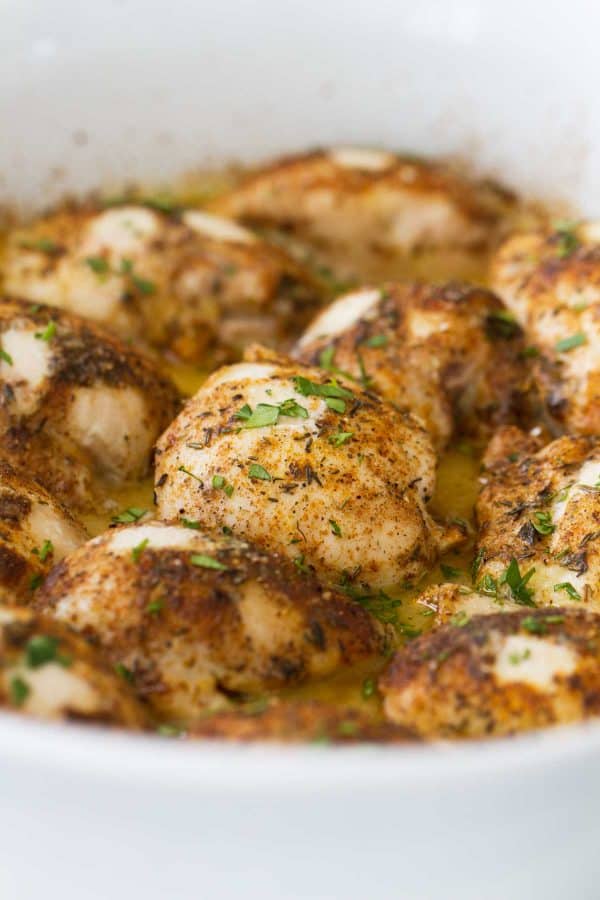 Why use chicken thighs instead of chicken breasts?
I have long been a fan of chicken thighs. While I do use breasts often, they are hard to cook and keep moist and flavorful. It seems like 15 seconds too long in the oven and you have dry, tasteless chicken. You don't run into that problem as easily with chicken thighs. They are very forgiving, aka super easy to cook, and they have so much more flavor. You are adding a few extra calories and fat grams, but it's all worth it to me! You could definitely sub in chicken breasts if you want, but you won't get the juicy, flavorful chicken that you would by using thighs.
Weeknights or weekend – these Easy Lime Baked Chicken Thighs just may become your go-to, as well!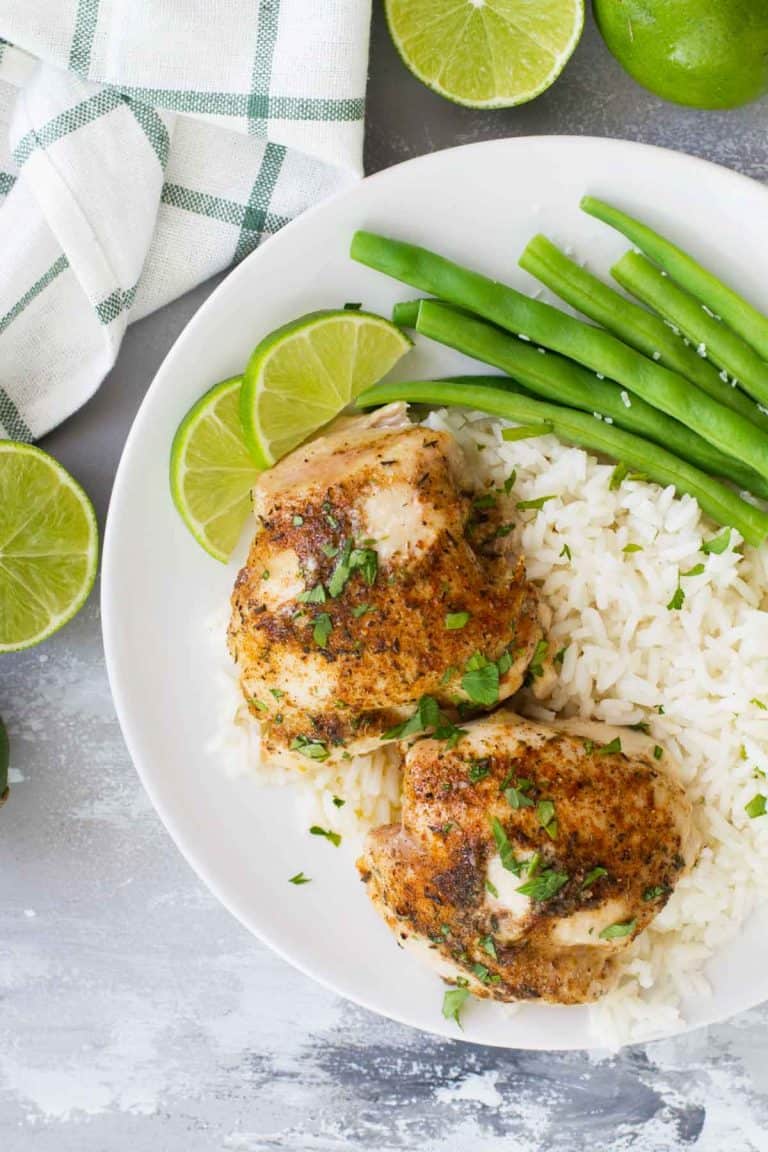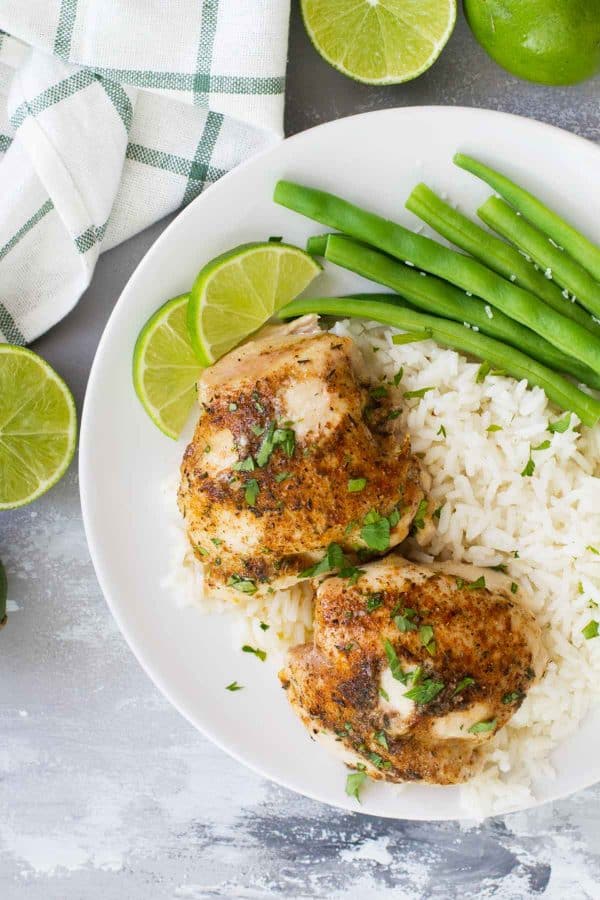 Here are more boneless chicken thigh recipes:
Pressure Cooker Honey Garlic Chicken
Cheesy Ranch Chicken with Potatoes
Grilled Brown Sugar Mustard Chicken
Lemon Butter Chicken Thigh Recipe from Wonky Wonderful
Crock Pot Balsamic Caprese Stuffed Chicken Thighs from Sugar-Free Mom
Like what you see here? Make sure you are following Taste and Tell for more great recipes and ideas!!

Facebook ** Pinterest ** Twitter ** Instagram ** Google+
or you can subscribe to my newsletter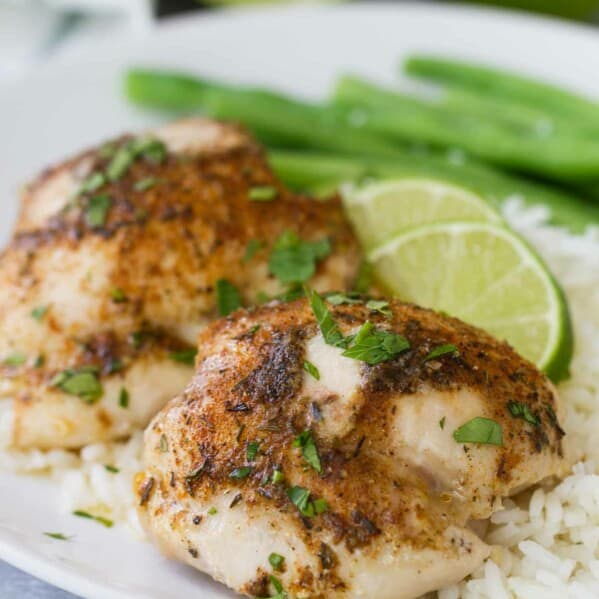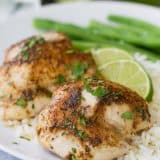 Easy Lime Baked Chicken Thighs
---
Author:
Prep Time: 10 mins
Cook Time: 25 mins
Total Time: 35 minutes
Yield: 6 servings 1x
Category: Main Dish
Description
The perfect chicken dinner for those nights when you want to keep it simple, these Easy Lime Baked Chicken Thighs are tender, juicy, and full of flavor.
---
Scale
Ingredients
3 1/2 lbs boneless, skinless chicken thighs
6 tablespoons fresh lime juice
1 teaspoon brown sugar
1 teaspoon chicken bouillon granules
1/2 teaspoon salt
1/2 teaspoon poultry seasoning
1/2 teaspoon dried thyme
1/4 teaspoon black pepper
1/4 teaspoon paprika
2 tablespoons butter, cut into small cubes
---
Instructions
Preheat the oven to 425ºF. Spray a 9×13-inch dish with nonstick cooking spray.
Place the chicken thighs in the baking dish. Pour the lime juice evenly over the chicken.
In a small bowl, combine the brown sugar, chicken bouillon granules, salt, poultry seasoning, thyme, pepper and paprika. Sprinkle evenly over the chicken. Dot the chicken with the butter.
Bake in the preheated oven for about 25 minutes, or until a thermometer reads 165º.
Nutrition
Serving Size: 2 chicken thighs
Calories: 345
Sugar: 1 g
Sodium: 567 mg
Fat: 14 g
Saturated Fat: 5 g
Unsaturated Fat: 1 g
Trans Fat: 0 g
Carbohydrates: 2 g
Fiber: 5 g
Protein: 51 g
Cholesterol: 232 mg