Alfajores de Dulce de Leche – two crisp and sandy cookies are sandwiched with dulce de leche.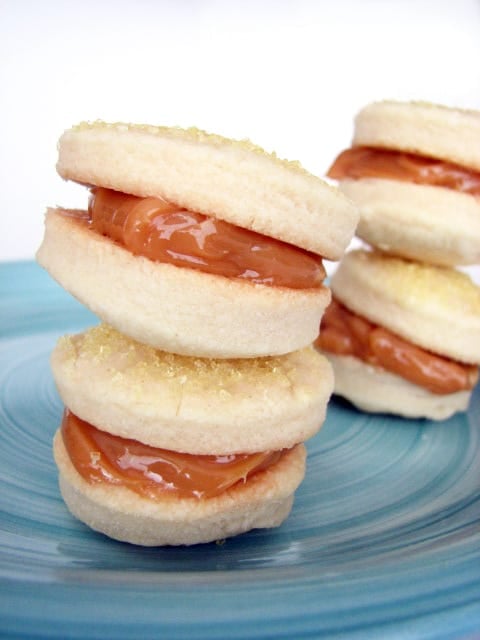 If there is one cookbook I would suggest buying right now, it would be Martha Stewart's Cookies. Granted, I know it's not brand new – it's been out for several months already – and I have already seen so many people write about it, so I know most people have it, but it is really a great book. I can't help but want to make cookies when I go through the pages of this book. And all of the pictures make it even better! I love seeing all of the cookies and brownies that have been made from this book, and along with the others that I've already posted about, I'm adding one more.
This recipe has been one of my favorites. But I knew it would be because they contain dulce de leche! This recipe is probably not ideal for a family of 2, since you are only supposed to fill the cookies within 30 minutes of eating them. But we made it work, as we usually do, but just keeping the cookies and the dulce de leche separate, and filling the cookies as we ate them. They were everything I expected them to be – a dense, almost crumbly cookies filled with sweet, satiny dulce de leche. And one of these days I'm going to buy some regular sanding sugar instead of having to use the colored kind I have all of the time!!
I've talked about the different ways to make dulce de leche before, but this recipe uses my favorite method. It does take some time, but is easy to do on a day when you will be home for awhile. All it takes is a stir or two every 15 minutes. But the best part about this method is that you can see what is happening and you can control how dark you want your dulce de leche to be.
I have bookmarked many versions of this cookie, and want to try them all, but I do know this one is delicious!!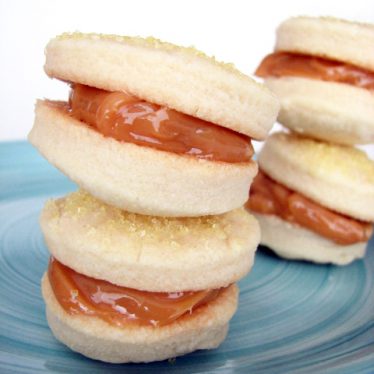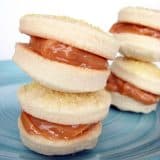 Alfajores de Dulce de Leche
---
Author:
Yield: 3 1/2 dozen 1x
Category: Dessert
Method: Baked
Cuisine: South American
Description
Alfajores de Dulce de Leche – two crisp and sandy cookies are sandwiched with dulce de leche.
---
Scale
Ingredients
2 (14-ounce) cans sweetened condensed milk
4 cups all-purpose flour, plus more for work surface
1/4 cup plus 2 tablespoons confectioners' sugar
1 1/2 cups (3 sticks) chilled unsalted butter, cut into pieces
1/2 cup water
sanding sugar, for sprinkling
---
Instructions
Make the dulce de leche: Empty the milk into the top of a double boiler or a heatproof bowl over a pan of simmering water. Cover with a tight fitting lid. Cook, stirring every 10 to 15 minutes, until the milk is thick and amber in color, about 5 hours. Remove from heat, and beat with a wooden spoon to smooth out. Transfer to a clean bowl, and refrigerate several hours, up to 3 days.
Line 2 baking sheets with parchment paper.
Sift together the flour and confectioners' sugar. Add to a food processor, along with the butter and pulse until it resembles coarse meal, about 20 seconds. With the food processor running, pour the water in a slow stream and process just until dough comes together, about 20 seconds. Form the dough into two flattened disks, wrap well with plastic wrap, and refrigerate for 1 hour.
Preheat the oven to 350F. On a well floured work surface, roll out one disk into a 1/4 inch thickness. Using a 1 3/4 inch round cookie cutter, cut out rounds from the dough and transfer to the prepared baking sheet. Repeat with the other disk of dough. Gather up the scraps from both batches, reroll and cut. Sprinkle half of the rounds with sanding sugar. Bake until golden brown, about 15 mintues, rotating the sheets halfway through. Transfer to a wire rack to cool completely.
About 30 minutes before serving, spread 1 teaspoon of the cold dulce de leche on the bottom of the unsugared cookies. Place a sugared cookie on top to make sandwiches. Serve immediately.
Unfilled cookies can be stored in an airtight container at room temperature for 3 days.
Recipe Notes: