Tis the season! These Gingerbread Cookie Cupcakes have a gingerbread cookie bottom topped with a gingerbread cupcake. Then they are topped off with a brown sugar cream cheese frosting and another gingerbread cookie for triple gingerbread love!
Well, we are in the home stretch. We are to the point where my kids are asking every 5 minutes how many more days until Christmas. I'm almost done with the shopping (just have to figure out what to get for my dad still!!). Santa has been visited, and miracle of all miracles, all of my kids sat on his lap and told him what they wanted. No tears, no frightened kids.
Let me tell you – I am ready to sit back and relax and enjoy a few days filled with family, food and fun. It's the best time of the year!!

But I'm going to try to sneak in just a few more recipes before the big day. This is my last dessert of the year that I am posting. It has been fun to go a little crazy this month with the Christmas baking, but it will be nice to get back into the regular swing of things.
These cupcakes came about when I was sitting in the kitchen, staring at a gingerbread cookie mix. Inspiration struck, and I had to go with it. And I loved how these Gingerbread Cookie Cupcakes turned out. I haven't always been the biggest gingerbread fan, but I am now realizing what I have been missing out on. I love the subtle spiciness of the ginger. And turning that package of cookie mix into a cupcake creation? Game on!!
I started out by preparing the cookie dough, and baking a small amount in the bottom of the cupcake liners for a "crust". My original plan was to just bake the cookies and place one in each cup, but then I realized it would be a lot easier (and I wouldn't have to worry about getting the size just right) if I just baked the cookie right in the liner. Worked like a charm! Then a gingerbread-flavored cupcake is baked on top. Top the cupcakes off with a brown-sugar cream cheese frosting (!!!) and then another gingerbread cookie – just for fun.
Feel free to swap in your favorite recipe for gingersnaps if you want – just make sure that they are soft gingersnaps. Otherwise your cupcakes might be hard to eat.
I loved that the cookie bottom stayed nice and soft and almost blended into the cupcake. Everything just seemed to work together so well to form a perfect holiday cupcake.
There are still a few days until Christmas – I know I'm going to bake up all that I can – which may include another batch of these Gingerbread Cookie Cupcakes!! 🙂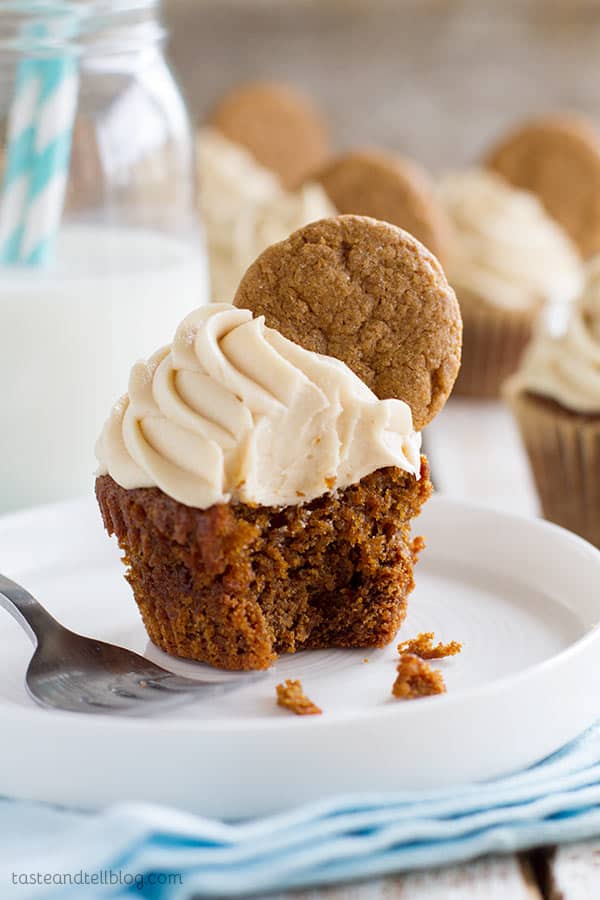 Like what you see here? Make sure you are following Taste and Tell for more great recipes and ideas!!

Facebook ** Pinterest ** Twitter ** Instagram ** Google+
or you can subscribe to my newsletter or Feedly or Bloglovin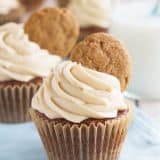 Gingerbread Cookie Cupcakes
---
Prep Time: 20 mins
Cook Time: 32 mins
Total Time: 52 mins
Yield: 24 cupcakes 1x
Description
Tis the season! These Gingerbread Cookie Cupcakes have a gingerbread cookie bottom topped with a gingerbread cupcake. Then they are topped off with a brown sugar cream cheese frosting and another gingerbread cookie for triple gingerbread love!
---
Scale
Ingredients
Gingerbread Cookies
1 package (17.5 oz) Betty Crocker Gingerbread Cookie Mix
1/2 cup butter, softened
1 egg
1 tablespoon water
Gingerbread Cupcakes
1 1/3 cups all-purpose flour
1 teaspoon cinnamon
1/2 teaspoon baking powder
1/2 teaspoon baking soda
1/2 teaspoons salt
1/2 teaspoon ginger
1/2 teaspoon nutmeg
1/4 teaspoon allspice
1/2 cup vegetable oil
1/2 cup light brown sugar
1 egg
1/2 cup buttermilk
1/2 cup molasses
Brown Sugar Cream Cheese Frosting
8 oz cream cheese, softened
1/2 cup butter, softened
1 cup light brown sugar
3 cups powdered sugar
pinch of salt
1 teaspoon vanilla
---
Instructions
Preheat the oven to 350ºF. Line 24 muffin tins with cupcake liners.
In a large bowl, combine the Betty Crocker Gingerbread Cookie mix, 1/2 cup butter, egg and water. Mix until a soft dough forms. Measure out 24 1 tablespoon balls of the dough and flatten slightly. Place one in the bottom of each of the prepared cupcake liners. Bake until just set but still very soft, about 6 minutes. Set aside. Take the remaining dough and form it into 1/2 tablespoon sized balls. Place on an ungreased cookie sheet, 1 inch apart. Flatten the dough with the bottom of a glass dipped in sugar. Bake the cookies until the edges are set, 5-7 minutes. Let the cookies cool completely on a cooling rack.
To make the cupcake batter, whisk together the flour, cinnamon, baking powder, baking soda, salt, ginger, nutmeg and allspice in a bowl. In the bowl of a mixer, beat together the vegetable oil and sugar. Add in the egg and beat until combined. Scrape down the sides of the bowl. Add in the buttermilk and molasses and beat to combine. Pour the dry ingredients into the bowl and mix until completely combined. Divide the batter between the 24 cupcake liners, adding the batter on top of the cookies. Bake until a tester inserted in the cupcakes comes out clean, 17-19 minutes. Let the cupcakes cool completely.
To make the frosting, beat the cream cheese until smooth. Add the butter and continue to beat until light and fluffy. Add the brown sugar and one cup of the powdered sugar. With the mixer on low, beat the frosting and continue to add the powdered sugar, 1/2 cup at a time. Add the vanilla, then beat the frosting until light and fluffy, 2-3 minutes.
Pipe the frosting onto the cupcakes. Top each cupcake with one of the mini gingerbread cookies.
Recipe Notes:
Feel free to substitute in your favorite gingerbread cookie recipe – just make sure it is a soft gingerbread cookie.
More Gingerbread Love: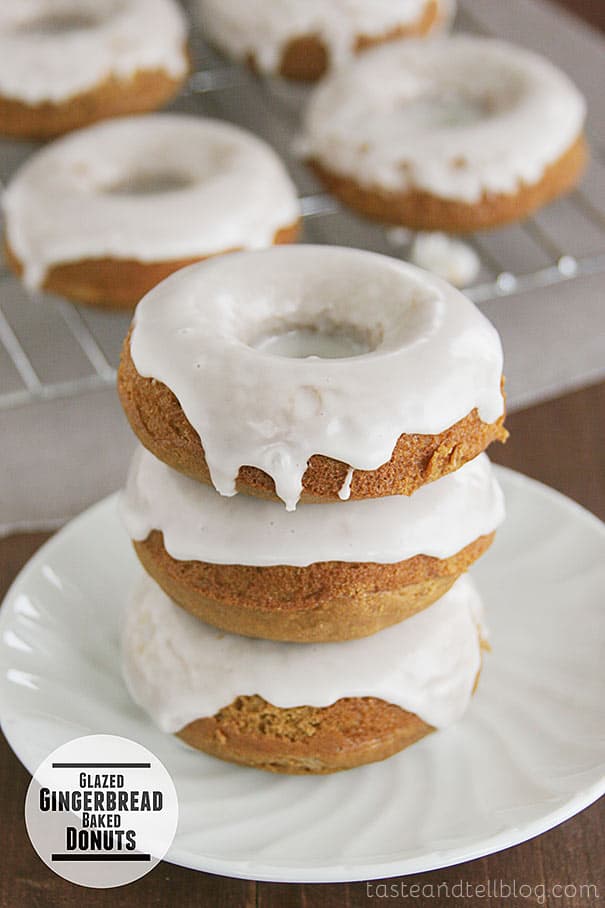 Glazed Gingerbread Baked Donuts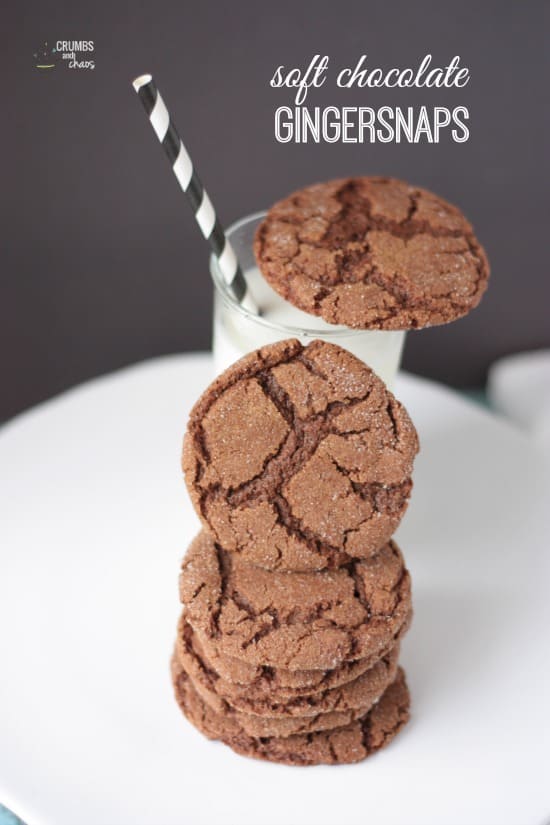 Around the Web:
White Chocolate Dipped Ginger Cookies from Cooking Classy
Gingerbread Cookie Bark from Something Swanky
Gingerbread Cookie Bars from The Girl Who Ate Everything
Gingerbread Bars from Buns in My Oven
Gingerbread Brownies from Sweet Basil