Perfect for a special breakfast or treat, this Chocolate Cherry Roll has a rich, soft dough that is filled with cherries and chocolate chips. Serve up slices as part of a brunch spread or just for a sweet treat.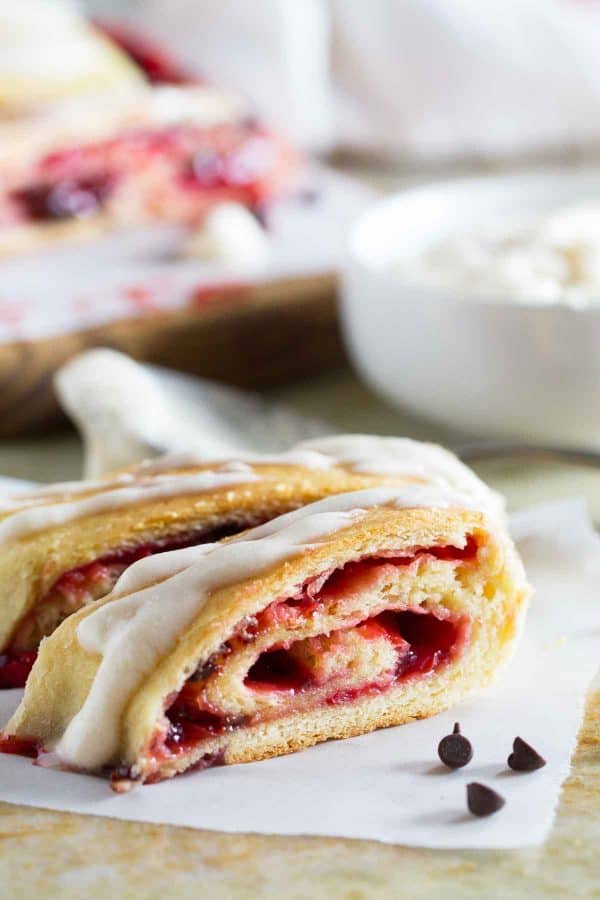 I am a Bake a Little Extra Blog Ambassador and this post is sponsored by Fleishmann's® Yeast. I'm so glad to be able to work with companies and organizations that I truly believe in. Thank you for supporting them, too.
It's the most wonderful time of the year!!
Oh, how I love the holiday season. I know I keep saying it over and over again, but I love how joyful and festive everything is this time of year. I've loved it since I was a kid, and I'm so happy that I can still feel that joy today.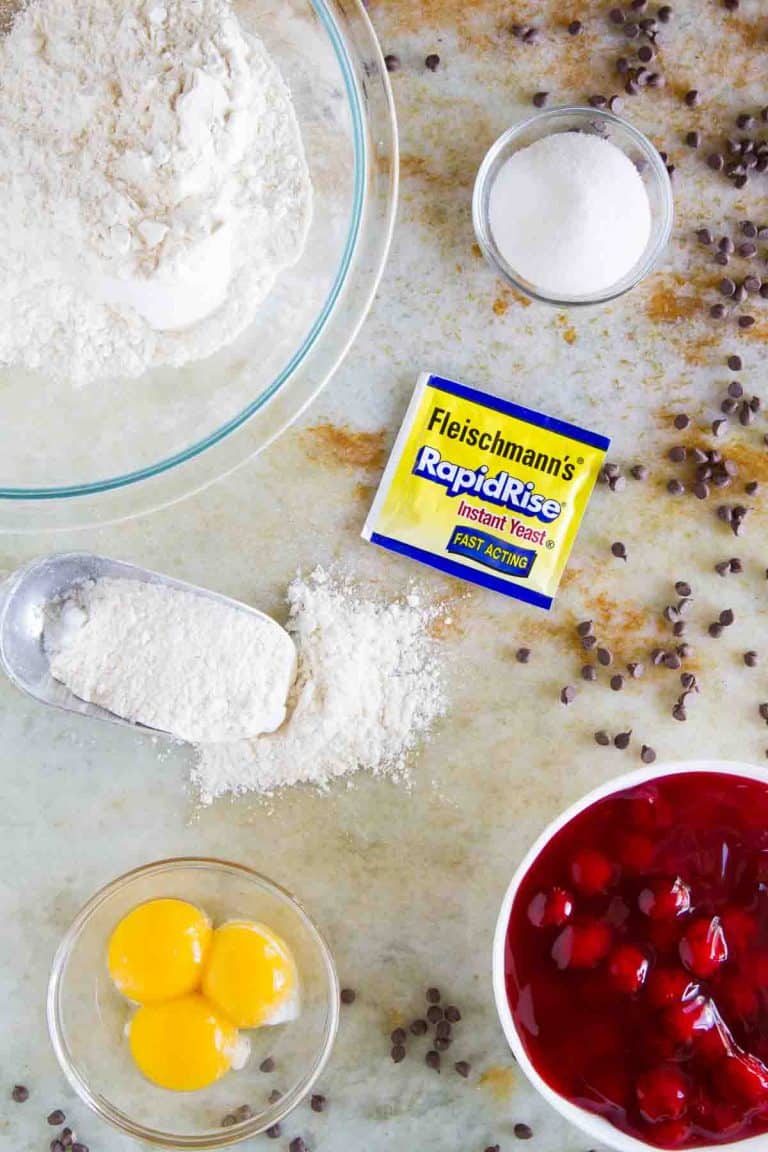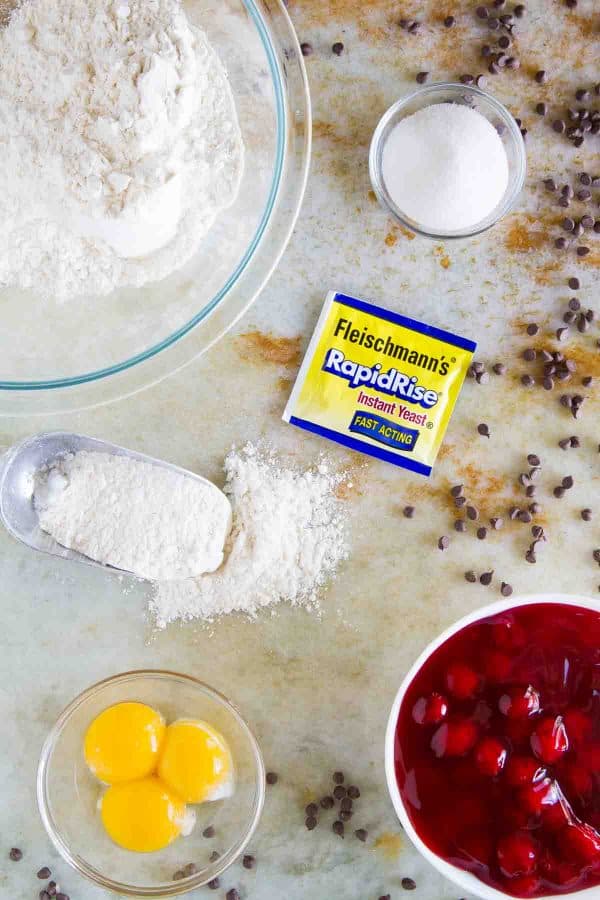 Growing up, my mom would always make chocolates to take to all of our neighbors. Sometimes she would start months in advance. The freezer would be full of un-dipped chocolates. And then, the weeks leading up to Christmas, she would start dipping them. Then the treats would start coming from the neighbors. The counter would fill with cookies and popcorn and homemade cinnamon rolls.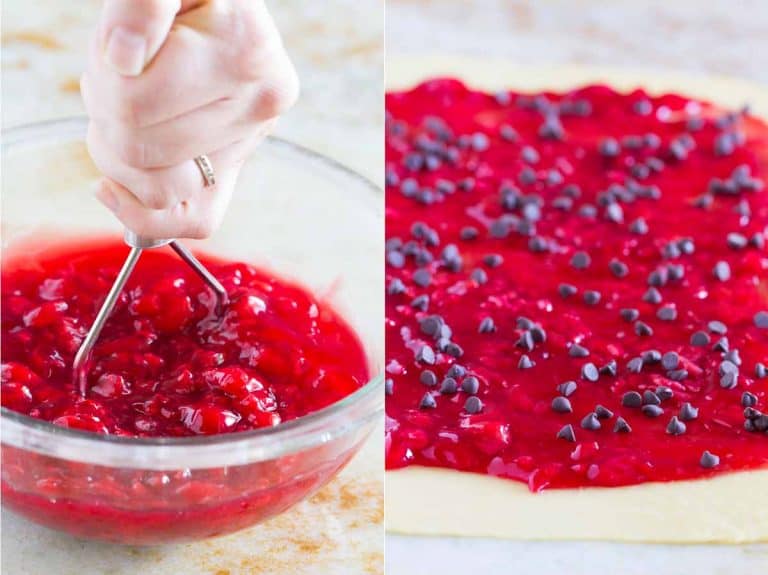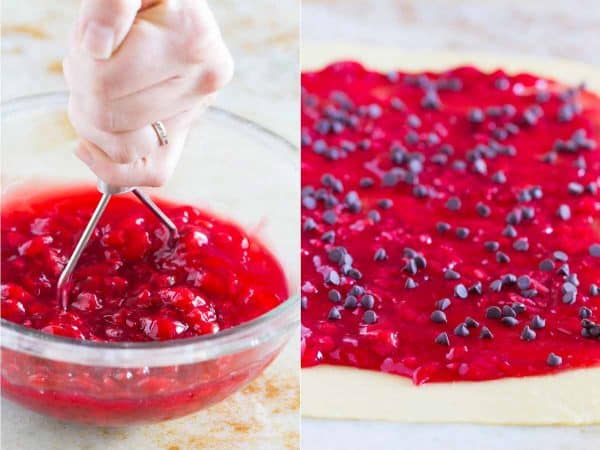 Of course, as a child, I really loved all the extra sweets that we had to snack on, but I really loved how the whole neighborhood would come together at Christmastime. That sharing with your neighbors was such a big part of the holiday season. The treats weren't anything creative and crafty and super planned out like they are today – just straight from the heart. And straight from the kitchen.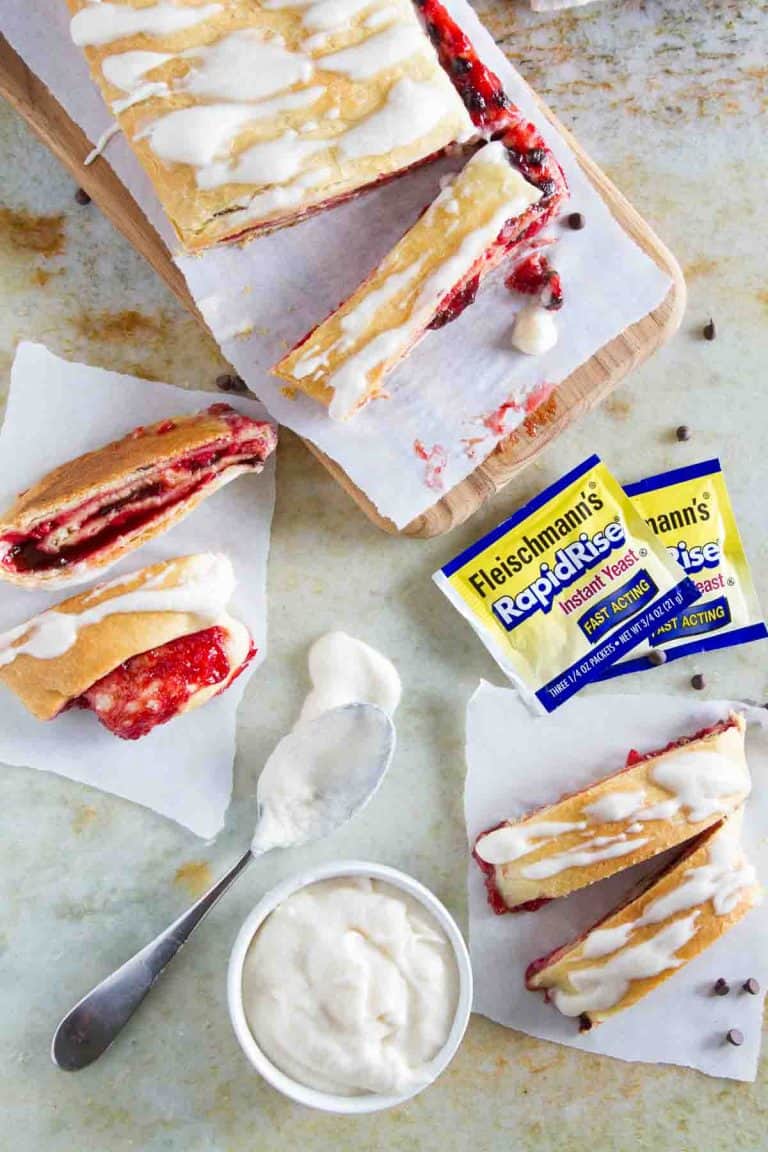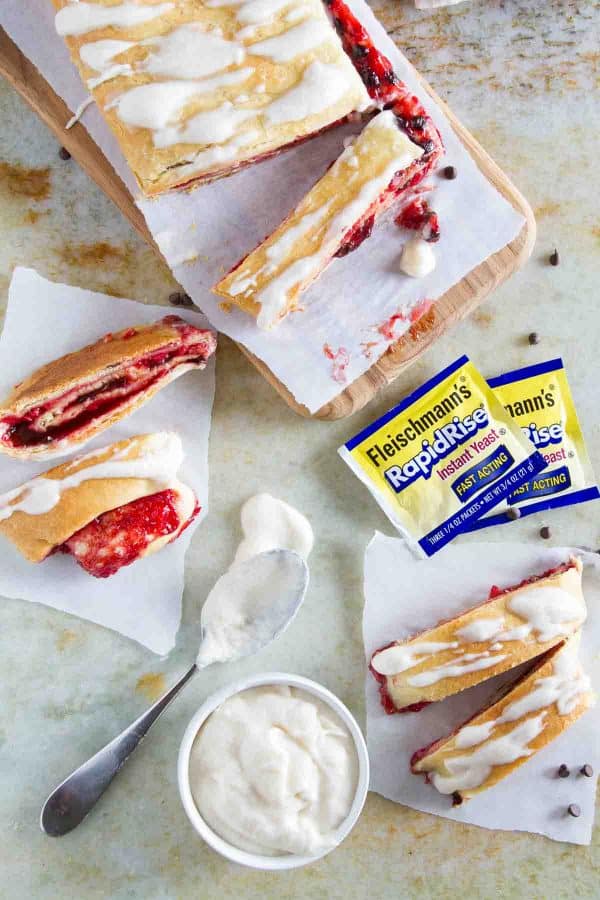 When I made these Chocolate Cherry Rolls, it kind of reminded me of those Christmases long ago. The recipe makes 2 rolls, so it is the perfect recipe to make and share with friends or neighbors. They are a little bit rustic, but perfect for a holiday breakfast or brunch. In fact, they kind of reminded me of a strudel. The dough is different, but the idea is kind of the same. This dough is so delicious, though. It is a richer dough than most, with lots of butter and egg yolks. The flavor pairs beautifully with the cherry filling.
I adapted this recipe from the Frosted Cherry Roll recipe on breadworld.com. I have been a little chocolate obsessed lately, so I decided to add in some mini chocolate chips. I also decided to mash up the cherries a bit. That way, they don't squish out of the sides and every bite is filled with the perfect amount of chocolate and cherry.
This Chocolate Cherry Roll is the perfect way to bake a little extra to share with neighbors this holiday season!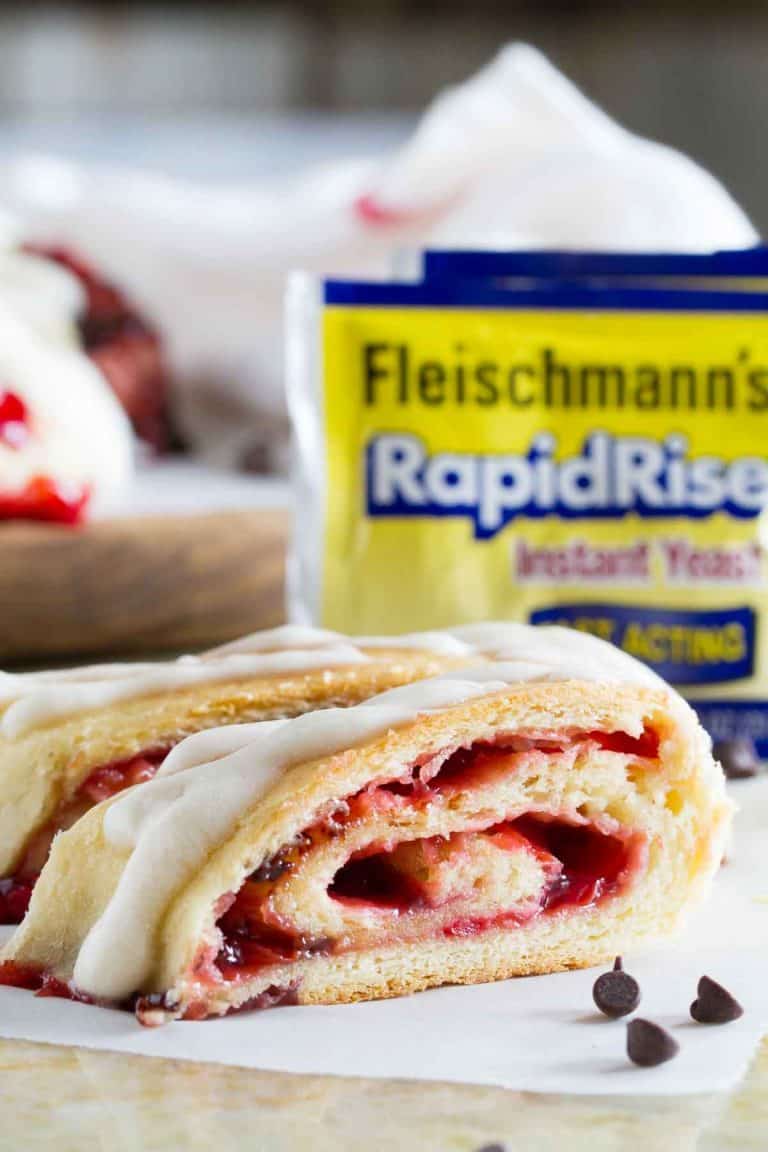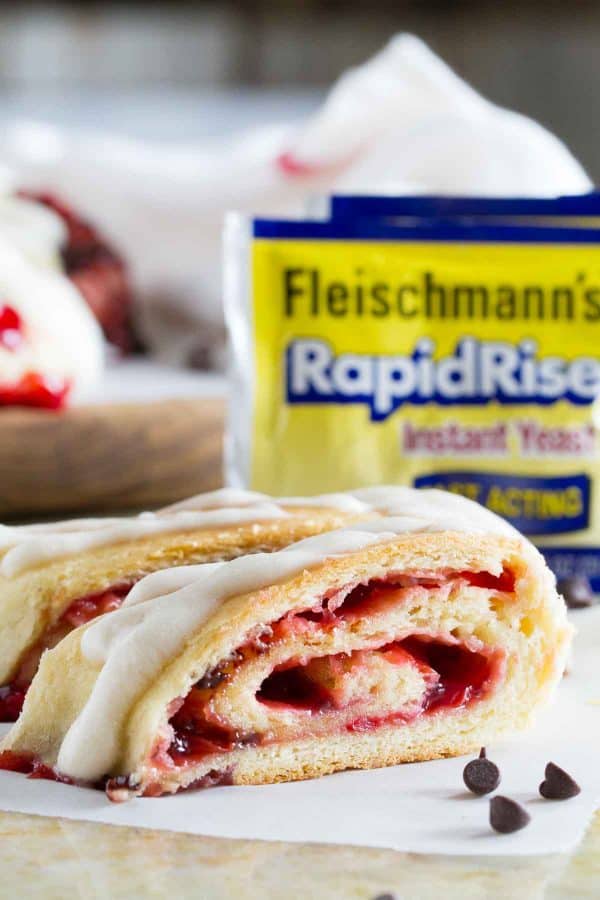 Like what you see here? Make sure you are following Taste and Tell for more recipes and ideas!
Facebook | Pinterest | Instagram | Twitter | Google+ | Weekly Newsletter | Feedly | Bloglovin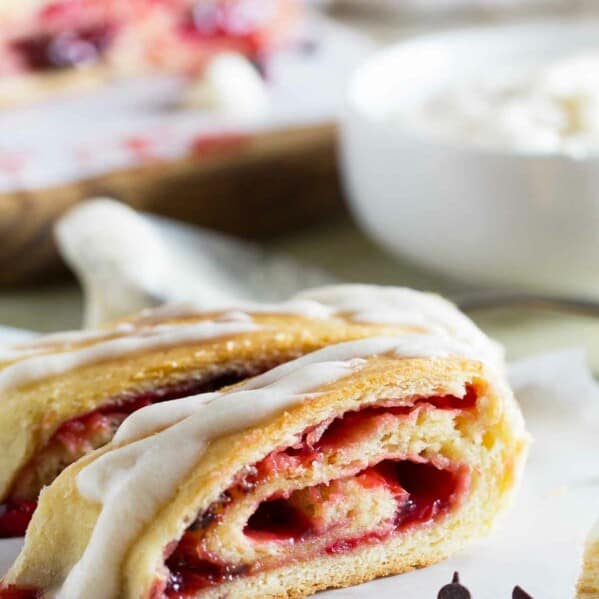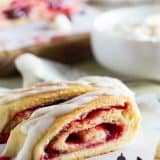 Chocolate Cherry Rol
---
Author:
Prep Time: 40 minutes
Cook Time: 28 minutes
Total Time: 158 minutes
Yield: 2 rolls 1x
Category: Breakfast
Description
Perfect for a special breakfast or treat, this Chocolate Cherry Roll has a rich, soft dough that is filled with cherries and chocolate chips. Serve up slices as part of a brunch spread or just for a sweet treat.
---
Scale
Ingredients
Dough
2 to 2 1/4 cups all-purpose flour
2 tablespoons sugar
1 envelope Fleischmann's® RapidRise™ Yeast
1/4 teaspoon salt
1/2 cup milk
1/2 cup butter
3 egg yolks
Cherry Filling
1 21–ounce can cherry pie filling
1/2 cup mini chocolate chips
Buttercream Frosting
3 tablespoons butter, (softened)
1 1/4 cups powdered sugar
1/2 teaspoon Vanilla Extract
pinch of salt
2 to 3 tablespoons milk
---
Instructions
In the bowl of a stand mixer, combine 1/2 cup of the flour, the sugar, yeast and salt.
In a small pot, heat the milk until very warm, 120º to 130ºF.
Gradually add the warm milk to the flour mixture. Beat at medium speed for 2 minutes, scraping the bowl occasionally. Add the egg yolks and another 1/2 cup of flour and beat for 2 minutes at high speed. Stir in just enough of the remaining flour to make a soft dough. Knead the dough on a lightly floured surface until it is smooth and elastic, about 8 to 10 minutes. Cover the dough with plastic wrap and refrigerate for 30-40 minutes.
Place the pie filling in a bowl and use a potato masher to roughly chop the cherries. Set aside.
Remove the dough from the refrigerator and divide into 2 equal pieces. Working with one piece of dough at a time, roll the dough to a 10 x 14-inch rectangle. Spread half of the cherry filling over the dough, leaving a 1-inch border. Sprinkle 2 tablespoons of the chocolate chips over the top. Roll up the dough, starting from the short end. Place the roll on a lightly greased baking sheet. Repeat with the remaining dough, pie filling and chocolate chips.
Cover the rolls with plastic wrap and let them rise in a warm, draft free place for 1 hour.
Preheat the oven to 350ºF. Bake the rolls until golden brown, about 23-28 minutes. Cool on a wire rack.
To make the buttercream, beat the butter and powdered sugar until combined. Add the vanilla, salt, and 2 tablespoons of the milk. Continue to add milk, 1 teaspoon at a time, until the desired consistency is reached.
Drizzle the frosting over the cherry rolls when cool.
Don't miss a thing! Follow me on Pinterest to see what I'm pinning!
Visit Taste and Tell's profile on Pinterest.