You can't celebrate Christmas without a cookie exchange, right?? Today, I'm excited to be participating in a virtual cookie party with a group of great bloggers. I'm happy to be hosting Becca from Crumbs and Chaos today with these awesome gingersnap cookies! If you want to see the cookies that I shared, (also a twist on a gingersnap), head over to Barbara Bakes. And make sure you check out the links at the end of the post to all of the other fabulous cookies!
—————-
Happy holidays, Taste and Tell readers! I'm Becca from Crumbs and Chaos and I'm thrilled to be here today sharing my Christmas cookie recipe for our 'virtual' cookie exchange.
I love, love, love this time of year and one of the things I look forward to every year is, of course, all the different types of cookies. A few of my all time favorites are Glazed Eggnog Cookies, German Chocolate Chip Cookies and Gingerbread Trees with Lemon Glaze. Now I'm really in the mood to get baking, so I can be prepared to fill those cookie trays in just a few short weeks . There's always room for one more favorite and this Soft Chocolate Gingersnap Cookie was a hit at our house!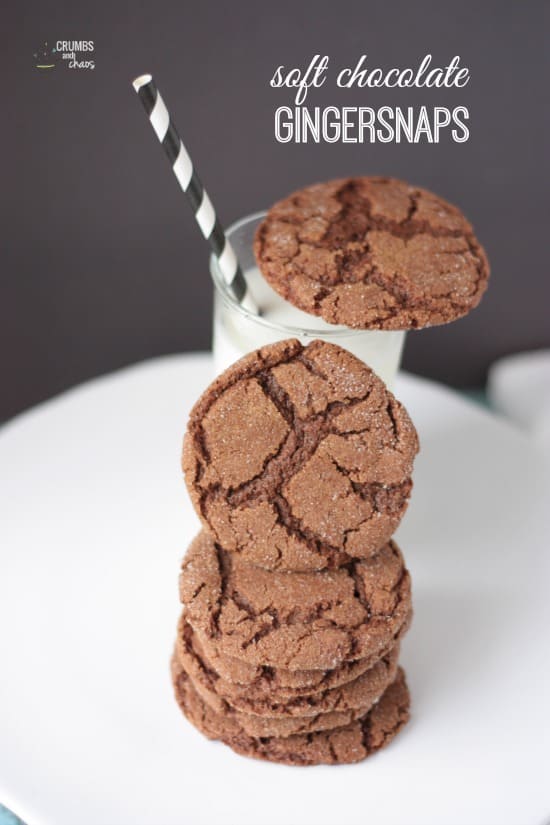 This cookie is perfect for baking ahead, cooling completely and freezing until you need it in a few weeks. They thaw out beautifully and are ready to serve within an hour or so out of the freezer. If you're a gingersnap lover, this cookie is for you. It's intense, spicy and sweet with chocolate undertones. It definitely brings the ordinary Christmas cookie tray to a new level.
Please stop by and say hi – you can find me here:
Blog | Facebook | Twitter | Instagram | Pinterest | Google+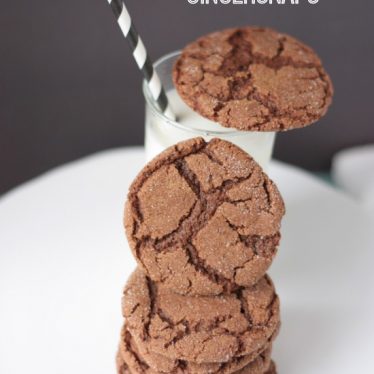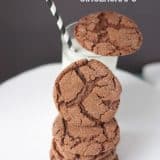 Soft Chocolate Gingersnaps
---
Prep Time: 15 minutes
Cook Time: 15 minutes
Total Time: 30 minutes
Description
A soft gingersnap with a chocolate twist!
---
Scale
Ingredients
2 cups FLOUR
3 tablespoons UNSWEETENED COCOA POWDER
1/4 teaspoon SALT
1 teaspoon GROUND CINNAMON
1 teaspoon GROUND GINGER
1/2 teaspoon GROUND CLOVES
1/2 teaspoon CREAM OF TARTAR
1/4 teaspoon GROUND NUTMEG
1/2 cup UNSALTED BUTTER, at room temperature
3/4 cup BROWN SUGAR
1/2 cup + 1/3 cup GRANULATED SUGAR
1 EGG
1/2 cup MOLASSES
---
Instructions
Preheat oven to 350°. Prepare baking sheet by lining with parchment paper or silicone baking mat.
Combine flour, cocoa powder, salt, spices and cream of tartar in a bowl and set aside.
In the bowl of a stand mixer, beat butter, brown sugar and 1/2 cup granulated sugar together on medium high speed until well combined and fluffy. Add in egg and molasses and mix well. Slowly add in the dry ingredients and mix until just incorporated.
Use a 1 1/2 tablespoon cookie scoop to shape the dough into balls. Roll each ball of dough into the remaining sugar and place on cookie sheet.
Bake for 14-16 minutes. Remove from the oven and leave on the baking sheet for about 5 minutes before removing to a wire rack to cool completely.
Recipe Notes:
Recipe Source: Savory Sweet Life Cookbook
——————
Thanks, Becca – I'm wishing I had a real plate of these cookies in front of me right now! Don't forget to check out all of the other cookie recipes so you can get into the kitchen and start baking!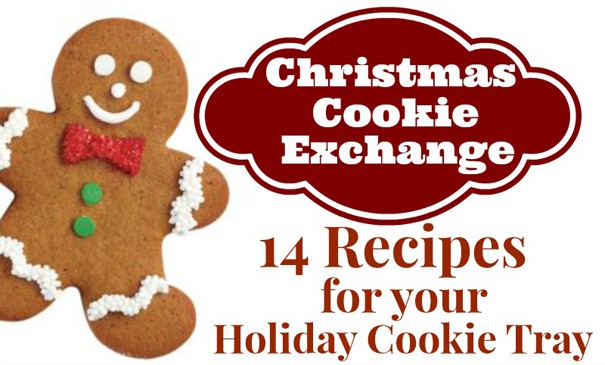 Candy Cane Meringue Cookies shared on Bless This Mess by Sweet Treats and More
Chocolate Filled Gingersnaps on Barbara Bakes by Taste and Tell
Chocolate Peppermint & Oreo Cookies shared on Let's Dish by Mandy's Recipe Box
Chocolate Strawberry Truffles shared on Sweet Sugarbelle by Hoosier Homemade
Crispy Maple Sugar Cookies shared on Mandy's Recipe Box by Bless This Mess
Gingerbread Drop Cookies shared on Kitchen Meets Girl by Munchkin Munchies
Iced Gingerbread Cookies shared on A Family Feast by Roxana's Home Baking
Italian Almond Cookies shared on Munchkin Munchies by Your Homebased Mom
Molasses Cookies shared on Crumbs and Chaos by Kitchen Meets Girl
Orange & Ginger Cookies with Chocolate Drizzle shared on Your Homebased Mom by A Family Feast
Orange Ginger Pecan Cookies shared on Sweet Treats and More by Let's Dish
Snowmen Cookie Pops shared on Roxana's Home Baking by Sweet Sugarbelle
Soft Chocolate Gingersnaps shared on Taste and Tell by Crumbs and Chaos
Soft Gingersnap Cookies shared on Hoosier Homemade by Barbara Bakes