Perfect for breakfast during the holiday season, these baked donuts are quick and much easier than fried donuts!
I hope you didn't think that I was done with the Christmas sweets yet! 🙂
I think I've got all of the holiday flavors covered this year. Lots of eggnog, peppermint, cherry – and now gingerbread. I'll admit – I haven't eaten that much gingerbread in my life. Whenever I've done gingerbread houses, they are usually made from graham crackers. And the "gingerbread" cookies that we made were actually sugar cookies. The closest I usually get are ginger snaps. But I decided to change that this year. And what better way than with gingerbread for breakfast??
It's no secret that I have a little obsession with baked donuts. So of course I needed a Christmas-y donut. I loved the flavor of these. Perfectly spiced, and I'm thinking perfect for Christmas morning. Don't skip the glaze because it gives these just the right amount of sweetness. What a great way to wake up on Christmas morning!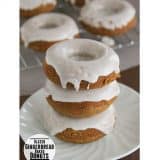 Glazed Gingerbread Baked Donuts
---
Prep Time: 15 minutes
Cook Time: 10 minutes
Total Time: 35 minutes
Yield: 12 donuts 1x
Description
Perfect for breakfast during the holiday season, these baked donuts are quick and much easier than fried donuts!
---
Scale
Ingredients
Donuts
2 cups Gold Medal® all-purpose flour
1/4 teaspoon baking soda
1 1/2 teaspoons baking powder
1 teaspoon cinnamon
1/2 teaspoon ground ginger
1/4 teaspoon salt
1/2 cup brown sugar
2 eggs
1/4 cup applesauce
1/4 cup molasses
4 tablespoons vegetable oil
2 tablespoons milk
Glaze
2 tablespoons hot water
2 cups powdered sugar
1 tablespoon milk
1/2 teaspoon vanilla extract
---
Instructions
Preheat the oven to 350°F. Spray a donut pan with cooking spray. Set aside.
In a medium bowl, combine the flour, baking soda, baking powder, cinnamon, ginger and salt.
In the bowl of a mixer, mix together the brown sugar, eggs, applesauce, molasses, vegetable oil and milk until completely combined. Add in the dry ingredients and mix just until combined. Transfer the batter to a ziptop bag. Cut off the corner and pipe the dough into the prepared donut pan, filling 2/3 full.
Bake until a toothpick inserted in the center comes out clean, about 10 minutes. Cool for 10 minutes then turn out onto a cooling rack to cool completely.
Once cool, make the glaze. In a small bowl, combine all glaze ingredients and dip the tops of the donuts into the glaze. Return to the cooling rack to let the glaze set up.
More gingerbread recipes:
Jumbo Gingerbread Folk from Sweetapolita
Gingerbread Marshmallow Cheesecake Dip from Chocolate Moosey
Persimmon Gingerbread Loaf from Vintage Mixer
Overnight Gingerbread Cinnamon Rolls from Baked By Rachel
Mini Gingerbread Cookie Pies with Spiced Cream from Eclectic Recipes
**This is a sponsored post through Gold Medal Flour, but all opininos are my own.**