The perfect, no-fuss fall dessert, this Apple Cinnamon Sheet Cake is moist and full of apple flavor with the perfect amount of cinnamon.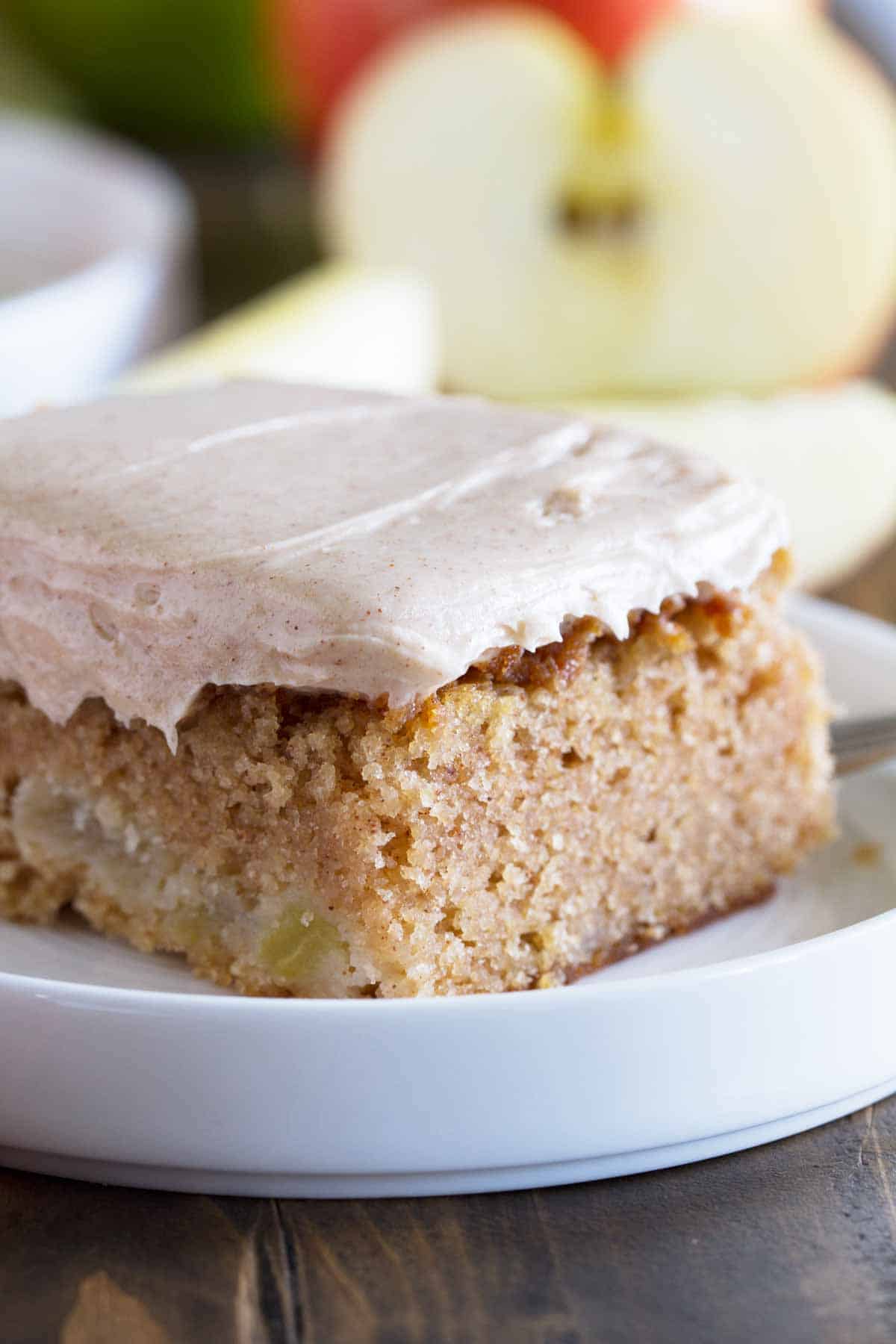 I'm teaming up with Crisco®, as a Crisco Creator, to help inspire home cooks with new recipe ideas and cooking and baking tips using Crisco products. All opinions are my own.
If you know me, you know that I love food in every form. I'm equally happy with 5-star meals as I am with visiting the small town hot dog stand.
The same goes for desserts.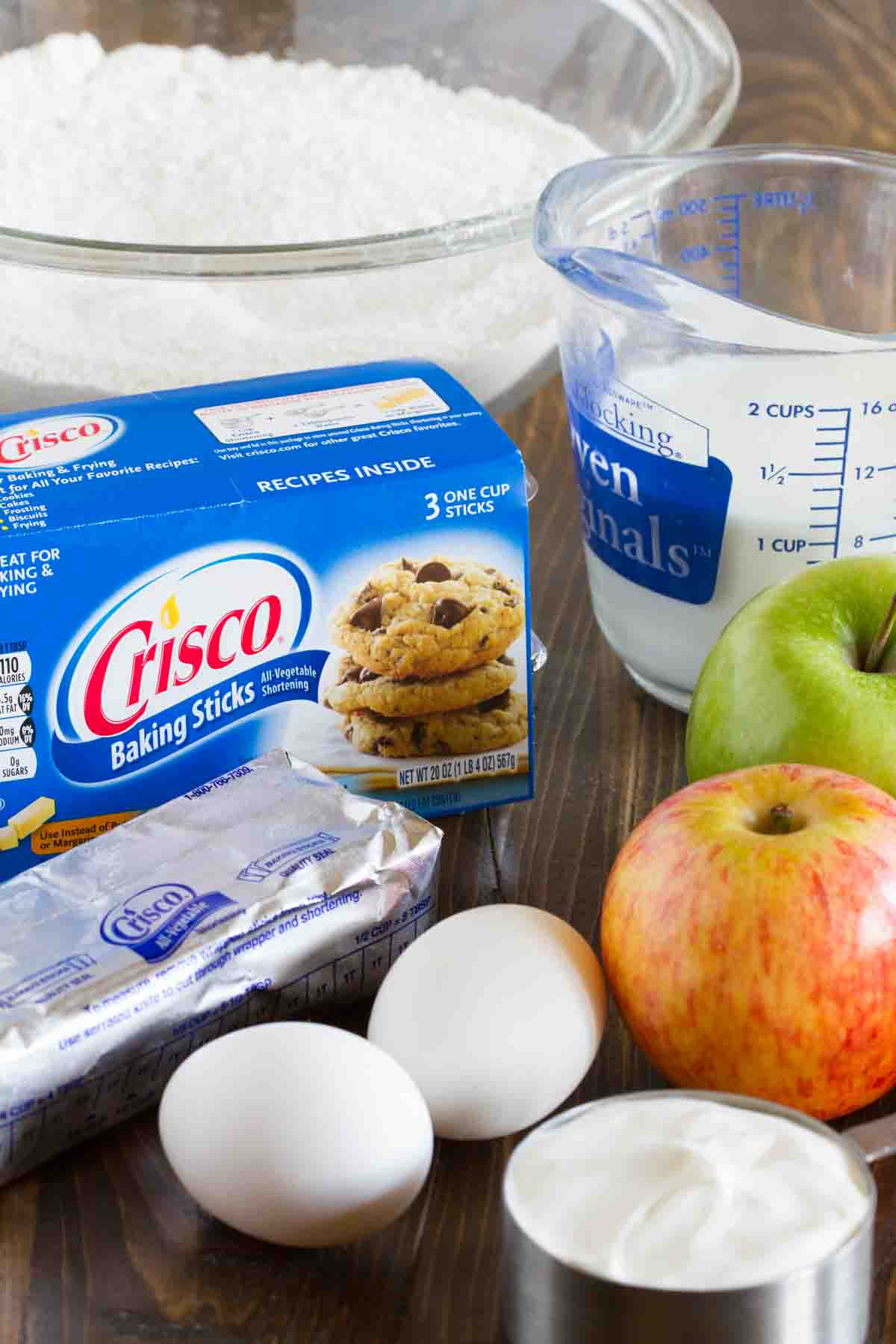 Growing up, we always went to my grandparent's house on Sunday nights. And every Sunday night, my mom would make dessert to take over. Now, my mom is a great cook and great baker. And she can make gorgeous cakes, and catering-worthy desserts (and has made both). But those Sunday night desserts were always my favorite. Chocolate cheesecake cupcakes, white cake with chocolate frosting, Rice Krispies treats…they were always simple recipes, but recipes the whole family loved.
As much as I love a fancy cupcake or a box of macarons, those "Sunday night desserts" always have a special spot in my heart.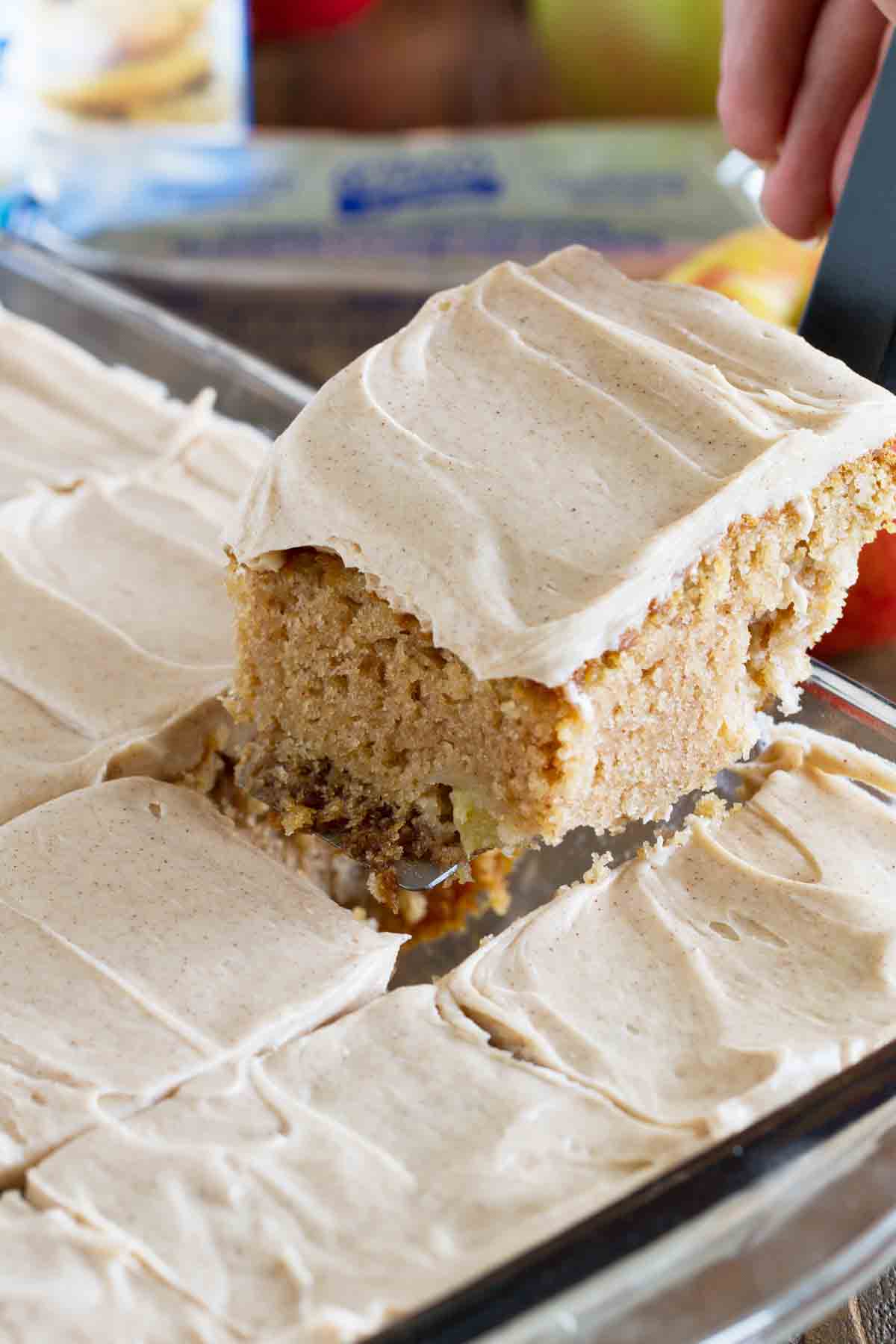 This is probably why a good sheet cake is one of my very favorite desserts. And when it comes to fall baking, all you need is a good apple sheet cake recipe. I'm here today to share that perfect fall dessert with you.
If you read through this recipe, you'll notice that the first step is to melt the Crisco® shortening in with the buttermilk. This might seem like a strange step to you, and you may be tempted to go with your first instincts to cream the shortening and the sugar together like you would with a traditional cake. But trust me and try it this way. The cake's texture is completely different than it would be if you creamed the shortening and sugar. Different in a very good way. It is moist with a tighter crumb than a traditional cake. The apple flavor comes out so well.
There are many ways to cook and bake with Crisco shortening and it's a lot easier than you might think! Crisco shortening can be used to make pie crust, but it is also used in savory dishes and other desserts. I love to use the Crisco® All-Vegetable Shortening Sticks in this recipe because not only does it help with the moistness factor, but Crisco® All-Vegetable Shortening has zero grams trans-fat per serving1. Plus, you can't beat how easy and convenient it is to measure and store the shortening with measurable packaging they come in!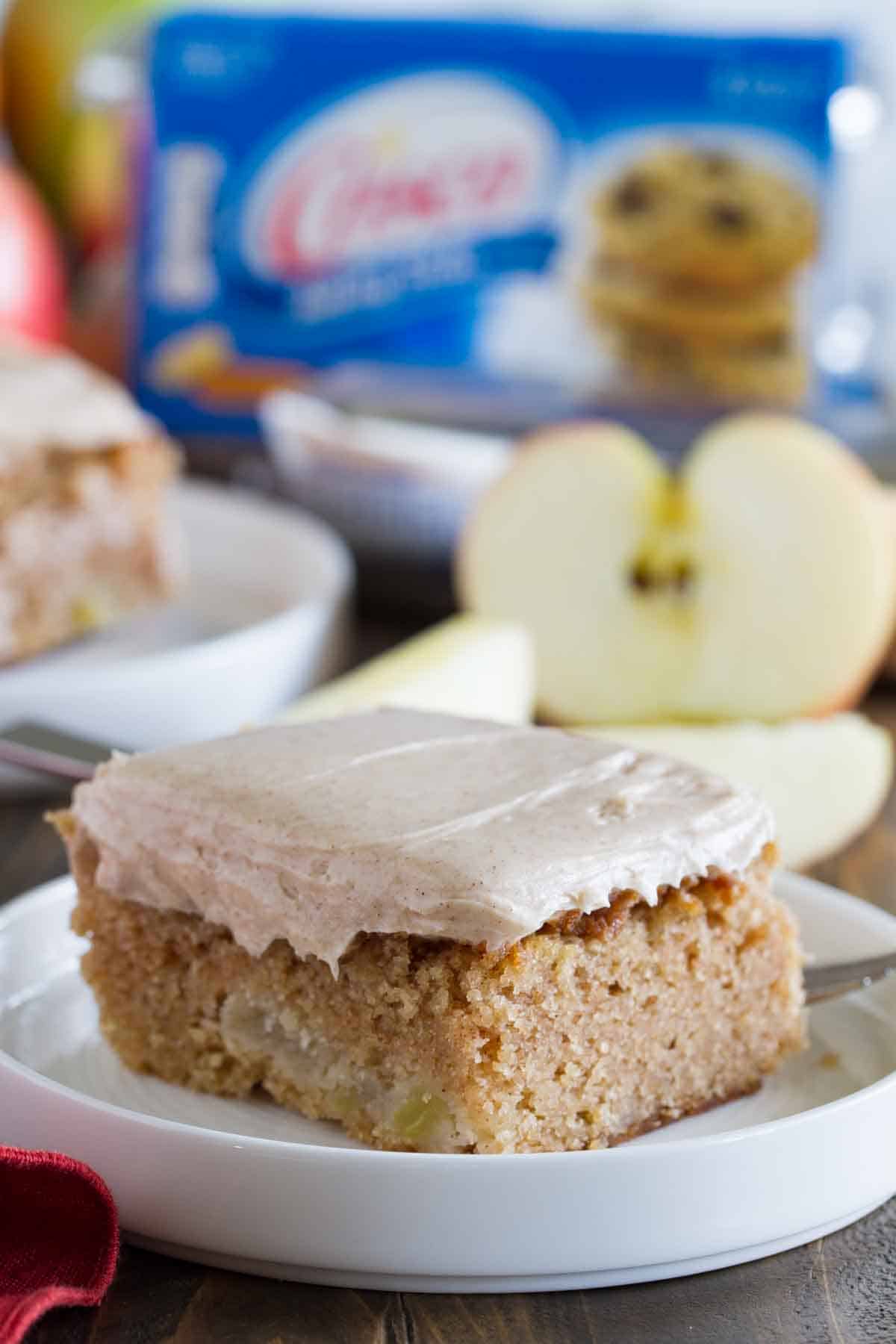 This cake will be my go-to dessert this fall. While it is amazing when it's freshly frosted, I think it gets even better with time. I like to make it the day before I need it and then cover it up and refrigerate it overnight. Something magical happens, because it becomes even better the second day!
You need to make this cake. You don't even have to wait for Sunday night. 🙂 It's perfect any day of the week!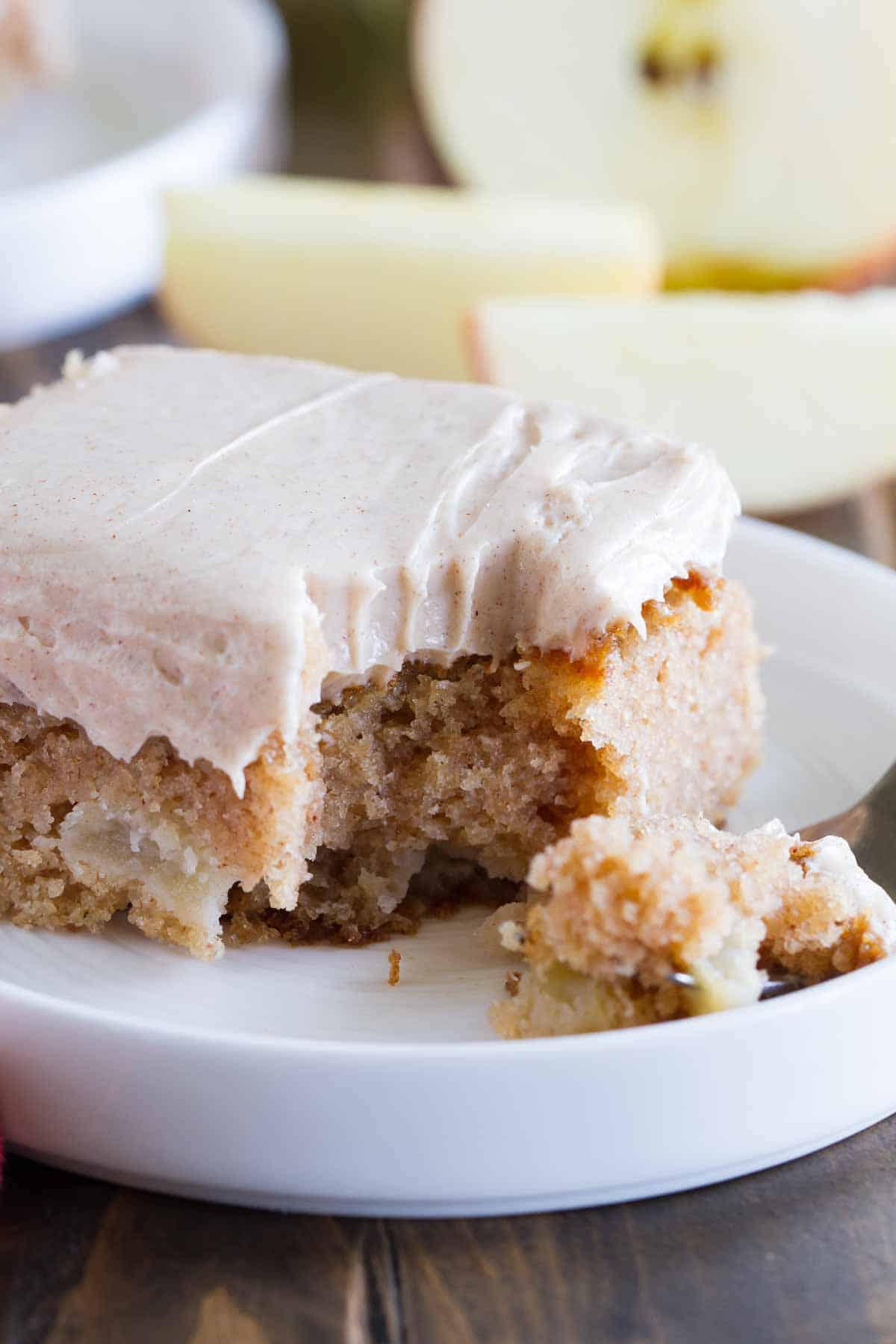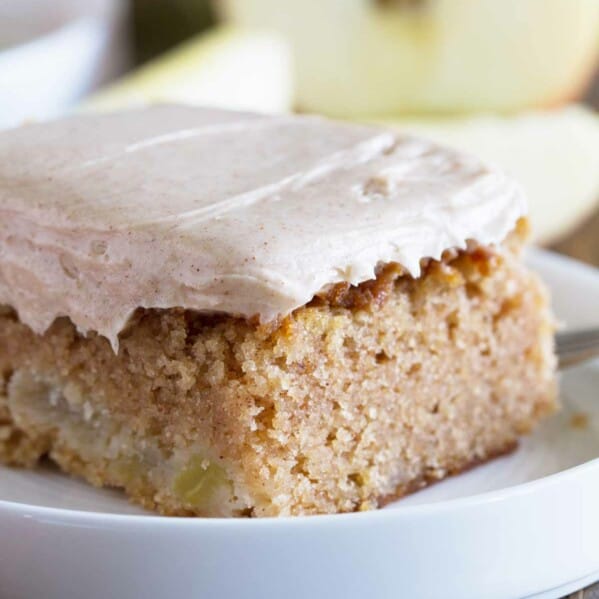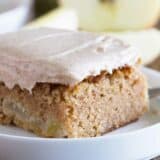 Apple Cinnamon Sheet Cake
---
Author:
Prep Time: 15 minutes
Cook Time: 45 minutes
Total Time: 1 hour
Yield: 16 servings 1x
Category: Dessert
Method: Bake
Cuisine: American
Description
The perfect, no-fuss fall dessert, this Apple Cinnamon Sheet Cake is moist and full of apple flavor with the perfect amount of cinnamon.
---
Scale
Ingredients
Pastry:
Crisco® Original No-Stick Cooking Spray
1 stick Crisco® Baking Sticks All-Vegetable Shortening
1 cup buttermilk
2 cups plus 1 tablespoon Pillsbury BEST™ All Purpose Flour
2 cups sugar
1 teaspoon baking soda
1 teaspoon salt
1 teaspoon cinnamon
2 eggs, lightly beaten
1/2 cup sour cream
1 teaspoon vanilla extract
2 cups peeled, chopped apples
Cinnamon Cream Cheese Frosting:
8 oz cream cheese, at room temperature
1/4 cup butter, at room temperature
2 1/2 cups powdered sugar
1 1/2 teaspoons cinnamon
---
Instructions
Cake:
HEAT oven to 375ºF. Spray a 9×13-inch baking dish with the Crisco No-Stick Cooking Spray.
COMBINE Crisco shortening with buttermilk in a saucepan and heat until the Crisco shortening melts.
COMBINE flour, sugar, baking soda, salt and cinnamon in a large bowl. Add eggs, sour cream, vanilla and beat just until combined. Slowly beat in the buttermilk mixture, beating just until combined.
Fold in the apples.
POUR batter into the prepared baking dish.
BAKE until a tester inserted in the center comes out clean, 40-45 minutes. Cool completely.
Frosting:
BEAT cream cheese and butter in a medium bowl until light and fluffy. Slowly add in the powdered sugar until combined. Add the cinnamon and beat the frosting for a minute or two, until light and smooth.
FROST the cooled cake with the frosting.
Recipe Notes:
This cake tastes great the day after it was made.
Keywords: apple cinnamon cake
1See nutrition information for fat and saturated fat content.
As a participant of the Crisco Ambassador Program, I've received compensation for my time and product samples for review purposes. Opinions are my own." I'm so glad to be able to work with companies and organizations that I truly believe in. Thank you for supporting them, too.