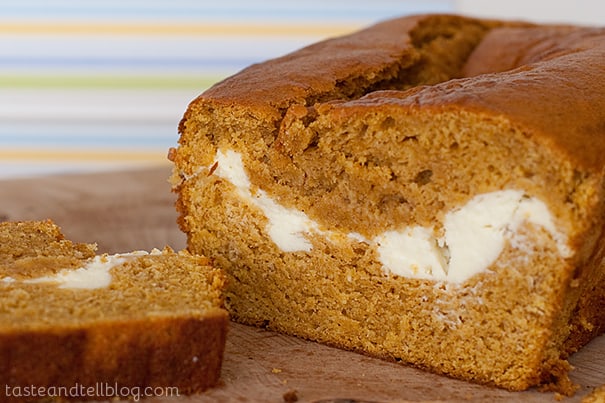 A few weeks ago, I was given a loaf of pumpkin bread. The label said it was called a "Pumpkin Cream Loaf." I took it home, and both my husband and I were excited to try it out. After slicing it open, we realized it was nothing more than regular, old pumpkin bread. Not that there is anything wrong with pumpkin bread – I love pumpkin bread. But that "cream" in the title had both of us thinking there would be a creamy center or something different to it.
I hadn't been able to stop thinking about a pumpkin bread with creamy center since that bread. So when I saw this recipe for this Layered Pumpkin Loaf, I knew it would be one that I would be trying out.
This is another recipe where I wish I would have trusted my initial instinct. After noticing that the original recipe called for egg whites, fat free milk, and fat-free cream cheese, I realized that they were trying to cut down on the fat and calories for the recipe. Now, I know that I can always use a lower fat/lower calorie recipe. But last time I tried a "healthy" quick bread, it wasn't the best.
I compromised, and used the egg whites, but used 2% milk and regular cream cheese, because I had them on hand. The final bread was good, but it was missing some richness because of the eggs. Both my husband and I liked it enough to eat more than our fair share of it, and I really love the idea of this bread, but next time, I would make a different pumpkin bread recipe and add the cream cheese layer. Because that cream cheese layer really does bring something special and different to this bread!
Recipe Rating: 3.5 out of 5
Layered Pumpkin Loaf
adapted from Recipes from River View
Makes 1 loaf
1 cup pumpkin
1 cup + 2 tablespoons sugar
1/2 cup firmly packed brown sugar
4 egg whites, divided
1/2 cup milk
1/4 cup canola oil
2 cups flour
2 1/2 teaspoons baking powder
2 teaspoons pumpkin pie spice
1/4 teaspoon salt
1 8-oz. package cream cheese, softened
Heat oven to 350F. Grease a 9×5-inch loaf pan; set aside.
Mix pumpkin, 1 cup sugar, brown sugar, 3 of the egg whites, milk and oil in a large bowl. Add flour, baking powder, pie spice and salt; stir just until moistened. Set aside.
In another bowl, beat cream cheese, remaining 2 tablespoons sugar and the remaining egg white until well blended.
Spoon half of the pumpkin batter into the prepared pan; spoon the cream cheese mixture evenly over the batter. Cover with the remaining pumpkin batter.
Bake in the preheated oven for about 2 hour or until a knife inserted in the middle comes out clean. Run a knife or thin spatula around the edges to loosen the bread. Cool in the pan on a wire rack fro 10 minutes. Remove bread from pan to the wire rack to cool completely.