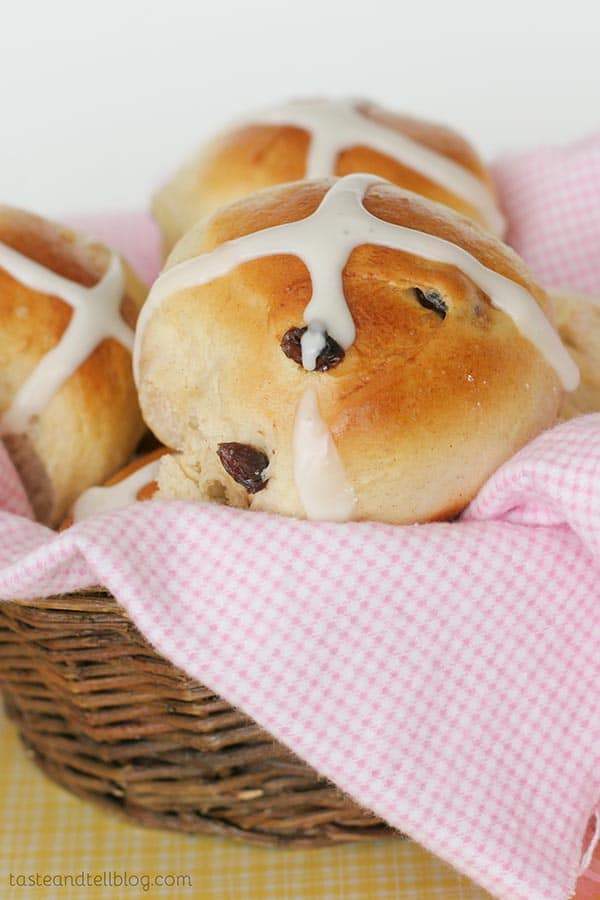 Where does the time go? I was looking at my calendar, and I realized that Easter is right around the corner, and I haven't even posted any Easter recipes yet! I've been putting it off, but I realized today that we have just over a week until Easter, so if I want to share some recipes that you can use, I better get on it!
What better way to start than with Hot Cross Buns? I remember when I first couple years that I was blogging – it seemed like Hot Cross Buns overtook the internet. And I've wanted to make them ever since. Well, I finally got around to trying them.
Hot Cross Buns are traditionally eaten on Good Friday or on Easter in Christian households. The cross is a symbol for the crucifixion, which makes them perfect for an Easter treat. There is also superstition that is associated with Hot Cross Buns. Sharing a bun is supposed to ensure friendship between two people for the coming year, especially if the the rhyme "Half for you, half for me, Between us two shall goodwill be" is recited. If hung in the kitchen, they are supposed to protect against fire. And if you are going on a sea voyage, take along a hot cross bun, because it's supposed to protect against shipwreck! (from Wikipedia) I just remember the nursery rhyme as a child – "hot cross buns, hot cross buns, one a penny, two a penny, hot cross buns."
I wish I would have tried these buns years ago. I loved them. They reminded me of a simplified, lighter cinnamon roll, with the cinnamon, raisins and the icing on top. I can see how these would be an excellent addition to an Easter brunch. I see a new tradition starting in my family!!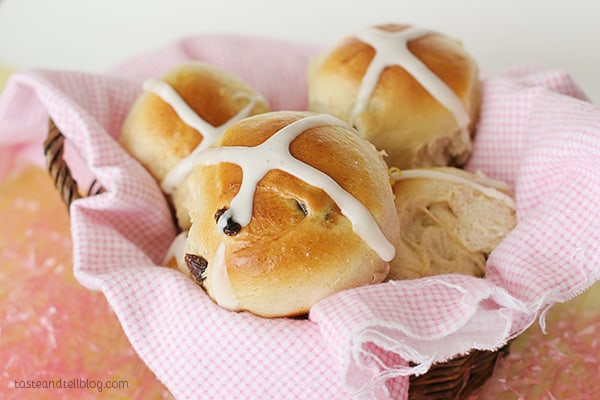 Print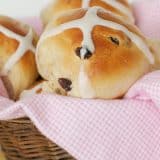 Hot Cross Buns
Prep Time:

35 mins

Cook Time:

20 mins

Total Time:

55 mins

Yield:

12

buns

1

x
---
Description
Recipe for traditional Hot Cross Buns – served on Good Friday or on Easter
---
Scale
Ingredients
3/4 cup

warm water

1 tablespoon

active dry yeast

3 tablespoon

s butter, softened

1 tablespoon

powdered milk

1/4 cup

sugar

1

egg +

1

egg, separated

3 cup

s all-purpose flour

1 teaspoon

cinnamon

3/4 cup

raisins

2 tablespoon

s water

1/2 cup

powdered sugar

1/4 teaspoon

vanilla

2 teaspoon

s milk
---
Instructions
Combine the water and the yeast and let sit until the yeast is soft – 10 to 15 minutes.
In a stand mixer, combine the butter, sugar, powdered milk and salt and mix. Add in 1 whole egg and 1 egg white, reserving the yolk. Mix. Mix in the flour and the cinnamon.
Add in the yeast mixture and mix on medium speed until combined. Switch to the dough hook and knead for about 5 minutes. In the last minute, mix in the raisins.
Cover the dough until doubled in size, about 1 hour. Take dough out and punch it down; let rest for 10 minutes.
Shape into 12 balls and place in a greased 9×13 pan. Cover and let rise until doubled, 35-40 minutes.
Preheat oven to 375F. Combine the egg yolk and the 2 tablespoons of water. Brush on the rolls.
Bake rolls in the preheated oven for 15-20 minutes, or until browned and cooked through. Immediately remove to a wire rack to cool.
To make the icing, combine the powdered sugar, vanilla and milk. Drizzle and X on the top of each roll.