A traditional Easter treat, these Hot Cross Buns are slightly sweet, light and fluffy, and lightly spiced with cinnamon. You'll want to make these buns an Easter tradition at your house!
If you are looking for more Easter recipes, make sure you check out these Easter Cupcakes, my favorite Scalloped Potatoes Recipe, or this Brown Sugar Glazed Ham recipe that would be perfect for that Easter ham! And don't forget the Deviled Eggs!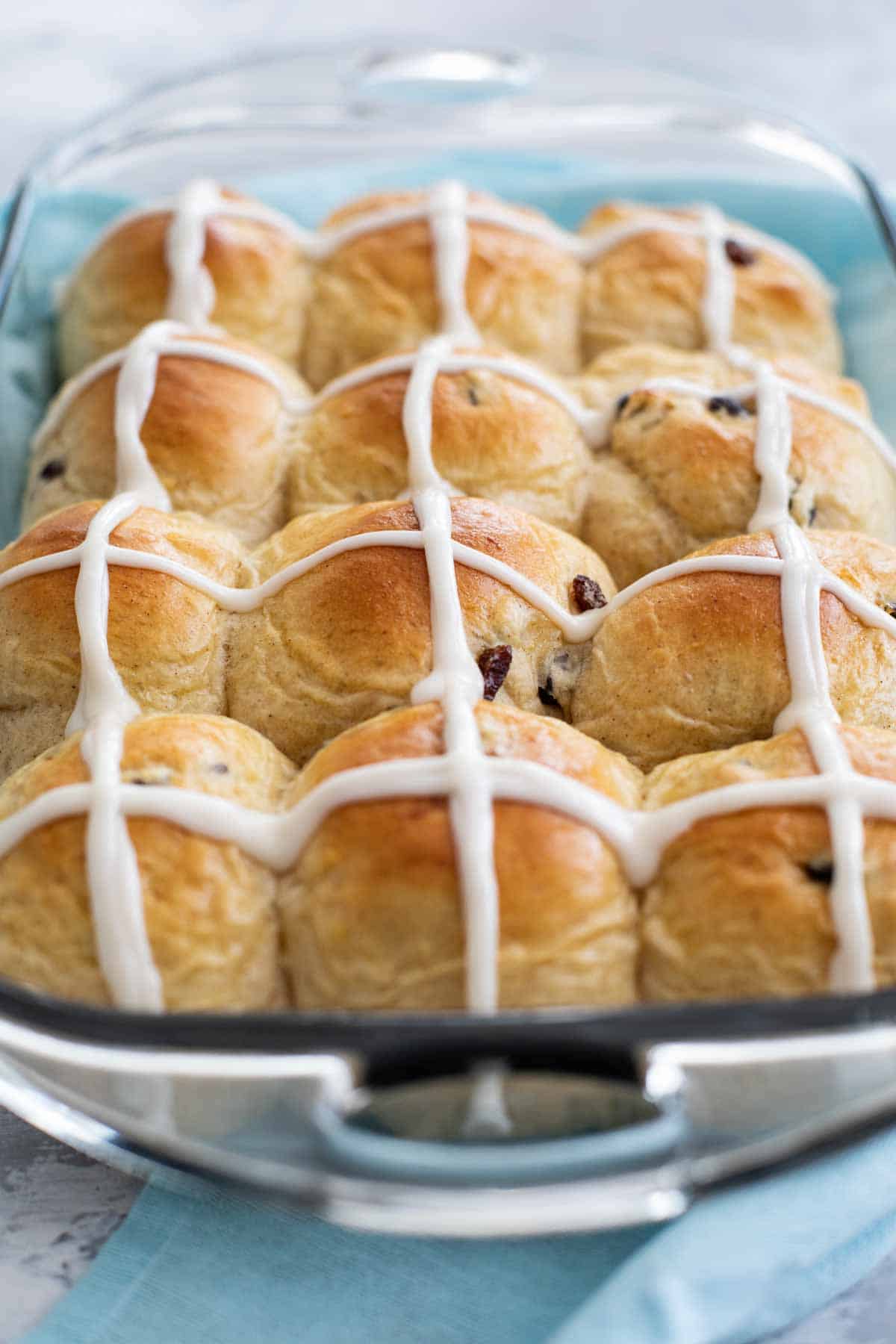 Hot Cross Buns.
Just one reason why I will never give up carbs.
These buns are light and fluffy, not too sweet, and have the perfect cinnamon spice to them. In fact, they kind of remind me of a super mild cinnamon roll.
I like to make them every Easter, and they are definitely a holiday tradition I can get behind!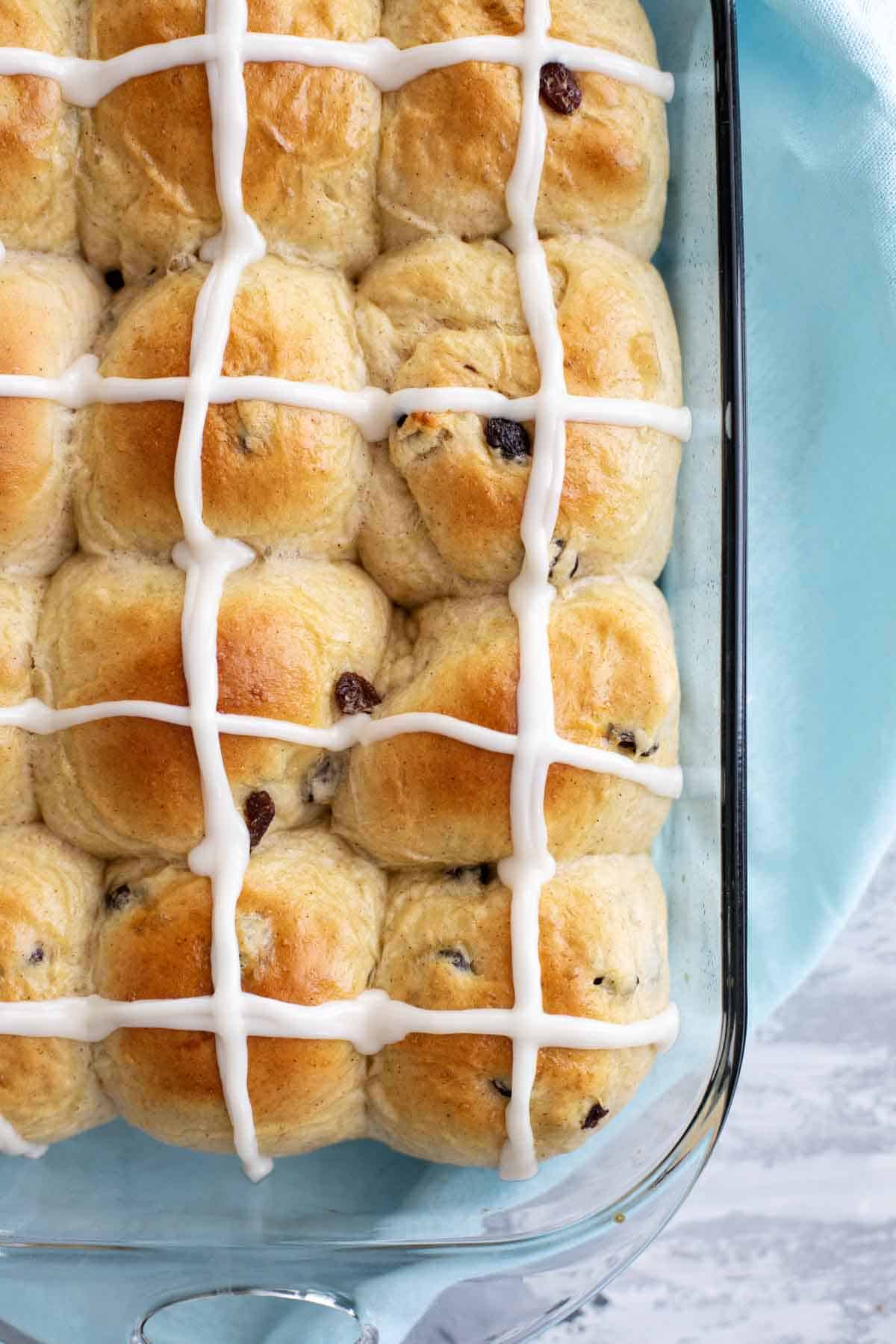 What are Hot Cross Buns?
Hot Cross Buns are a sweet bread that is traditionally made around Easter. There is a lot of information out there about where they came from and the history around them. And honestly, I couldn't exactly tell you what is true and what is not true. But most accounts that I have read say that they are traditionally served on Good Friday, and that the cross denotes the crucifixion. But other accounts say that the cross has nothing to do with religion at all. But today, these buns are seen as a symbol of Easter.
Hot Cross Buns also have a lot of folklore attached to them. Here are a few stories that I've read about that I thought were quite interesting.
Sharing a bun is supposed to ensure friendship between two people for the coming year, especially if the the rhyme "Half for you, half for me, Between us two shall goodwill be" is recited.
If hung in the kitchen, they are supposed to protect against fire.
And if you are going on a sea voyage, take along a hot cross bun, because it's supposed to protect against shipwreck!
Buns made on Good Friday will not spoil or mold throughout the next year.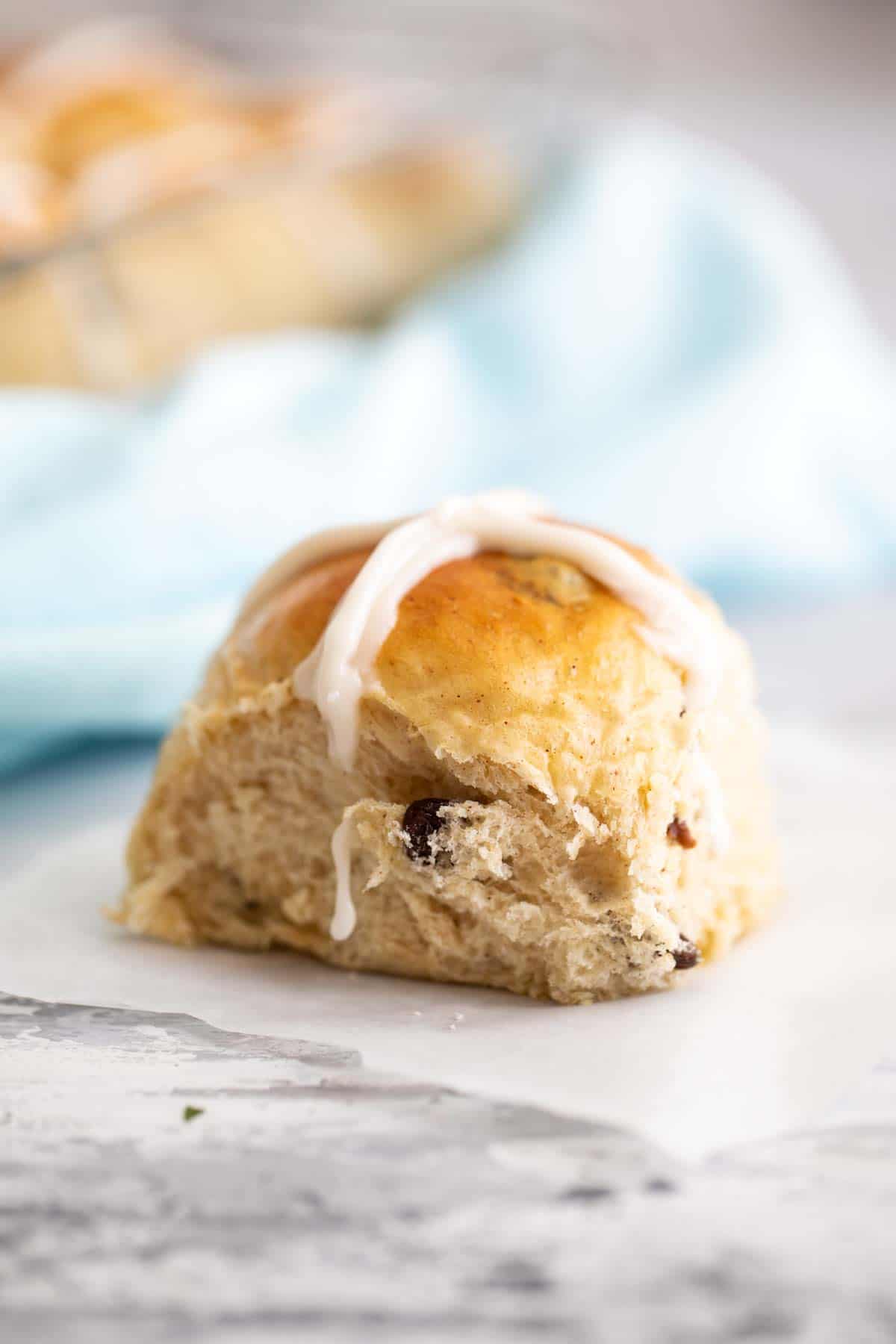 Ingredients:
Water: You want to make sure you start with warm water. Not too hot (it can kill the yeast) but also not too cold.
Yeast: I use active dry yeast, but instant yeast should work, as well.
Sugar: This is just granulated sugar.
Butter: I use unsalted butter, but you probably wouldn't notice much of a different if you use salted butter.
Powdered Milk: You don't need a lot of powdered milk, but we use it in this recipe for the texture of the bread, as well as flavor.
Salt: The salt balances the flavors.
Eggs: Make sure you pay attention to the instructions. One egg and another egg white will go in the dough, while the remaining yolk is used for an egg wash on the buns.
Flour: I use all-purpose flour.
Cinnamon: The cinnamon brings in the perfect amount of spice. If desired, you could also add in a bit of nutmeg or allspice.
Raisins: You can leave these out, but they are a more traditional ingredient.
You'll also need powdered sugar, milk, and vanilla extract to make the crosses on the buns.
How to Make Hot Cross Buns
DOUGH: Start by proofing your yeast (combining the yeast and warm water and allow the yeast to bloom, or puff up.) Add in the sugar, butter, powdered milk and salt. Then the egg and egg white. Start adding in the flour (mixed with cinnamon) until a soft, but still sticky dough, comes together.
KNEAD: Knead the dough with the dough hook on your mixer, or you can also do this by hand. Add in the raisins in the last minute of kneading.
RAISE: Cover the dough in a greased bowl and let it rise in a warm place until doubled.
SHAPE: Shape the risen dough into 12 equal sized buns.
RAISE AGAIN: Let these raise in your pan until they are doubled again.
BAKE: Bake the buns until they are golden brown and cooked through.
ICE: When the buns are cooled after baking, make the icing and pipe it on top to form the crosses.
Tips and Tricks
Make sure your yeast is good before proceeding with the buns. If your yeast hasn't bloomed (or bubbled up), then you probably need new yeast.
Don't add too much flour. The dough should still be slightly sticky before the first rising.
Raisins are a traditional ingredient in Hot Cross Buns. You can leave them out if you don't like raisins, but I think you need them! You could also sub in dried cranberries or currants.
You could also add in some orange zest to give them an orange twist.
Make sure the buns are cooled completely before adding the cross, or the icing will melt.
Store the buns in an airtight container. They can be frozen after they are baked and cooled, if desired.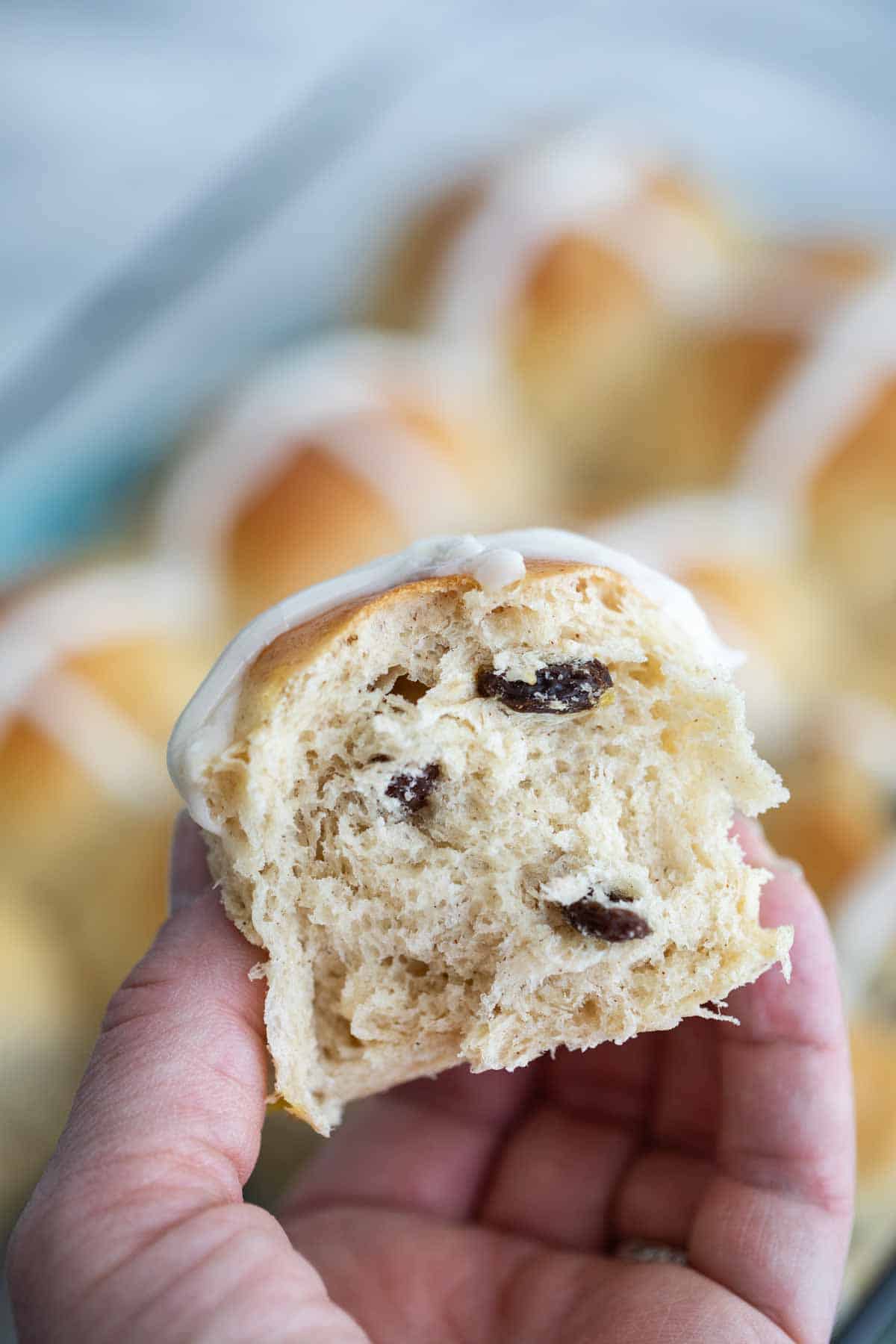 More Holiday Worthy Baked Goods
Sticky Buns – these sweet and sticky buns would be perfect for a holiday morning.
Dinner Roll Recipe – while not a sweet treat, these are the perfect roll for Easter dinner.
Monkey Bread – another great holiday morning treat!
Easter Cookies – so cute and delicious, as well!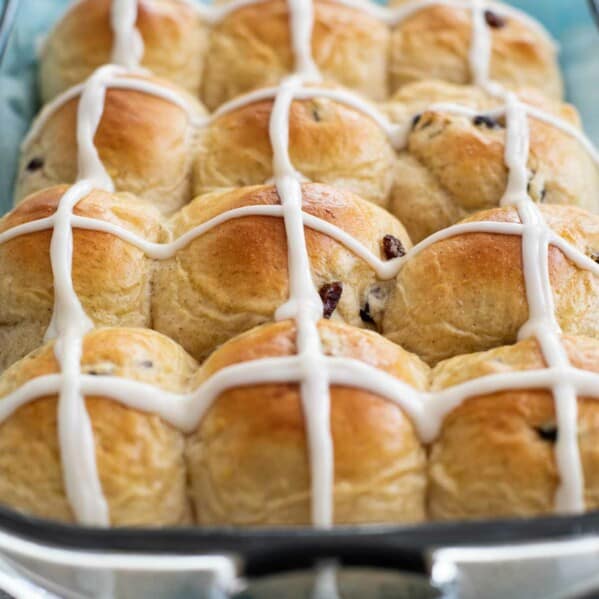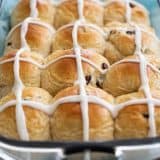 Hot Cross Buns
---
Author:
Prep Time: 15 mins
Cook Time: 20 mins
Total Time: 2 hours 15 minutes
Yield: 12 buns 1x
Category: Bread
Method: Bake
Cuisine: British
Description
A traditional Easter treat, these Hot Cross Buns are slightly sweet, light and fluffy, and lightly spiced with cinnamon. You'll want to make these buns an Easter tradition at your house!
---
Scale
Ingredients
3/4 cup warm water
1 tablespoon active dry yeast
1/4 cup sugar
3 tablespoons unsalted butter, softened
1 tablespoon powdered milk
1/2 teaspoon salt
2 eggs, 1 kept whole and one with yolk and white separated
3 cups all-purpose flour
1 teaspoon cinnamon
3/4 cup raisins
2 tablespoons water
1/2 cup powdered sugar
2 teaspoons milk
1/4 teaspoon vanilla
---
Instructions
In a small bowl (I like to use my liquid measuring cup) combine the warm water and the yeast. Let it sit until the yeast starts to bloom, 10-15 minutes.
In the bowl of a stand mixer, combine the sugar, butter, powdered milk and salt. Using the paddle attachment, mix to combine. Add in the whole egg plus the egg white. Mix until combined, then mix in the water and yeast mixture.
Add the flour and the cinnamon to the bowl of the stand mixer and mix until combined. Switch to the dough hook and mix for 5 minutes. In the last minute, add the raisins.
Cover the dough and let the rise until doubled in size, about 1 hour.
After 1 hour, punch down the dough and let it rest for an addition 10 minutes.
Spray a 9×13-inch baking dish with nonstick cooking spray.
Remove the dough from the bowl and separate into 12 equal pieces. Shape into rolls and place in the prepared baking dish. Cover and let rise again until doubled, 35-40 minutes.
Preheat the oven to 350ºF.
In a small bowl, combine the egg yolk with the 2 tablespoons of water and whisk lightly to combine. Brush the tops of the rolls with the egg mixture.
Bake the rolls in the preheated oven until browned and cooked through, about 15-20 minutes. Remove the rolls from the oven and let cool completely.
In a small bowl, whisk together the powdered sugar, milk and vanilla.
Drizzle a cross on the top of each of the rolls. I like to place the icing in a ziplock bag and cut off the corner.
Recipe Notes:
Nutrition information provided as an estimate only. Various brands and products can change the counts. Any nutritional information should only be used as a general guideline.
Nutrition
Serving Size: 1 bun
Calories: 211
Sugar: 9 g
Sodium: 115 mg
Fat: 4 g
Saturated Fat: 2 g
Unsaturated Fat: 1 g
Trans Fat: 0 g
Carbohydrates: 39 g
Fiber: 2 g
Protein: 4 g
Cholesterol: 39 mg
Keywords: hot cross buns, easter recipe, easter bread, buns