Breakfast worth waking up for! This Blueberry Banana French Toast Bake has fresh bananas and blueberries baked in a fuss-free French toast breakfast that the whole family will go bananas for.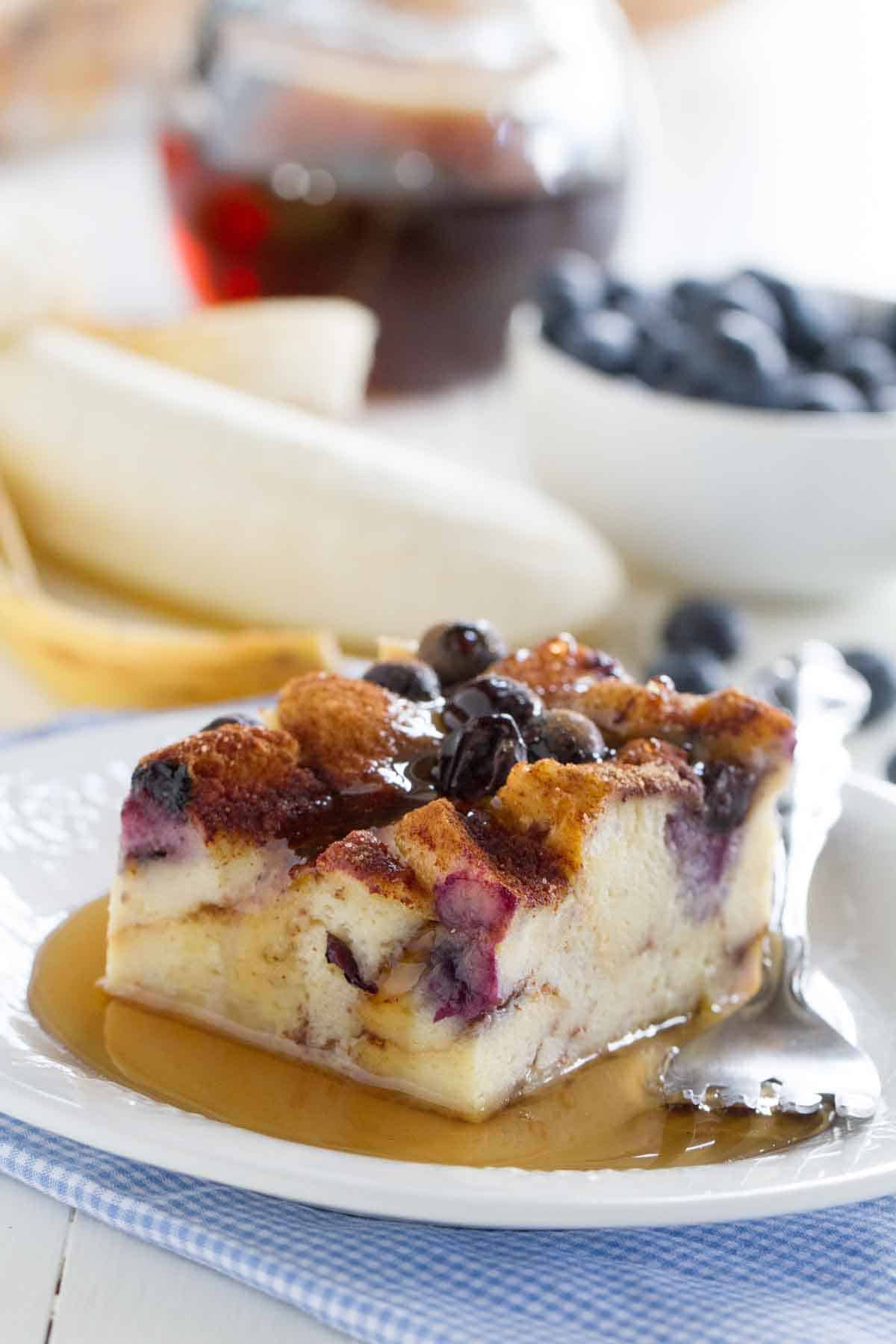 I have a few weaknesses when it comes to food. Doughnuts. (#duh) Fancy cupcakes. And breakfast.
I have always been a breakfast lover. If you've ever been on a cruise before, you know that the food is not lacking. There is always food. (24 hour room service for the win!) But for the first 5 days of our cruise, my husband and I didn't even eat 3 meals a day. We always had dinner, and we always had breakfast. And at least 4 desserts a day, but we are not going to talk about that right now…

So you can bet that I was all over it when I was asked if I wanted a review copy of Delicious Mornings by Dina Foglio Crowell, blogger at Buttercream Bakehouse. A whole cookbook dedicated to breakfast? You bet I want a copy!!
And this book did not disappoint. It is filled with a wide variety of recipes, lots and lots of photos, and plenty of recipes that make you excited to get up in the morning and make breakfast. Filled with both sweet and savory recipe options, there really is something for everyone in this book.
Here are the details:
Number of Photos: lots and lots! While not all full page, there is a photo of almost every recipe in the book. Score!
Difficulty Level of Recipes: easy to medium Most of the recipes in this book are pretty simple, but there are a few that are more involved, like the cinnamon rolls or the Danish pastry recipe. But even the more involved recipes do not seem overwhelming.
Availability of Ingredients: easy You should be able to find all of these ingredients quite easily!
Other Recipes I Want to Try:
Lemon Coconut Muffins
Raspberry White Chocolate Buckle
Cream Scones with Raspberry Sauce
Cinnamon Buttermilk Donuts
Easy Breakfast Bread Bowls
Individual Hash Browns and Eggs
Overnight Pancake Sausage Casserole
Buy Delicious Mornings on Amazon.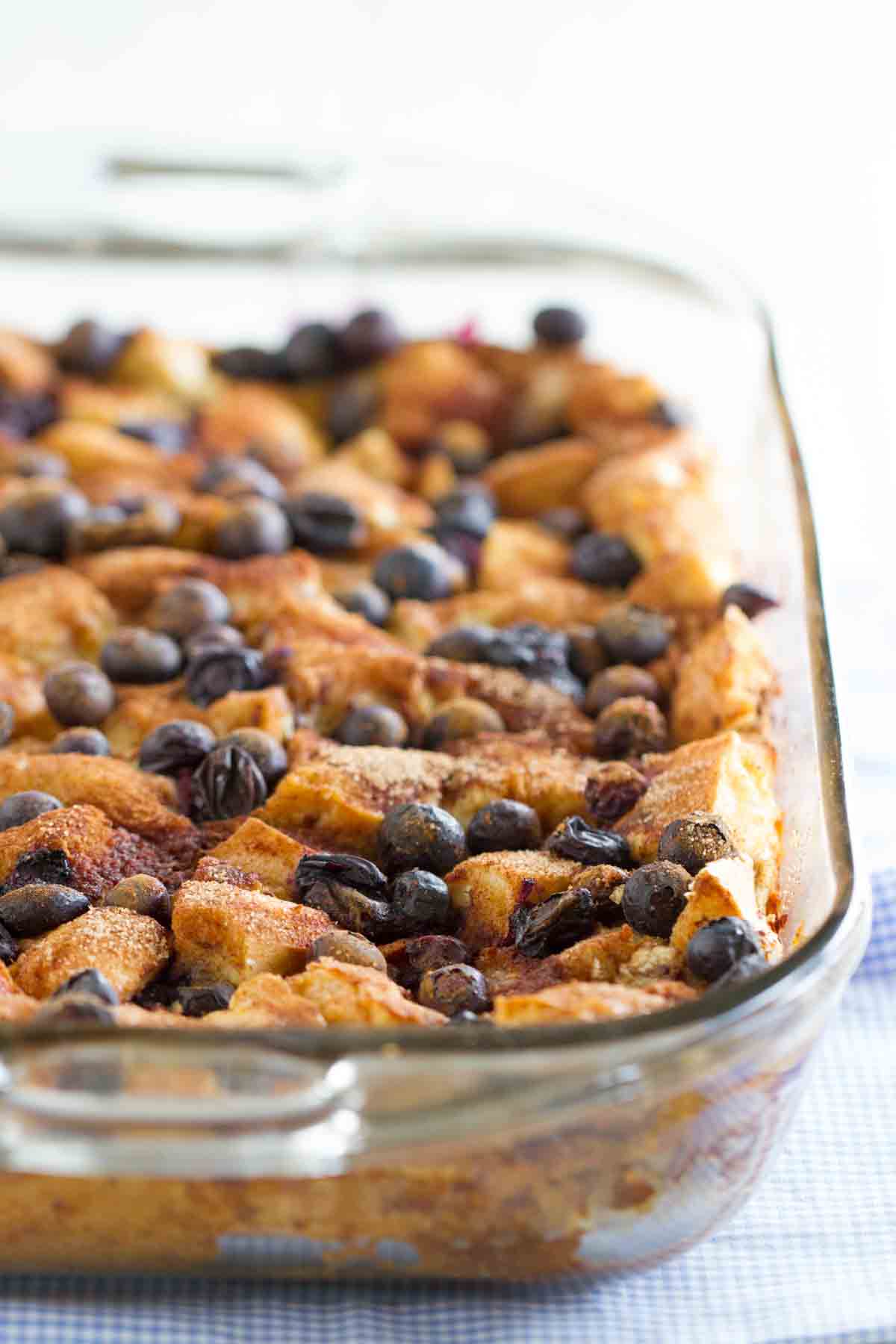 Naturally, I had a hard time deciding what I wanted to make first. So I did what I often do when I can't make a decision, and don't make the decision. 😉 I let my husband choose instead!!
I had it narrowed down to 3 or 4 recipes, but then let my husband make that final cut. And I'm glad I let him do the choosing, because this is so good!!
In this baked French toast recipe, you start with a layer of bananas in the baking dish, and then top them with cubed French bread. I was a little leery because my bread was a couple days old, but it worked out perfectly in this recipe.
I pretty much followed the recipe exactly, although I did change the amount of cinnamon in the topping, cutting it back to 1 teaspoon.
The kids and I enjoyed this for breakfast one morning. And by enjoying it, I mean Camden ate 2 full pieces and would have kept going if I would have let him. This recipe would be perfect for the weekend, or for a holiday morning as well.
I know that this recipe is one that is worth waking up for!!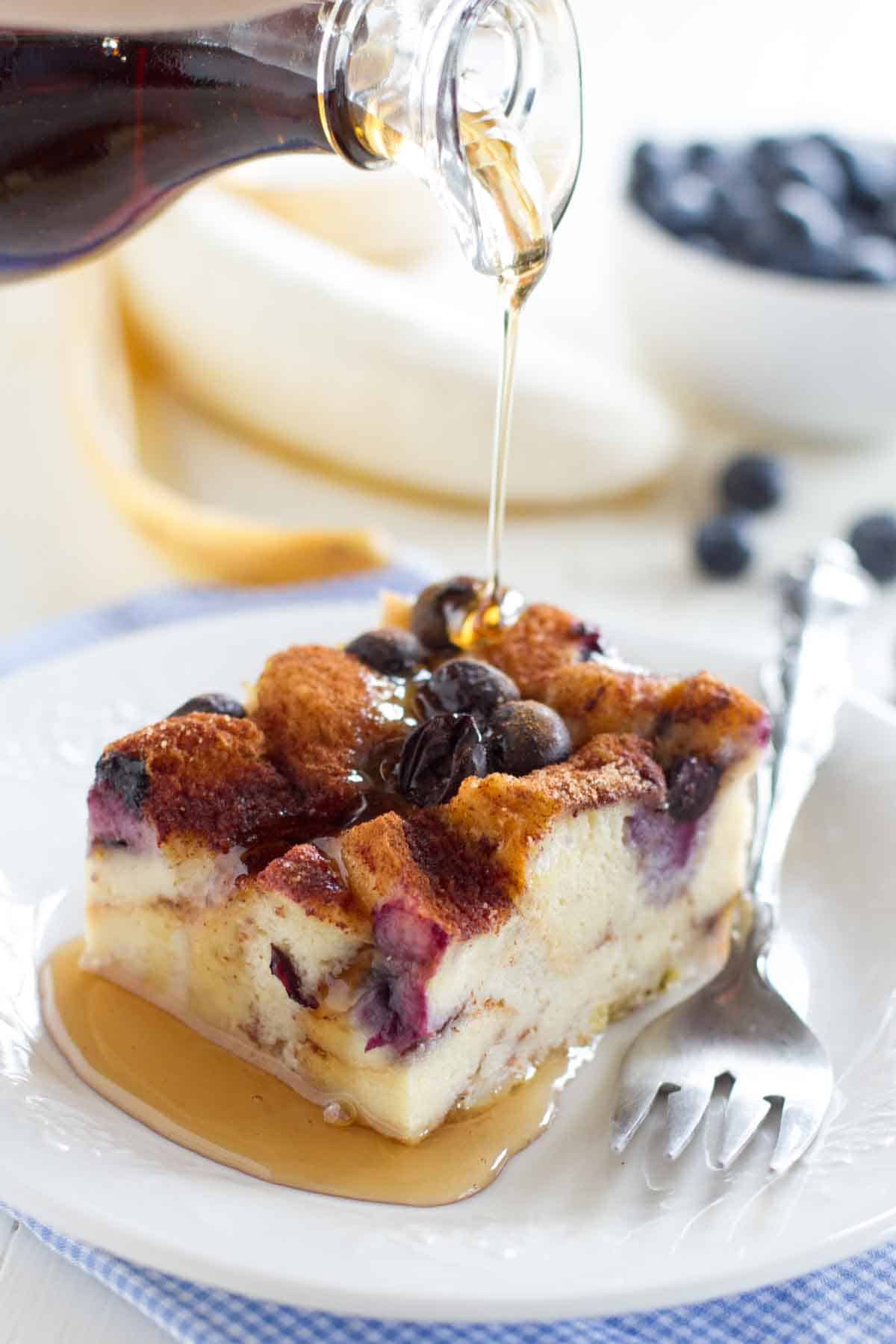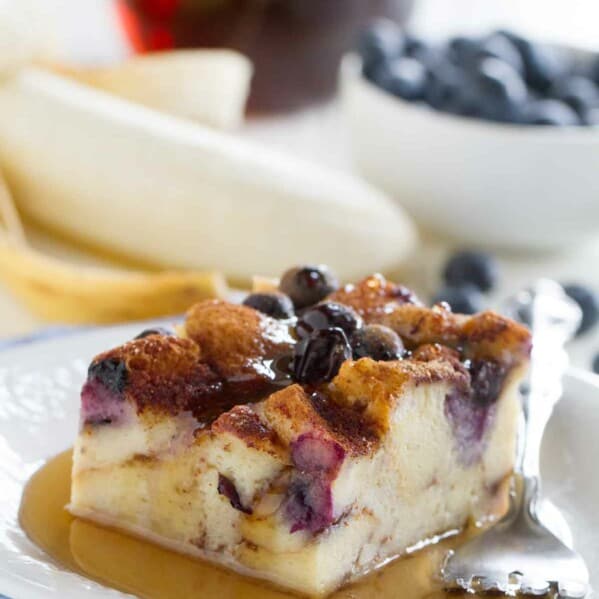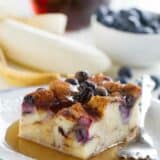 Blueberry Banana French Toast Bake
---
Author:
Prep Time: 20 minutes
Cook Time: 45 minutes
Total Time: 1 hour 5 minutes
Yield: 8-10 servings 1x
Category: Breakfast
Method: Baked
Cuisine: American
Description
Breakfast worth waking up for! This Blueberry Banana French Toast Bake has fresh bananas and blueberries baked in a fuss-free French toast breakfast that the whole family will go bananas for.
---
Scale
Ingredients
2–3 bananas, sliced
1 loaf (16 oz) soft French bread, cubed into 1-inch cubes
6 eggs, slightly beaten
3 cups milk
1/2 cup sugar
2 teaspoons cinnamon
1 teaspoon vanilla extract
1/4 teaspoon ground nutmeg
pinch of salt
1 cup fresh blueberries
1 tablespoon sugar
1 teaspoon cinnamon
maple syrup, for drizzling
---
Instructions
Preheat the oven to 350ºF. Spray a 13×9-inch baking dish with nonstick cooking spray or grease with butter.
Layer the bananas in the bottom of the baking dish. Top with the cubed French bread.
In a bowl or a large measuring cup, combine the eggs, milk, 1/2 cup sugar, 2 teapsoons cinnamon, vanilla, nutmeg and salt. Whisk to combine. Pour the mixture evenly over the French bread. Use your hands to press down on the bread to make sure that every piece is soaked with the milk mixture, turning the pieces over if necessary. (Be gentle to make sure the bananas stay at the bottom of the baking dish.)
Spread the blueberries over the top of the mixture.
In a small bowl, combine the sugar and the cinnamon. Sprinkle over the top of the casserole.
Bake in the preheated oven until the egg mixture has set and the blueberries are bursting, about 45-55 minutes.
Serve warm or at room temperature with maple syrup.